If you're wondering what you're going to do in Dubai and you have limited time, here's a Do It Yourself DIY itinerary to guide you in planning a 2 day trip in this emirate. This guide is ideal for backpackers and budget travellers who don't want to spend much on tours and agencies. This is still applicable to all tourists who want to map out their own Dubai adventures by themselves.
Related Post: Exploring Dubai on a Budget of 15 AED (or Less)
Take note that this 48 hour guide may require you to spend a bit more cash in certain areas, but most of it can be experienced within a reasonable or affordable budget. We will save the skydiving,  shark diving, water theme parks, and other expensive activities in a later article. For now, here's a 2-day budget tour of Dubai.
Book a Hop on Hop off Bus Tour of Dubai Here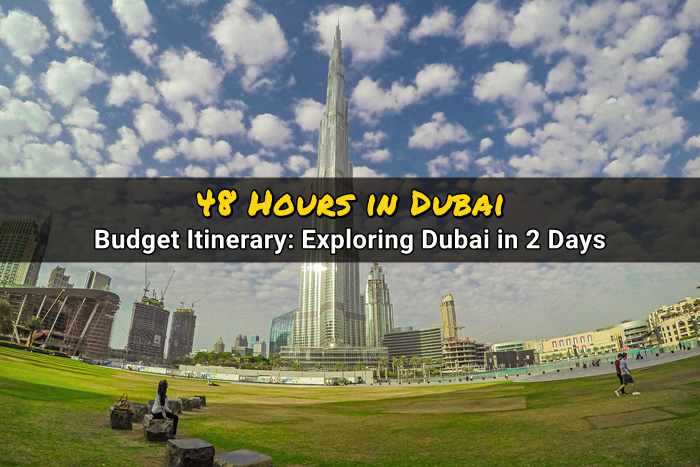 Dubai in 2 Days: A Budget Travel Guide
Please take note that the best months to visit Dubai would be during winter season when the weather is great to experience outdoors:  November to February
Depending on your tolerance, the weather is bearable in these months:  September, October,  March, April
Let's start the tour!
Day 1 – Tour of Old Dubai & Desert Adventure
Jumeirah Mosque Visit
Location: Jumeirah Beach Road
Hours: 3 hours
Mosques are places of worship for Muslims and if you're a non-Muslim, you cannot really enter this place. However, the Sheikh Mohammed Center for Cultural Understanding (SMCCU) offers a Mosque Visit for anyone to understand our Muslim brothers and sisters and Islam religion. You can book a religious tour and have your questions about Emirati culture and religion answered by a Muslim.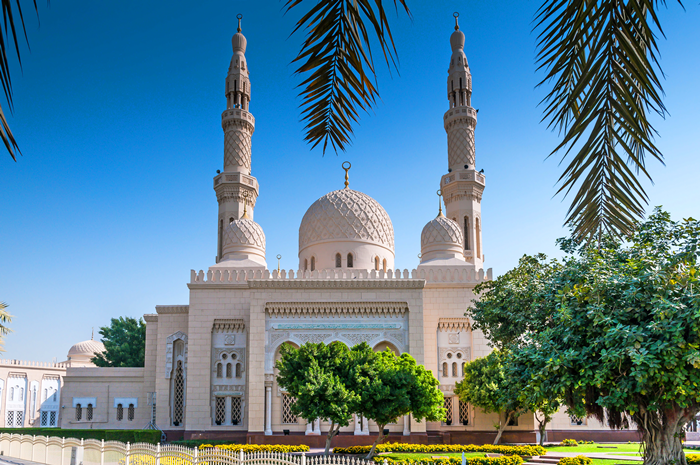 Guided tour of the Jumeirah Mosque
Tour of the Souks in Old Dubai and Riding  an Abra
Location: Dubai Creek – Deira side and Al Fahidi side Bur Dubai – Gold Souk,  Spice Souk, Al Bastakiya, Al Fahidi museum
Hours to spend: 3-5 hours including lunch
You can head to the Creek area in Old Dubai and tour the Gold Souk, Spice Souk, and Perfume Souk in the Deira side of the creek. Afterwards, you can ride the Abra, or a  traditional wooden boat and pay as low as 1 Dirham for the trip to the Al Fahidi side of the creek. Once you're at the Al Fahidi side, you can then walk to the Old Souk and to the old bastakiya area. Drop by Arabian Teahouse and grab yourself a bite of their salads and drink tea even for lunch.
Go back and pass the old souk area,  continue walking until you reach the the side where you can see some camels and a donkey. Locals are around, drinking tea and you can chat with them. You will be given dates and Arabic tea so you can experience Emirati hospitality. You can also take a photo of a falcon.
You can also drop by the Al Fahidi Museum ( for 10 AED entrance fee) and learn about the history of the oldest neighborhood district in Dubai.
Ride the abra for 1 Dirham.
Have late lunch at Arabian teahouse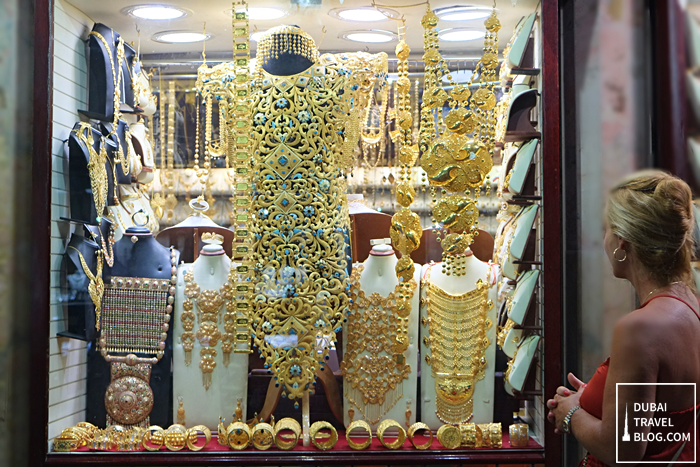 gold souk in Deira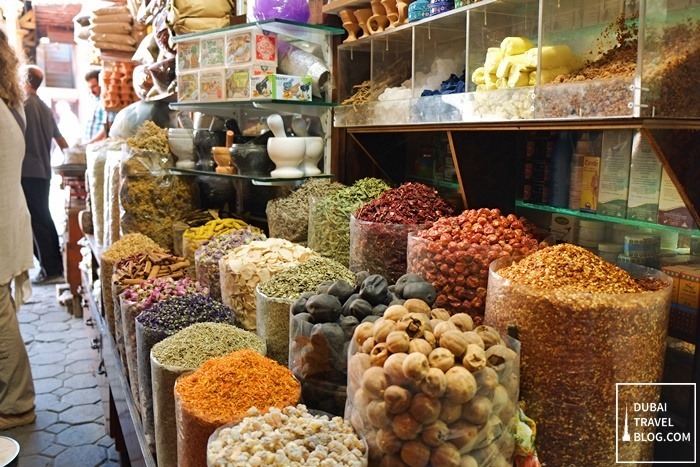 spices and herbs at the Spice Souk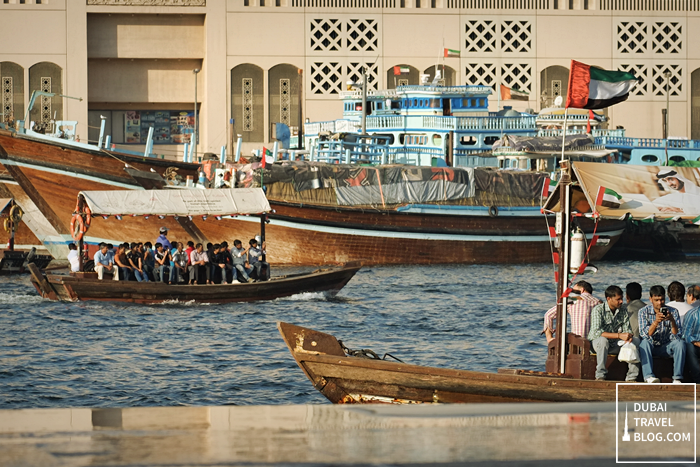 Riding the Abra in the Dubai Creek
Desert Safari Sunset and Dinner
Location: Depends in your chosen Tour Company
Hours to Spend: 4 hours
When you book a desert safari tour in one of the travel agencies in Dubai, the meet up time is usually around 4pm. Depending on the your agreement, the tour agency can pick you up from your hotel or a suggested meeting area.
Ride a 4×4 and the driver will take you to the desert camp while bashing sand dunes, don't forget to hold on tight! Experience the Dubai desert sunset, have barbecue dinner and watch a tanoura dance and belly dance at the campsite.
You will finish around 8pm and you will be brought back to your hotel by the travel company after the trip.
Related Post: What to Expect in a Desert Safari Adventure in Dubai
DESERT SAFARI TIP: When booking a travel agency, ask them which location is the desert safari trip going to be held. If it's just about 30 minutes from Dubai, the desert sand is still a mix of white and red and there are going to be some patches of bushes and plants in the desert.  if you are looking for a dark red desert and endless sand dunes, then it's usually about an hour drive from Dubai. One sample area is in Lahbab, Sharjah or Al Faqa Desert. Although you will spend more, if you go farther from the city the quality of the sand is much better.
sand-boarding in the desert in Al Faqa
Bonus, if you don't want to sleep yet, you can head to Al Rigga Street which is also located in Deira for some shisha, shawarma, or Arabic tea or milk tea. Plenty of shops are still open even in the late night and you can experience the rugged side of Dubai.
…………………………………………………………………………………………………………………..
Day 2 – Tour of New Dubai – Skyscrapers, Malls and Beaches
At the Top Adventure at Burj Khalifa
Hours to Spend: 2 hours
Location: Burj Khalifa (At the Top)
Wakeup early for an early trip to the tallest building in the world. Ride a taxi since the Dubai Metro is still closed at dawn. Around 5:30am is the meeting time at the At The Top. This is the place where you can view the city of Dubai from the observation deck of the tallest building the world.
The reason why we want you to wake up and book this dawn experience is because you can see the city while it's still dark and witness the sunrise and see the city during daylight. You get both views one visit. Take plenty of photos or just admire the view!
Tip: The sunrise viewing is only available every Friday and Saturday. Otherwise, regular viewing is at 8am. 125 AED per person Book tickets in advance. You can book online via atthetop.ae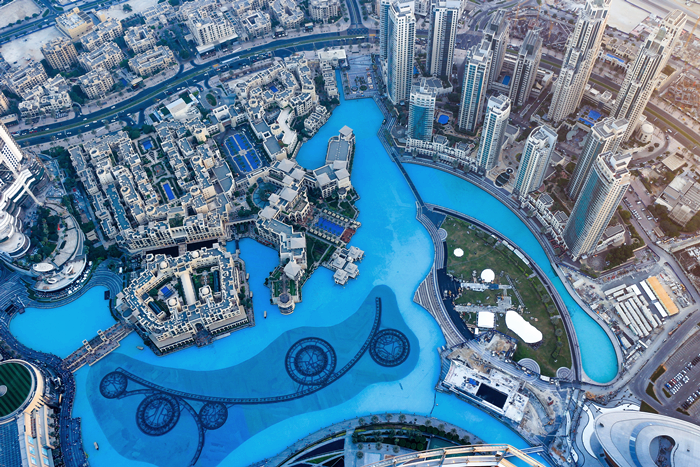 view from At the Top – Burj Khalifa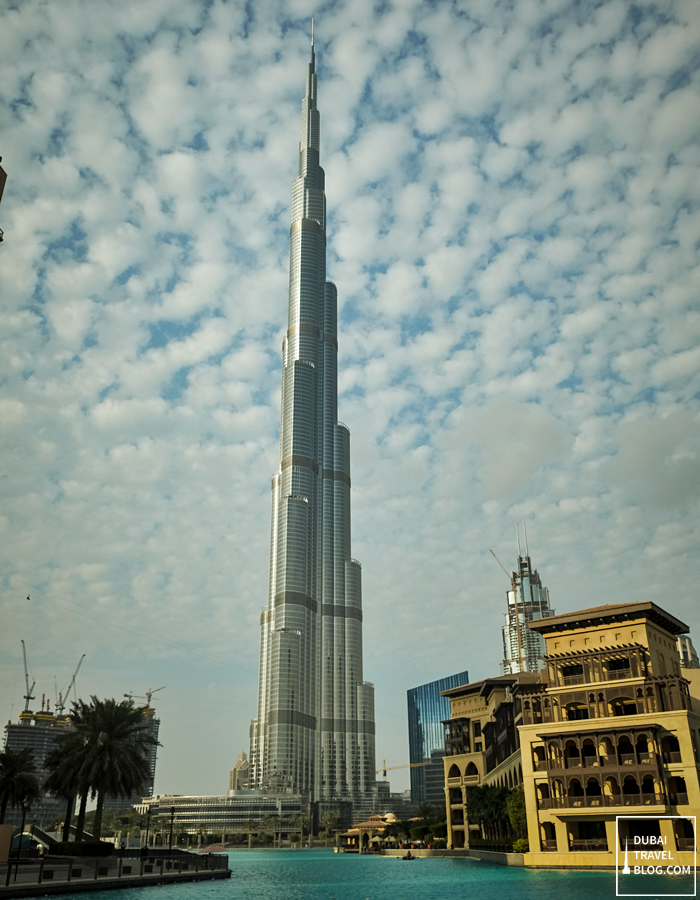 Burj Khalifa, view from Burj Plaza
Mall Hopping
Location: The Dubai Mall, Mall of the Emirates
Hours to Spend: 3 hours
Afterwards, you can explore The Dubai Mall, which is known to be the largest shopping complex in the world! You can have breakfast here or have an early lunch. Explore various areas and check out the Dubai Dino, Human Waterfalls, Dubai Fountain, Dubai Aquarium, and shops in the Fashion Avenue. Even if you're not going to shop, you will be mesmerized by the various attractions inside the mall. Here are places to visit in Dubai Mall without spending money.
You can also drop by the Mall of Emirates (by riding a metro). You can check out the Indoor Ski if you're up for some snow adventure in the desert.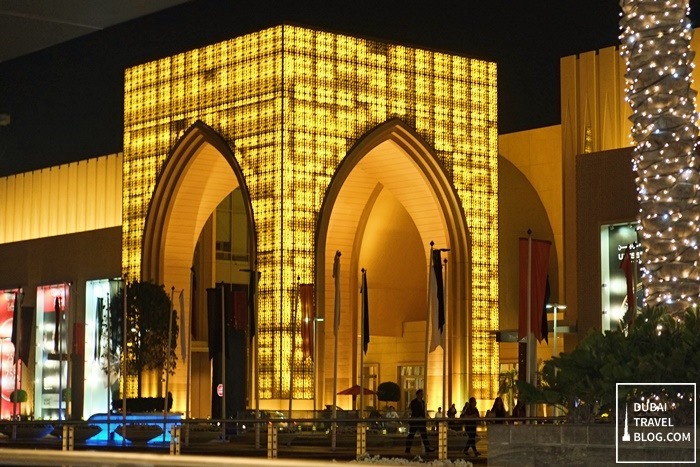 Souk entrance at The Dubai Mall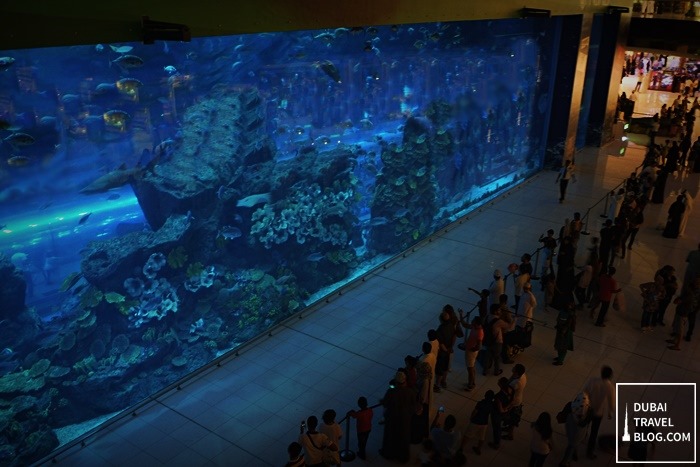 Dubai Aquarium in The Dubai Mall
Umm Suqeim Beach/ Burj Al Arab Beach
Location: Umm Suqeim
Hours to Spend: 3 hours
Hire a cab and head to Umm Suqeim Beach or Kite Beach. This is a place where you can see a view of the iconic Burj Al Arab, the only 7 star hotel in the world.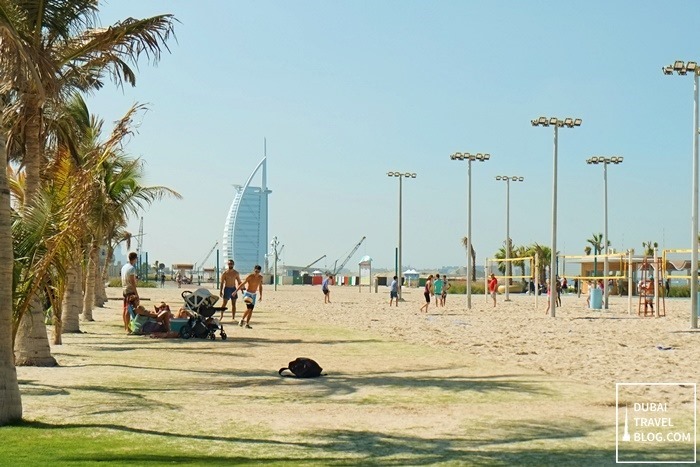 activities in Kite Beach (with a view of Burj Al Arab)
Afterwards, head to Dubai Marina and have some lunch or snacks. Take a leisurely stroll as you explore this water district and amazing architecture. There are plenty of restaurants in the area so you can grab a bite to eat.
Book a Sunset Boat Trip
Location: Dubai Marina
Hours to Spend: 1 Hour
Book a sunset trip to see the Atlantis the Palm Resort and the Burj Al Arab hotel from the water side. You can go to Dubai Marina and buy a 50 AED ticket from for a sunset tour starting at 3pm from Dubai Marina to Burj Al Arab. This is a great way for you to see these tall skyscrapers structures from a different view. Make sure you catch the boat trip via Dubai ferry as this is the cheapest option. Otherwise, you may also look for private companies like YellowBoats to join a group in hiring a raft to the same sights.
Dubai Mall Water Fountain Show
Location: Burj Lake
Hours to Spend: 3 hours
Cap off the night by going back to Dubai Mall and head to the water fountain for an amazing  water fountain show. There is a dancing water fountain presentation every 30 minutes starting 6pm at the Burj Lake with every set having a different song playing. You can spend the remaining time inside the mall for tea.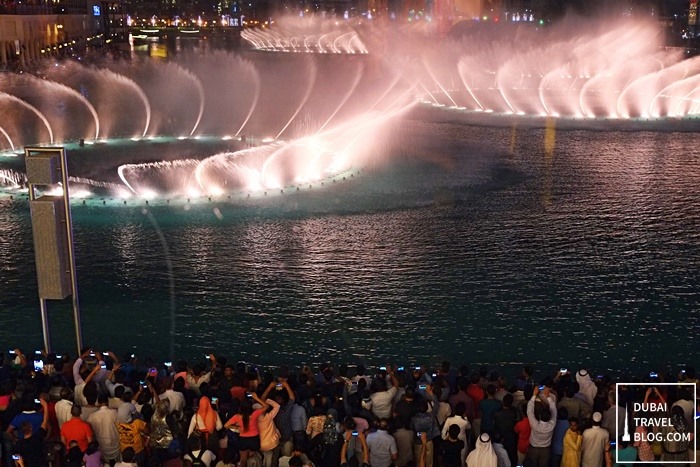 be ready as it can get busy at the Dubai fountain
…………………………………………………………………………………………………………………..
Bonus Half-Day: Head to Abu Dhabi and visit the Sheikh Zayed Grand Mosque
Location: Sheikh Zayed Grand Mosque
Hours to Spend: 3 hours
If you have an extra half-day, you can book a trip early in the morning for Abu Dhabi, For 25 AED, you can reach the capital city of the UAE and visit the Sheikh Zayed Grand Mosque. This is a beautiful mosque which is open for tourists to visit for free. Abu Dhabi is 2 hours from Dubai and even if you visit the this place alone, it is surely going to be worth your time.
inside the Sheikh Zayed Grand Mosque
To get to Abu Dhabi, take a bus from Al Ghubaiba Bus station. The bus will drop you off at the bus station in Abu Dhabi (opposite Al Wahda mall). You can take a taxi from the bus station to the Grand Mosque. Spend about 1-2 hours just admiring the grandness of this place of worship.
…………………………………………………………………………………………………………………..
Plenty of tourists come to Dubai to see what it has to offer. With so many superlatives highlighted, you might get lost on what tourist attraction you want to visit first. It is best that you have a set itinerary to get a glimpse of this emirate within this limited time.
Again, the above-mentioned activities are good especially when you are trying to make the best of your stay without spending much and still enjoying the best of Old Dubai and New Dubai. But if you have the cash to burn, by all means skydive at the Palm Drop Zone, shop till you drop in the malls, tour Dubai on a seaplane, rent a yacht, and enjoy a fun time with family at the various theme parks!
I hope this guide will give you a better idea how to manage your time with a short 48 hour holiday in the city of gold.