Dubai is known to be a city of superlatives and luxury. With all the buildings and tourist attractions it offers, you are bound to find something great to do over the weekend in this Emirate.
Related article: 7 spots to visit in Dubai Mall without spending money
Most of the activities would normally require you to shell out money.  Nothing is free as they say. But did you know that there are tourist activities you can do without spending a fortune? You just have to be resourceful enough to find these places.
Book a Hop on Hop off Bus Tour of Dubai Here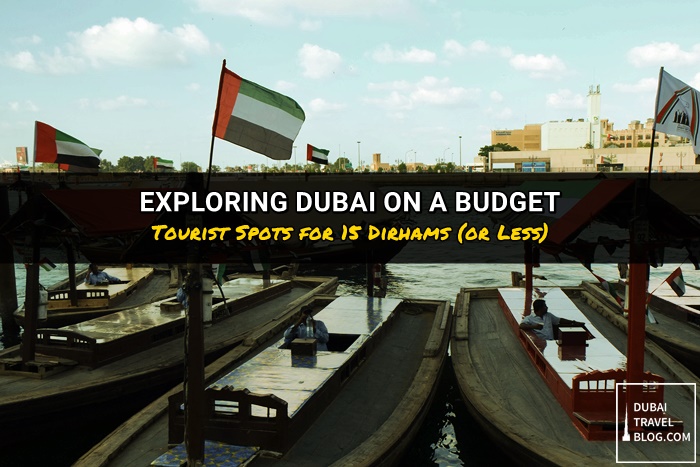 What to Do in Dubai for 15 Dirhams (or Less)
To help you out,  here are popular activities you can do and must-visit places in Dubai on a 15-Dirham (or less) budget. Please be advised that the information listed is based on how much you're going to spend for each experience, paying for the fare going to the location is separate and would depend on where you live.
Riding the Abra
Minimum Cost : 1 AED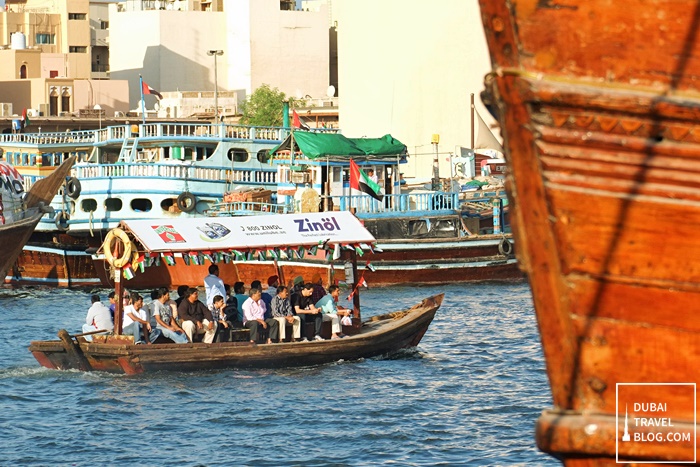 riding the Abra – a must experience in Dubai!
One of the cheapest mode of transportation in Dubai, you can ride these abras (small boats) and explore Old Dubai as you take a short ride from the Old Souk to the Textile Souk and vice versa.  You will get a glimpse of Dubai and it's history of trading when you head to the creek. This is also a fantastic way to immerse your tourist friends when you travel to different souks nearby. The Old souk, Textile Souk, Spice Souk, Gold Souk, Perfume Souk, etc.are just within reach.
Touring Dubai Using the Metro
Minimum Cost : 3 AED
night view of the World Trade Center from the metro
The Dubai Metro is the most convenient and fastest way for regular commuters to head to their offices and this is also a great way for you to get a glimpse of Dubai as a whole. In certain stops, the metro stations are situated in an elevated area and you will see various views of buildings and attractions right away. With the affordable public transport, you can reach certain areas of the city without paying much.
Parks for Recreation
Minimum cost: 5 AED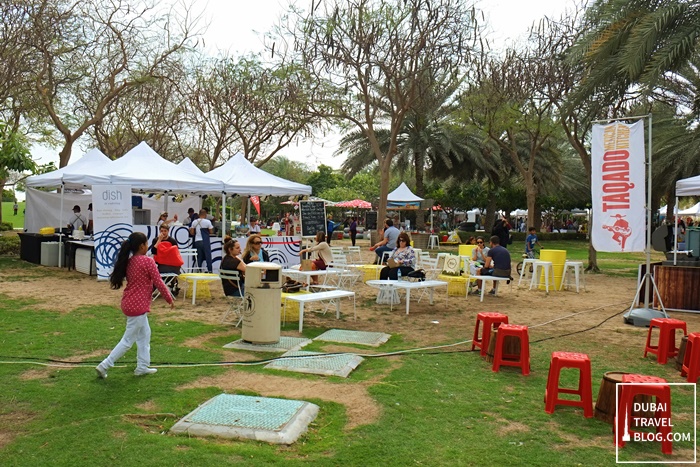 Zabeel Park during Ripe Market season is very busy!
Dubai offers many parks for you to go out and be one with nature despite city being built on a sandy desert. There are free parks in Dubai to go and visit, but you can simply pay a minimum entrance fee for bigger parks such as Safa Park and Zabeel Park. These parks are great for recreational activities that has picnic spots, playgrounds for children and even barbecue areas. Check out our featured article here – List of a parks in DUBAI
Dubai Museum at Al Fahidi
Minimum Cost: 3 AED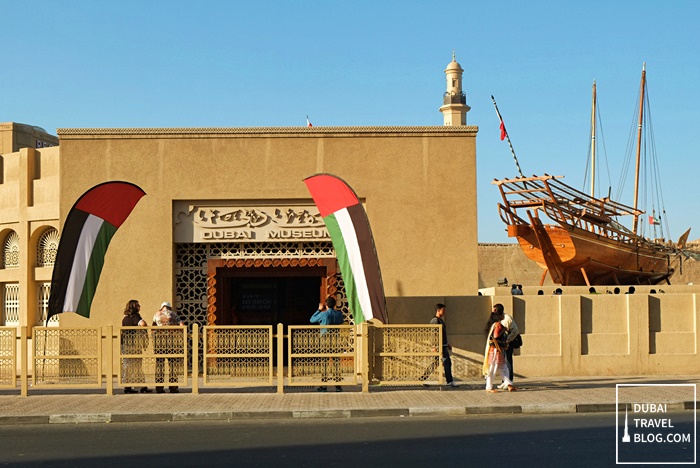 Oldest district in Dubai is Al Fahidi – explore the museum!
For a historical view of Dubai, you can visit the Dubai museum at Al Fahidi district (the oldest neighborhood in Dubai) and witness the evolution from a humble fishing village to the giant metropolis that this city is known for today. You can head to the Al Fahidi Fort, which is the oldest existing building in Dubai, built in 1787.
Jumeirah Mosque Visit
Minimum Cost: 10 AED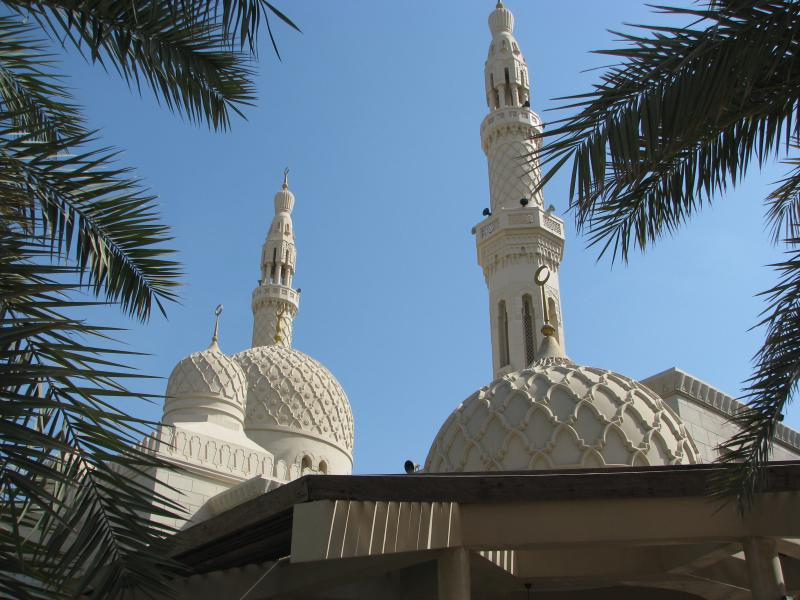 Guided tour of the Jumeirah Mosque
Photo by David Bailey under Creative Commons
There are certain mosques that are open for tourists to visit. The Sheikh Mohammed Center for Cultural Understanding has guided tours where non Muslims can drop by the Jumeirah Mosque every Saturday,  Sunday, Tuesday and Thursday at 10 am. This is an open awareness tour where you can ask questions for enlightenment about this religion and culture.  For curious minds, this is a great value tour to understand our brothers and sisters. Tour costs only 10 AED.
Global Village at Dubailand
Minimum Cost: 15 AED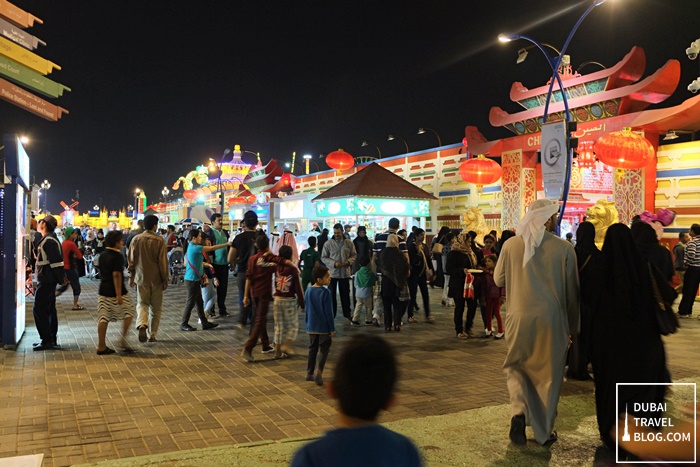 Global Village in Dubai Land during winter season
Located in Dubai Land, the Global Village showcases food, dance, music arts and crafts, and heritage of more than 25 countries of the world in one area. This is open only during winter season and is a premiere Dubai destination where you can get a taste of a plethora of countries. You can bring your family for a recreational and educational afternoon. Take note that they do not open until 4 pm. General Admission Tickets cost 15 AED each.
These are the common tourist attractions you can visit in Dubai especially when you're on a budget. We hope you get to experience these to make you realize that you can still travel in Dubai without spending much. Do you have other examples? Do share them in the Comments!