It was an eventful Thursday afternoon riding a seaplane that flew over Dubai and seeing the city's famous spots and attractions from a different perspective. I had the opportunity to join a group of Dubai bloggers in this one-of-a-kind tour experience by Seawings Dubai.
Related Post: 42 Photos of Amazing Dubai from the Sky
This is a 45-minute scenic tour wherein the route is strategically set up so the plane will take you to the attractions and back. You will get a view of the skyscrapers in Dubai Marina and Sheikh Zayed Road, see the Burj Khalifa, Burj Al Arab, Palm Jumeirah, World Islands, Dubai Creek, etc.
Book a Seaplane Tour of Dubai Here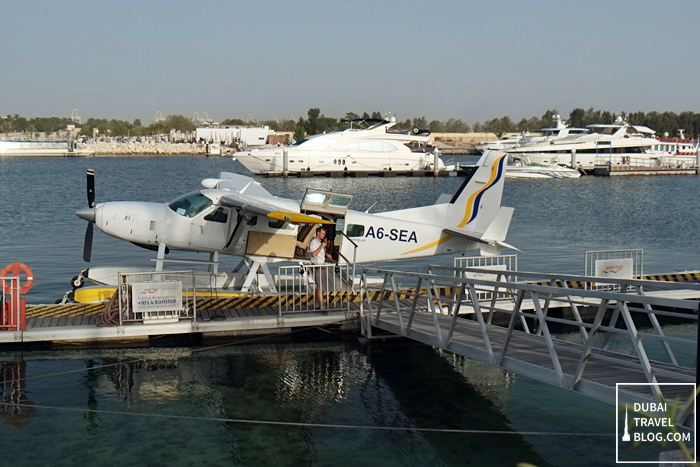 Cessna 208 Caravan Seaplanes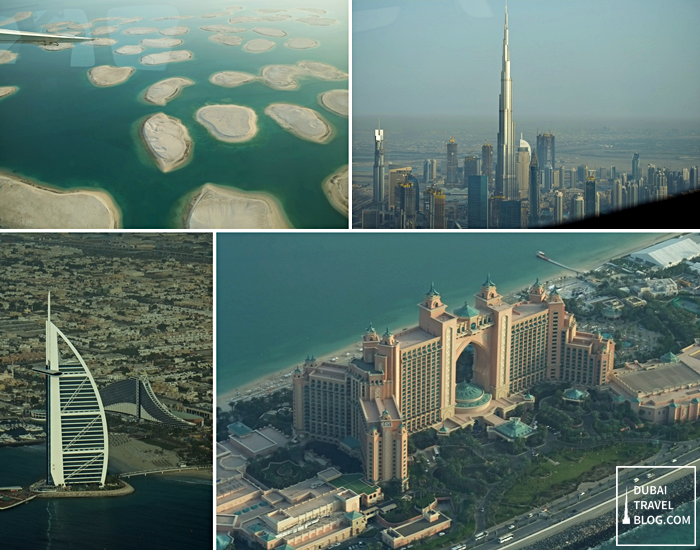 iconic structures of Dubai
Seaplane Tour with Seawings Dubai
Seawings Dubai is the only seaplane operator in the UAE. They have two locations available for take off and landing – Dubai Greek Gold & Yacht Club and JA Jebel Ali Gold Resort & Spa. During our tour, we departed from the Jebel Ali location.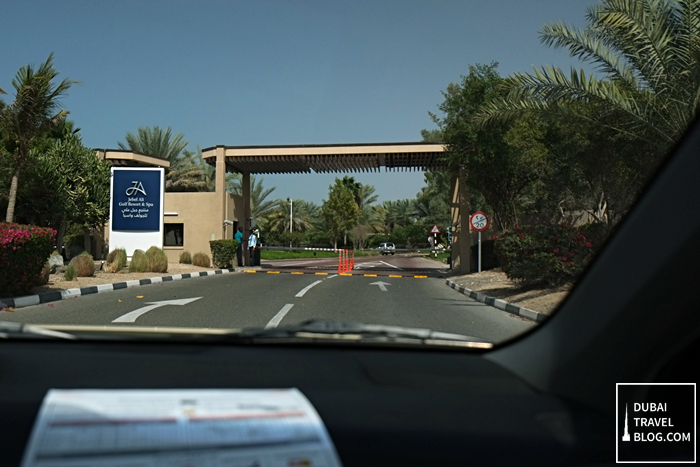 drive to JA Jebel Ali Golf Resort & Spa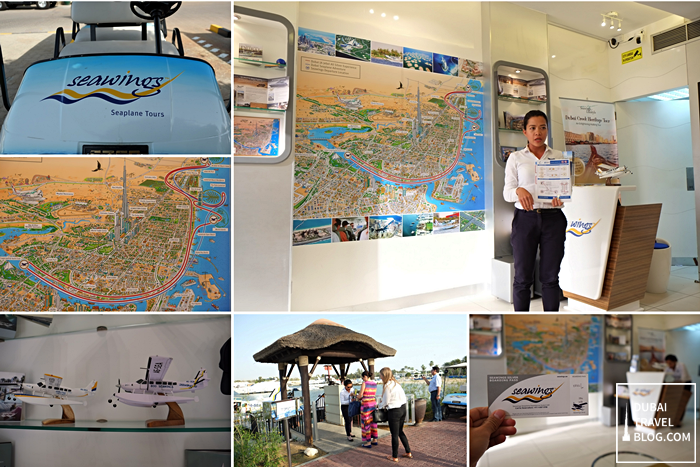 orientation at the Seawings office
We started with a briefing at the Seawings office. We were given a short orientation of what we're going to expect during the flight. We submitted our passports/IDs for verification.
This seaplane tour is treated like any other flight as they adhere to rules and regulations of the Dubai Civil Aviation Authority. So they also showed an in-flight safety demo video and they gave us boarding passes to carry when we entered the aircraft.
They are also very strict with the timings so guests who join should arrive on time as scheduled, else you will miss the flight.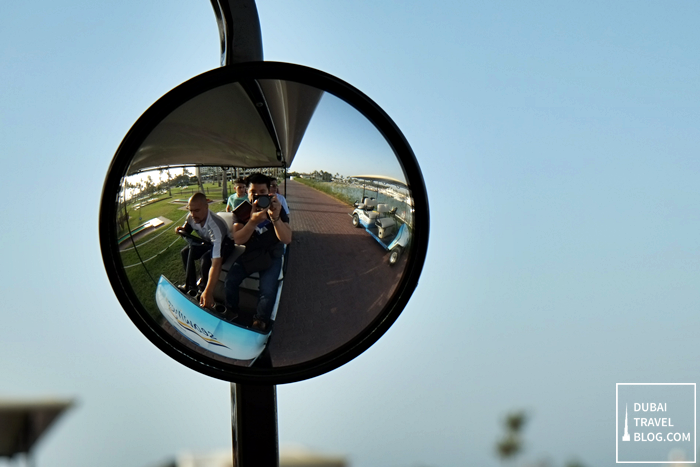 buggy to the aircraft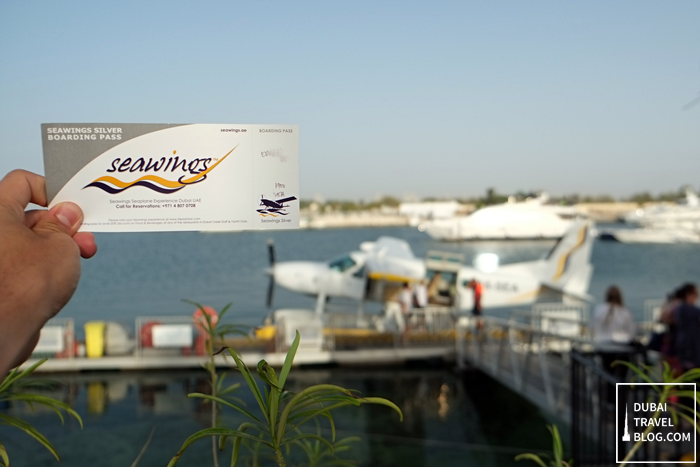 holding my boarding pass to the plane!
We rode a buggy to take us to the docking area of the plane and boarded the A6-SEA aircraft.
One of the highlights of the seaplane tour is that you will be seated in comfortable leather seats with your own huge window to admire the panoramic view of Dubai's iconic spots. The flight is not noisy and it is a very pleasant ride ride in the skies.
Let me also just share that the take off and landing was very smooth. I didn't feel any bumps during the transit and I felt secure. One main factor was that the plane departed from the water so it was a very calm experience.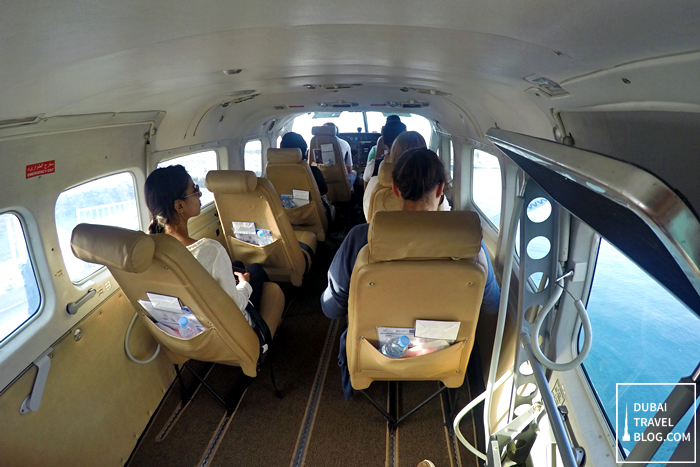 spacious seats and complimentary bottled water on the back pockets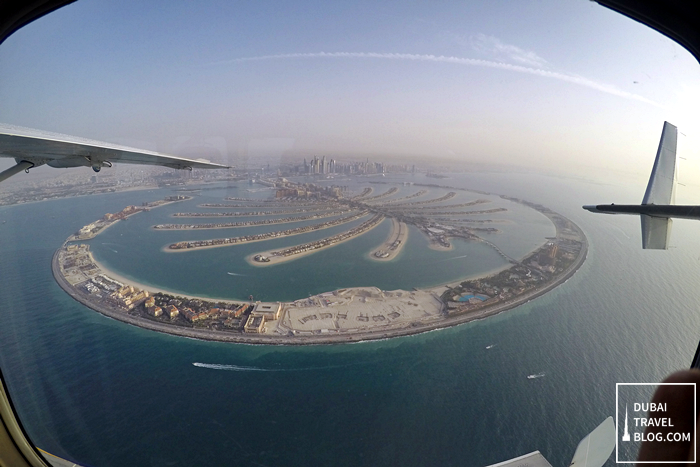 the Palm Jumeirah, captured using a GoPro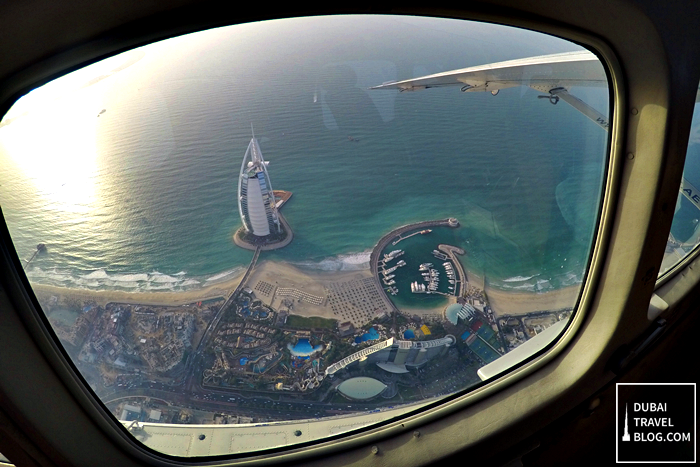 view of the Burj Al Arab from the window
Passengers inside the plane can see both sides of Dubai without the need to move seats. Besides, for safety reason, you are not allowed to switch seats in the plane.
The cost of the experience may be a bit pricey at 1,695 AED per adult, but it is totally worth it! Same as skydiving or going for a hot air balloon ride, this seaplane tour is one of those great outdoor activities that you might want to try doing especially if you're feeling adventurous.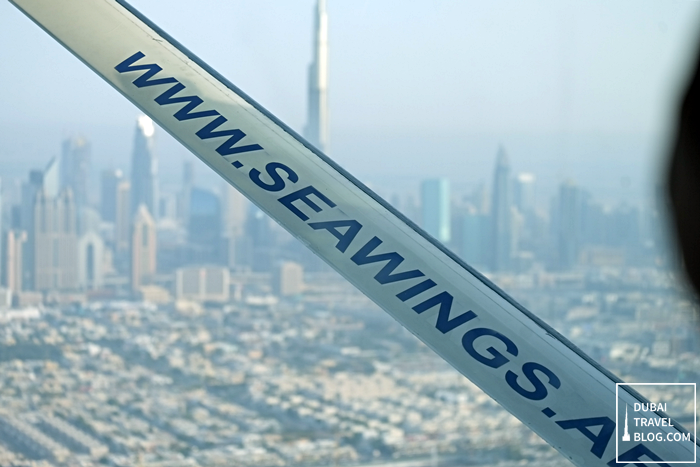 Seawings UAE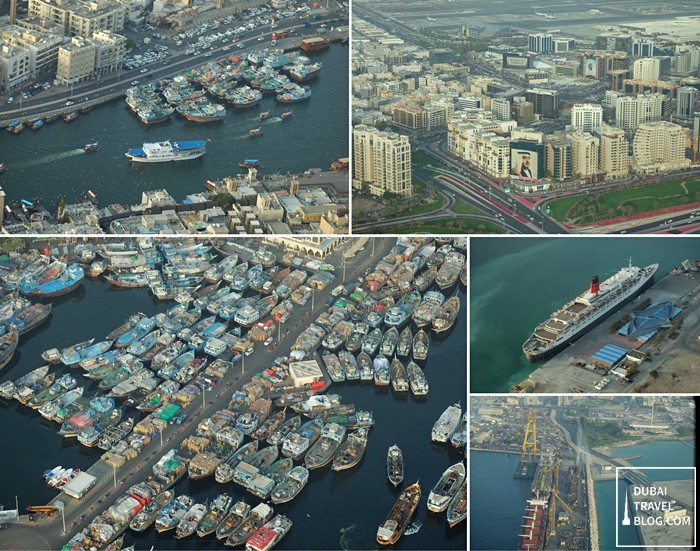 Old Dubai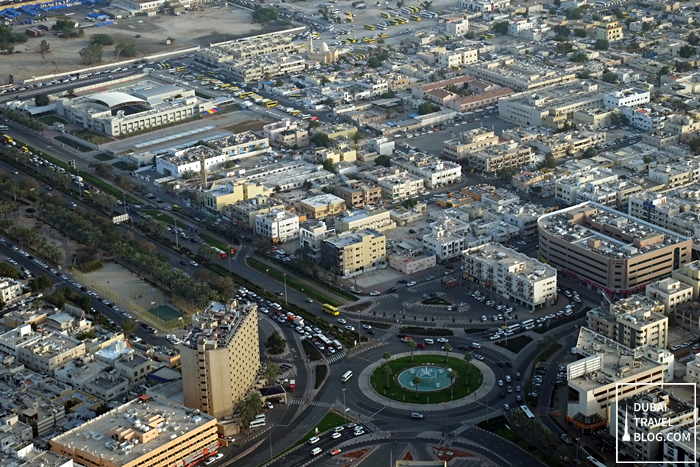 Dubai
There were some areas where the skyline was a little hazy, but it added drama to the overall cityscape. It was awesome to see the towering buildings, the boats on the Dubai Creek, the famous landmarks, and the changing landscape of the city.
I always see these aerial views only through shared photos online, but now I got to see them from this perspective which I'm really happy about. I'll be sharing these aerial shots in a separate blogpost soon!
UPDATE: here's the blogpost I just published – 42 Photos of Amazing Dubai from the Sky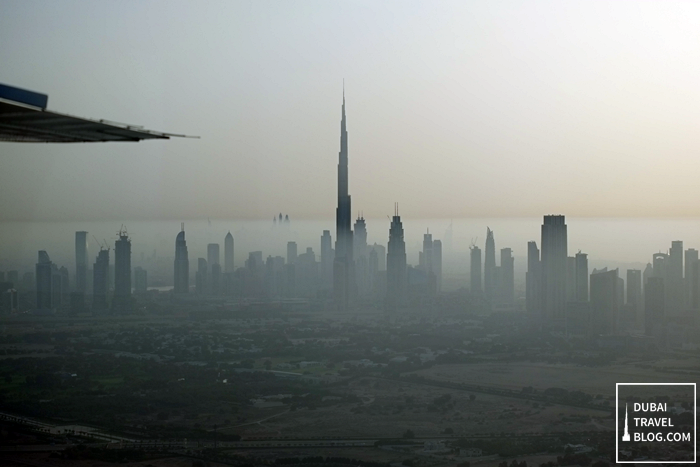 moody skyline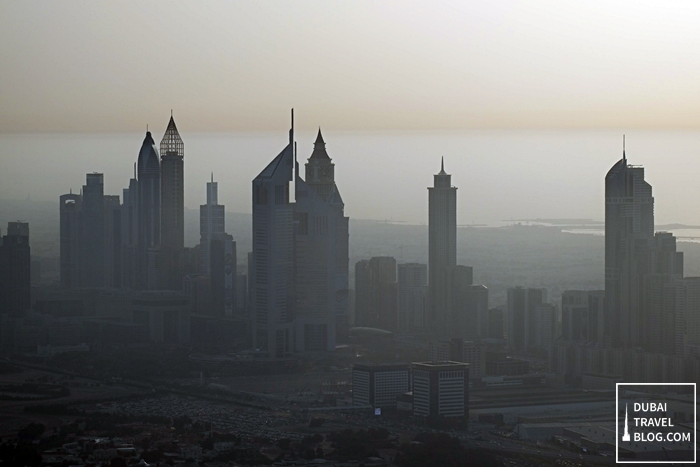 hazy afternoon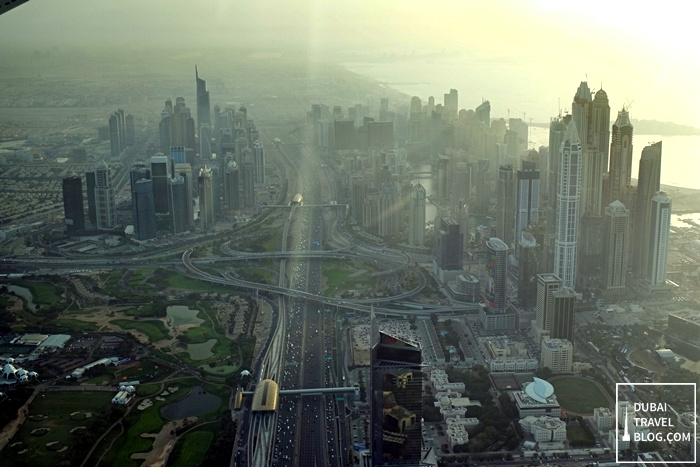 modern Dubai
The 45 minutes ran quick as I was very busy admiring the view. How this emirate evolved from just sand to a mega metropolis amazes me every time.
If you want to try something extraordinary, why not book a flight with Seawings? It will surely leave you breathless with the amazing scenes of the city from the sky!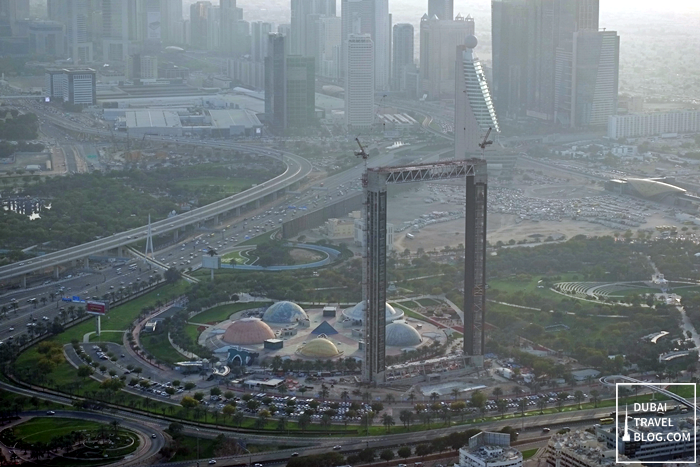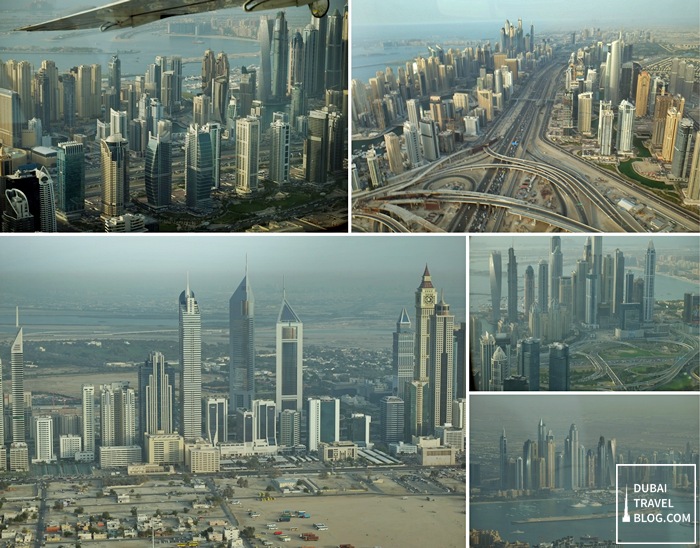 the modern city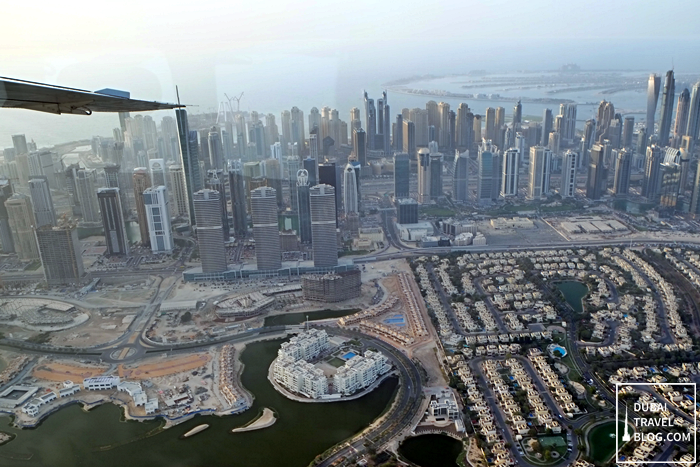 villa communities and skyscrapers
Seawings Seaplane Tours is the most unique and exhilarating Dubai sightseeing experience. Let us take you on a magical journey across the ever changing skyline. Gently take off from the pristine waters of Dubai and effortlessly ascending to the skies.

Observe unique perspectives of Dubai's iconic Burj Khalifa, Burj Al Arab, The World and Palm Jumeirah. A Seawings Seaplane Tour is a once-in-a-lifetime experience, acclaimed by the New York Times as the number one thing to do in Dubai. Includes:

A breathtaking water takeoff and landing
Relaxed 40 minute (dock to dock) seaplane tour
Every seat is a leather window seat
Unique views of Dubai's iconic landmarks

Price: 1695 AED per adult, 1440 per child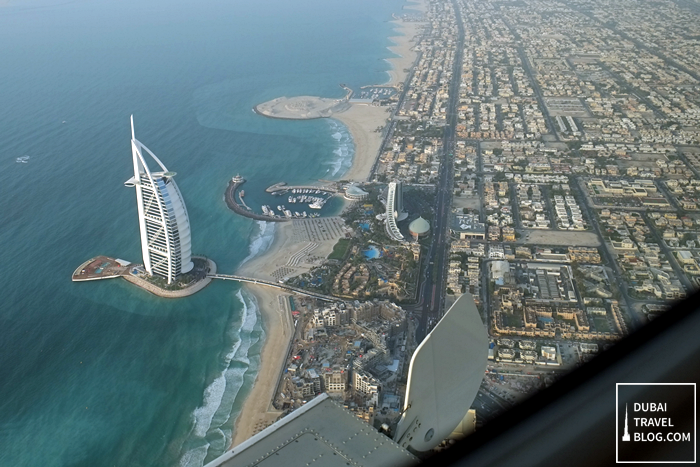 last look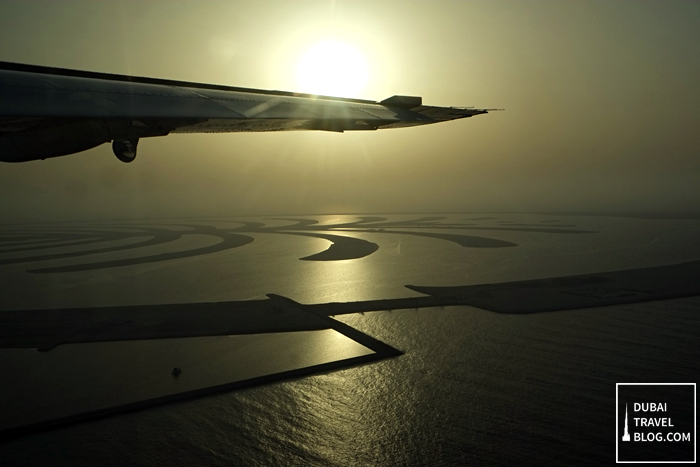 sunset
Book a Seaplane Tour of Dubai Here
Aside from this seaplane tour, Seawings offers other lifestyle excursions and other luxury packages that covers Fine Dining, City Sightseeing, Family Adventure, Wildlife & Desert, and Beach and Spa. They cater to a premium market who want a unique and memorable experience in the UAE.
Check out their other offerings from their website. Contact details below:
Seaplane Dubai Tour – BOOK TICKETS HERE
Website: seawings.ae
Facebook: facebook.com/seawingsdubai
Instagram: instagram.com/seawingsdubai/
Twitter: twitter.com/SeawingsDubai