You cannot visit Dubai and NOT try the desert safari adventure. It is one of the most  sought-after tourist activities in the Middle East! This is hands down an ultimate outdoor excursion in Dubai. A definite must for those who want to get up close with the desert, this day tour will take you on a thrilling ride across the famous striking golden dunes of the Arabian Desert.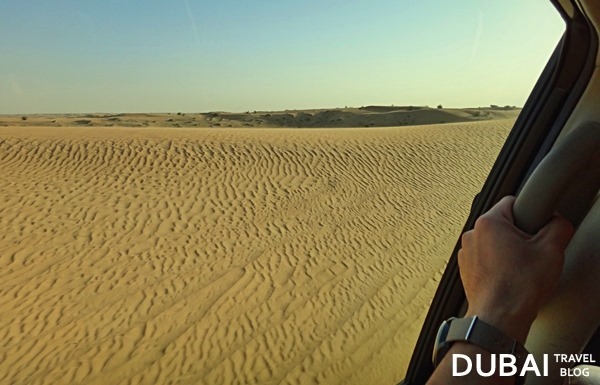 what to expect in this desert adventure
Furthermore, you will have a chance to enjoy a myriad of exciting desert activities, such as a camel ride, and rush sand-boarding down on the desert dunes of Dubai. Then, you will be capping off your day with a tasty barbecue dish, while watching an entertaining traditional dance from tanoura performers. By the way, you will be enjoying this sumptuous dinner and amusing dance performance as well.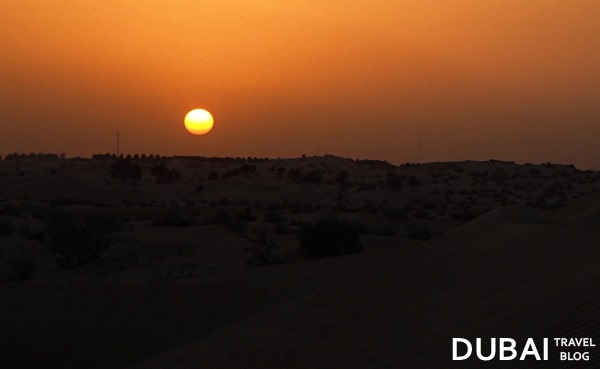 sunsets are almost always perfect in the Middle East
Desert Safari Trip in Dubai, United Arab Emirates
This desert tour starts with a pickup at your hotel in Dubai through a cushy and robust 4×4 jeep.  Then, you will be heading straight to the sultry desert that encompasses the city of Dubai. As you make your way through the desert, you will be getting lovely views of the UAE's mesmerizing landscapes, while listening to your guide's stories about the area as well as its spellbinding geography.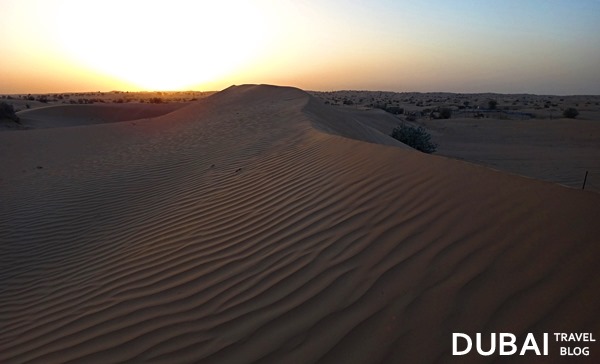 desert sand in Dubai
Sand Dune Bashing
Upon arriving at the desert area, you will be riding another 4×4 and you will experience sand dune bashing. Hold on tight as it can get crazy wild (depending on the driver) when you drive through the sand and bash the dunes. The driver will play some loud Arabic music that will complement the experience, but again, make sure to hold on tight!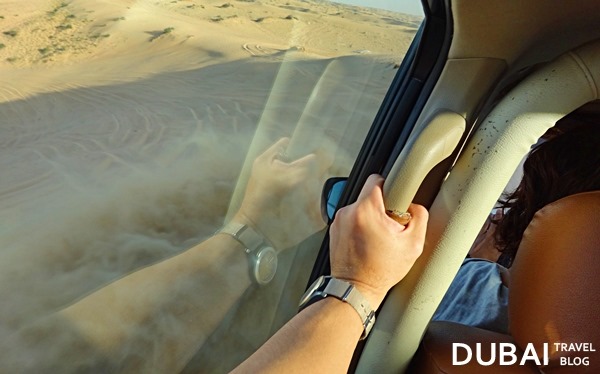 hold on tight for the sand dune bashing!
Camels Up Close
You will get an up close encounter with herds of magnificent camels in a traditional animal farm. Besides taking pictures of these friendly animals, a visit here gives you an opportunity to learn more about the different kinds of camels that can be seen near the city of Dubai. Of course, you may show off skills in balancing to your friends and family by taking a leisurely ride on a real camel.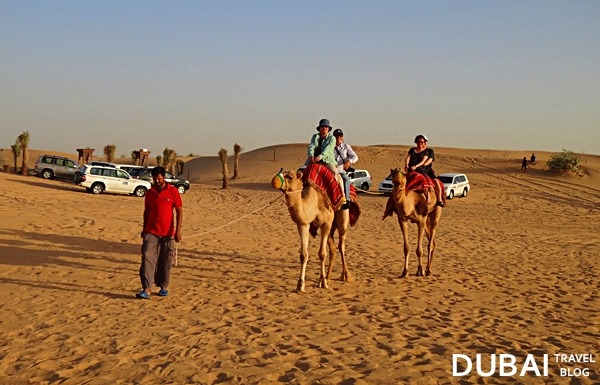 Short camel ride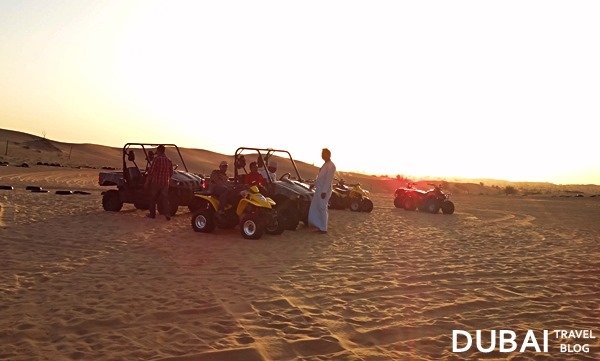 Sand buggies for rent
Campsite and Sand Buggy
Your outdoor adventure resumes with a sojourn to a desert campsite, where you may enjoy a blissful and unforgettable experience. Here, you get to learn and practice the art of sand-boarding. In addition, a stop here allows you to race with your fellow adventurers and friends down the granular landscapes of the region.  You may also try to rent sand dune buggies just to experience driving through the desert.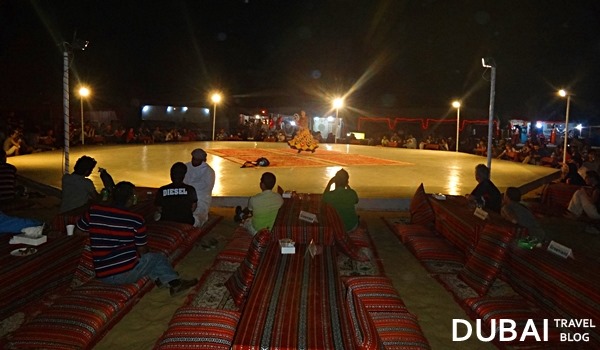 watching the show during dinner time
Dinner, Tanoura Dance and Belly Dance
After a crazy day of outdoor fun and adventure, treat yourself with dinner of grilled barbecues around a campfire, while watching tanoura performers dancing to traditional folk dance as well as a belly dance from one of the lady performers. In addition, you may smoke on an Arabic water pipe called as shisha, or get a henna tattoo on your feet or hands.  If, however, you just want to relax, look for a good spot to settle down, and watch the clear twinkling skies in the sky above you.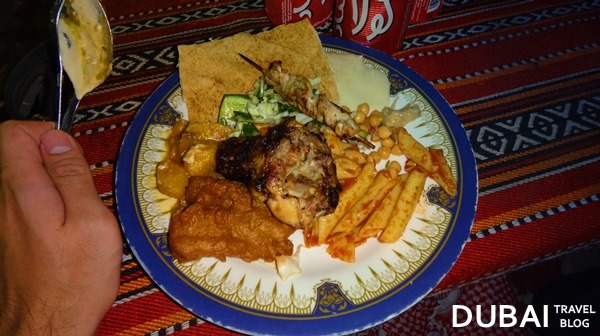 dinner at the campsite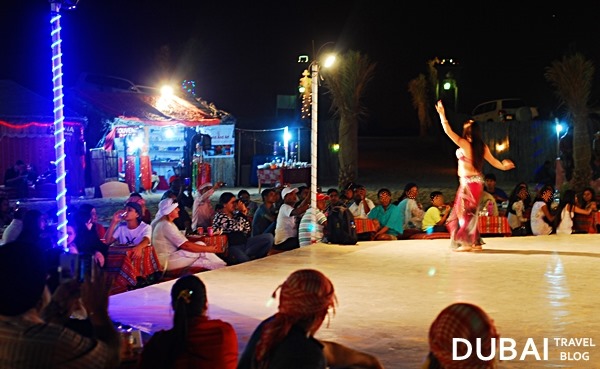 belly dancer
Dubai Tip: Desert Dunes an Hour Away from the City
The desert safari trip is a must-try for anybody who wants to visit Dubai. The desert is, after all, where Dubai came from its humble beginnings before it became the world-class city that it is. The day trip from local travel agencies is a short experience where you don't have to go far from the city. If you want a more vast sand dune location, you can try asking the area near Sharjah or other locations where it's about an hour or so to drive from the city.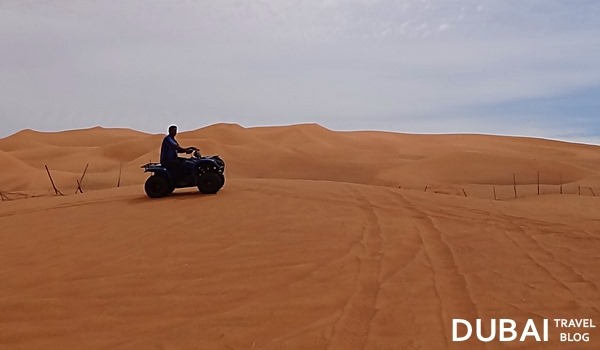 desert sand in Lahbab, Sharjah – farther from the city
Overall, the desert adventure is a great way for you to see the landscape of the old Dubai. One of the things you might enjoy is simply taking photos of the sunset and just admiring the view of the sand.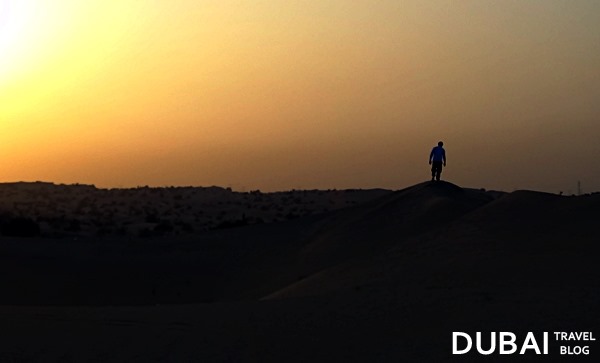 walking on sand