As a tourist or new resident in Dubai, you might be in culture shock once you see men and women in malls or on the streets wearing white and black robes. Don't be confused, as these are simply locals or the Emiratis in the UAE.
Related Post: Best Attractions in Dubai
As somebody who saw Dubai for the first time, I was caught off guard by men wearing kondouras and women wearing abayas, all of these are part of these locals practicing their beliefs and  culture. If you wish to learn more about Emirati culture, the Sheikh Mohammed bin Rashid Centre for Cultural Understanding(SMCCU) offers cultural tours regularly. So if you want to immerse and get to know the Emirati way of living, might want to book these knowledge tours.
Book a Dubai Creekside Tour Here
Understanding Emirati Culture via Sheikh Mohammed bin Rashid Centre for Cultural Understanding
Here are tours by SMCCU that you may want to try to enlighten yourself on the UAE culture.
Jumeirah Mosque Visit
The Jumeirah Mosque is open for non Muslims to drop by and understand our Muslim brothers and sisters through an open discussion so whatever questions you have about the religion, you can openly ask from the guide.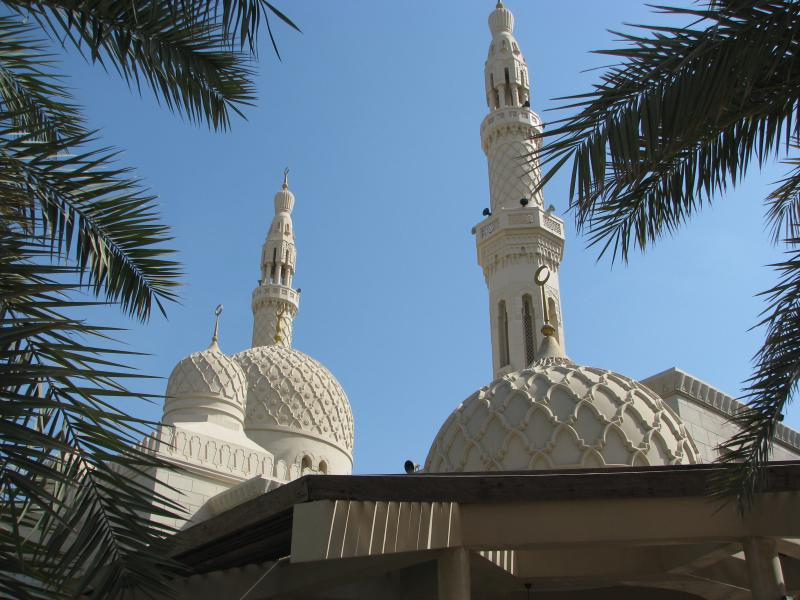 Guided tour of the Jumeirah Mosque
Photo by David Bailey under Creative Commons
Jumeirah Mosque hosts daily tours starting 10 am,  except Fridays. No need to reserve in advance.  Modest dress is advised and traditional attire us available to borrow at the area.
Tickets cost 25 AED and lasts for 1 hour and 15 minutes.
Cultural Heritage Tours
Take part in a guided tour of the Diwan Mosque and the Al Fahidi Historic District. Al Fahidi is the oldest neighborhood in Dubai so you can experience the history of Dubai and see more of Old Dubai.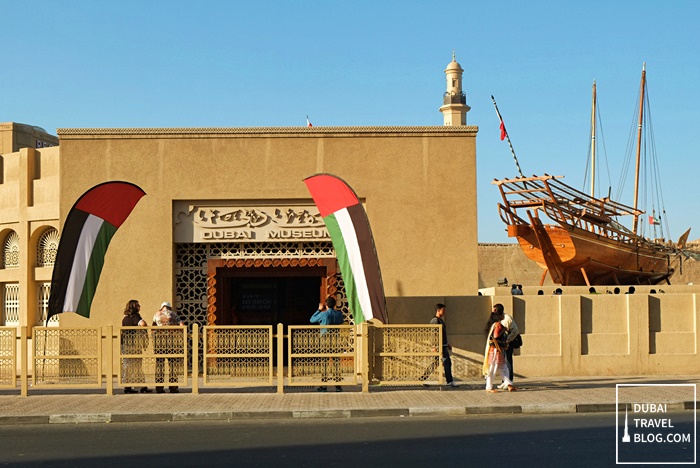 Oldest district in Dubai is Al Fahidi – explore the museum!
Heritage tours are every Saturday at 9am and every Sunday, Tuesday & Thursday at 10:30 am.  This tour is composed of a tour of Al Fahidi District,  Mosque Visit and an open Question & Answer with coffee and dates.
Tickets cost 100 AED per person and lasts for 90 minutes – (Sun, Tues, Thurs at 10:30 am)
Book an Al Fahidi District Tour Here
Creekside Tours
Creekside Tours are available for reservation with a minimum of 10 persons. This tour includes a Mosque Visit,  walk through the district,  ride of the traditional boat " abra", visits to the Gold Souk, Spice Souk,  Fabric Souk, and an open forum discussion with coffee and dates.
Tickets cost 275 AED per person and lasts for 2 hours. Reservations are needed.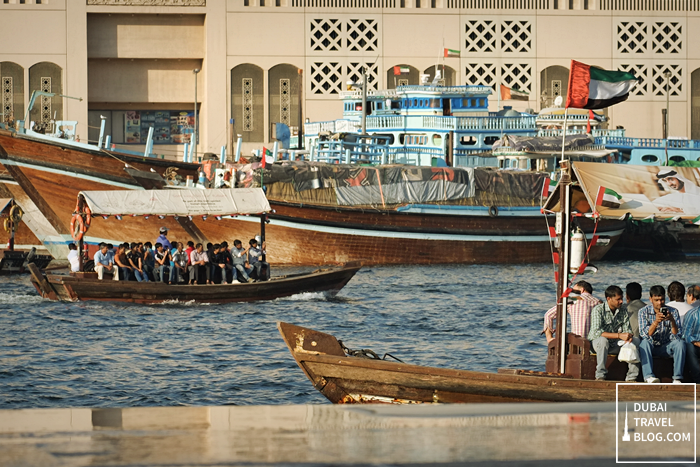 Riding the Abra in the Dubai Creek
Related Post: Exploring Dubai on a Budget of 15 AED or Less
Cultural Meals
Enjoy great conversations over Emirati food and culture. You can choose to partake in breakfast, lunch, brunch or dinner. Here are the schedules
Cultural Breakfast: AED 120 (Monday and Wednesday at 10 am)
Cultural Lunch: AED 130 pp (Sun – Thurs at 1pm)
Cultural Brunch/Dinner: AED 150 (Saturday at 10:30 am/Sun, Tues and Thurs at 7pm)
Fuala (Afternoon Tea): AED 150 (Tues and Fri at 4:30 pm)
The SMCCU provides authentic cultural experiences in the UAE. Join them for a Cultural Meal, Heritage Tour or visit to the Jumeirah Mosque. Open doors. Open minds.
Book a Lunch Tour at the Sheikh Mohammed Cultural Center Here
Contact Information
Sheikh Mohammed Center for Cultural Understanding – SMCCU
Address: House 26, Al Musallah Road, Al Fahidi District,  Bur Dubai
Website: cultures.ae
Email: smccu@cultures.ae
Contact number: +971 4 3536666
Facebook: SMCCUDubai
Twitter: @smccudubai
Instagram: @SMCCUDubai