Another exciting adventure for those who are looking for a thrill in Dubai is to go on a scuba diving experience with sharks in the Dubai Aquarium inside The Dubai Mall. There are no cages and you will also be swimming with hundreds of other fishes inside the tank
The Dubai Aquarium  and Underwater Zoo is a world renowned attraction where you can find more than 300 species of marine animals, including sharks and rays. It is the largest suspended aquarium in the world with a 10-million liter capacity located at the Ground Level of Dubai Mall.
Requirement: PADI open water diver
Cost: 750 AED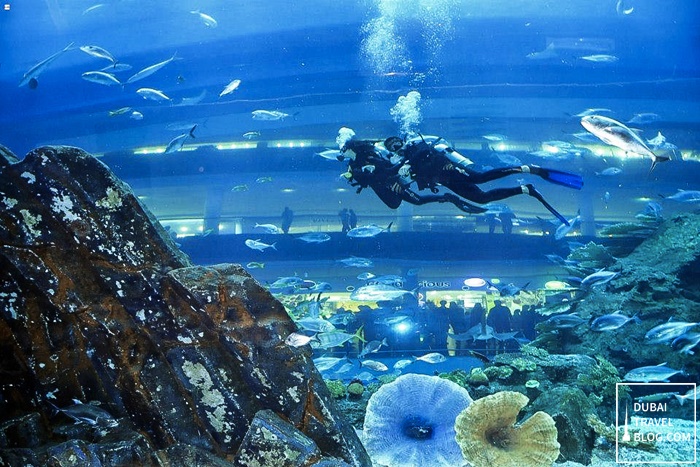 inside the Dubai Aquarium
shark tank scuba dive in Dubai Mall's Aquarium
Swimming with Sharks in the Dubai Aquarium in The Dubai Mall
Shark Diving is one of the most popular items on an adventurer's bucket list but is also one of the more difficult things to do. Apart from the cost of the experience and the risk of getting mauled, you would really need to plan your time, budget and heart for this.
The Dubai Aquarium experience is great for people who might find diving an intimidating experience, and for experienced divers who want to try a different approach to diving. Swim with over 33,000 aquatic animals while viewing mall shoppers outside of the tank. Explore the ocean safely while mall shopping!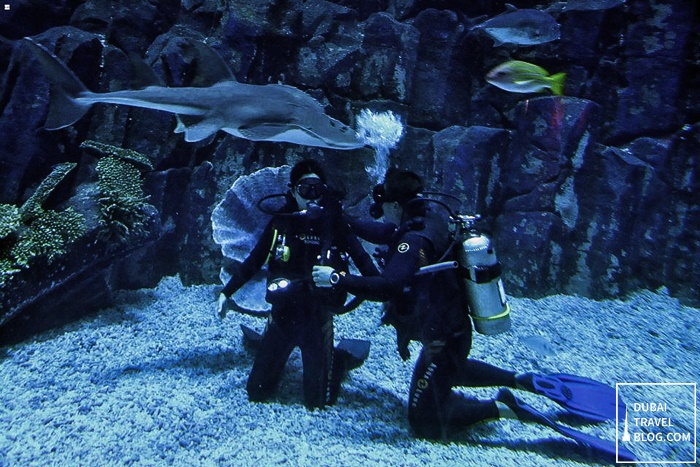 follow your dive instructor!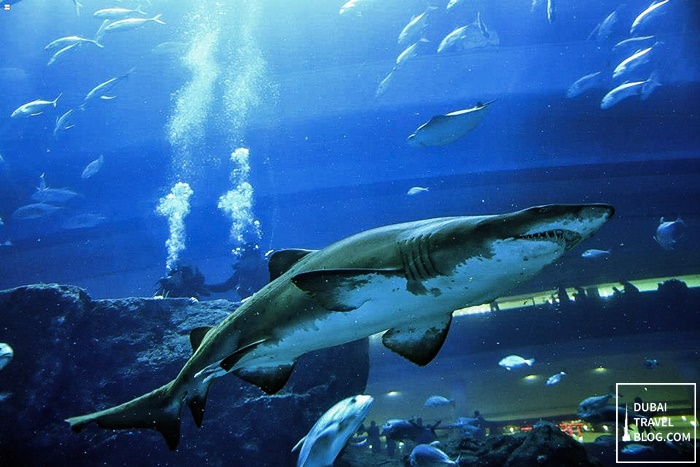 shark in the Dubai Aquarium
Getting Ready for the Shark Dive
The Shark dive requirements depends if you are a certified diver or not. Certified divers can just show their license and non-certified divers, even those who do not know how to swim, can participate after completing a short course with Al Boom Diving. PADI instructors will guide your diving experience showing you different notable parts of the aquarium.
Here are a few things you need to note before booking your shark diving experience.
They don't allow any underwater cameras, but they do have a photographer and videographer so you can buy a souvenir DVD.
For safety and cleanliness, they will provide all equipment for you. This is for the protection of the aquarium's ecosystem and to avoid unsanitary contamination from unsterile equipment or gear.
You can bring your own swimsuit for this diving experience.
Swimsuits are also available at an additional cost
Minimum age and height for entry applies depending on the package chosen.
Diving Schedule
There are 3 shark dive encounters offered daily. You need to be there at least one hour in advance for diving prep and instructions. Depending on whether you are a certified diver or not, dive time will be around 20-30 minutes.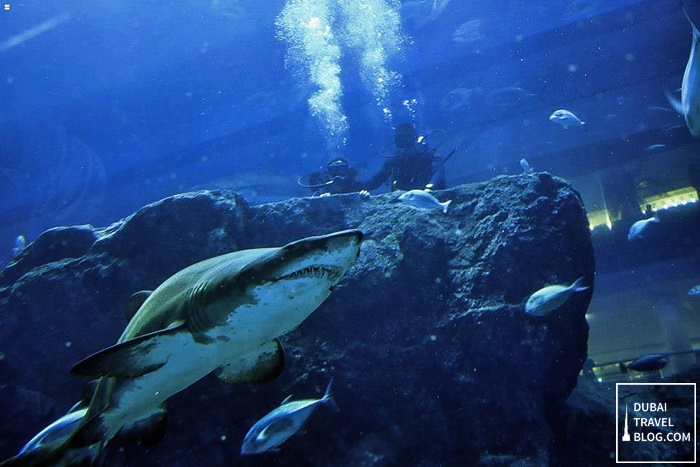 shark encounter in Dubai Aquarium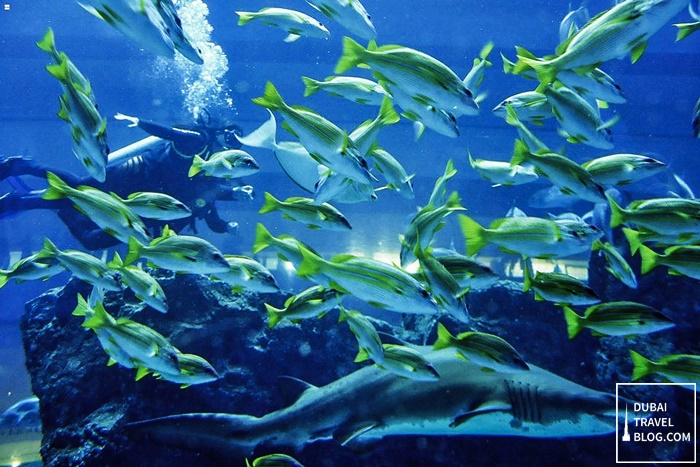 swimming with other marine life
Other Option: Cage snorkeling for Non-Divers
There is also another option is available to those who want to come face to face with reef sharks, rays and other 33,000 aquatic animals without needing to learn how to dive. You will safely experience all this while inside a cage and interact with the aquarium's marine life.
It's definitely an exciting activity to swim in the tank with sharks, rays and other aquatic animals. If you want to indulge in a bold experience in a relatively safe and a controlled environment, then head to the aquarium for a unique experience inside this large water tank.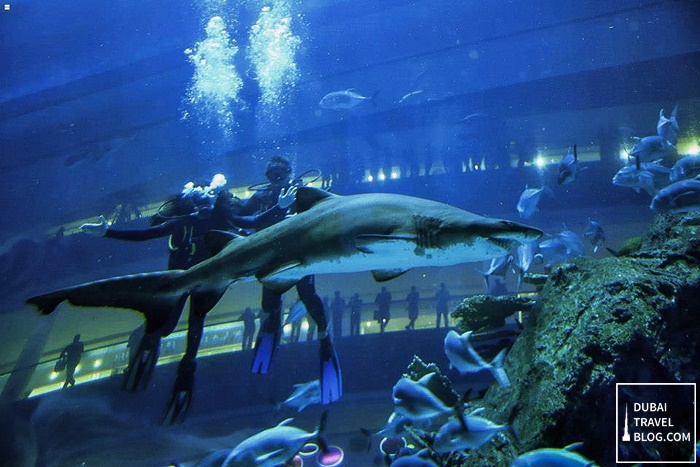 Dubai Aquarium scuba diving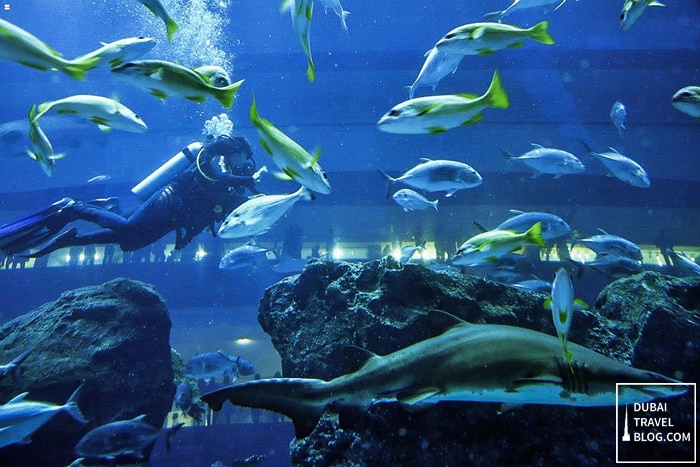 close encounter with a shark in the tank
Booking and Pricing Details
The cost of the shark dive experience is 750 AED. The Dubai Aquarium and Underwater Zoo offers various packages that will suit your interest. Here's a list of their encounters and activities. You can buy tickets online for most of the Dubai Aquarium activities.
Explorer Experience – AED 120
Researcher Experience – AED 100
King Croc Encounter – 200
Otter Encounter – 200 AED
Ray Encounter – 200 AED
Shark Encounter – 600 AED
Shark Dive – 750 AED (by Al Boom Diving).
Al Boom as Diving Partner
Al Boom Diving is the partner for the shark dive experience so you can book online here, or contact Al Boom Diving for at 04-342 2993 or email aquarium.inquiries@alboomdiving.ae.