The Dubai Mall is by far the ultimate entertainment, lifestyle and shopping destination in Dubai. With over 1,000 stores on display and a plethora of intriguing attractions to offer, this remarkable shopping center has revolutionized the city's contemporary shopping experience. Romanticized for its enormous size and buzzing shops, plenty of urban city dwellers and even from other Emirates (Abu Dhabi, Sharjah, Fuajirah, Ajman, Ras al Khamiah, and Um Al Quwain) as well as nearby countries flock to this mall for a complete recreation experience.
As one of the most sought-after leisure destinations in the Middle East, the mall has also attracted billions of lavish shoppers from all corners of the world. But you don't have to "spend" when you visit the mall, you can still enjoy the sights and tourist spots that it offers.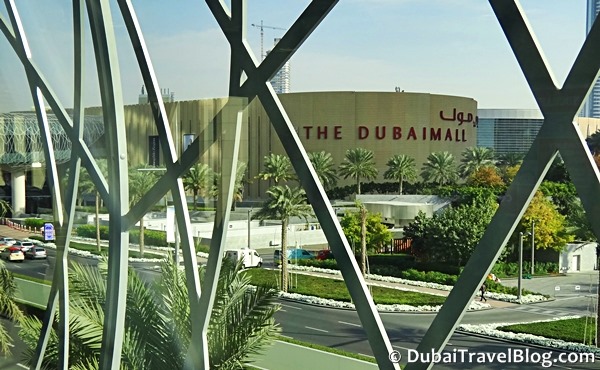 The Dubai mall, view from the bridgewalk
Location: Downtown Dubai, Dubai City, United Arab Emirates
7 Free Tourist Attractions in The Dubai Mall
Below are the places inside this huge commercial complex where you can bring your tourist family and friends. The best part is it's FREE! Yes, you can bring them to the mall without spending anything. Here are the top 7 places to visit in Dubai Mall that is worth your time.
1. Fashion Avenue
Fashion Avenue is an ultra spacious fashion precinct with a captivating hydraulic catwalk. Housing more than seventy flagship and signature stores, this 440,000 square feet shopping center boasts a large selection of fashion brands under one roof. Here, you get to buy lovely items from chic retail outlets and elite stores that pay homage to Dubai's best designer brands. Moreover, Fashion Avenue offers products from the world's most exclusive brands, such as Armani, Gucci and Chanel.
Blogpost here – Strolling in the Fashion Avenue in Dubai Mall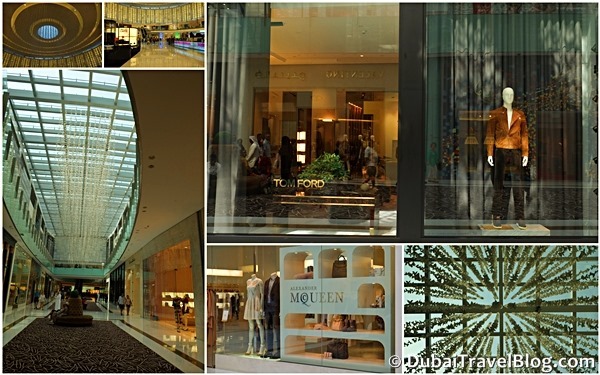 Fashion avenue area
2. Dubai Dino Display: 155 Million Year Old Dinosaur
If you love viewing exhibits about dinosaurs and pre-historic creatures, then a layover to the Dubai Dino display is an absolute must. As a visitor in this part of the mall, you get to lay eyes on the awe-inspiring bones of a whip-tailed, long-necked dinosaur that is more than 150 million years old.
Note: The Dubai Dino has been moved to The Souk area.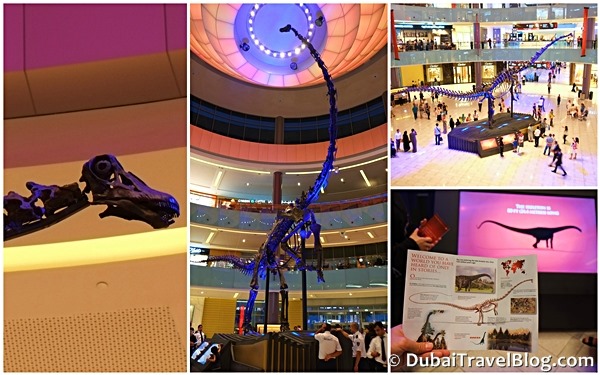 Dubai Mall's resident dinosaur
Blogpost: Dubai Dino in The Dubai Mall
3. Burj Khalifa: The Tallest Building in the World
The Burj Khalifa is one of the icons of Dubai and it can be conveniently accessed when you go outside the mall. You will see it in it's full glory and just admire it up close. If you have the chance to go at the top of the tower (with a fee), you can enjoy unparalleled panoramas of the city and Arabian Desert. Likewise, this area of the mall allows you to take a thrilling high-speed ride in one of the fastest elevators in the world.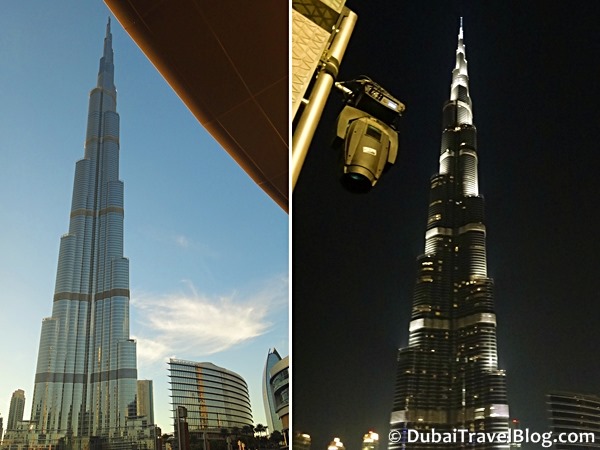 Burj Khalifa day and night
4. Dubai Fountain at the Burj Khalifa Lake
Thousands of tourists visit the lake in the Burj Khalifa to watch the Fountain show outside the mall. This is an amazing display of waterworks that leaves people breathless. Around 7pm, the waterfountain show lasts for 5 minutes (one song) and then plays a different song every 30 minutes. Just be careful with the crowd as it can get a bit busy.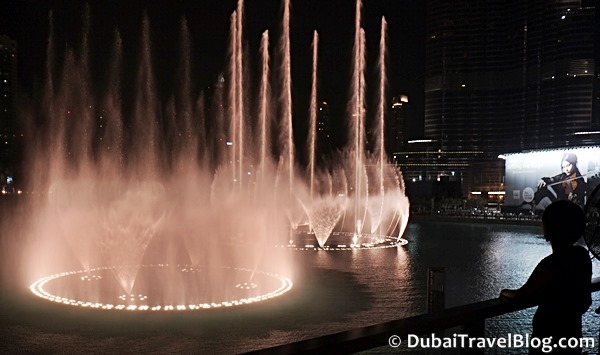 Water fountain show
Blogpost: The Dubai Dancing Fountain Show
5. Dubai Aquarium
You can simply marvel at the huge aquarium fronting The Cheesecake Factory and Candylicious. The Dubai Aquarium is home to over 33,000 marine animals on display. Bring your children as it's a great visual treat to have them stare at the various fishes and other aquatic animals.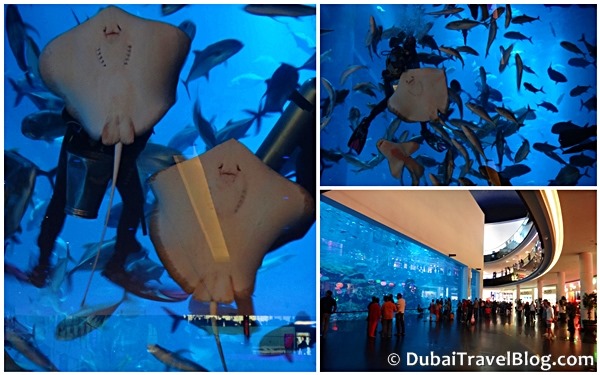 Dubai Aquarium
Blogpost: Shark Diving in the Dubai Aquarium
6. VR Park – Virtual Reality Indoor Theme Park
UPDATE: Sega Republic has been replaced by VR Park.
This Virtual Reality indoor theme park offers gamers a high-tech virtual-reality area where you can experience an augmented reality through rides and experiences that cater fans of horror, leisure, sport, adventure and more.
Sega Republic is a gamer's paradise, showcasing over a dozen thrilling attractions and 150 games, including redemption games, virtual experiences and avant-garde motion simulations. You can come here and check out the place just to view the rides. There's NO Entrance fee, you only pay when you use the rides or play the games. For a bit of sight-seeing, this is fine. Developed by SEGA Corporation and Emaar Retail, this intoxicating entertainment center brings you an unforgettable and thrilling experience that you will remember for years to come.
7. Human Waterfalls
Often used as a meeting point for the mall's visitors, the Human Waterfall is a breathtaking water feature that will leave its spectators staring at the water cascades. Traversing all the mall's four levels, this unique amazement runs through the whole height of the Dubai Mall, and is embellished with artistic fiberglass sculptures of human divers.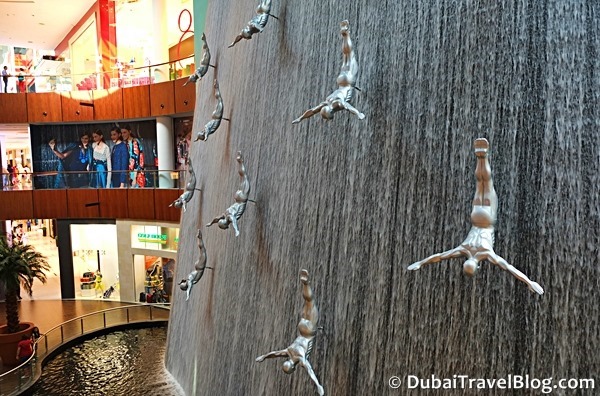 Human waterfall
Blogpost: Human Waterfalls in The Dubai Mall
Whether you are on a blissful shopping spree or on an epic sightseeing adventure, a visit to this shopping epicenter won't disappoint you. From its world-class aquarium and iconic Burj Khalifa to its luxurious designer boutiques, the mall has an endless array of delights that can keep you hooked and busy for an entire day. With these spots, you can bring any tourist on a budget and for sure, they'll enjoy the view.