Looking for free and cheap things to do in this Emirati tourist hub? In my book, one of the best free tourist attractions in the city of Dubai is the bewitching fountain show at the Burj Khalifa Lake. As a spectator in this gratis grand presentation, you will surely have an unforgettable and pleasurable visual experience.
Related Article: 7 Places to Visit in The Dubai Mall without Spending Money
For years, Dubai has been known as a destination of splendor and glitz, drawing wealthy travelers and aristocrats with its lavish five-star hotels, skyscraping buildings and cosmopolitan flair. A modern hub where luxury and wealth are boundless, this dynamic destination is home to some of the world's most expensive properties and commodities. But this rich Middle Eastern city is not all about grandeur and luxury. In spite of its reputation as an extravagant destination, it is still possible to have a blast in Dubai without having to spend a fortune.

Water fountain in Dubai during daytime
Water Fountain Show – A Famous Tourist Attraction
The Dubai Fountain Show at the Burj Khalifa Lake, or also referred as the Dubai Fountain, is unlike another attraction in the Middle East. Designed by a world-class water feature designing firm known as WET Design, this scintillating attraction is currently recognized as the biggest choreographed fountain in the world, thanks to its uncanny ability to spray water up to 500 feet and its impressive length of 900 feet. What's more, the fountain beautifully sprays more than 20,000 gallons of water in the air every show.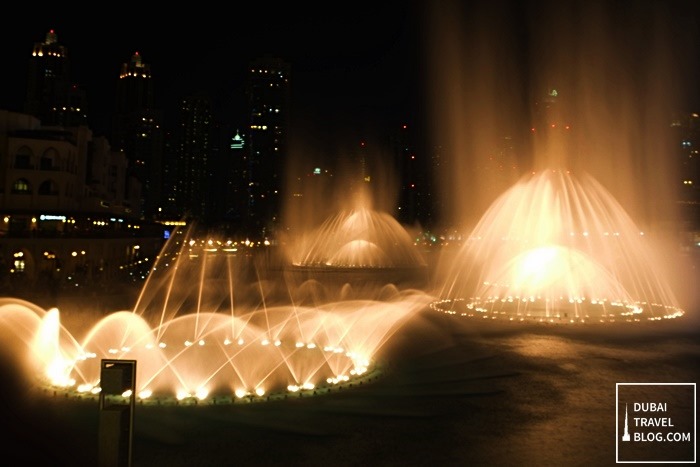 night time, view from the Madeleine cafe terrace
Effects and Technology
The firm's engineers and geniuses have put up a great deal of effort and time into this fountain, and its shows. Apparently, the Dubai fountain is made up of several cutting-edge high-pressure water robots, shooters and jets. When the presentation starts, these powerful pieces of equipment will shoot sprays of water that soar high above in the sky.
Over 20 color projectors and 5,000 large state-of-the-art incandescent lights are used to illuminate this lovely water feature. Aside from lighting up the fountain, these features also create a sensational visual spectrum of more than a thousand abstract attractions. The fountain's light beam can be observed more than 20 miles away, and is visible from the outer space, making the lake the brightest spot in all of the Middle East.

water fountain and the tallest building in the world
Of course, these breathtaking water sprays and incredible lightning effects are choreographed wonderfully with a variety of musical tracks, such as Sama Dubia, Michael Jackson's Thriller, waves, and a whole lot more.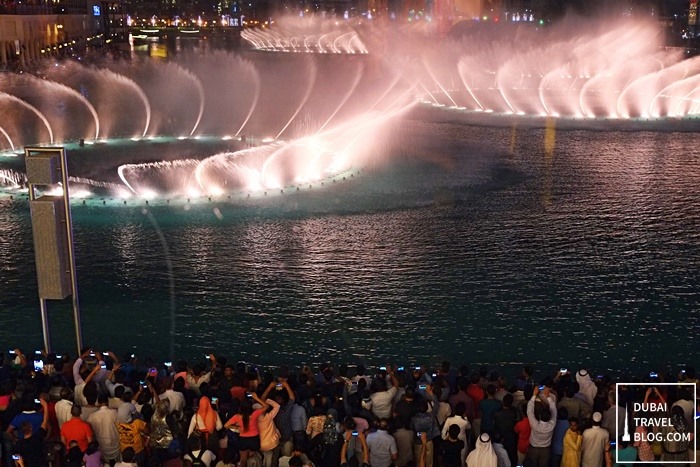 with plenty of tourists flocking and capturing the display
Watch it as many times as you want
The fountain creates a spectacle and dances to catchy tunes every day. You can watch it as many times as you want, as it is absolutely free of charge.
Here's a video we've captured of the dancing fountain with an Arabic song playing. We hope you enjoy it! Don't forget to choose "HD" to watch it in high quality video.