We spent a fun Saturday morning driving a buggy over the Al Faqa desert sand dunes. This is an exciting experience especially to those who want to do thrilling outdoor adventures in Dubai.
Our call time was around 6:30am as we needed to head to the desert early before it got extremely hot. We scheduled this buggy adventure in May, when the UAE is transitioning to the summer season.
Stanli, our guide and driver, was very prompt in picking us up from our apartment building. We also went to pick up two other guests in a hotel in Sheikh Zayed Road. We arrived at the site after a 40-minute drive from the city.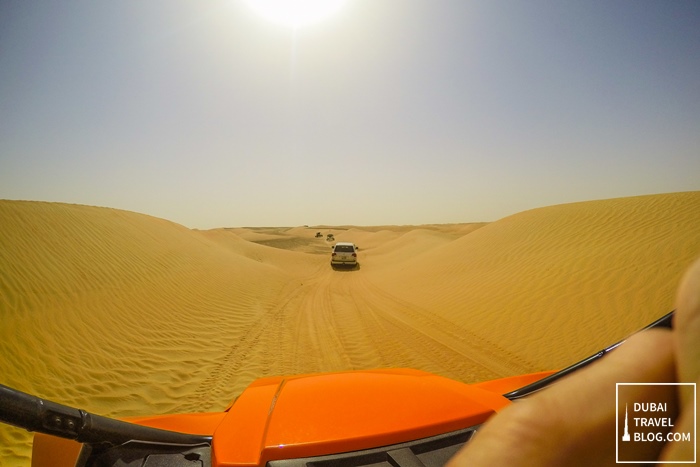 Al Faqa desert dunes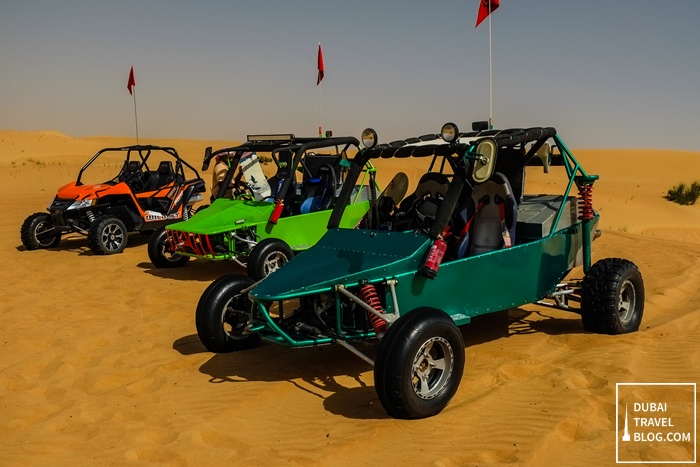 sand dune buggies!
Driving a Sand Dune Buggy by Delta Adventures
Delta Adventures is the adventure outfit that manages this expedition and they specialize in dune buggy tours. Most of their buggies are custom-built manual transmission machines which are also equipped with safety features.
As somebody who isn't familiar with Manual transmission, I was lucky enough that they have an Automatic transmission buggy available. In case you or your friends don't know how to drive, you can sit as passengers and they have designated staff to man the vehicle (at an additional cost).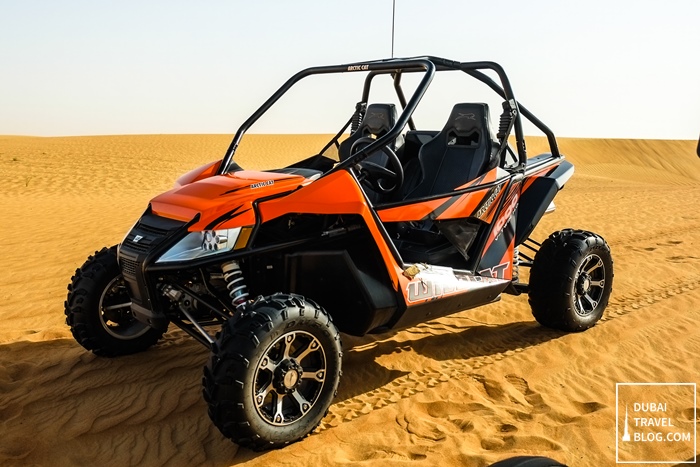 Arctic Cat Wild Cat 1000cc buggy
convoy dune raider tour
Note: I'm not entirely sure where this Al Faqaa desert is located. Based on our drive, we were already in the outskirts of Abu Dhabi, but upon searching online, I noticed that Al Faqaa is still part of Dubai? Google Maps seems to show that it's near the border of Dubai and Abu Dhabi.
UPDATE: The Al Faqa desert is located along the Dubai – Al Ain highway, close to the border between Dubai & Al Ain.
Anyway, we began our drive with short orientation about the trip. Stanli advised us that this was a convoy-type tour, so you are not allowed to go past each other and race due to safety reasons. We also signed a waiver. Afterwards, we started our engines and drove over the vast sandscape.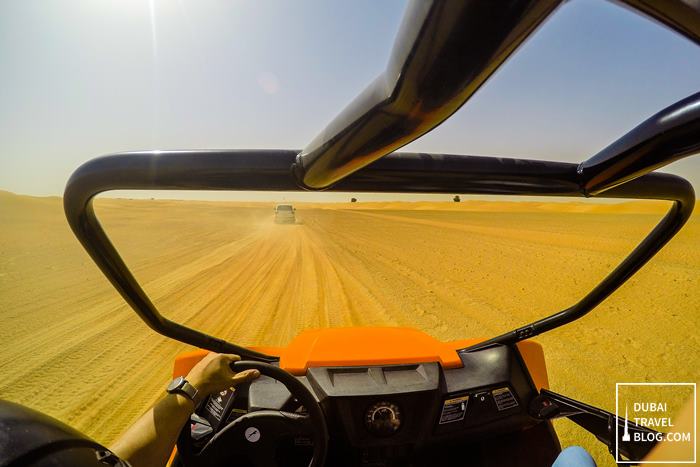 sand buggy adventure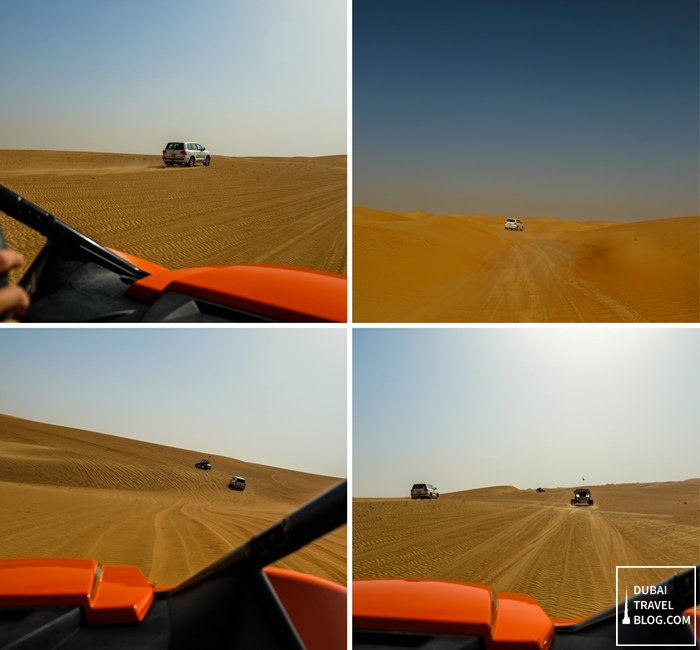 driving through endless sand
Sandboarding in Al Faqa Desert
After about half an hour, we stopped for some sandboarding and photo ops. We also rested for a moment. Unlimited water is provided so you can always keep hydrated.
I didn't pass up the opportunity to ride the board and go down the hill, even if it was terribly exhausting to climb back up. I went down 3 times. ;p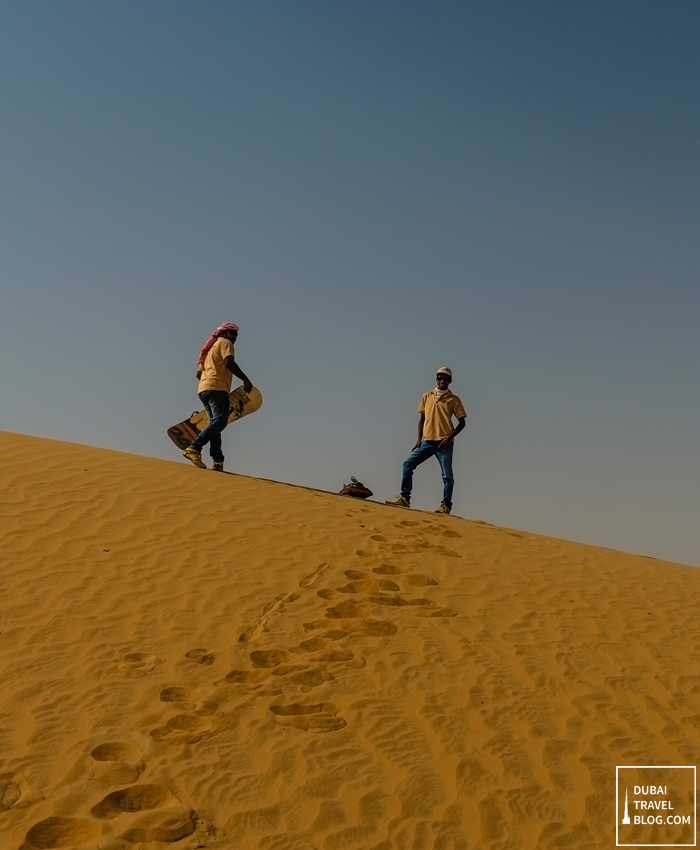 Delta Adventures UAE preparing the boards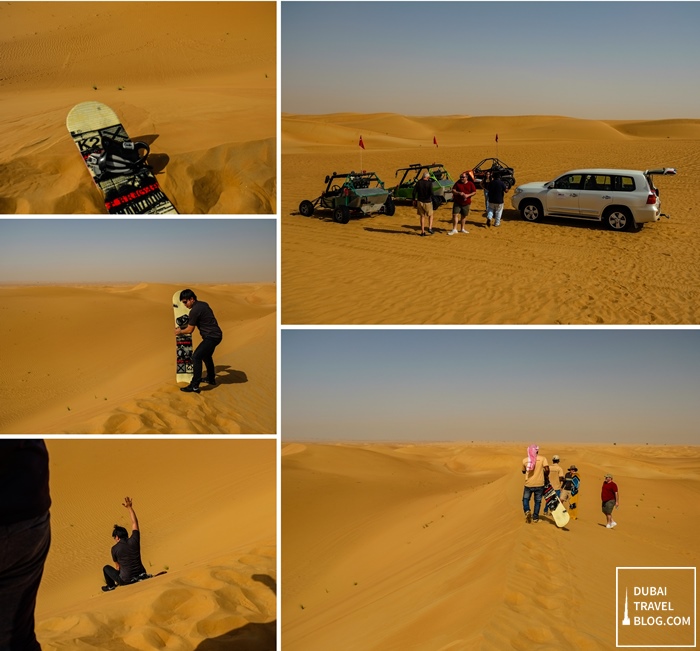 sandboarding in the desert
It was also great just to see the view from the top of the slope. One of the things I was particular about before having this adventure was the quality of the sand. I wanted to know if the sand was good because we've experienced a desert safari adventure in Dubai where the sand had plenty of plants and bushes.
The team from Delta Adventures assured us that we would be driving over countless dunes. Surely, the blankets of sand did not disappoint.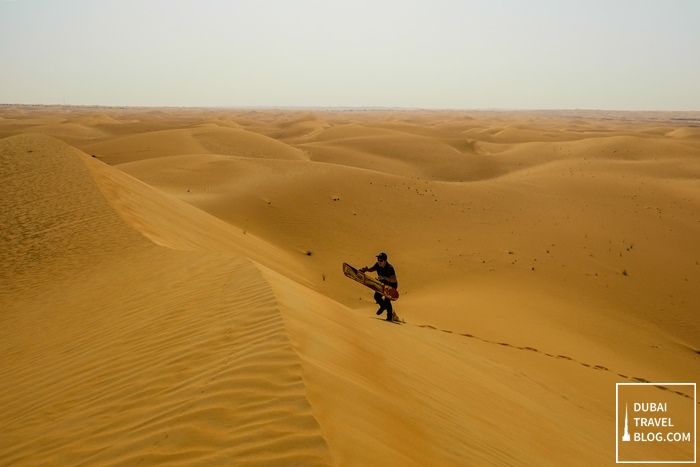 climbing the sand was really exhausting, lol.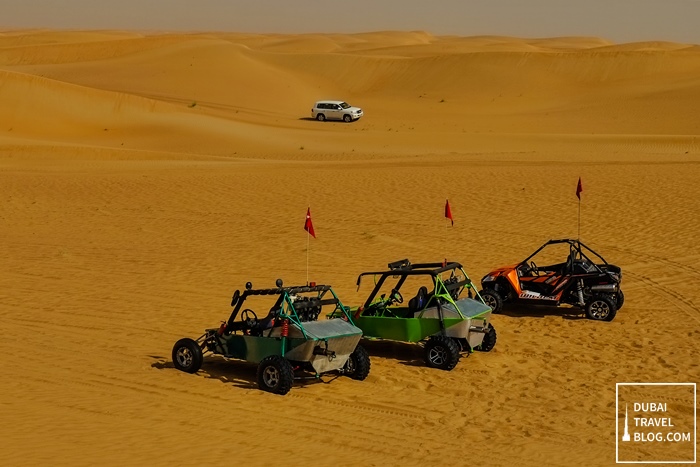 our buggies and the land cruiser
We proceeded to driving our buggies for another half hour.
It was an awesome highlight to drive through slopes and flats. All the while enjoying the amazing view of the desert and not minding the heat of the sun. The staff were always there to make sure we were comfortable and safe.
Short Video of our Sand Dune Buggy Adventure in the Desert
Here's a short video of our trip below.
Dune Raiders
Experience an exhilarating dune drive in our 4×4 vehicles and explore the mystical scenery of the U.A.E. desert with its magnificent rippled golden dunes. Upon reaching a photo-stop, you will find our colorful dune buggies all lined up & waiting to offer you the ultimate thrill of self-drive. After a safety briefing, we will take you on a roller-coaster ride in these buggies far into the dunes as a convoy.

With a few stops for refreshments and photo ops, we will round off your buggy ride with sand boarding. Our powerful custom-made, 1500cc manual dune buggies (not to be mistaken with quad bikes) are designed with 100% reliability and stability on sand. At the same time they are equipped with roll cages, safety harnesses, bucket seats, fire extinguisher, helmets and a back up vehicle (with mechanical support) to give you an uninterrupted and safe ride as your safety is our utmost priority!

Maximum 2 pax per Dune buggy
Duration – Half Day
Slots – A.M. & P.M.
Unlimited water
Meals – Not Applicable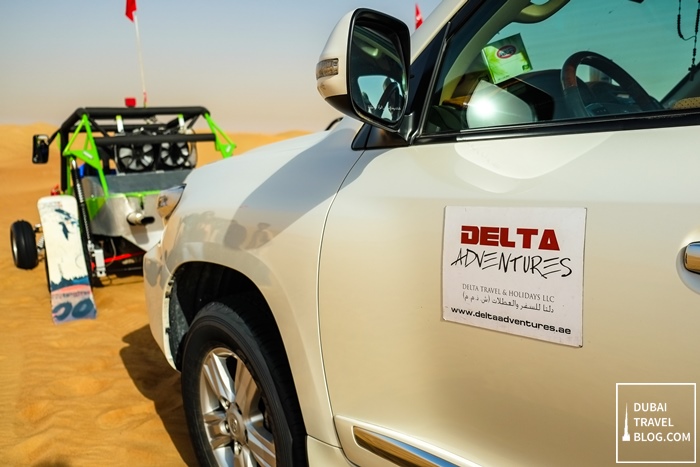 Delta Adventures
This was definitely an adrenaline-filled experience and it's something I recommend to adventurous tourists. Delta Adventures also offers other excursions such as dune buggy adventures with sunrise tours, desert BBQ dinners, overnight camping programs and various customizable options for special events like family get together, birthdays, anniversaries like camel trekking, falcon shows.
* Children to be a minimum of 08 years to sit as passengers. Minimum of 18 years to drive.
Delta Adventures Contact Information
Website: www.deltaadventures.ae/en/
Email: joe@deltaadventures.ae
info@deltaadventures.ae
Telephone Number: +971 55 6988330
+971 4 3980909
Facebook: facebook.com/deltaadventures.ae
Instagram: instagram.com/deltaadventures.ae
Twitter: twitter.com/deltaadventures