When in Dubai, it is almost impossible not to visit the gold markets. This is one of the popular tourist destinations of the emirate. After all, this city is known for its gold trade. With almost countless retailers around, you might wonder which areas you should check out to shop. You can never go wrong with the Deira Gold Souk in Old Dubai.
Tourist buses (Book a Bus Tour here) include this area as a regular stopover because of the many options of gold and how the structure of this place was set up. But even if you're not planning to buy gold, the Deira Gold Souk is a must-see when you're in Dubai. Gold lined up from aisle to aisle, who wouldn't get attracted just for the fun of it.
Book a Hop on Hop off Bus Tour of Dubai Here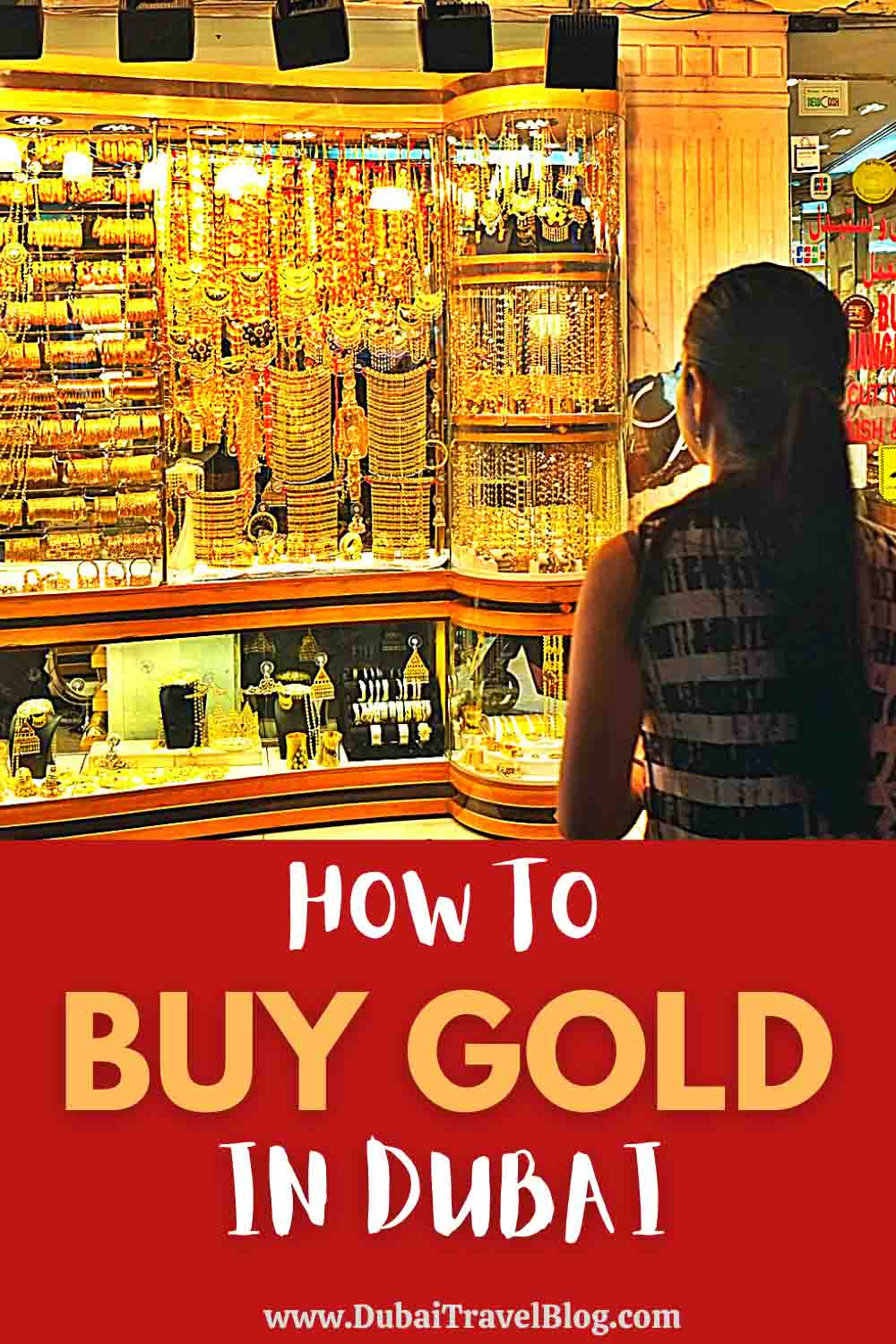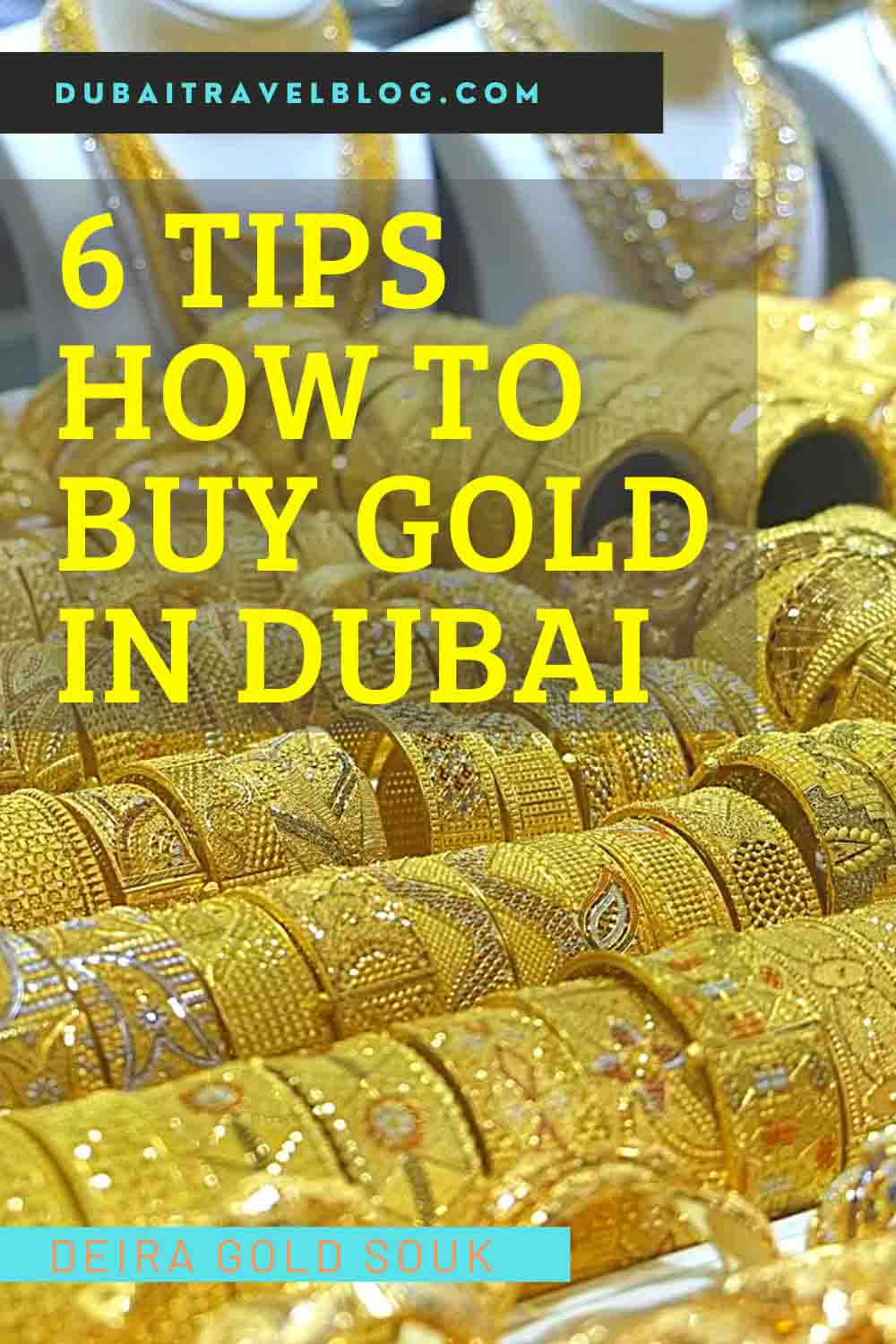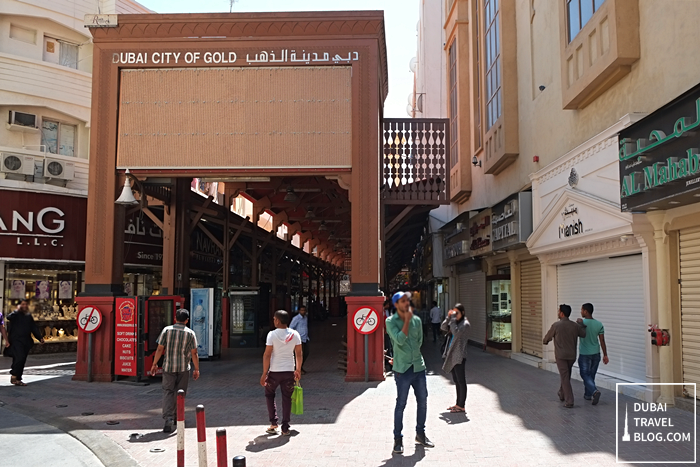 one of the entrance areas to the gold market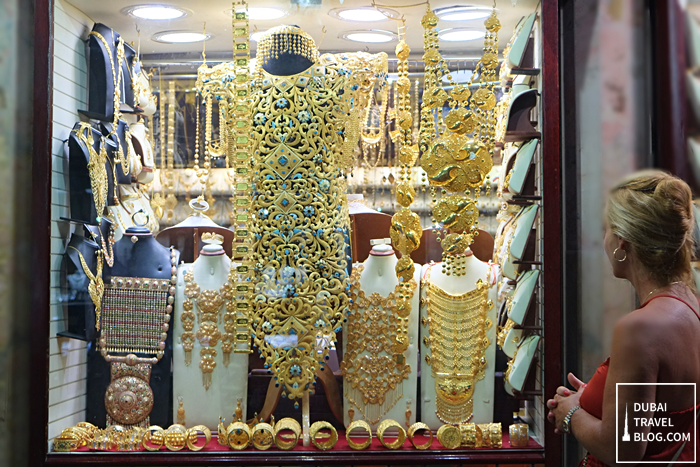 window-shopping first
How to Buy Gold at the Dubai Gold Market
In case you're planning to buy gold, here are a few tips to help you understand how things work. Check out the guide below.
1. Know the market price.
Gold is like stocks, their price fluctuates on a daily basis. So it is only prudent to know how much it goes for in the open market. Aside from your knowledge of gold, this is probably the most important factor you must know before proceeding to buy gold in Deira Gold Souk. By knowing market price, you are able to haggle with the vendors.
The Dubai Retail Gold Rate is a good place to start. Going prices in AED is posted at the market for going price.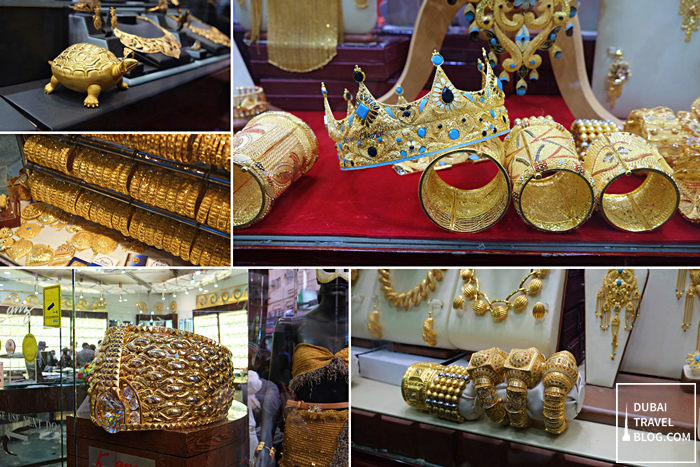 take your pick!
2. Know the types of Gold. Choose your Karat.
Like anything that you want to buy, doing your research pays a lot. Gold is sold by the Karat and weight. The higher the Karat, the purer that gold is. This means that a 24-Karat gold is 100% pure gold. Because pure gold is soft, it hardens by mixing it with different metals such as silver, zinc, copper, and nickel.
Gold also comes in different colors which explain the type of alloys and the percentage of alloys mixed with it.
3. Choose your jewellery.
Once you know what type of accessory you want, whether it's a ring, bracelet, necklace, earring, gold chain, etc., ask about its Karat and weight. The attendants will weigh the pieces you choose.
TRIVIA: The World's Largest Ring is located in Deira Gold Souk. This is a Guinness Book of World Record that is displayed in one of the shops there. You can find it at the Gate 1 of the Dubai Gold Souk.
There's a lot of options to choose from when you're in the Deira Gold Souk, aside from those usual options, there are extravagant pieces such as a gold scarf, gold bag, gold crown, there's even a gold dress!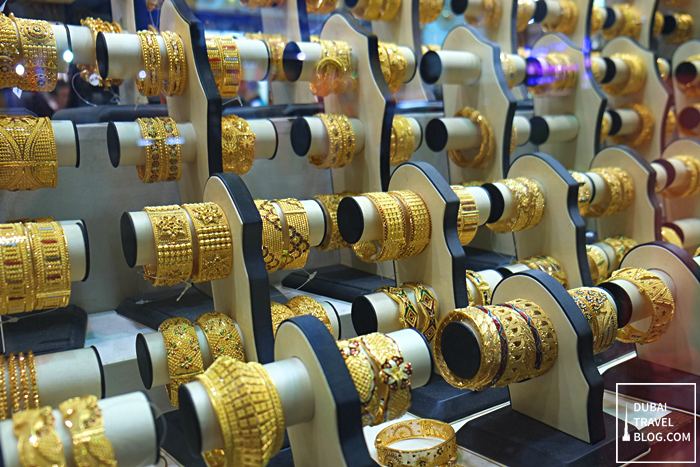 gold bangles
4. Learn to Haggle.
Haggling is an art and you will learn it after you go through different shops. Sellers will expect you to haggle so they have price buffers when you do so. Try bartering 25% off the quoted price, you might get lucky. In the same fashion, try to barter according to the price you can afford. But be prepared to walk away if you don't agree to a compromise. Some sellers will ask you how much you can afford just to sell a piece. The haggling is based on the RATE and the MAKE.
RATE – check the rate of gold per Karat from the prices which are posted outside. These are real-time updates according to how much the price per Karat is of the gold. It can be assured that shops are strict and are always in tune with the rate of the gold. Because they are regularly monitored by Dubai Police. If a customer complains that they have been tricked, their shops will be at stake. So expect that the gold rate is uniform across all stores.
MAKE – this is the price of the labour of the jewellery that you are buying. The more intricate the design is, the pricier the MAKE charge is. But usually, this is where you can haggle, as different shops usually have the same pieces/designs, you can try to ask for a cheaper MAKE charge.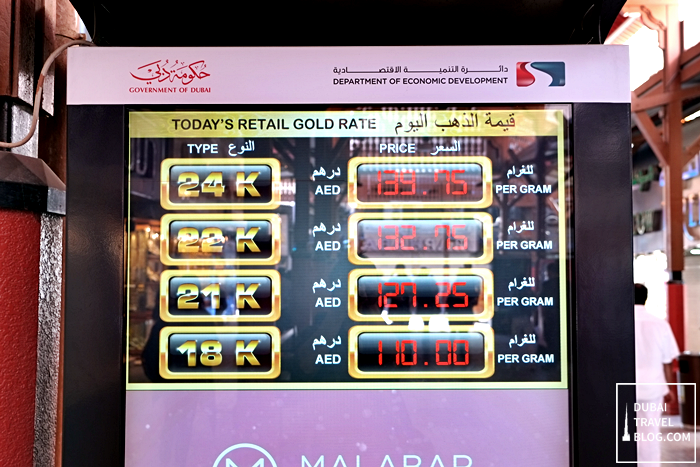 Gold rate stand – plenty of them in the marketplace, you can't miss it!
The more pieces you buy, the more you can haggle for. But know as well that the more intricate the design of the piece you choose, the harder it is to haggle for the lowest price you want. Gold is sold by Karat and weight so you can only haggle on the labour it took to create the piece.
5. Go around in different shops.
Before settling for a piece, shop around. Most of the stores have the same pieces, they only differ in the price based on your bartering skills. You have hundreds of retailers to choose from.
Another tip here, the shops in nooks and corners (not the ones easily accessible) have better price rates because not much foot traffic passes through these areas. So it's good to go to narrower alleys in the souk to find better deals.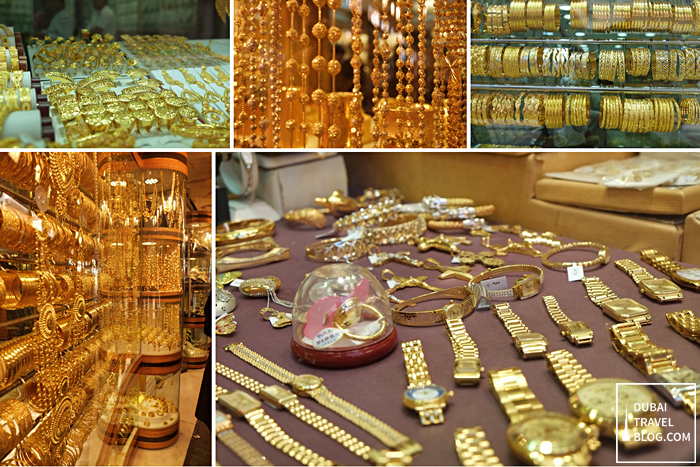 gold everywhere!
Be sure to stick around the stores where the quality of gold being sold is closely monitored by the government. It doesn't hurt as well to ask about the quality of the gold from the shopkeepers. "Is this gold fake or an imitation?" is a regular question they get asked a lot of times so don't be shy to ask that. Anyway, a usual response from them is NO (of course). They will assure you that if they sell fake stuff, their business will be closed down.
6. Don't be too stingy.
Sometimes it pays if you don't go into an argument to get the lowest rate you can get. If you've already chosen an accessory but could not haggle for the lowest price, then either step out of the shop or just agree. Besides, if it's within your budget, that shouldn't be much of a problem, right?
Sometimes, the seller will slash off another dirham or so to show their appreciation that you are willing to purchase. We've tried this experience when we bought some wedding rings. The staff automatically made our purchase cheaper after they realized that we did not haggle anymore.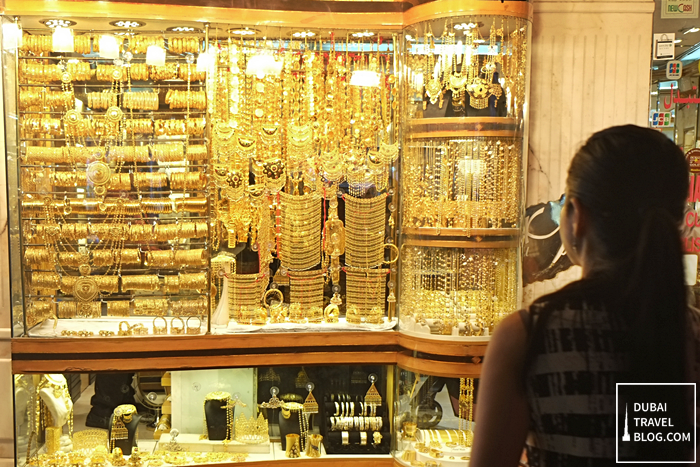 choose which one you like and take your time. 🙂
History narrates that in the old days, Indian and Iranian traders set up shop in the Deira area. This area is now Dubai's sprawling district. Today, Deira Gold Souk is known to sell cheap gold compared to its neighboring areas and one of the reasons why people visit Dubai. When buying gold, we hope that the tips above will help you in haggling and getting the best price and value for your money.
Video: Visiting the Gold Market on an Afternoon
Here is a short video clip of a tour of the Gold Market in Deira. Play the clip here and get an idea how it is like to be there.
Photos: Gold Souk Deira
Check out these photos we've taken during our visit in Gold Souk Deira market:
Book a Hop on Hop off Bus Tour of Dubai Here
Gold Souk Opening Hours and Nearest Metro
The Deira Gold Souk is open from Saturday to Thursday at 10 AM to 10 PM, while on Fridays is at 4PM to 10 PM.
How to Get There
To get there via public transport, you can take the Dubai Metro train and stop Al Ras Metro Station (Green Line). You can exit and just ask around about the gold market. You can't miss it as this is a famous tourist spot.
Google Location Map
For a better reference, below is a Google map guide in case you will drive to the Gold Souk. There are different parking spots available within the area. Please do not forget to take a photo of your parking area as it can get confusing while you're in this part of Old Dubai. I hope that the location details below will help you in getting there without worries.