Dusit Thani Dubai's distinct building stands out among the many towers on Sheikh Zayed Road. Located within walking distance to The Dubai Mall, this 5-star hotel has been around since 2001. It has two bases that meet at the top representing the Thai greeting called "Wai" where two palms touch each other as though in a 'prayer'.
My wife and I had a staycation here and we were able to experience the unique Thai hospitality that Dusit Thani is well-known for.
Arriving at their spacious lobby, we were greeted by lots of natural light passing through its glass walls. It just made the area even more inviting.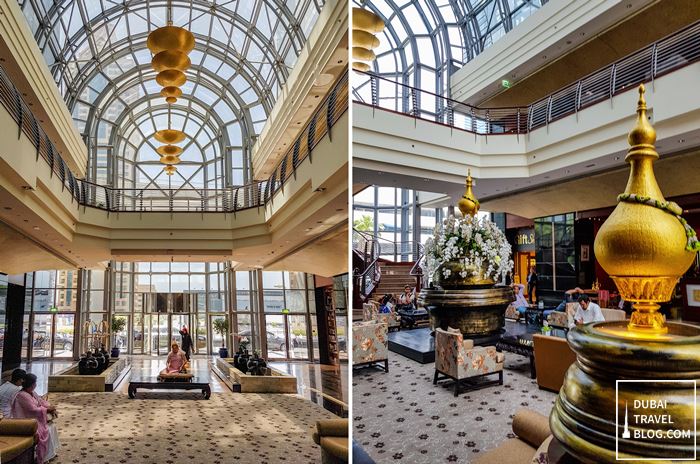 Dusit Thani Hotel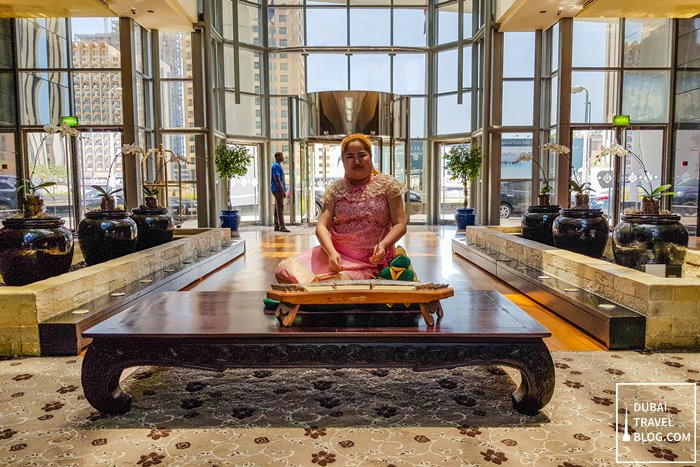 Thai music player
Staycation at Dusit Thani Hotel Dubai on Sheikh Zayed Road
We booked this staycation via Booking.com as we were able to find a good deal during the last minute. Upon checking in, I was glad that they placed us in a room on the topmost floor with a view of Burj Khalifa.
From the outside, the polished glass walls may provide a futuristic appeal and fits right well into the glitz and glamour of Dubai. Interiors, on the other hand, are elegantly designed featuring dark wood panels. These are traditional and classy touches that stretch from the lobby to the hallways to our room.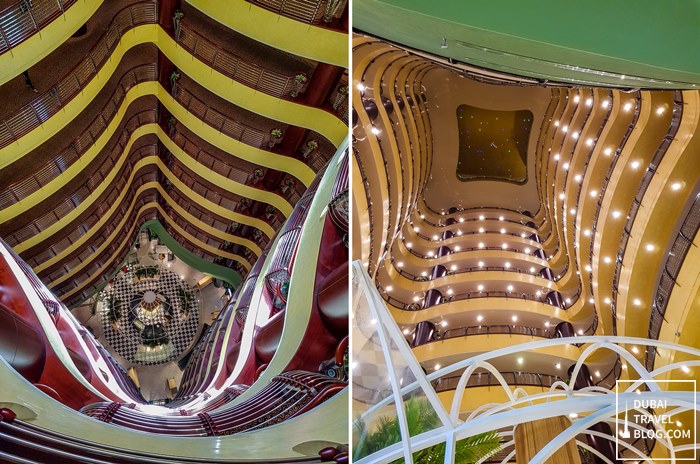 24th floor from above, and view above from the 24th floor
Deluxe Club Room with City View
The hotel rooms range from Deluxe rooms to Two Bedroom apartments and suites – all staying true to the elegant Thai design. We checked in a Deluxe Club room.
Our room has a king-size bed, huge flat screen TV, work desk station (very important for this blogger), mini bar, tea/coffee facilities, etc. It's very spacious and comfortable. Aside from the work desk, we appreciated the added bench at the foot of the bed.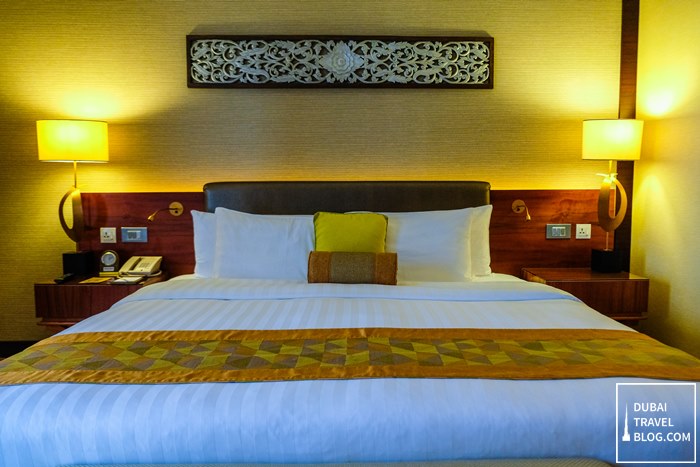 king-size bed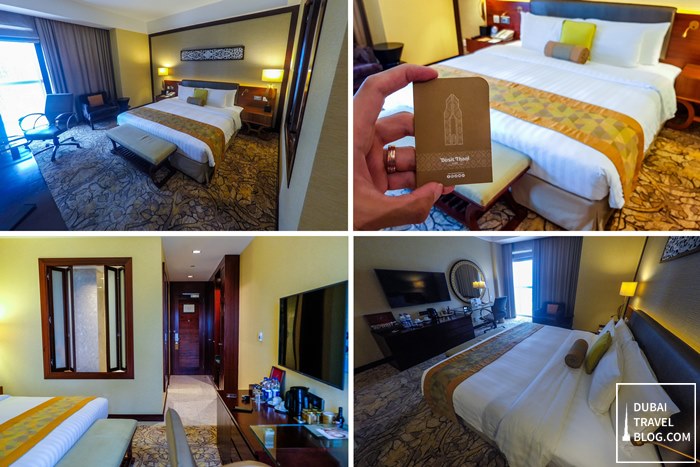 inside our bedroom on the 34th floor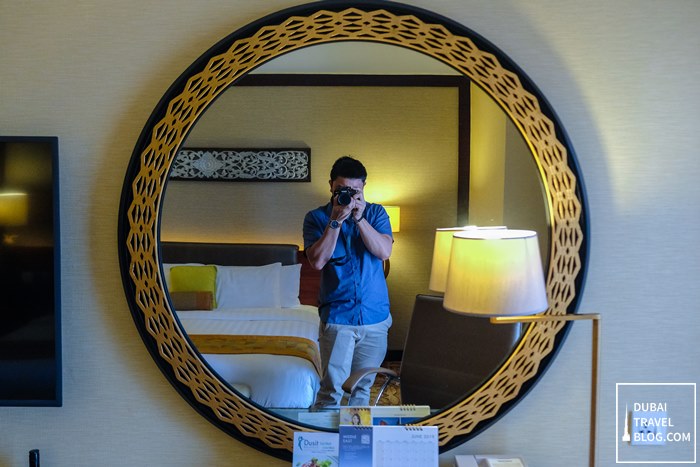 huge round mirror inside the room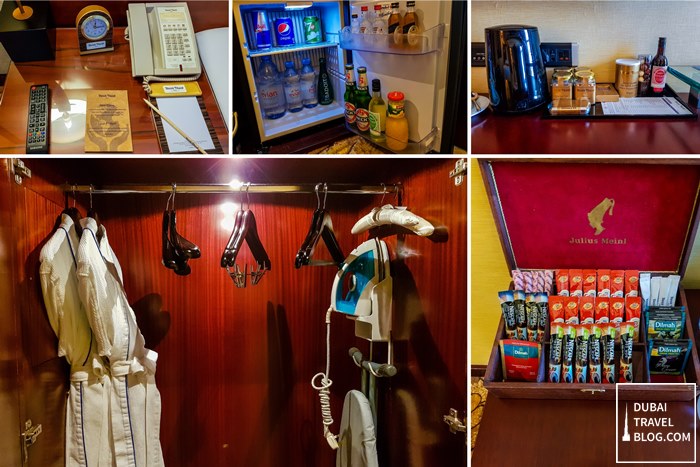 amenities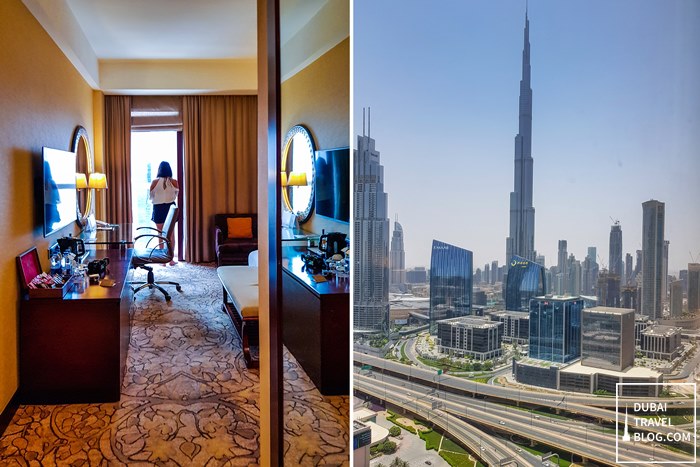 view from our room
WiFi Speedtest
I ran a speed test on the FREE WiFi and the download speed registered at 6.51 Mbps which was definitely good. If you're looking for higher speeds, you can pay a premium for the service when you connect to their network.
Bathroom
The bathroom is equipped with complete facilities and amenities such as a hairdryer, toilet and bidet, bathtub, shower, and amenity kit by Aromatherapy Associates.
One highlight of the bathroom is that the bathtub has a wooden-frame window that overlooks the bedroom.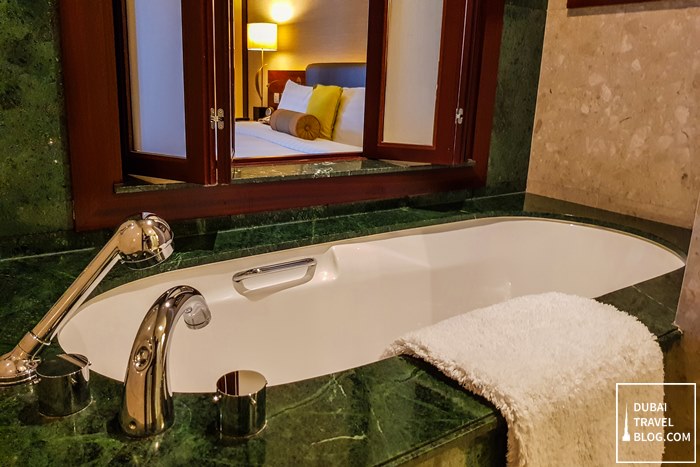 view from the bathtub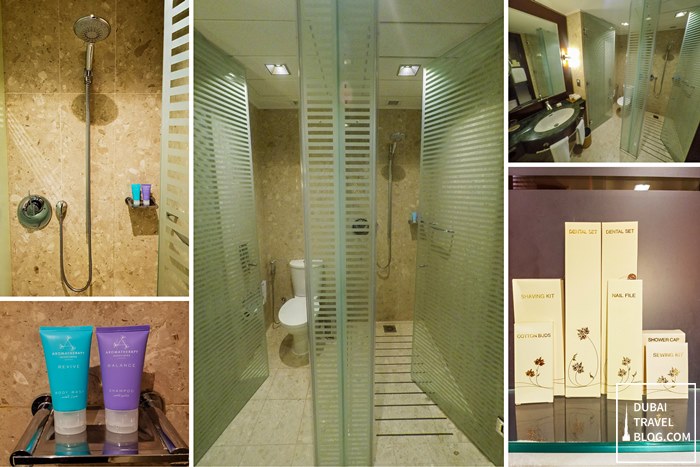 shower and toiletttries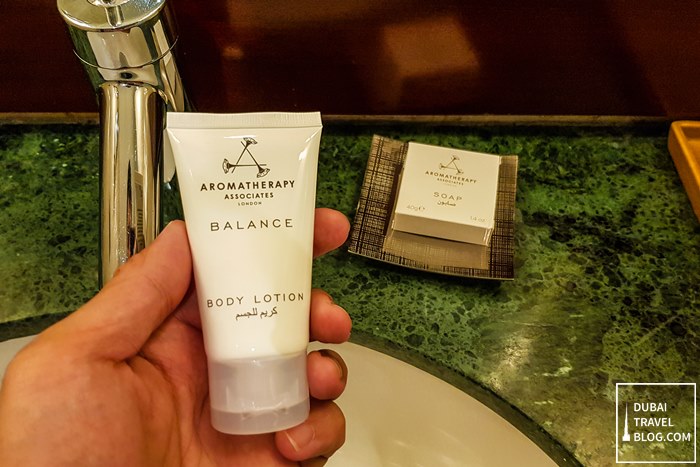 toiletry by Aromatherapy Associates
Restaurants & Bars
During our stay we had breakfast and dinner at 24th St. where they offer a culinary experience of distinct Asian streetfood. We had an amazing time here. We also had late-night snacks, drinks, and shisha at View by Dusit.
There are over 7 restaurant, bars, and dining options available in this hotel and you can actually have a culinary adventure of food and drinks from the variety of cuisines available.
24th St. Dubai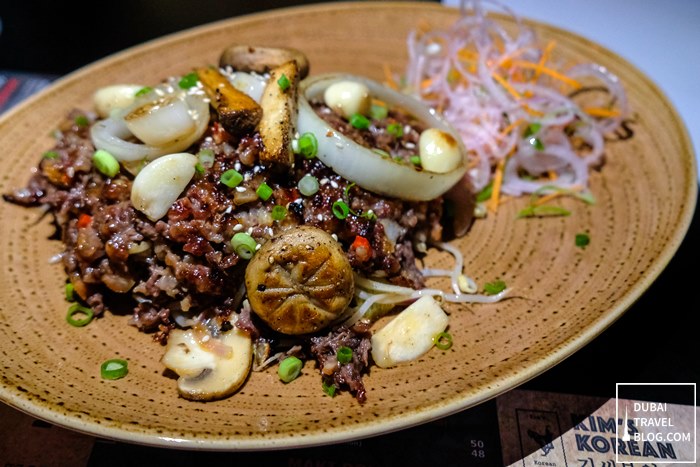 Eonyang Bulgogi – Korean dish at 24th St.
Below are the dining options located in Dusit Thani Dubai:
24th St. – Restaurant that focuses on Indian, Chinese, Korean, and Japanese cuisine. Food is cooked live and is reminiscent of the streetfood culture in Asia.
Another Bar – located in the same floor as 24th St., this quirky-designed bar offers a new place for guests to unwind over drinks.
Benjarong – an award-winning Thai restaurant, this is the signature restaurant of Dusit Thani Dubai. Wooden interiors adorn this restaurant while showcasing a view of the Dubai skyline.
Nippon Bottle Company – hidden behind a bookcase shelf at the lobby of the hotel, this is a bar that serves an extensive list of beverages with a focus on Japanese drinks. Finger food is also served here.
Jones The Grocer – a casual Australian-export eatery & cafe providing the best gourmet food for everyday living and specializing on food based on natural ingredients.
View – the outdoor terrace located next to Jones The Grocer and offers an array of beverages, finger food and shisha. Hang out with a terrific view in a chill environment.
In-Room Dining – If you prefer to dine in the comfort of your room, you can order from their In-Room dining service.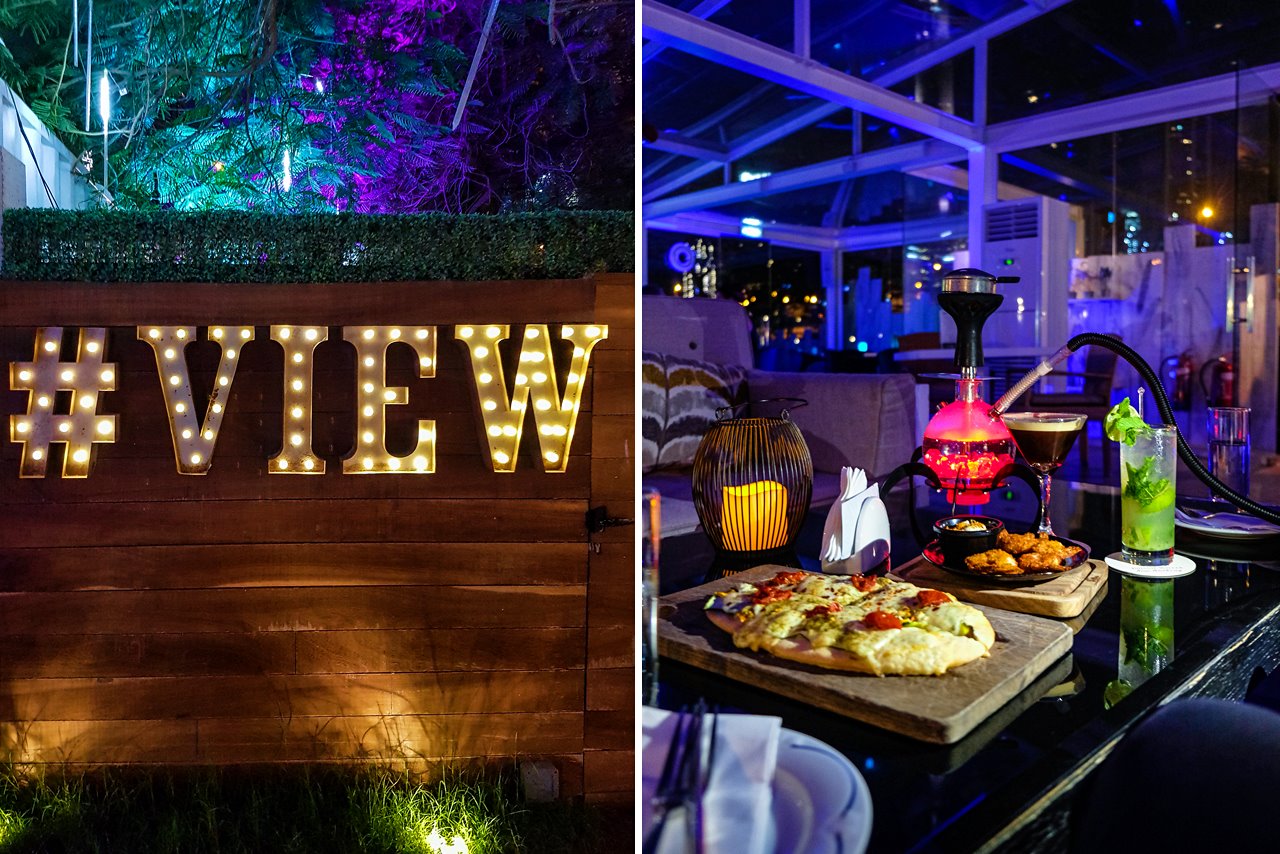 drinks and shisha at #ViewbyDusit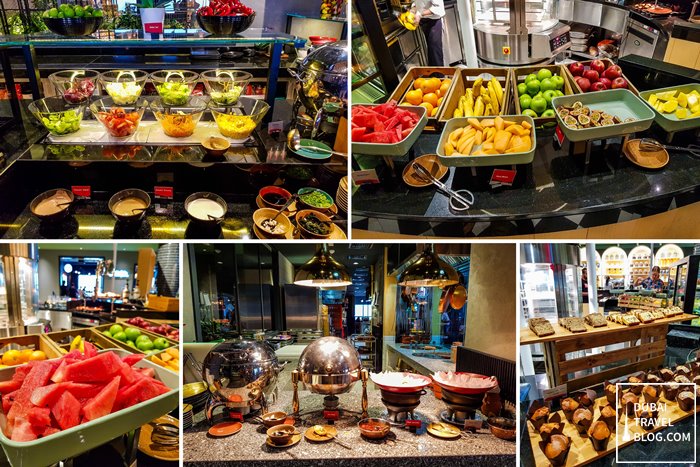 buffet breakfast at the 24th floor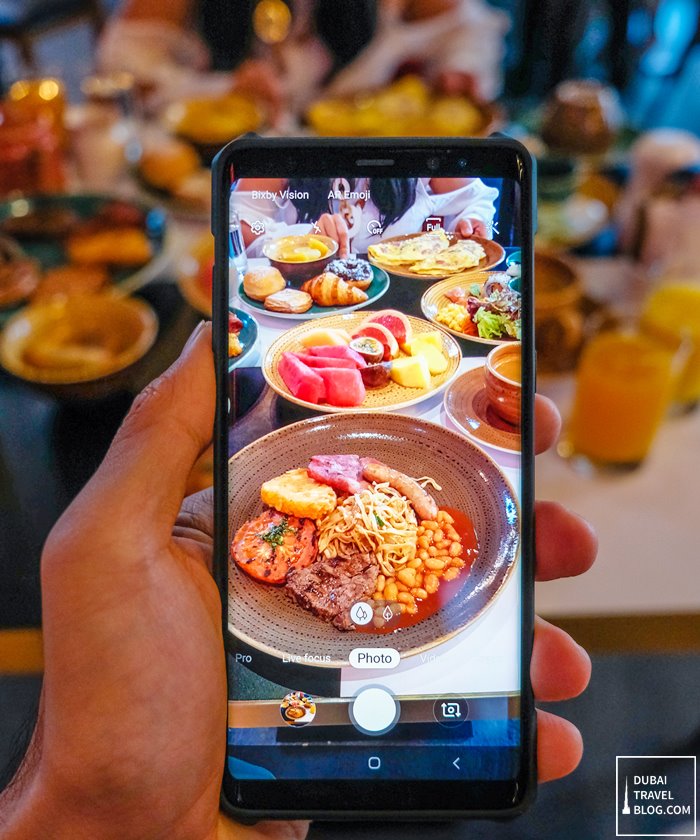 breakast at Dusit Thani hotel
Swimming Pool
The swimming pool is located on the 35th floor (just one floor above our room). It is an outdoor temperature-controlled swimming pool with sun deck. There is also a pool bar where you can order some snacks and refreshments.
My wife and I spent the afternoon here lounging and taking a nap from one of their round sun bed lounger.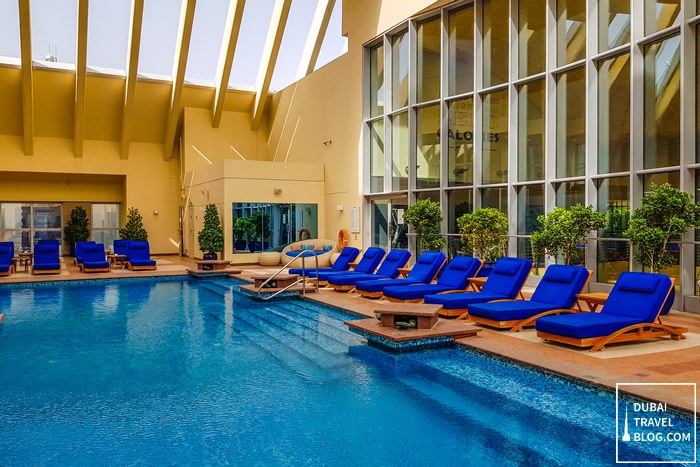 rooftop pool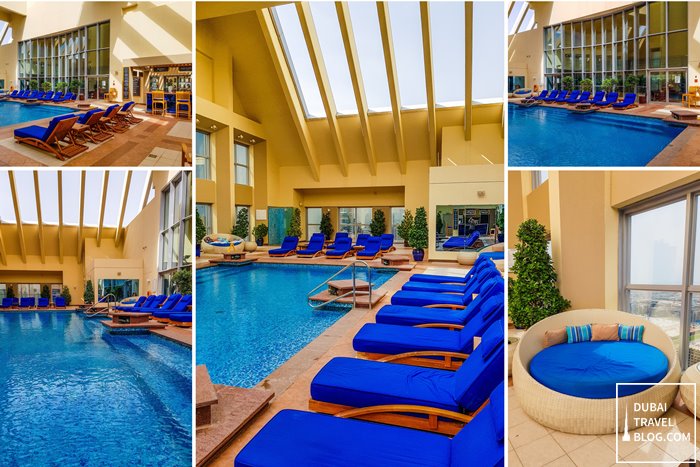 swimming pool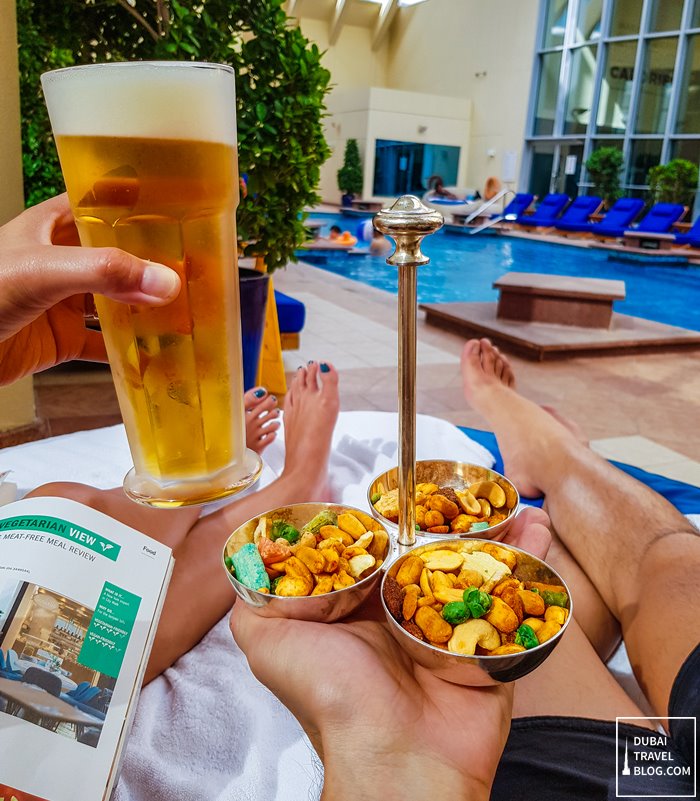 beer snacks
Gym and Fitness Centre
The gym and fitness centre is located on the same level as the outdoor pool (35th floor). It is managed by DFit, the hotel's branched chain of fitness studios. They have the latest equipment for cardio and strength training. The dedicated locker room for men and women has a sauna and shower facilities.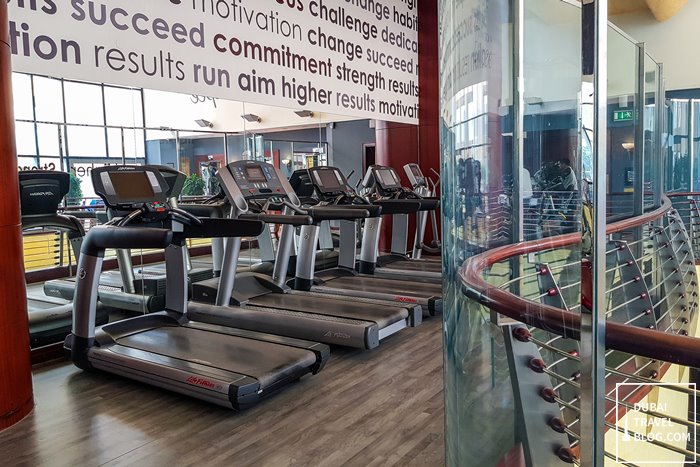 treadmills on the 35th floor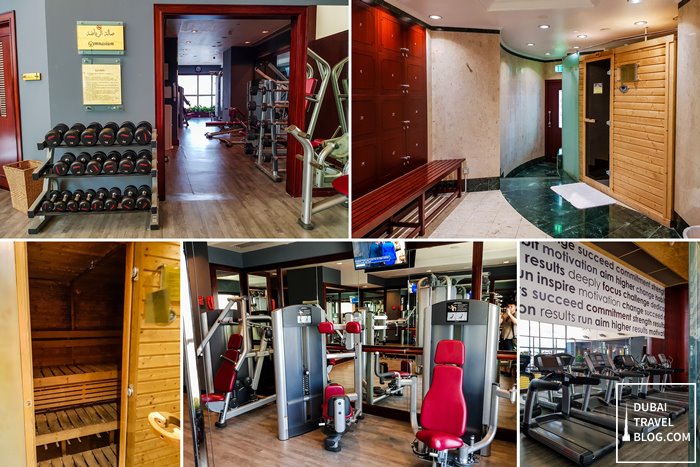 DFit – fitness Center
Spa: Namm Spa
The spa is managed by Namm, pronounced as "nahm" (meaning "water") and stands for Natural, Aroma, Massage and Marine. They feature various relaxation therapy treatments inside 8 private rooms which are all equipped with shower rooms, built-in steam, bathtub and massage area.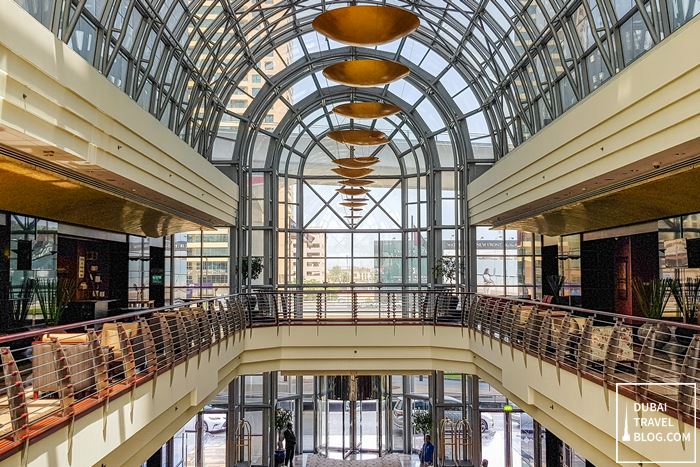 taken from the Mezzanine floor
Views of Dusit Than Dubai
As somebody who enjoys taking pictures, I especially had fun exploring the hotel and snapping shots of the Dubai skyline. From the gym to the restaurants to our bedroom, you can discover various spots of the hotel which provide different vantage points to the city.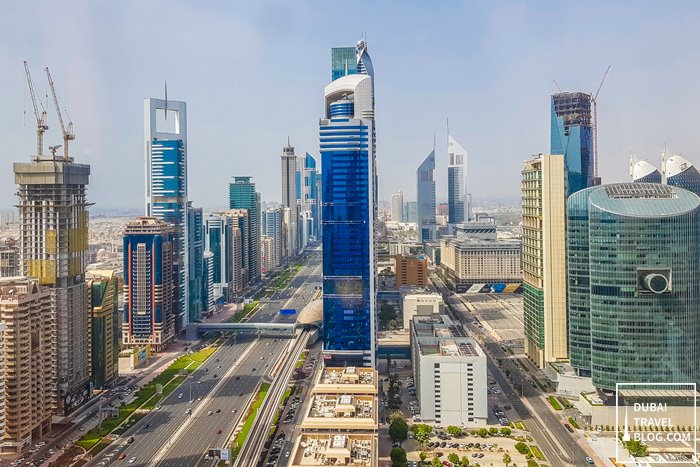 DIFC area (taken from the gym window of Dusit Thani Dubai)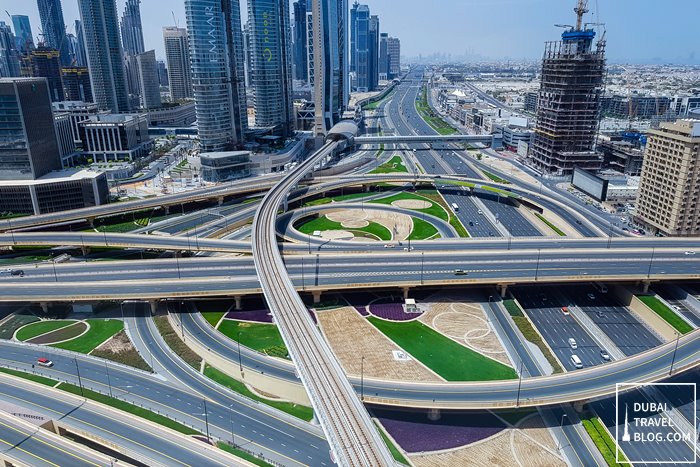 Taken from 24th St. restaurant
Video: Dusit Thani Dubai Staycation
Below is a video of our staycation at Dusit Thani. It includes the hotel lobby, heading to our room, the view, the pool and gym, and the restaurants we've dined in – 24th Street and The View:
Dusit Thani is strategically located so you can make the most out of your stay whether you are travelling for business or leisure. It's only about 15-20 minutes away from Dubai Airport (DXB) and it is within walking distance to the metro station. Shuttles are available to take you to Dubai attractions.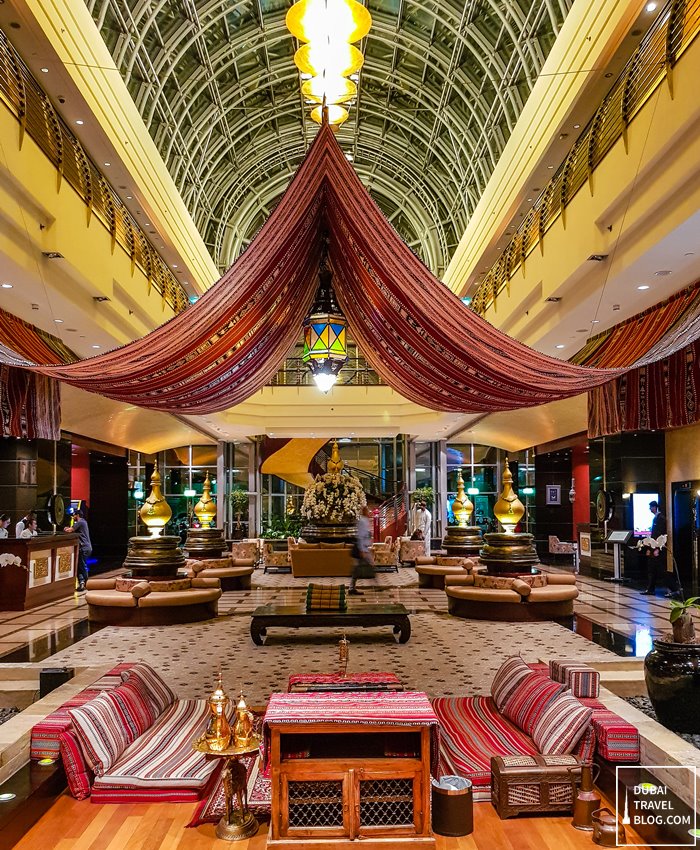 night time – the spacious and warm lobby dressed for Ramadan season
We had a very relaxing hotel stay at Dusit Thani Dubai. This is one of the hotels we'd recommend if you're looking into staying on Sheikh Zayed Road so you can have easy access to various tourist attractions especially in the downtown area.
Check out our other experiences at Dusit Thani Dubai in these articles below:
Contact Information
Dusit Thani Dubai
Address: 133, Sheikh Zayed Road P.O. Box 23335 Dubai, United Arab Emirates
Contact Number: +971 4 343 3333
Website: https://www.dusit.com/dusitthani/dubai/
Instagram: @DusitThaniDubai
Facebook: @DusitThaniDubai
Twitter: @DusitThaniDubai
Google Map Location
Below is a map guide to Dusit Thani Dubai. You can't miss it because of the distinct shape of its building. The nearest metro station is Financial Centre Station (Red Line)