From the imposing Dubai Dino to the electrifying Sega Republic, the Dubai Mall is a buzzing entertainment center teeming with mesmerizing spectacles and attractions. After all, the is often viewed by most Emiratis as the ultimate shopping, sight-seeing and leisure destination in this Middle Eastern metropolis. Whether you are a lavish shopper or a tourist who is fond of sightseeing, you will surely enjoy your visit to this massive and stunning shopping complex.
One of the art displays that you will notice in the Dubai Mall is the Human Waterfalls where the cascading water occupies the height of the mall. A striking water feature nestled right at the heart of this massive shopping center, the Human Waterfall is truly a crowd puller, thanks to its dramatic design and unique charm. While this eye-catching highlight isn't as popular as the mall's ice rink and aquarium, it is, to me, one of the biggest and most interesting special attractions of the Dubai Mall.
Human Sculptures at the Dubai Mall's Waterfalls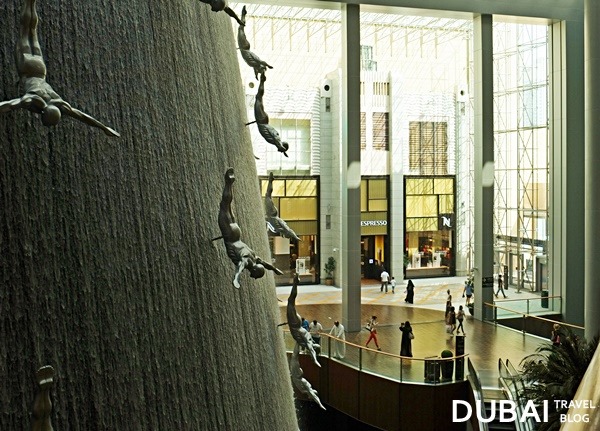 waterfalls in Dubai mall
Simply gorgeous
With its sheer beauty and compelling artistry, it is no wonder hordes of shoppers and tourists are drawn to the magic of this indoor water feature. As a spectator of this creative man-made cascade, you will be able to lay eyes on a handful of dazzling human sculptures with their hands spreading sideward, appearing to plunge downwards to the waterfalls. These human divers, by the way, are all made from fiberglass.
The cascade has a rhythmic water flow that would create an animated visual spectrum. Of course, this cadenced flow was made possible by an overhead reservoir that feeds recycled water to its pair of cylindrical structures. Also, the entire water feature is beautifully illuminated by a skylight as well as the sunlight coming from mall's huge windows, making your viewing experience more pleasurable.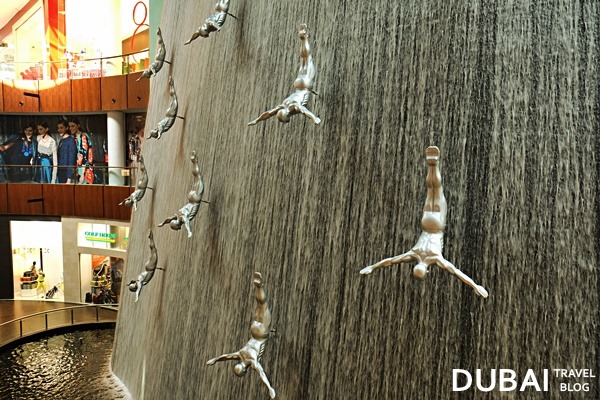 human sculptures diving
Vast size
Aside from its striking human figures and captivating design, this water feature is also known for its immense size. With a diameter of thirty meters and a height of twenty four meters, it is definitely not hard to find to this special attraction. Not to mention, this artificial waterfall runs through the mall's entire height, making it visible to viewers from all the mall's four levels.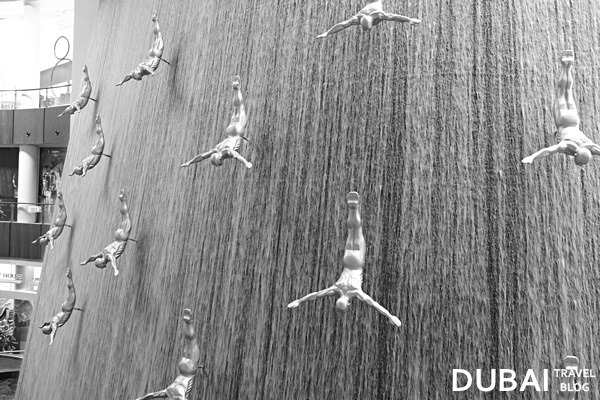 Dubai statues diving
A great meeting place
The Human Waterfall in Dubai, however, is more than just a visual spectacle. With its laid-back ambiance and entertaining aesthetic features, it has become a favorite meeting point for families and people visiting the mall. Furthermore, it is surrounded by a plethora of palm trees to replicate the soothing atmosphere of a true desert oasis.
Related Article: 7 Places to Visit in Dubai Mall