Who's up for a double steakburger, shoestring fries, and a chocolate sundae? You will find all these and more at Freddy's Frozen Custard & Steakburgers, which recently opened at The Dubai Mall. There's also a second branch at the Mall of the Emirates.
Freddy's is a fast-casual restaurant chain that originated from Wichita, Kansas. Having established more than 300 branches all over the United States, the company opened its first ever international location (owned and operated by Tastebuds Group) at The Dubai Mall.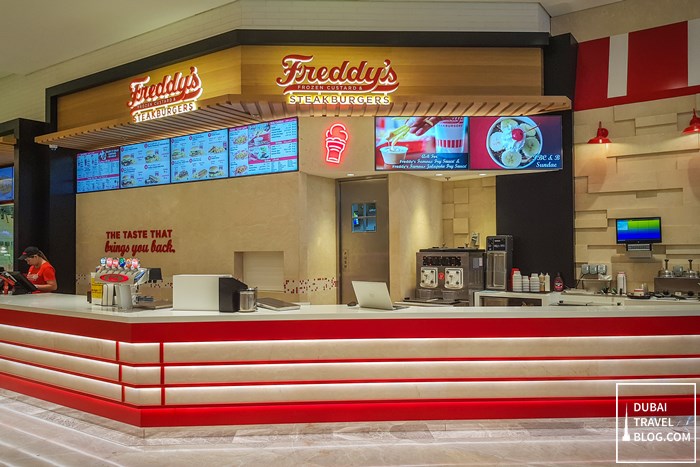 Freddy's UAE in The Dubai Mall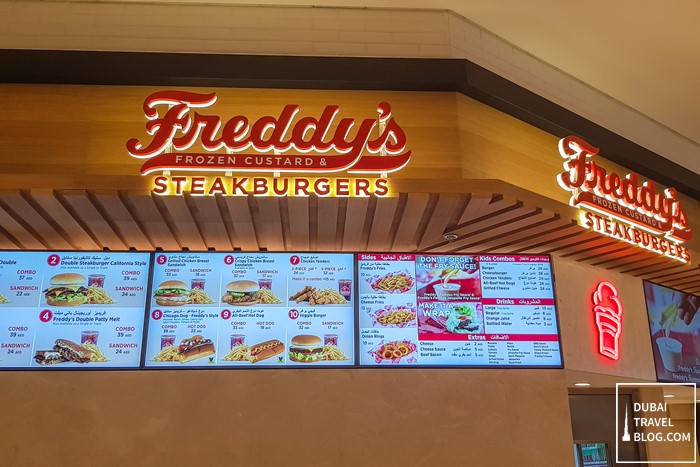 Freddy's Frozen Custard & Steakburgers menu board
Freddy's Frozen Custard & Steakburgers in The Dubai Mall
First, a bit of history… Freddy's Frozen Custard & Steakburgers was co-founded in 2002 by brothers Bill and Randy Simon, along with restaurateur Scott Redler. They named the restaurant after Bill and Randy's father, Freddy Simon, a World War II veteran.
With a menu offering steakburgers, hotdogs, chicken sandwiches, and frozen custard delights — Freddy's soon became a hit, and began opening branches across the country. Today, there are more than 340 branches in 32 states. In 2018, the company signed an agreement with Tastebuds Group to open branches in the Middle East, starting with Dubai!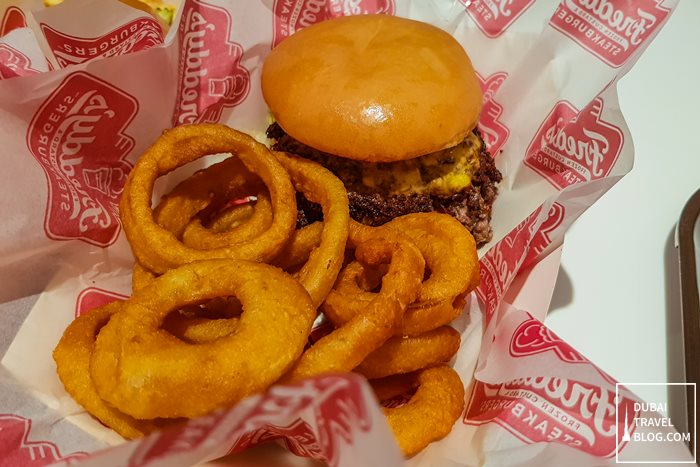 Freddy's Original Double – AED 37
Double Steakburger California Style Combo – AED 39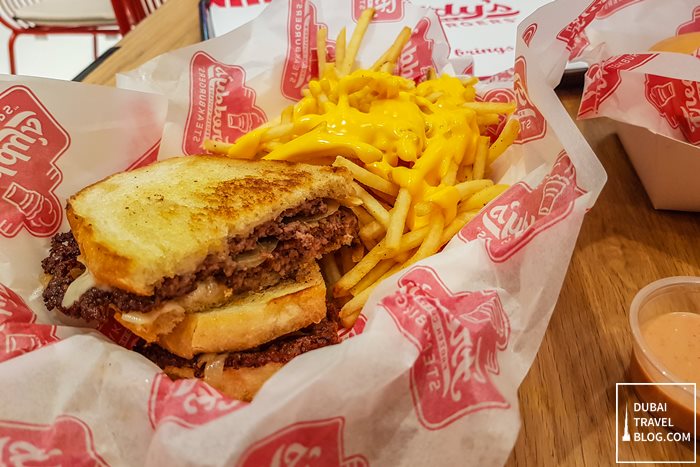 Freddy's Double Patty Melt Combo – AED 39
Throwback to '50s-style Diners
Freddy's is inspired by the "made-to-order" meals of the '50s era, during which American diners served up delicious food enjoyed by the whole family.
What exactly does Freddy's menu offer? Here is a quick preview:
Steakburgers. Made from 100% premium ground beef, Freddy's burger patties are cooked to order and served hot! Diners can opt for Single, Double, or even Triple-patty Steakburgers topped with bacon, melted cheese, mustard, onions, and pickles… Need we say more?!
Hot Dog & Chicken. Aside from signature steakburgers, the menu includes Freddy's Hot Dog, Chicago Dog (Freddy's Style), Crispy Chicken Sandwich, and Grilled Chicken Breast Sandwich. There's also a Veggie Burger for the non-meat eaters out there!
Sides. To complete your meal, don't miss Freddy's Shoestring Fries, Cheese Fries, Onion Rings, and Chicken Tenders. Yum!
Frozen Custard. For dessert, the restaurant offers its signature Turtle Sundae or Concrete, Chocolate Brownie Delight Sundae or Concrete, Waffle Cone, and other delights.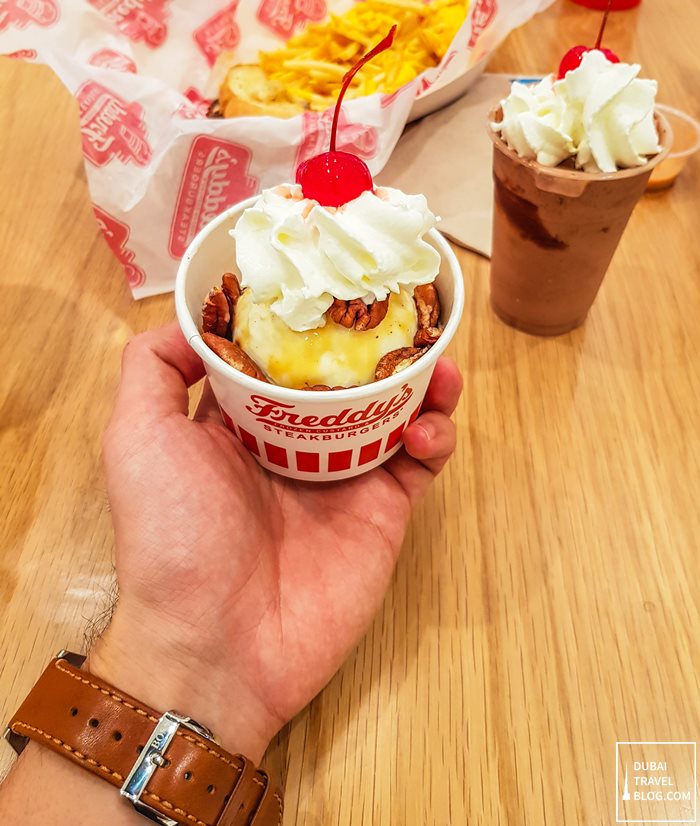 Signature Turtle – AED 21
Hot Fudge, Caramel, Pecans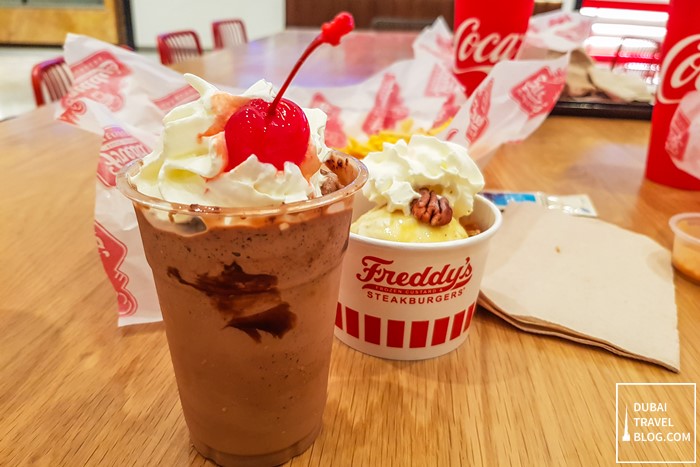 Chocolate Brownie Delight Concrete – AED 23
Brownies & Hot Fudge
Frozen Custard, Concrete… What?!
In case you were wondering, frozen custard is made through a unique churning process that minimizes excess air and ice crystals. The result? A cool treat that is smoother, richer than your usual ice cream — and always served fresh at Freddy's!
As for the "Concrete" name, this came about because Freddy's Frozen Custard, when mixed with some candy, caramel, chocolate, and fruit toppings, becomes so thick — like concrete — that it can be served upside down! Cool!
I tell you, the custard Concrete dessert was something else. The texture almost seemed cake-like that I felt it was quite indulgent to have it. But it's something I would recommend to those who have sweet tooth.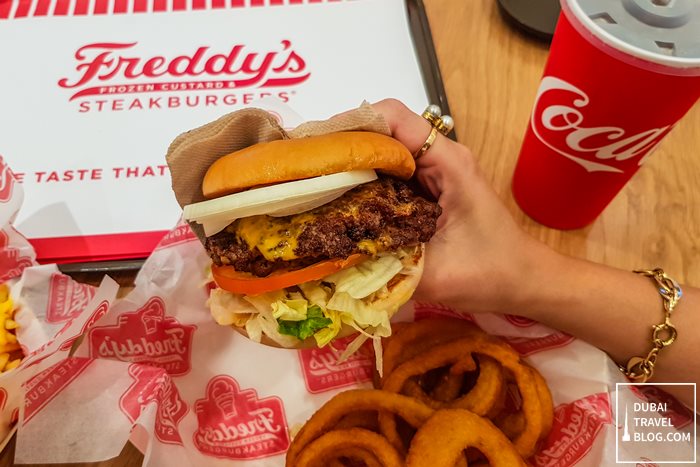 Double Steakburger California Style burger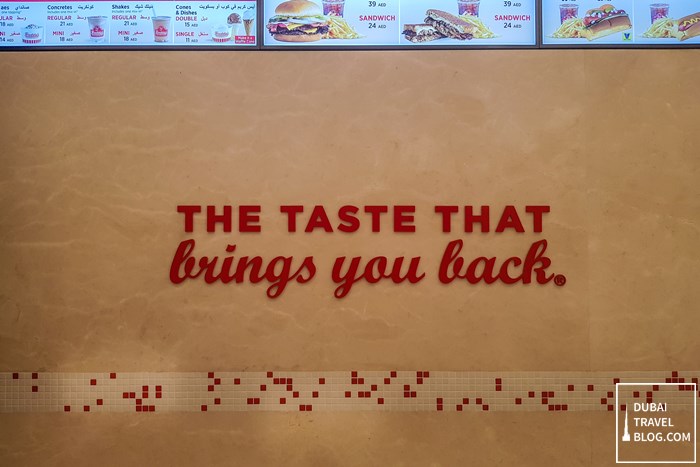 The Taste that Brings you back.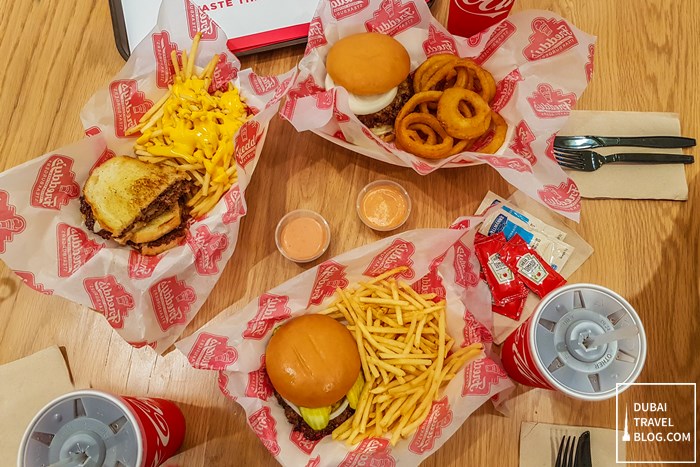 Freddy's Dubai
Freddy's is open daily, from 10:00 am to 1:00 am, at The Dubai Mall. At least five more locations are expected to open in the UAE in the next 18 months.
Video: Freddy's Frozen Custard & Steakburgers
Here's a closer look at how Freddy's Original Double is made, as shared in the restaurant's official Facebook page:
If you're looking for some good food and a new place to hang out with your friends, check out Freddy's Frozen Custard & Steakburgers at The Dubai Mall.
Contact Information – Freddy's Frozen Custard & Steakburgers
Address: The Dubai Mall, Downtown Dubai, Dubai, UAE
Telephone: 04 325 0701
Website: https://freddysuae.com/
Instagram: @FreddysUAE
Facebook: @FreddysUAE
Google map: