We had a satisfying early dinner at The Meat Co located at the Souk Al Bahar in Downtown Dubai. This fine dining restaurant is known for its signature steaks that are of premium quality, taste and texture.
As it was a weekend, there was some traffic in the downtown area and we ended up having to place our vehicle in the Parking area of The Dubai Mall instead of the Souk Al Bahar side.
Alcohol: YES
Shisha: NO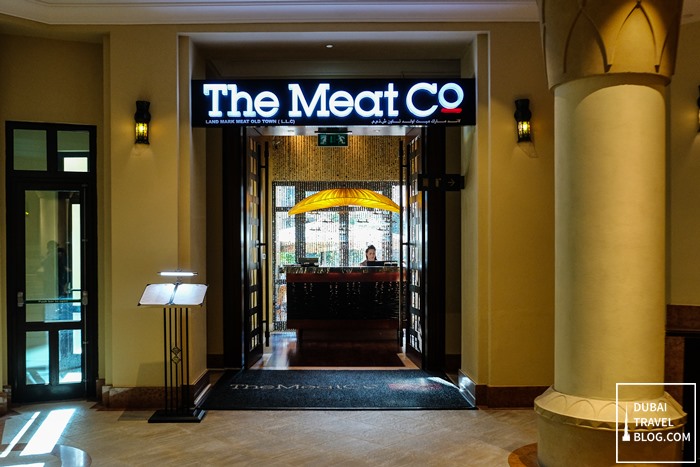 entrance at Souk Al Bahar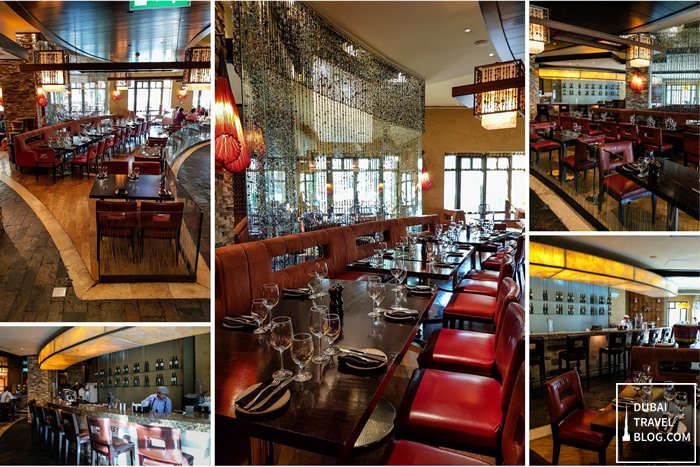 inside The Meat Co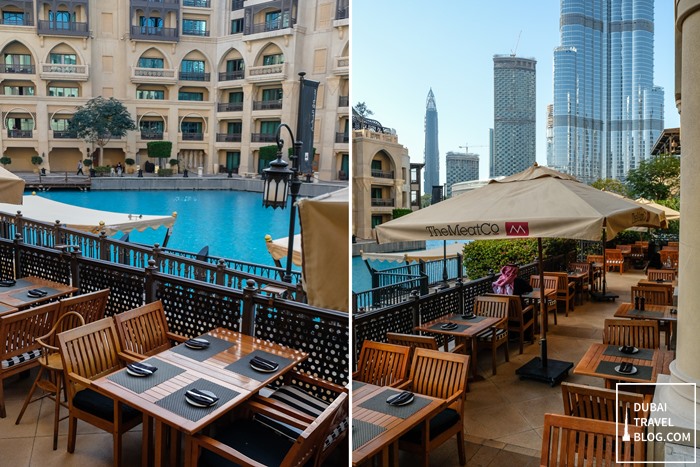 al fresco dining experience
Restaurant Review: Dinner at The Meat Co Downtown Dubai
The Meat Co. is situated at Level 2 of the souk. This branch offers a stunning view of Burj Khalifa when you dine in their alfresco seating. As my wife and I are taking advantage the winter season, we had a table outside.
Precious, our designated waiter from Africa, was very helpful in giving recommendations from the menu items. He was very confident with their food and made sure that we had a pleasant and enjoyable evening.
It was definitely a treat to have a view of the Burj Khalifa. We started our order of a Brasilian Saudade and red wine. Yes, they have alcohol. 😉
They also gave us complimentary bread which consisted of a loaf with chocolate and raspberries, it was warm and delicious.
Brasilian Saudade – 48 AED
Passion fruit syrup, mint, lime, brown sugar and ginger beer
Appetizers / Starters
For our starters, we ordered a salt & pepper calamari and red chilli prawns. The quality and portions of each calamari piece was really good. The prawns were also big.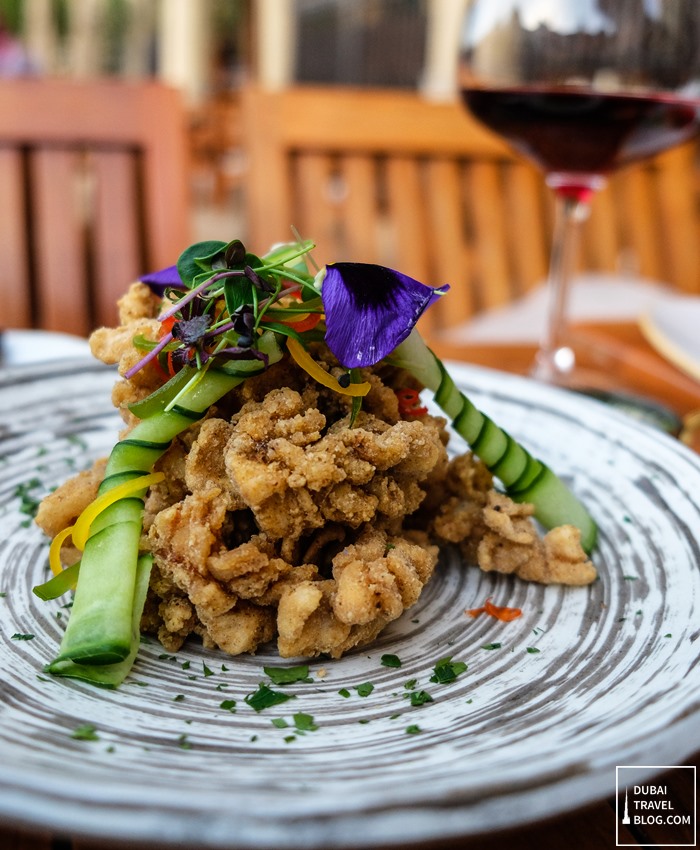 Salt & Pepper Calamari (house favourite for a decade) – 66 AED
Scored calamari lightly tossed in salt, pepper & spiced flour, shallow fried & served with home-made Nam Jim sauce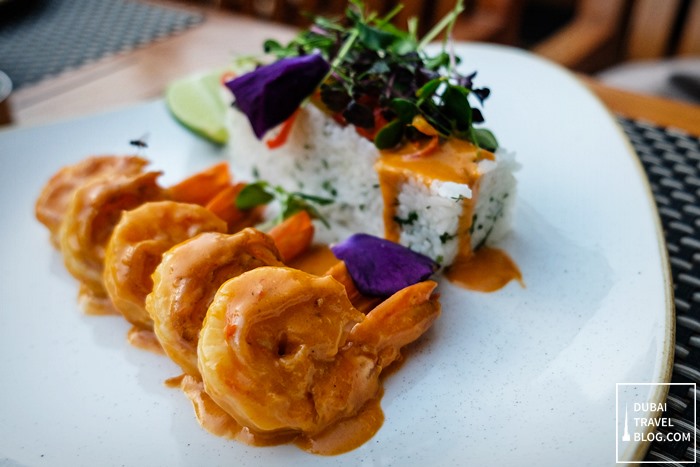 Red Chilli Prawns (house favourite for a decade) – 93 AED
Succulent Gulf prawns pan-fried with garlic, ginger, red chilli, lemongrass & cream, with jasmine rice
Precious initially recommended us Lobster & Crab salad but we already have a lobster for our main dish, so we opted for the first 2 starters. However, he really insisted we try the salad and surprised us with the dish when the food arrived.
True enough, the smoky presentation was very interesting and quite a show. It's composed of tomato, avocado and lobster & meat. Quite good if you're looking for a healthy but fulfilling salad.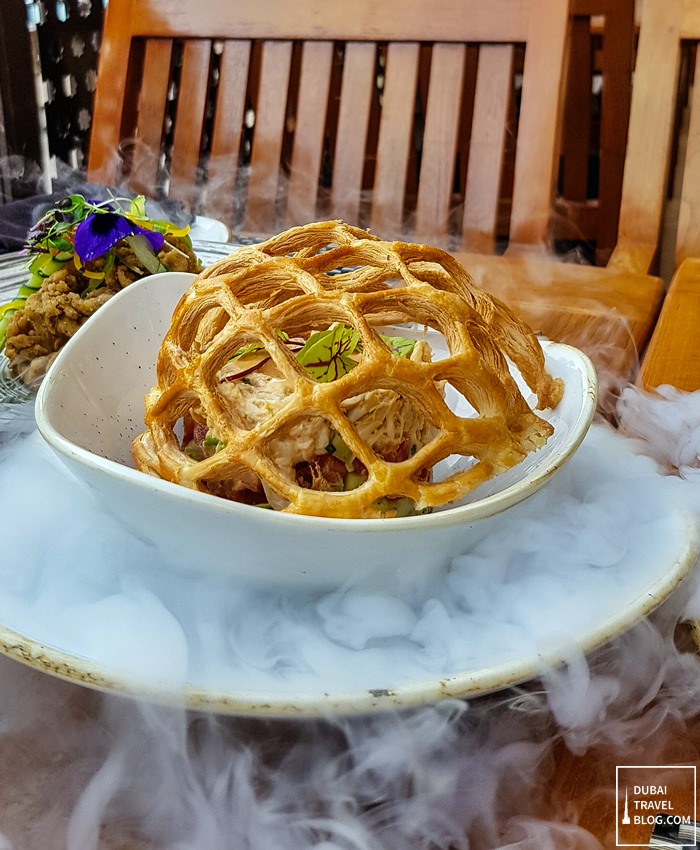 Lobster & Crab salad – 71 AED
Marinated fresh crab & lobster meat, avocado, tomato & cucumber salsa
Here's a clip of the salad and how it looked like with the smoke:
Main Course
Precious asked us to get two steaks as these are their specialties, but as we felt our starters were already enough for our stomachs, we only ordered one. We had a seafood lobster thermidor and a rib-eye for our steak. Let me just say again that the quality of the food (freshness, serving size, tenderness and taste) was really amazing.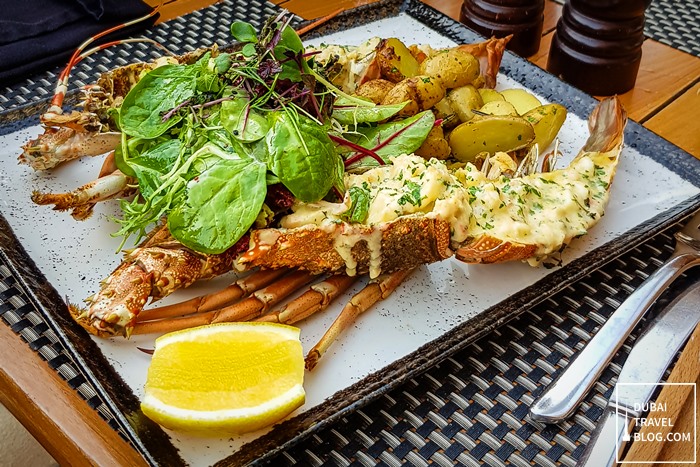 Local Lobster Thermidor – 268 AED
650g lobster choice of either grilled or thermidor, with garlic rosemary potatoes and green salad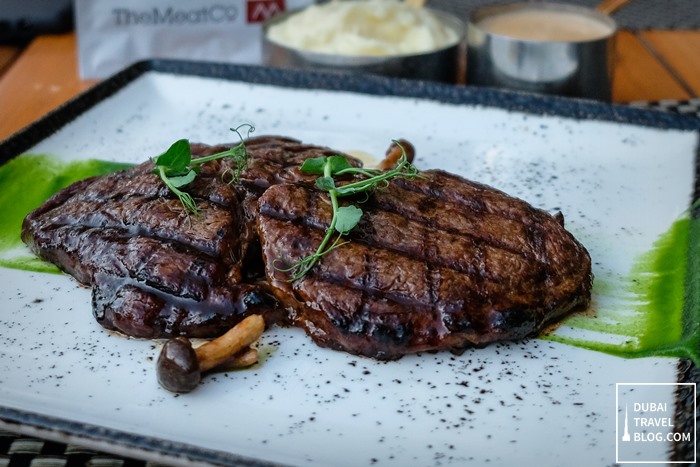 Blackmore/Livingstone Marble Score 7+ – 478 AED
Rib-eye 250g
Desserts
Lastly for dessert, we had a sharing platter for 2. We sampled a bit of most of their dessert items and paired it with tea. A great way to end our feast.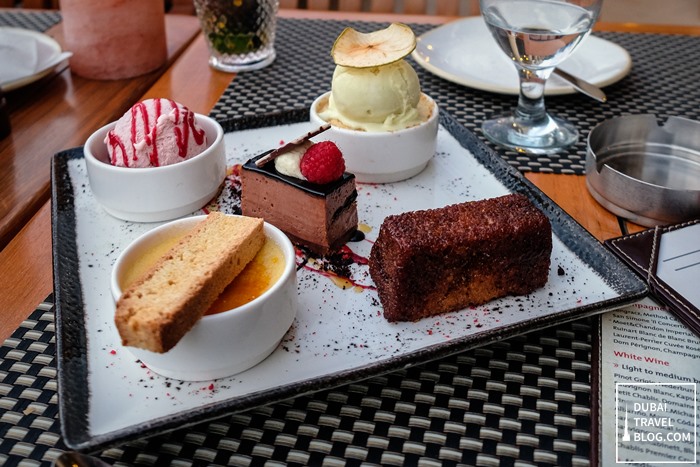 The Meat Co Dessert Sharing Platter for 2 – 70 AED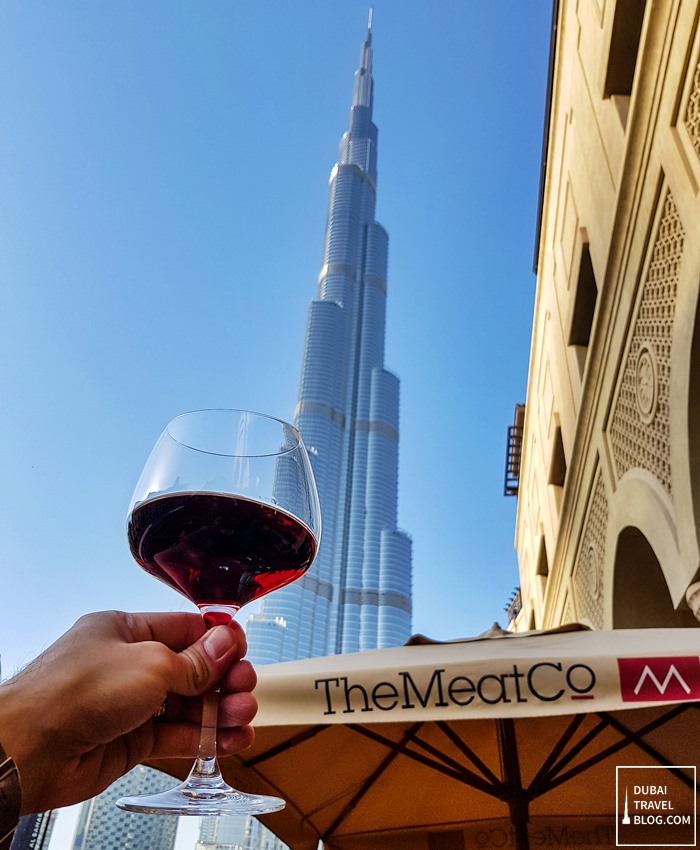 cheers to the food and the view!
We thoroughly enjoyed our early dinner that evening at The Meat Co. Prices are of fine dining rate and it was at par with the food, service and ambiance. You should come here and try their steaks as they have plenty from the menu that they offer. Even if you're not a steak person, do come here for the other food menu items because it's really top-notch.
Video: The Meat Co. ME in Downtown Dubai
Below is a short video clip of our experience dining at this restaurant:

Contact Information: The Meat Co. Restaurant
Phone: 04 420 0737
Address: Level 2, Souk Al Bahar, Downtown Dubai, Dubai
Website: https://www.themeatco.com
Facebook: https://www.facebook.com/TheMeatCoME
Instagram: https://www.instagram.com/themeatcome/
Google Map Location: The Meat Co. Souk Al Bahar
Below you can find a google map guide to help you get to The Meat Co restaurant in Downtown Dubai's Souk Al Bahar