Taking center stage in Dubai's flagship shopping and entertainment center, the Dubai Dino is a one-of-a-kind display that would give you a sneak peek of the gigantic creatures of the prehistoric era. Measuring over seven meters high and 24 meters long, this towering and intriguing exhibit is a genuine fossil of a Diplodocus longus, a long-necked, whip-like tail sauropod that roamed the face of the earth more than 150 million years ago.
Related Blogpost – 7 Places to Visit in The Dubai Mall Without Spending Money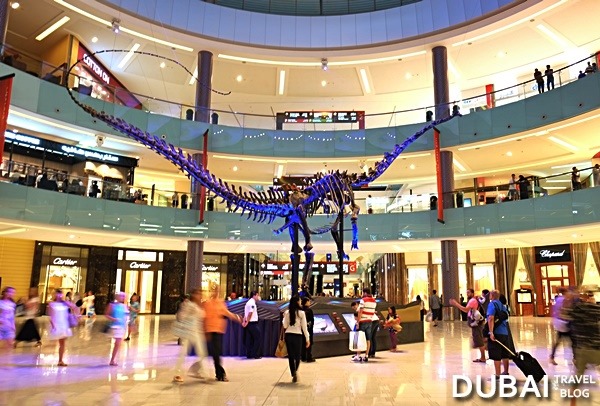 amidst the busy mall
Earning tremendous recognition from sightseers all over the world, this prehistoric relic is one of the biggest tourist draws of the Dubai Mall. Did I mention that the exhibit is free for everyone to see up close?
Location: Grand Atrium, Dubai Mall, Dubai, UAE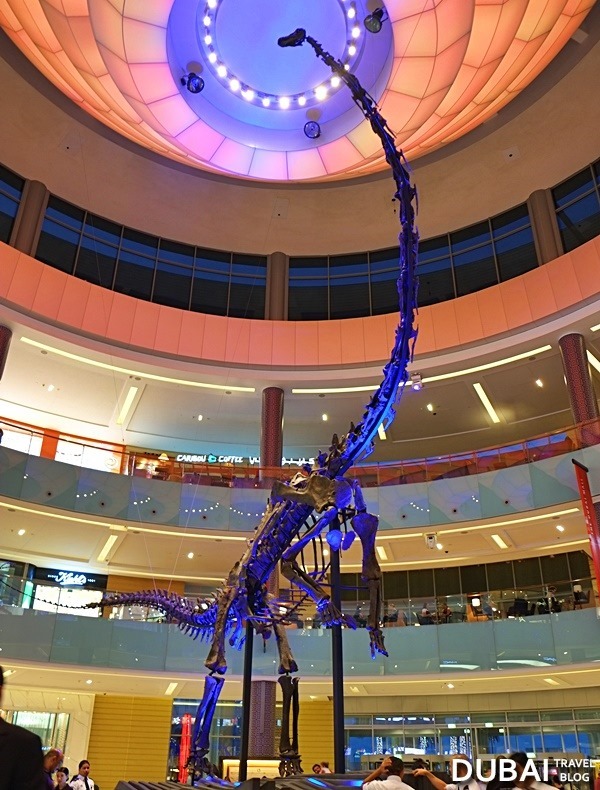 standing tall
How this Dinosaur Arrived in Dubai Mall
Discovered in Wyoming, USA in 2008, this primeval skeleton spectacle was displayed originally at the Houston Museum of Natural Science. But, thanks to the efforts of Khalid Seddiq, the founder of Abu Dhabi's Etihad Modern Art Gallery, this attraction was sourced to the city of Dubai.
In March 2014, this elephantine prehistoric memento was unveiled to the public at the Mall's Grand Atrium, with the help of a team of expert paleontologists. During its inauguration, there was also a group of dinosaur experts that provide beholders with substantial information about the exhibit.
So basically, this dinosaur was bought and shipped to Dubai. 🙂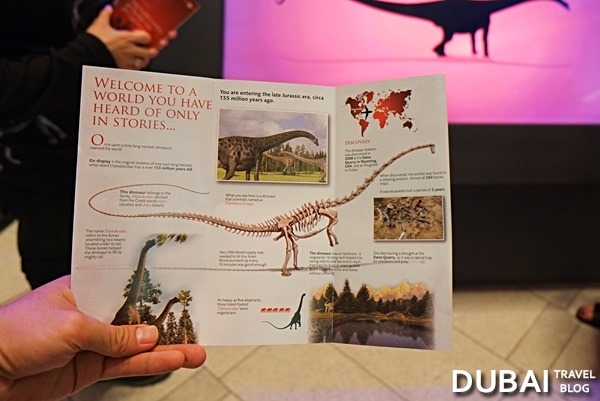 info about the dinosaur
Why you should visit the Dubai Dino
Nearly all the bones of this sauropod were discovered unscathed at its excavation site.  Its tail bones, though, were detected broken, which were either caused by a trauma from a fight, or a ferocious bite from a large prey. As a result, paleontologists were forced to replace some of the bones that were missing on the fossil's tail. Still, it is the most original skeleton finding of a Diplodocus longus in the world today, with over eighty percent authentic fossil bones. Prior to this discovery, the most genuine remains of this sauropod only had thirty percent of its original bones.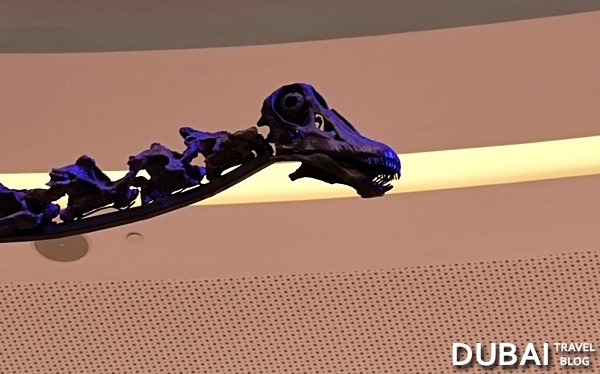 zoomed in
Aside from rubbernecking and taking pictures of this wonder, there are a lot of other things you can do in this part of the mall. For one, you can learn more about the creature's diet, posture and habitant through the information shared near the actual skeleton. Likewise, you can buy souvenirs from a wide array of branded products.
This is a great tourist spot to bring your kids and friends just to see a life-size statue of this creature. This is one of the places in Dubai Mall where you can visit without spending money.  Take some photos and just witness one of the features of this commercial complex.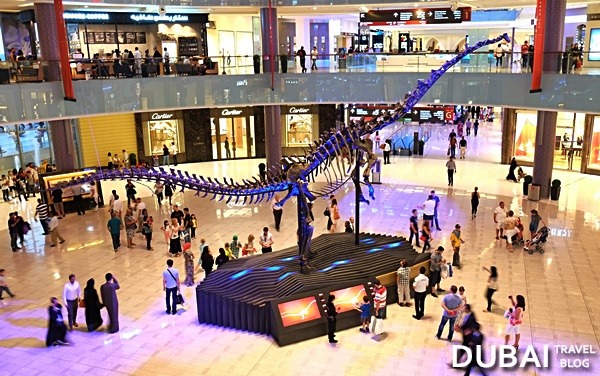 from afar
About the name
Despite its immense popularity, the fossil remained nameless, until Johara Albayedh, a Saudi national, gave a fitting name to it in June 2014. Beating more than 7,000 competition hopefuls, Albayedh won the naming contest for this dinosaur, aptly naming it as Dubai Dino. As a reward for winning the competition, this Saudi national was given a free five-day trip to the Universal Studios in Orlando, USA. Ain't that a nice treat just for naming a creature?
UPDATE: Dubai Dino Transferred to Souk Area
Just to share a quick update about the location of the Dubai Dino, it has been transferred to the Souk Area of the mall, on the other side of the Cheesecake Factory restaurant. Hope everyone is informed on this update. Even so, you can still ask the staff of the mall and they will surely guide you where it is located.