The other day, a package arrived for me which contained a Travis Touch, a pocket translator that is capable of translating and speaking a foreign language into a language that you can understand. This oval-shaped device features over 105 languages and uses smart Artificial Intelligence to translate your words and speaks it back to you.
Also Read: Travel Gear – Samsung Galaxy Note 8 Review
Unboxing the package, the Pearl-white Travis Touch came with a charging USB cable, a SIM card eject tool and a user manual is in English, Spanish, Chinese, Japanese, Korean, German, French, Russian, and Arabic. In addition, there's also a Global SIM Card with 1 GB data in the package.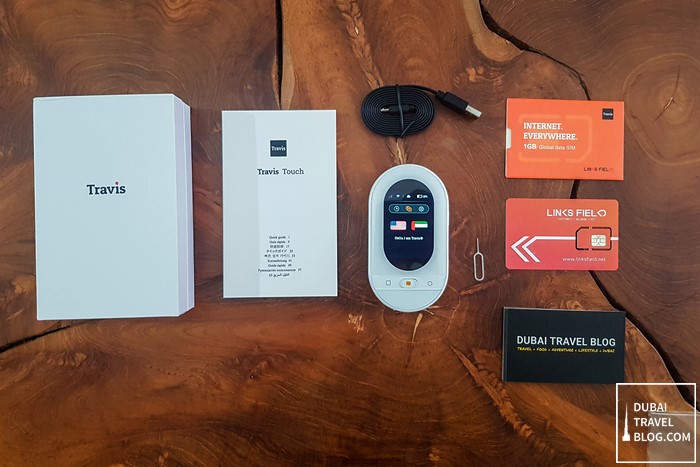 Specifications
Below are the specs of the device
SCREEN: 2.4 Inch Capacitive Touch
DIMENSIONS: 110 x 60 x 16 mm
COLORS: White Pearl (Limited Edition), Black
MICROPHONE: 2x Noise Cancelling
TRANSLATIONS: Online: 100 Languages, Smart AI assisted. Offline: basic word-to-word
BATTERY & PORTS: 2500mAh, Micro USB Port, Qi Wireless Charging
CONNECTIVITY: Bluetooth 4.0, WiFi 802.11 b/g/n, 3G/4G LTE
OPERATING SYSTEM LANGUAGES: English, Arabic, Chinese (simplified and traditional), French, German, Italian, Japanese, Korean, Russian, Spanish
Get the Travis Touch Pocket Translator Online Here 
Gear Review: Travis Touch Universal Pocket Translator
I am very lucky to be living in Dubai where the government has made it easier for residents to have Arabic signs in their English counterparts and that the common language used by expats is English.
However, in other places where it's challenging to communicate, the Travis Touch comes in very handy. It helps break barriers and allows people of different backgrounds to have a conversation.
Here's a video of the Travis Touch in action:
Get the Travis Touch Pocket Translator Online Here 
Testing the Travis Touch
This device has a 2.4-inch touchscreen and runs on Android operating system. You pick two country flags (representing the language), press the button below the flag and then speak. It's artificial intelligence will then speak the translated version back.
Testing it firsthand, I was surprised by how smart the technology is. It easily identifies the words although at times it loads a bit as it tries to analyze them given my Filipino accent. But it captured my statements well enough without me having to enunciate phrases/sentences. You don't have to speak too slowly.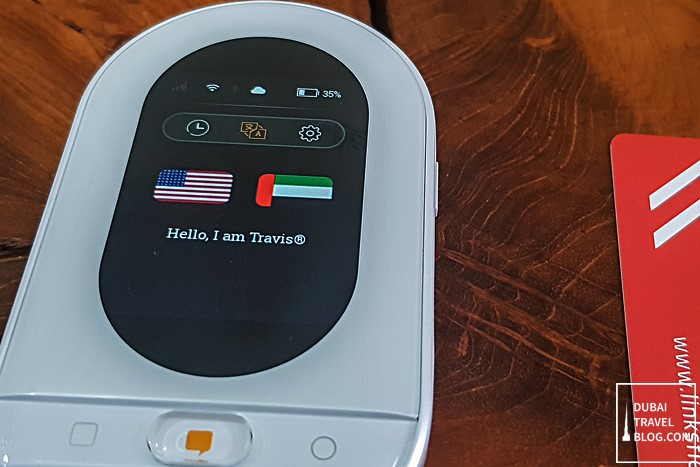 It can translate a few languages offline, so it's really good to to have it connected to the internet either with WiFi connection or by purchasing a 1 GB data pack.
If there are major enhances in its features and settings, you can just install the latest update which will appear on the screen.
I like that it has different versions of one language. You can learn Arabic according to the way it is being spoken in Lebanon, Morocco, Oman, UAE, etc. or Spanish the Mexico, Panama, Puerto Rico, Spain, etc. way.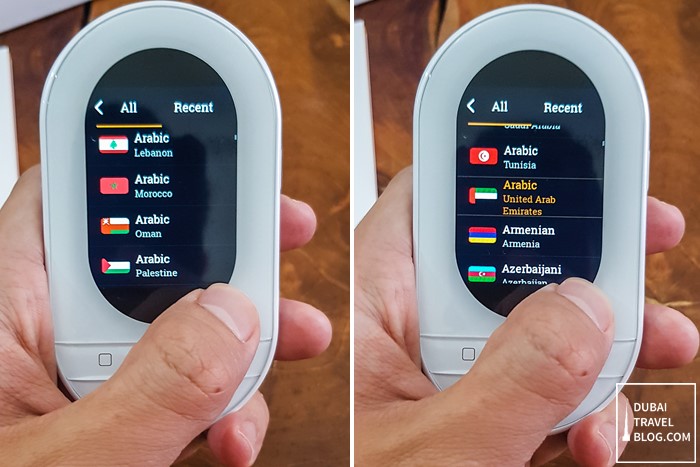 Get the Travis Touch Pocket Translator Online Here 
1 GB Global Data SIM card
The Travis Touch package came with a 1GB Global Data SIM card which is sold separately. This SIM card can be used to access the device where there is no WiFi. If you run out of data, you can purchase credits to reload it.
Pocket WiFi
Aside from being a pocket translator, The Travis Touch also works as a Mobile Hotspot device. You can connect up to 11 devices simultaneously so it provides plenty of options to connect tablets, laptops, or other devices.
This is quite useful especially for travellers who want to connect to the internet but don't want to spend much for roaming data packs from their country's telecom provider. Just make sure the country you'll be visiting is part of the list of countries that has coverage.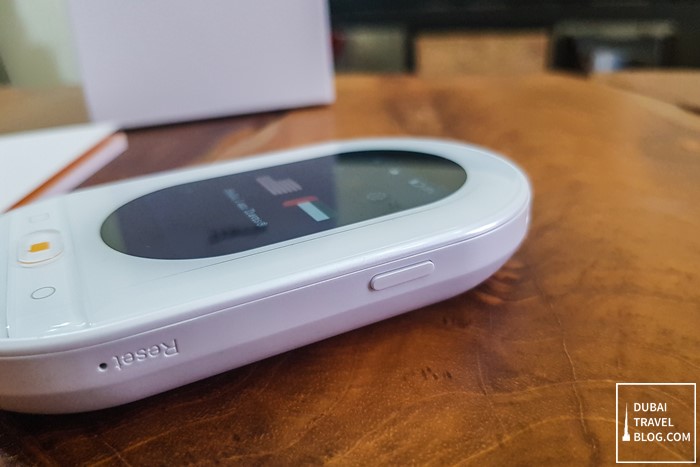 Get the Travis Touch Pocket Translator Online Here 
Personal Experiences
Based on personal experiences when travelling, I remember having a hard time communicating with an Uber driver while we were in Paris and the driver couldn't speak English. There was a road block on the highway and he couldn't take us to our destination. He tried his best by entering texts on a translation app on his smartphone. It was a tricky situation as he was only able to type texts when traffic stopped. I was also having challenges understanding the French text on his App.
We ended up just getting down from the car in the nearest available spot. While we commended the Uber driver's efforts, if we had this Travis Touch translator, it would've definitely made communicating much easier.
I also used to work in a retail shop inside The Dubai Mall and at times I had local Emirati customers who would speak to me in Arabic. While I learned to speak numbers in Arabic, this would have been a nice device to start conversations with my clients.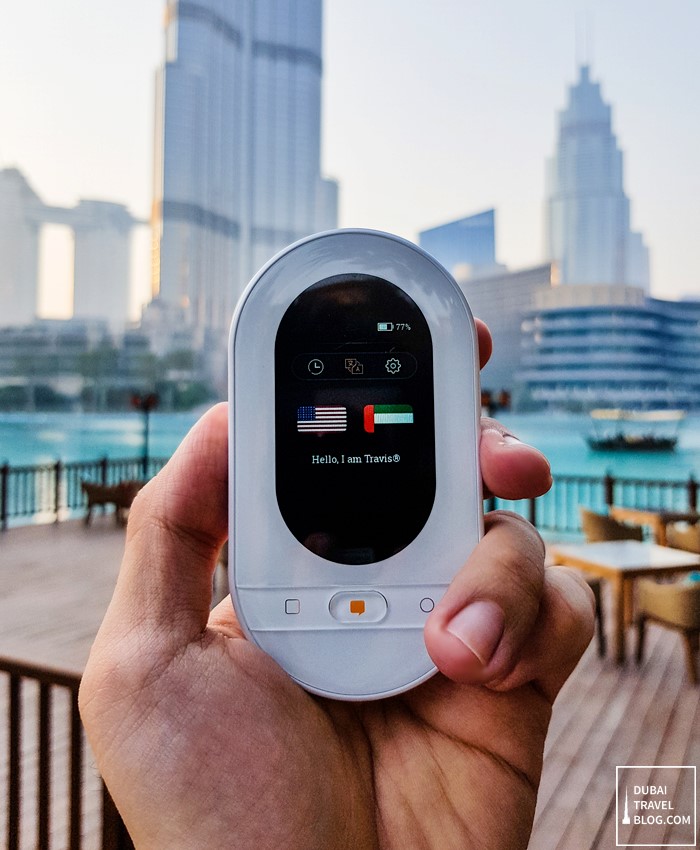 Conclusion
The price of the Travis Touch retails at 199 USD (732 AED). While it may be a bit steep for an extra travel gadget, if you're looking into maximizing the device, it can be well worth it. A huge additional feature is its pocket WiFi capability as there are others who buy mobile WiFi device separately.
This ultra smart pocket translator and its technology is quite impressive. This is a very useful travel gear especially when you go to countries that have limited signs and you will need to ask a local for directions. It's also handy to start conversations and connect with fellow travellers.
My wife says she wants to use the Travis Touch to improve her Spanish. Her line of work involves a lot of flying and talking to international clients and colleagues. Plus given the mobile hotspot feature, she doesn't need to keep buying costly data roaming packs from our UAE network.
As for myself, I would like to keep using this to practice conversational Arabic words. It fits right in the pocket and would make for a helpful tool when travelling or when interacting with people of various nationalities.
Where to Buy Travis Touch in Dubai
Their official site accepts international shipment so you can purchase the Travis Touch here – BUY TRAVIS TOUCH ONLINE
I also noticed that eletcronics giant Sharaf DG UAE also carries the product. Will have to check the actual stores in Dubai if they have any devices on display.
Note: I received the Travis Touch to review the device. All opinions my own.