Jumeirah Beach Residence, or also referred as JBR, is a fascinating place for beach-lovers that is nestled peacefully in the Dubai Marina facing the Persian Gulf. One of the largest and most ambitious single-phase residential projects, this prime waterfront community features over thirty lofty towers, including world-class boutique hotels and lavish residential properties.
This is a great place where people can hang out and relax after a week of work in Dubai. The Open Beach is a full of sun and beach lovers who want to spend time outdoors.
Panoramic Views of JBR Open Beach
JBR in Dubai

Jumeirah Open Beach

buildings in the background
While the Jumeirah Beach Residence was originally intended as a residential area, it has become one of the hottest and most beloved tourist spots in the city of Dubai, thanks to its wealth in spectacular Arab and Mediterranean architectural gems as well as trendsetting shopping centers and upscale restaurants. Moreover, this community has a lovely seaside breeze and a laid-back vibe, giving you a relaxing respite in the bustling capital city of UAE.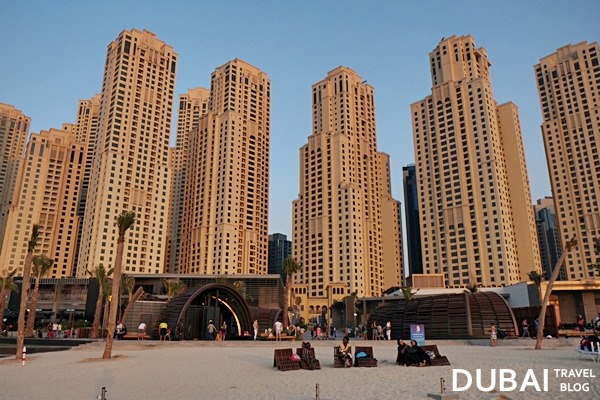 Upscale Living
As a real estate community, JBR lures expats and city dwellers with the allure of a cosmopolitan lifestyle while residing on a pristine white-sand beach. Besides this unique and deadly combination, this community is one of the most exclusive and desirable residential addresses in the UAE as well. What's more, residents of this tranquil haven get to enjoy a combination of hospitality, entertainment options and retail with deluxe apartments that are packed with amazing amenities and state-of the-art features.
This beachside community is made up of a handful of condominiums, such as Amway, Rimal Bahar, Sadaf and many more. Each building has six to seven towers, and usually has a basement parking area of two to three floors. As a bonus, every residential condominium has a couple of pools, where you can take a relaxing dip in the afternoon.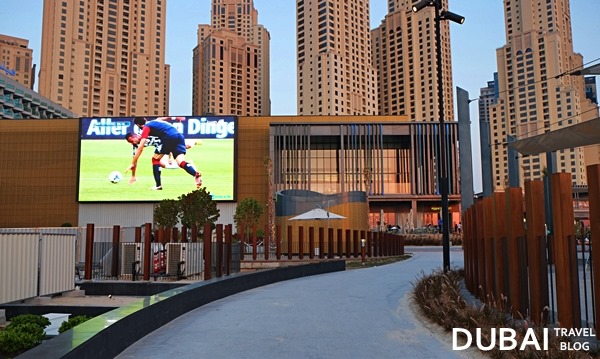 outdoor widescreen television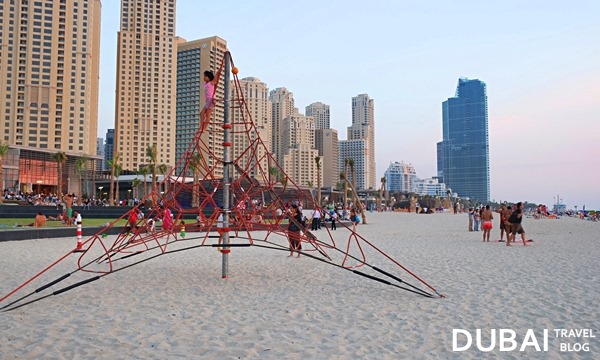 play are for children
The Walk at JBR
Jumeirah Beach Residence, though, is more than just a beachside residential community meant for city inhabitants. Not only does this area offer great views of the sea, but it also has a host of captivating sights and attractions. After all, it is the home to "The Walk", the coolest outdoor tourist attraction in Dubai.
A trendy 1.7-kilometer strip, The Walk beckons locals and international travelers with its eclectic selection of coffee shops, restaurants, hotels and shopping centers. Furthermore, the strip is packed with interesting activities and displays, such as sand sculptures, street painting, photography displays, comedy shows, and recycled art displays. To top it all off, the place has a cluster of booths selling stylish yet affordable crafts and fashion accessories.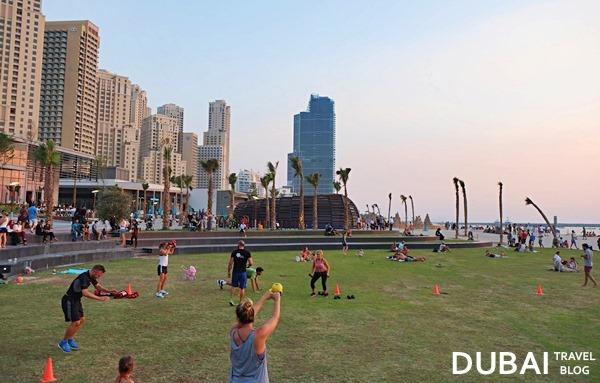 a park on a beach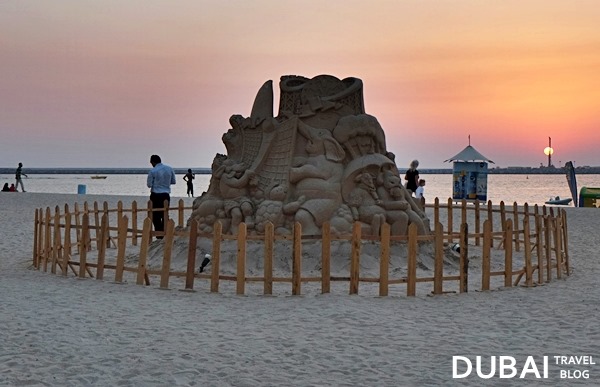 sand art
The Beach at JBR
The Beach at JBR is an attraction that recently opened which features a selection of shops, food places and a cinema. Yes, there's a cinema by the beach!
This is located in front of The Walk and it's a great place to hang out. Plenty of people come to this area because of its urban yet charming set-up. It's an area where people can chill out and enjoy a relaxing day outside. They have a mini park and at the time when we visited, cross-fit participants were doing their training. So this is also a good spot where people can exercise.
cross fit activity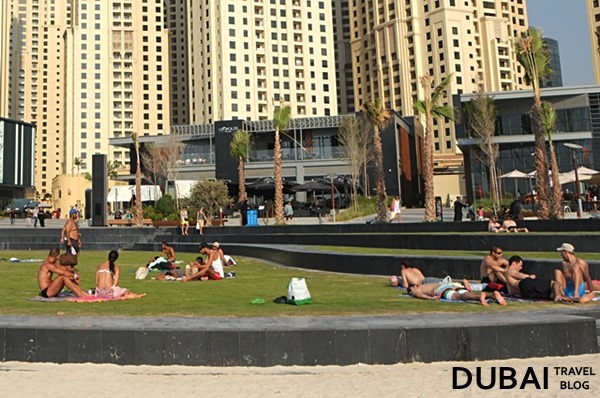 sunbathing
The overall vibe of The Beach deserves an article on its own and we can't wait to visit and share more photos of this location. For now, let these pictures do their talking.
a nice place for recreation with friends and family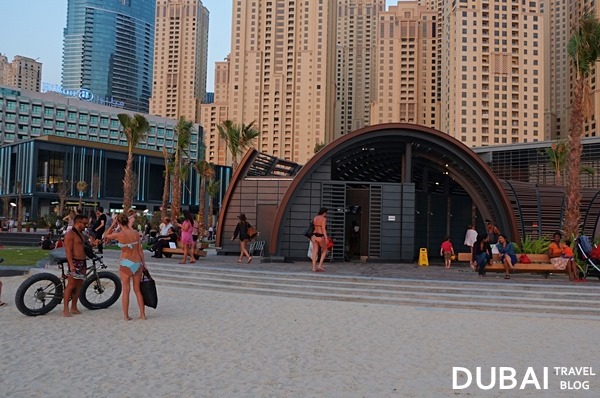 public bathrooms
Sunset at JBR
One of the best things about Dubai is that almost all the time, sunsets are always perfect. You can enjoy a good view of the sun while lounging and getting a tan. If sitting on a beach mat is not your thing, you can always dine al fresco (when the weather is bearable) in one of the restaurants and look at the sun from afar. It's a good way to forget stress before another workweek in Dubai. Didn't we mention sunsets are free?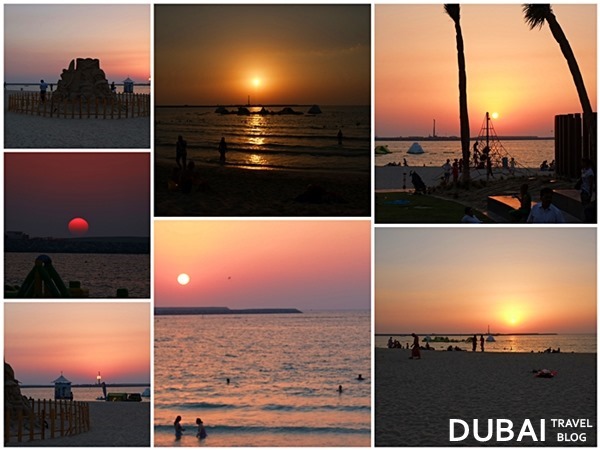 watch a relaxing view before another week of work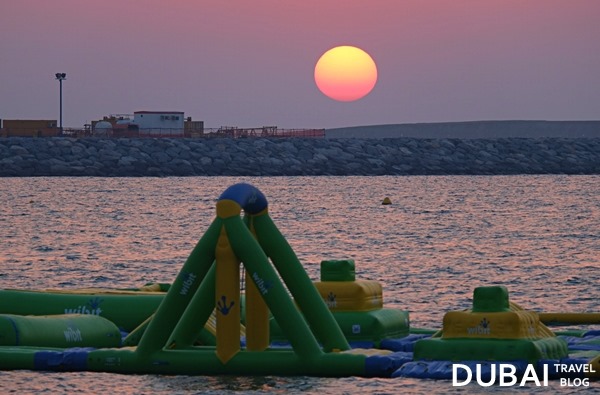 Dubai sunset