On a Saturday evening, we drove towards The Walk at JBR for a dinner experience at Blaze Burgers, a burger concept that started in Bahrain and they branched out to the UAE in Dubai's Jumeirah Beach Residence area.
As the name suggests, the restaurant offers a variety of burgers and sandwiches, as well as fries and onion rings with different spices and toppings. Blaze Burgers prides itself in taking burger crafting seriously. They don't take shortcuts by labeling themselves as a 'fastfood' place where your meal is served on the spot. You have to wait for it as they are served fresh.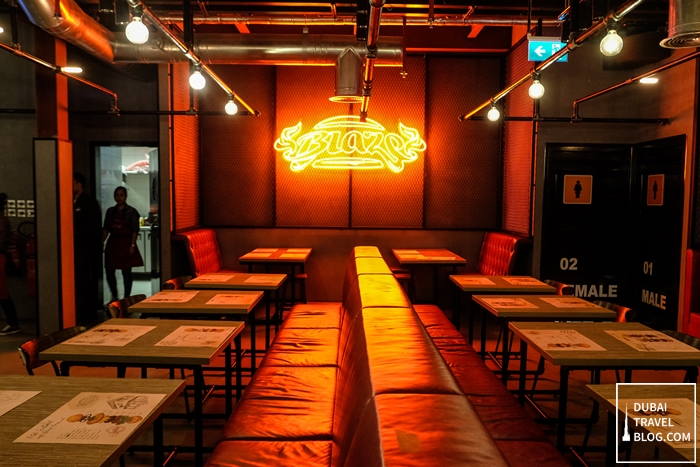 inside Blaze Burgers JBR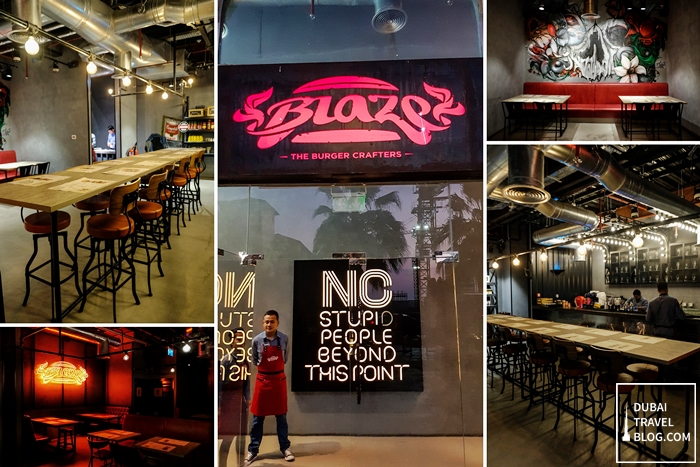 Blaze Burers – The Burger Crafters
Blaze Burgers: The Burger Crafters, The Walk at Jumeirah Beach Residence
We arrived at the restaurant and a strong signage greeted us. "No Stupid People Beyond this Point" sets the mood as you step into the restaurant. Interesting graffiti and modern pop art is also plastered on the walls and give off a garage and industrial-designed diner vibe.
After the staff took our orders, they directed us to an area where we picked our own sauces. You get your own basket and choose among the many condiments available, from ketchup to hot sauces to salt and pepper, mustard, etc. It's actually a great feature so you don't have to keep asking for 'packets' of ketchup and such because you get your own condiment at your convenience.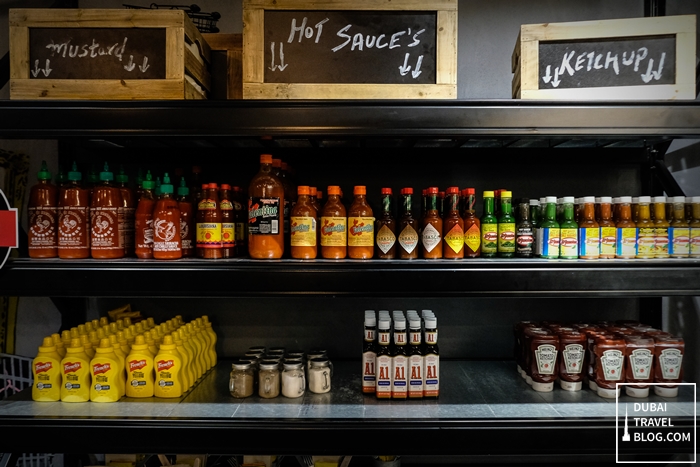 condiments section. choose your preference, bottles are brand new 🙂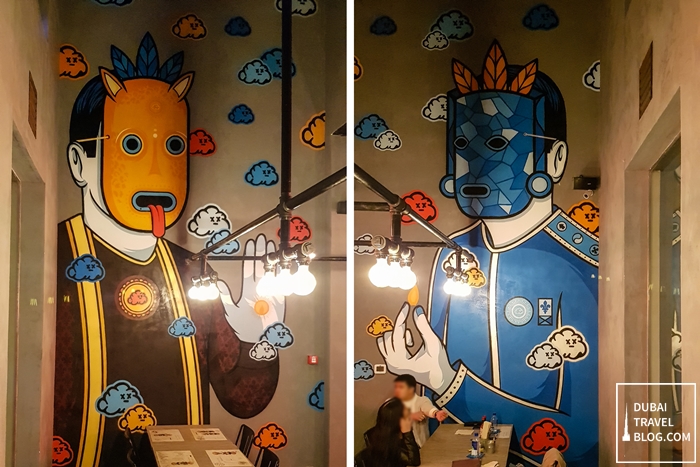 grafitti, modern art
Ordering in Blaze Burgers is simplified in 4 steps:
Step 1. Choose your meat – from an old school burger to a gourmet Wagyu Burger to a '6abooga' brick burger, and even extra love (for a double-patty). They also have a grilled chicken and portobello mushroom. They have a number of meat for you to choose from.
Step 2. Choose your toppings – they have over 12 toppings readily available or you can build your own toppings which serves as the dressing inside your burger.
Step 3. Choose your bun – white burger or soft brown burger bun, or a lettuce wrap.
Step 4. Choose you potatoes – fries are surely a must with your burger and here you get to choose between chips, french fries, scoopers, or onion rings, also include your chosen topping for this.
It wasn't before long before our orders arrived. We ordered a serving of their chili con fries, chips and onion rings. The servings were really good that we didn't bother as much when pairing them with our chosen dips. We already took plenty of our preferred sauces from the shelf that we had more than enough.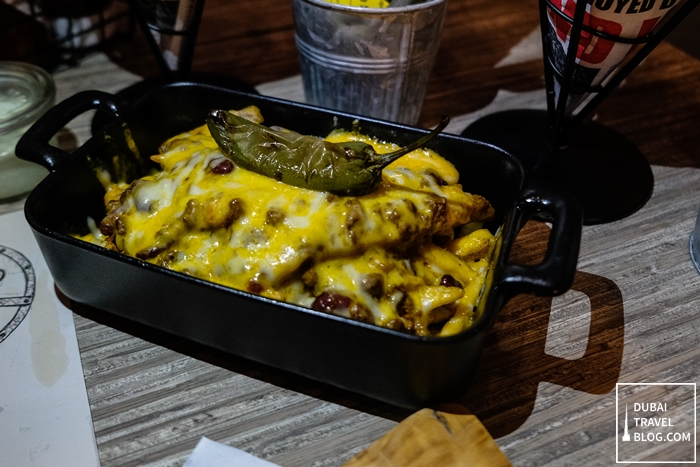 Chili Cheese Fries
home-made from scratch chili con carne, smokey sauce, cheese and jalapeno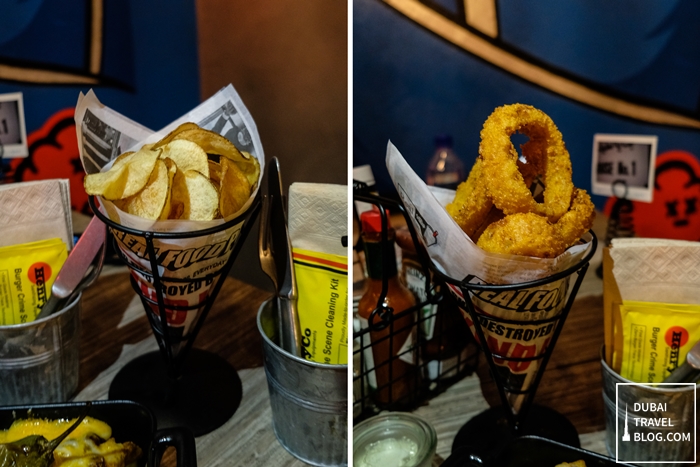 chips and onion rings
We were introduced to one of the team members who was responsible in conceptualizing the menu for the restaurant. Darwin and the management team had carefully chosen the idea to create the items in the menu.
We chose the Blue & Crunchy burger, The Barbarian burger, and the famous brick burger called "6abooga".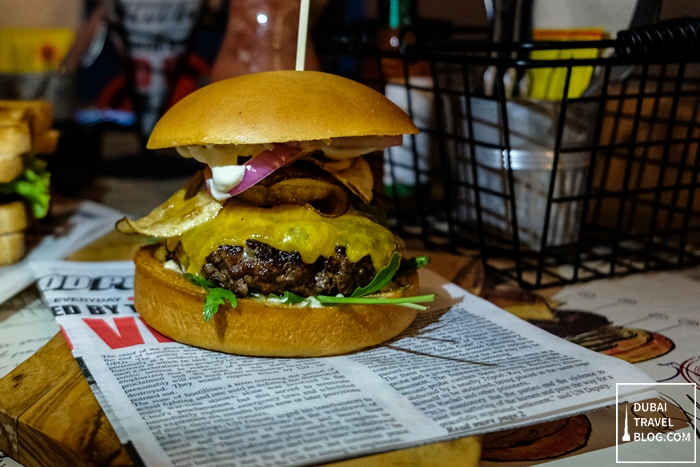 Blue and Crunchy Burger
Arugula, homemade pickle onions, crunchy chips, garlic mayo, blue cheese and cheddar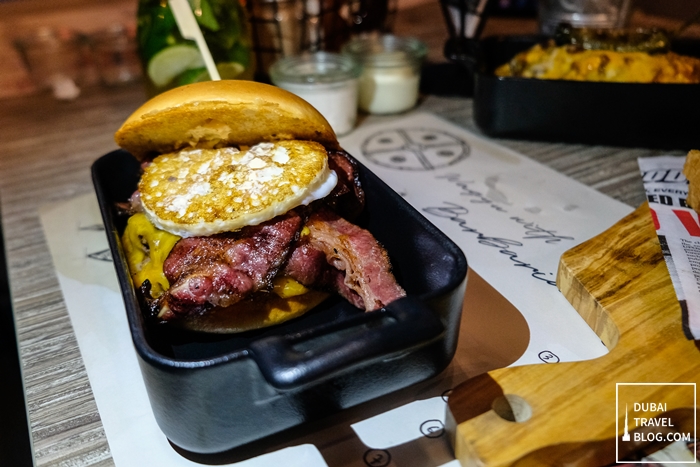 The Barbarian Burger
Fried egg, beef bacon, habanero mayo and cheddar cheese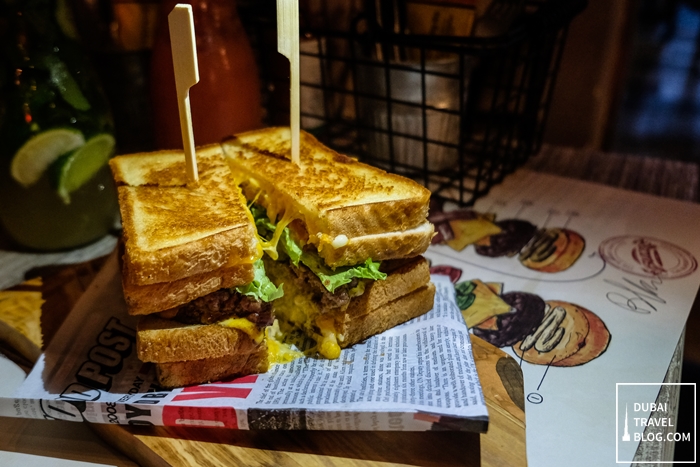 6abooga Burger – AKA The Brick Burger – 68 AED
Two grilled cheese sandwiches with your favorite topping.
US certified Angus beef (200g)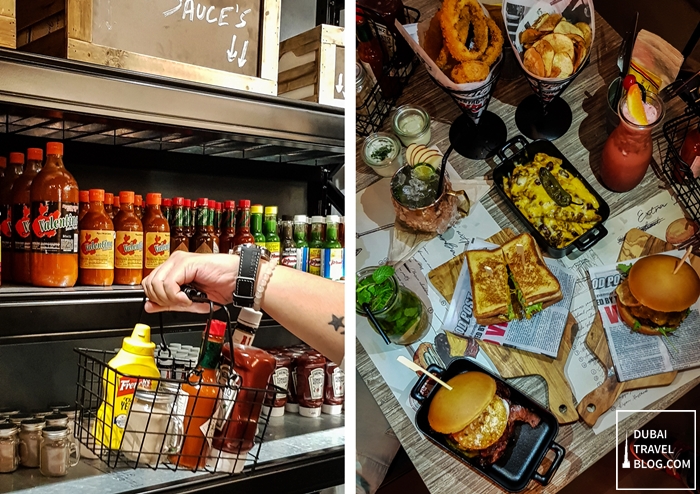 condiments in a basket, burgers
Interesting enough, they also have some unique drinks and mocktails to offer. We had Blaze on the Beach, Nojito cooler, and Triple Lime. Each of them had their unique ingredients and interesting flavours.
If you're not up for mocktails, they have some sodas and milkshakes also available.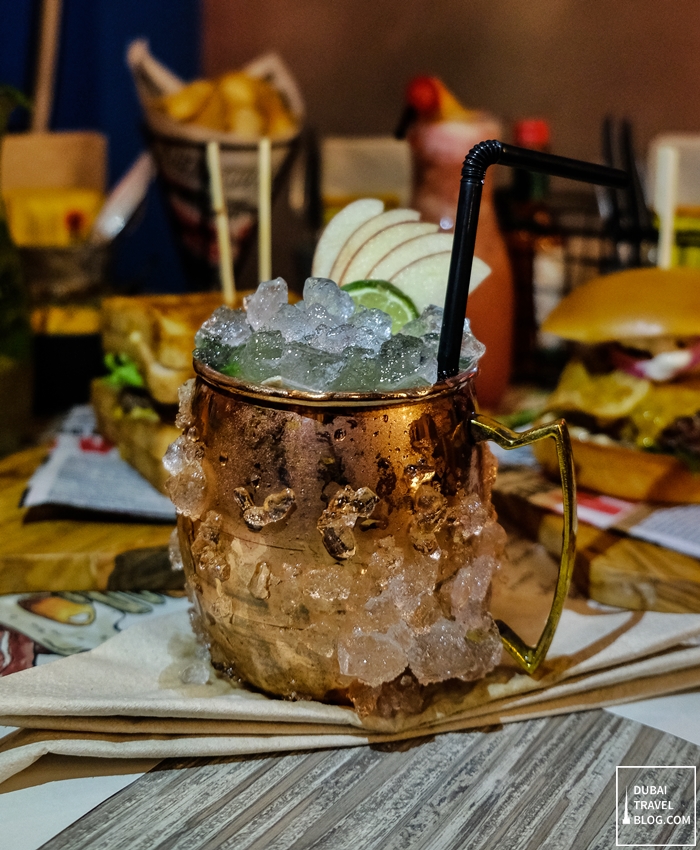 Triple Lime – 20 AED
triple lime and apple juice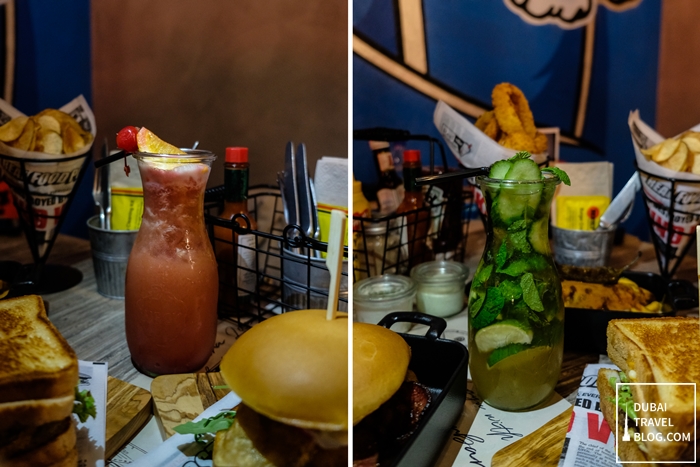 Blaze on the Beach – 20 AED
peach, lime, cranberry, and orange juice
Nojito Cooler – 20 AED
Cucumber, lime, and mint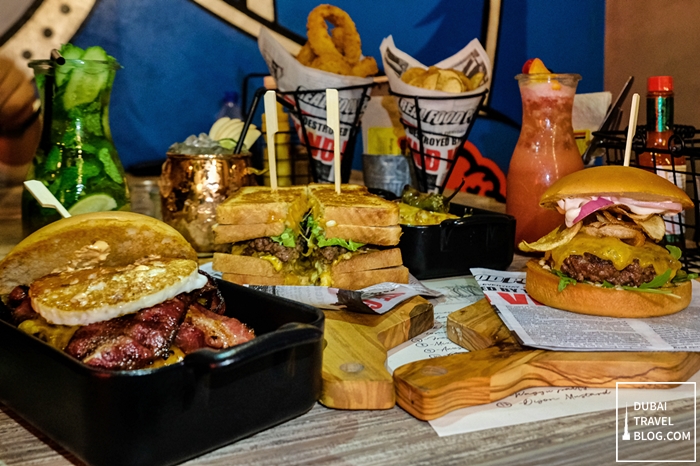 burger and fries feast
We were so full afterwards that we barely had room for desserts. But the staff insisted that we try their chocolate brownie and brownie cookie which were served in a skillet and have white and dark chocolate sauces, M&M toppings and vanilla ice cream.
Just to be clear, don't think of diet when you arrive in Blaze Burgers. 🙂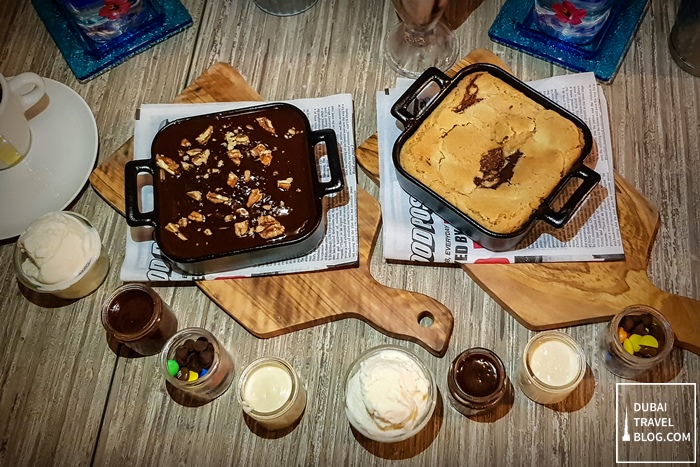 desserts at Blaze Burgers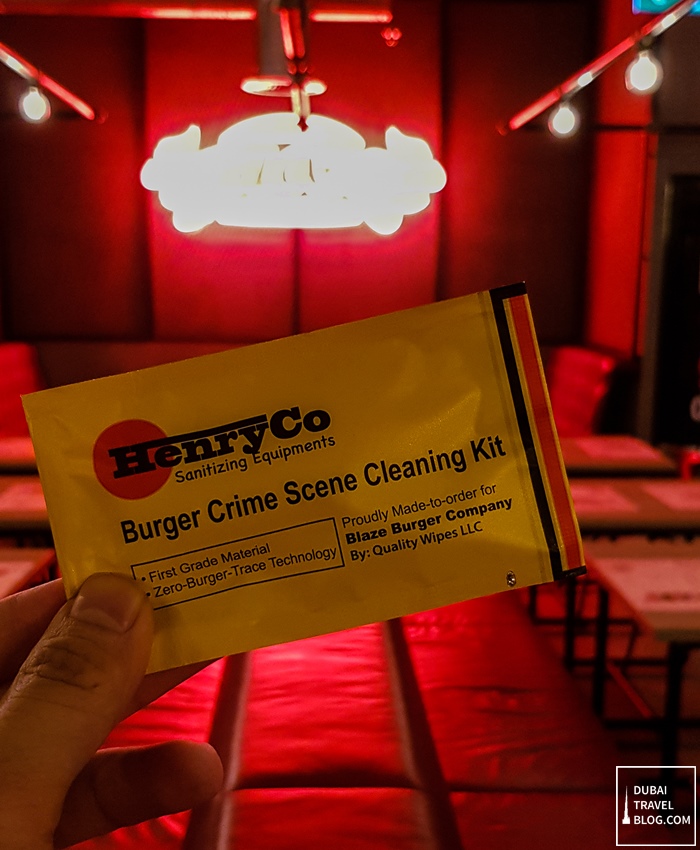 blaze burgers towelette
It was great to have tried the offerings at Blaze Burgers. Their premium burgers have been carefully crafted and are making a buzz in the food scene in Dubai. Here's a quick video of our experience that Saturday evening.
Contact Information: Blaze Burgers UAE
Address: GM 07 & GM 08, Sadaf 04, The Walk, JBR – Dubai
Phone: 800 25293 / 04 242 4523
Website: http://blazeburgers.com/uae/
Facebook: https://www.facebook.com/BlazeBurgersUAE/
Instagram: https://www.instagram.com/blazeburgers/
Twitter: https://twitter.com/blazeburgers
Google Map Location: Blaze Burgers JBR
Below is a Google map location to guide in getting to Blaze Burgers in JBR. We had some difficulty looking for a parking space in JBR and opted to park near the tram area because of the traffic had we parked in The Walk.