We experienced an awesome 4-hour private cruise on a 50-foot luxury yacht while touring around the JBR coastline, Atlantis The Palm, and Burj Al Arab.
It's a great time to be outdoors especially when the summer season has ended. One of the more enjoyable ways to experience the great weather is renting a yacht and going on a cruise, the Dubai way.
Also Read: 23 Best Attractions in Dubai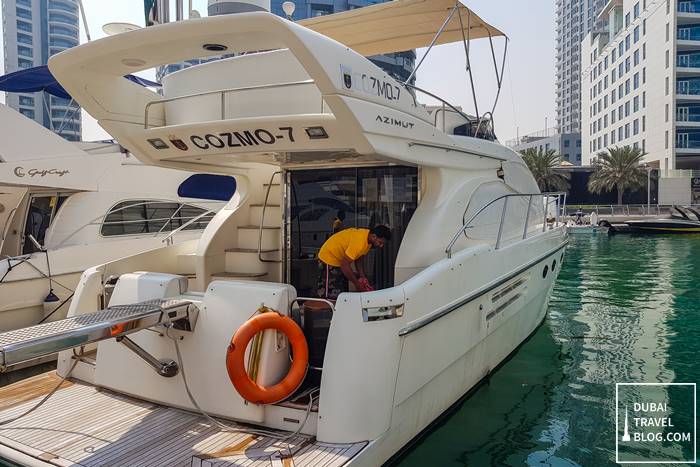 our boat that day
Cozmo Yachts in Dubai Marina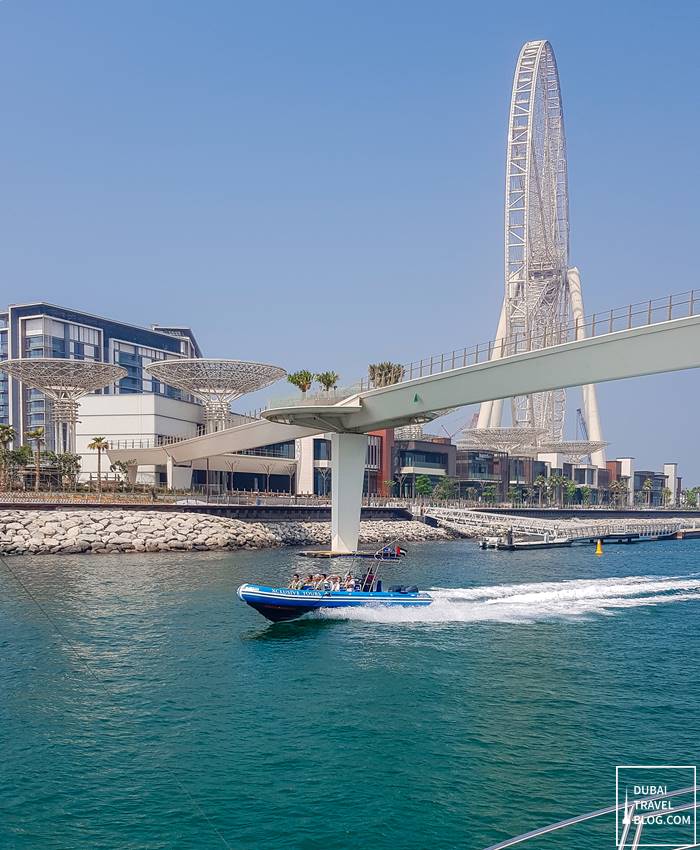 Ain Dubai and Bluewaters Island
Dubai Luxury Private Yacht Cruise Experience
We drove from Sharjah to Dubai Marina on a weekday and met with the Cozmo Yachts. The team of Captain Arvind, Sundar, and Akbar assisted us during this trip.
My wife and I got a quick tour inside a luxury yacht before, but this is our first time to actually have a private yacht cruise. We were with our friends and we were excited to finally do this after years in the emirate. 🙂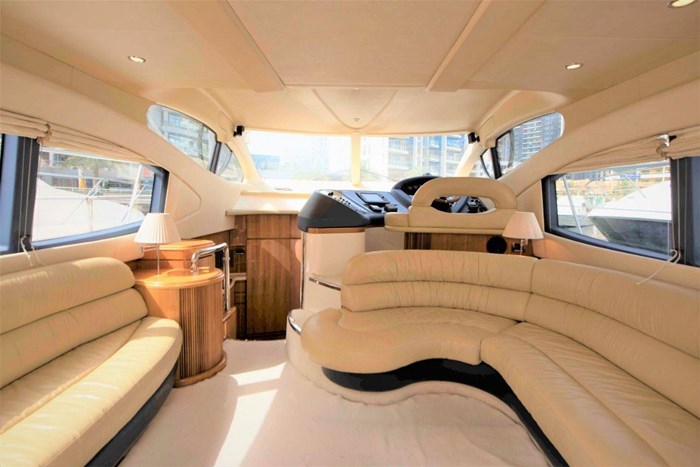 lounge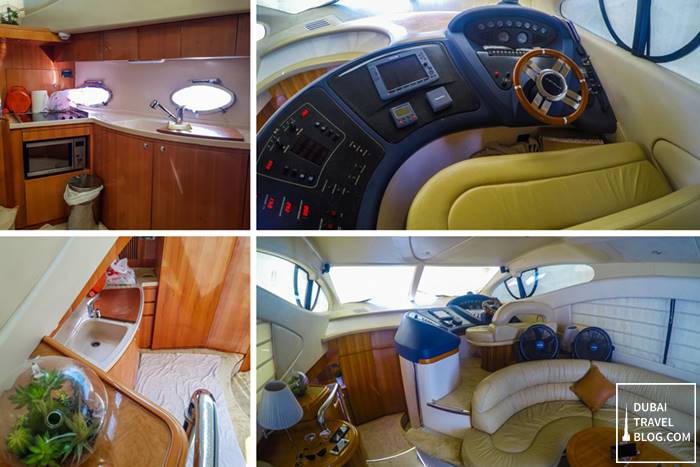 kitchenette
Inside the Yacht
While they were still preparing the boat, I quickly had a look to see what we could expect inside.
The 50-foot yacht is able to accommodate a capacity of 16 guests. It comes with 2 bedrooms and 2 restrooms, a kitchenette, a lounge, top deck and sundeck. It's very spacious.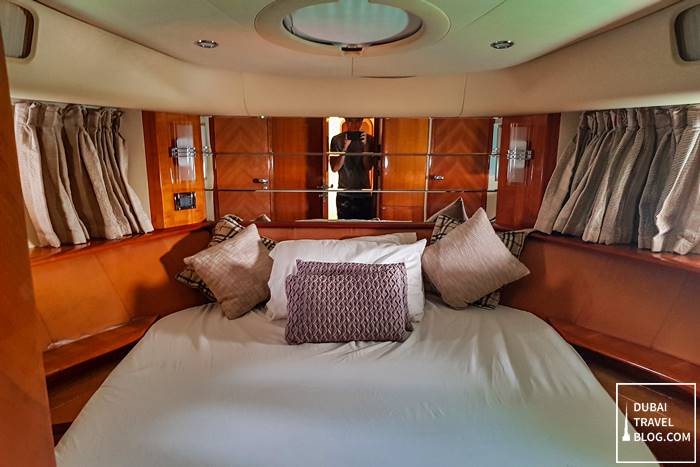 master bedroom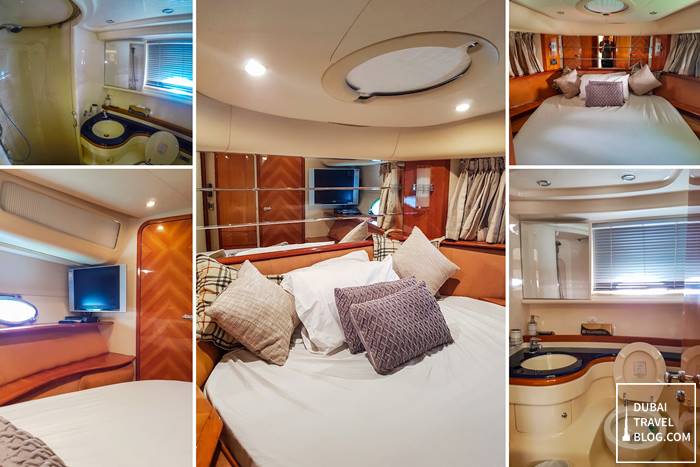 it has 2 bedrooms
We started our cruise and from then, we went up the top deck in order to see the view outside. The boat team asked us to connect our phone to their sound system (BOSE speakers) so that we could play music from our playlist. I'm glad one of our companions had a full set of songs on her phone.
The staff proactively asking us about it was a nice touch as we really didn't think about preparing music. But it made a lot of difference in setting the mood to this luxury yacht cruise.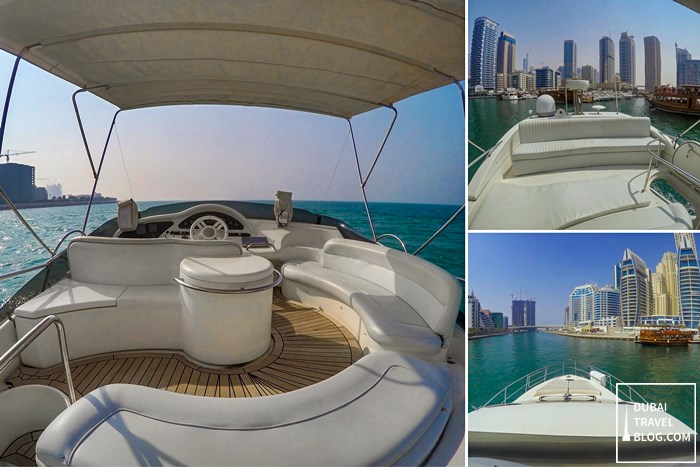 top deck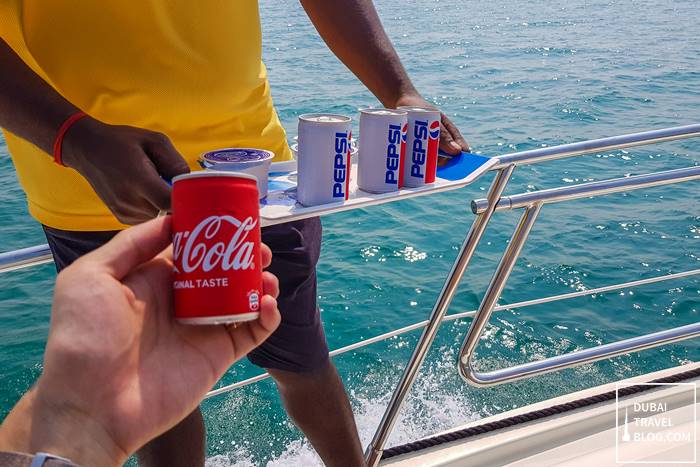 refreshments offered by the professional yacht crew
Dubai Marina – JBR Coastline – Atlantis the Palm – Burj Al Arab
Our first stop was the Atlantis, The Palm in Palm Jumeirah Island. The next stop was the Burj Al Arab. These are two famous Dubai attractions and it was great to see it from the water side. We also coasted along the JBR skyline and got a closer glimpse of Ain Dubai (the largest Ferris wheel in the world).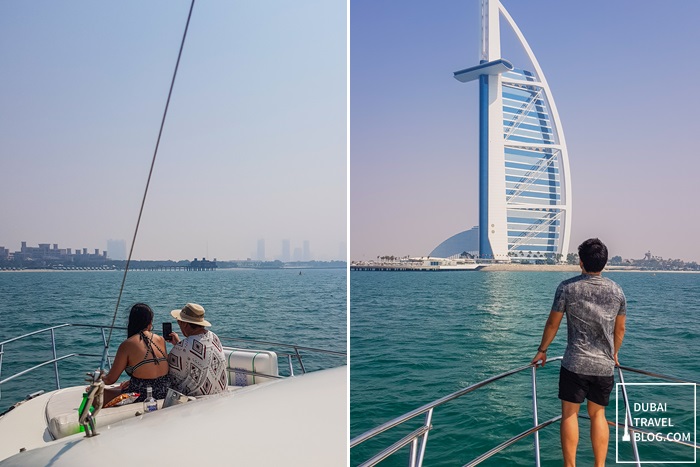 enjoying the weather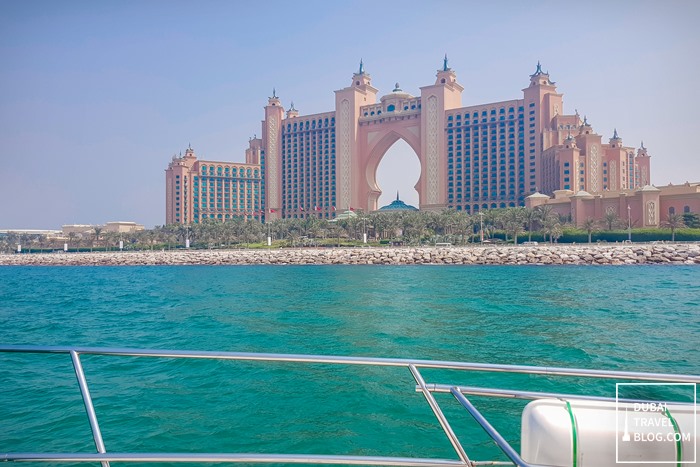 Atlantis, The Palm Resort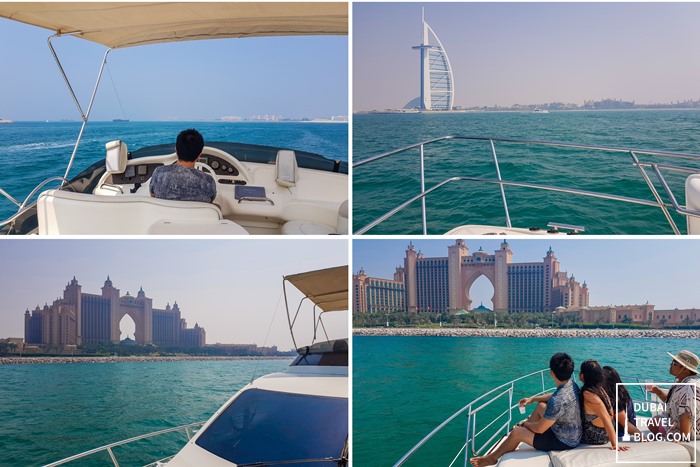 yacht cruise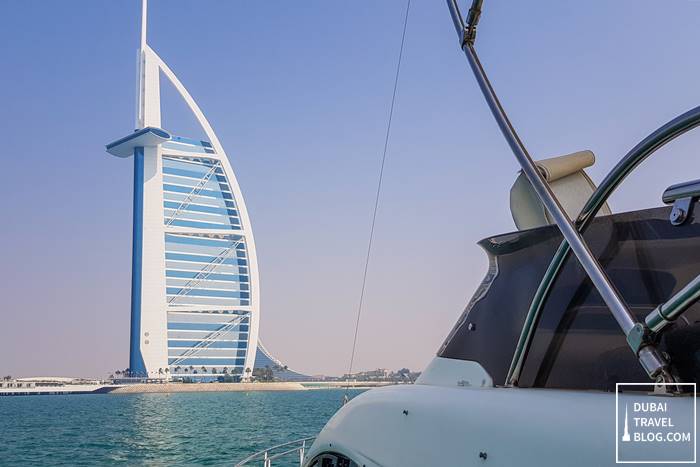 Burj Al Arab
Live BBQ Grill
Prior to heading back, we had a quick dip in the water while the staff prepared a live BBQ grill. For what better way to enjoy the salty waters than with a good barbecue afterwards? 😉
We did a couple more swims afterwards then we headed back to Dubai Marina. We spent the remaining time enjoying the view while resting on the sundeck area.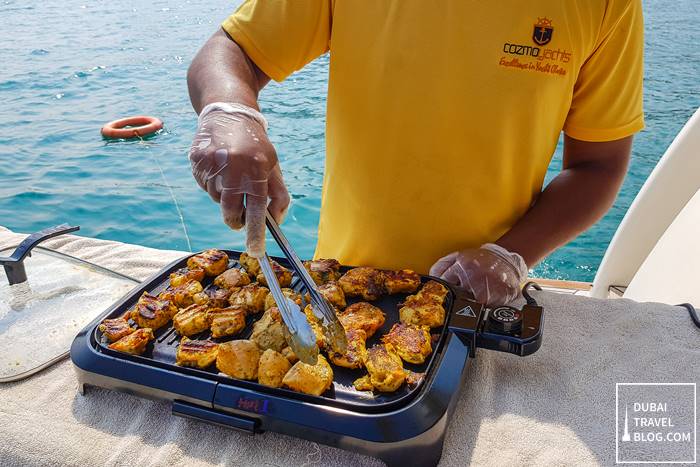 Live BBQ on a Yacht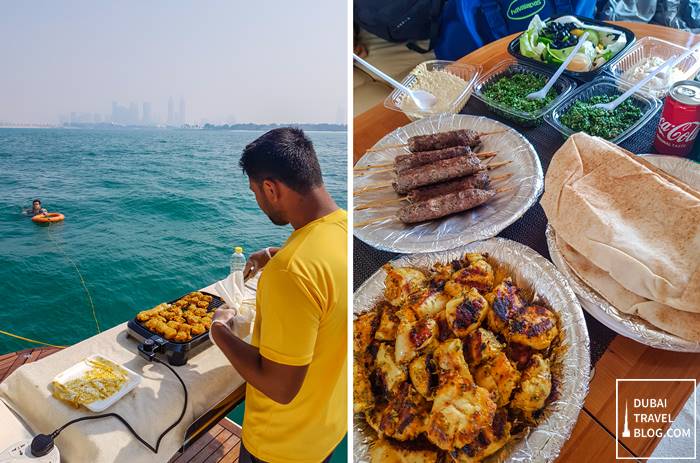 we were hungry after the swim
Renting a yacht is one of the ultimate and grand activities you can do in Dubai. I'm really glad that we took a dip in the water in between cruising. I tell you that during that evening, we slept so well because we were so tired and satisfied from the activity.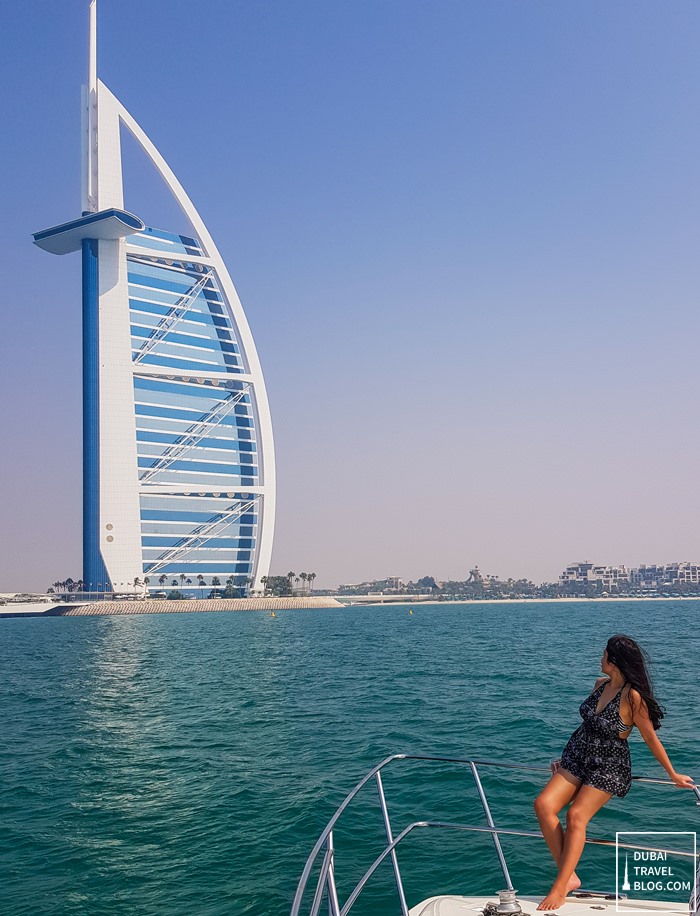 Burj Al Arab yacht cruise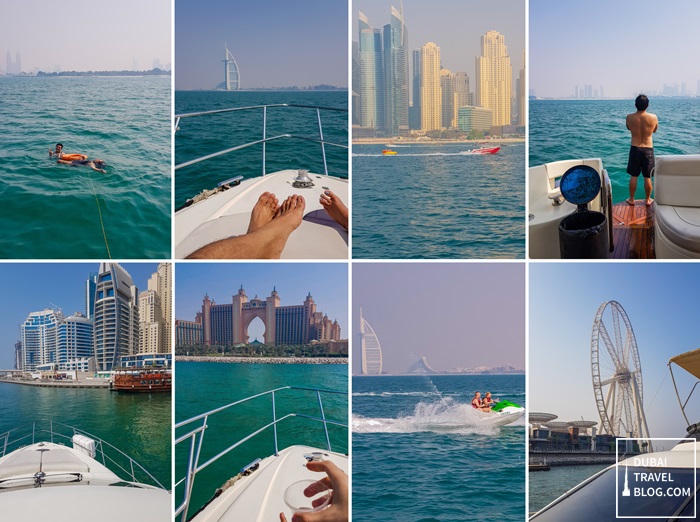 scenes from our yacht cruise
Tips When Renting a Yacht in Dubai
Here are some tips when you plan to charter a yacht in Dubai. This is based on our experience in this 4-hour cruise.
Bring sunblock and enjoy the Dubai sun (especially during winter season)
Bring snacks and drinks. The yacht is not authorized to provide alcohol as per UAE laws. You have to bring your own (make sure you secure a license too).
Get ready with your music party playlist – this can really make a difference especially when you want to listen to music as you cruise along the waters.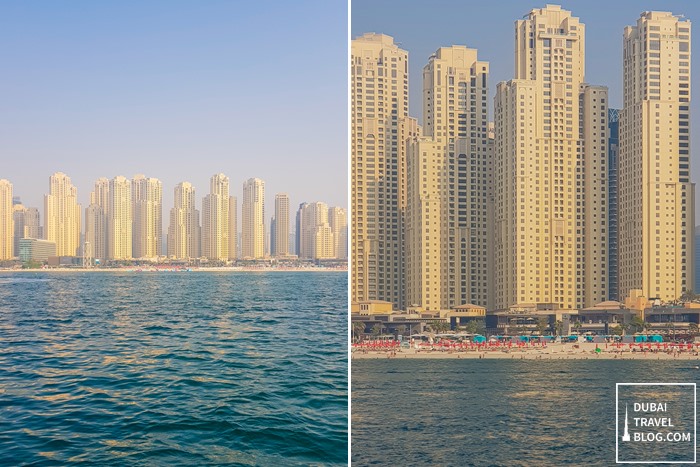 JBR coastline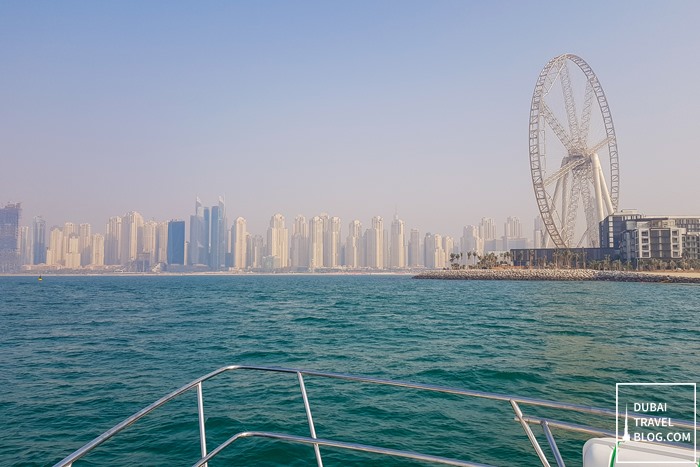 Ain Dubai
Video: Luxury Private Cruise on a Yacht, Dubai-Style
Here's a quick video of our private cruise on a yacht in Dubai:
Captain Arvin, Akbar and Sundar were very professional all throughout the trip. They made our Dubai yacht cruise experience a very enjoyable one.
Cozmo Yachts offer a variety of packages including yacht rental, private cruise, fishing trips, yacht charters in Dubai, team building activities, sunset cruise, watersports. etc. Below are their contact details so you can learn more about their services.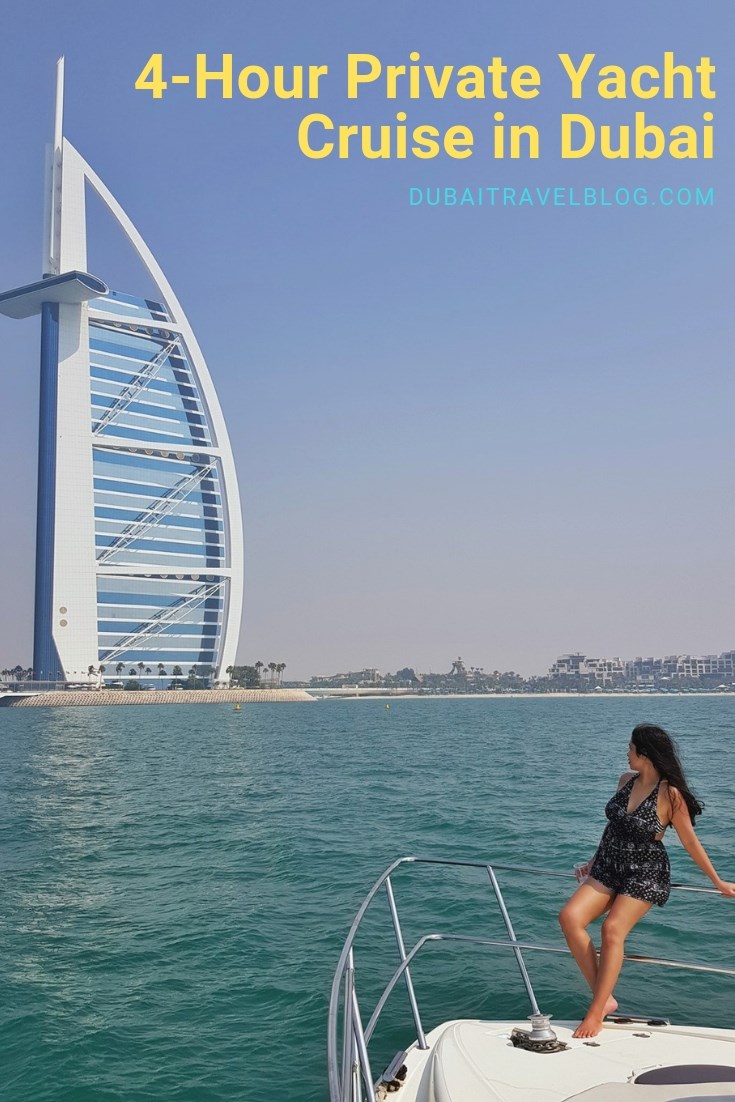 Contact Information
Cozmo Yachts Dubai
Address: 803 Silver Tower, Business Bay Dubai, PO Box 238065
Contact Number:  +971 4 558 7195, +971 52 944 0222
Website: https://cozmoyachts.com/
Email: info@cozmoyachts.com
Instagram: @cozmoyachtsdubai
Facebook: @cozmoyachtsdubai
Twitter: @cozmoyachts
Google Map Location
Below is a map guide to the location of Cozmo Yachts in Dubai Marina. This is located in front of the Masjid (mosque).