Over the weekend, we had a fun watersport adventure learning how to flyboard at the Open Beach in JBR. This is one of the water activities my wife and I have been curious about and were excited to try when the opportunity arose. It was a 30-minute session per person where we were taught the basics in riding a flyboard (BOOK HERE) .
Also Read: Parasailing Adventure on JBR with Seawake Dubai
We rarely visit The Beach at JBR as we're based in Sharjah so it's nice that whenever we drop by the area, we usually have an exciting event planned. We were joined by our friends, Lady and Ed of LadyandHerSweetEscapes, who were also curious about flyboarding.
Book a Beginner's Flyboard Session Here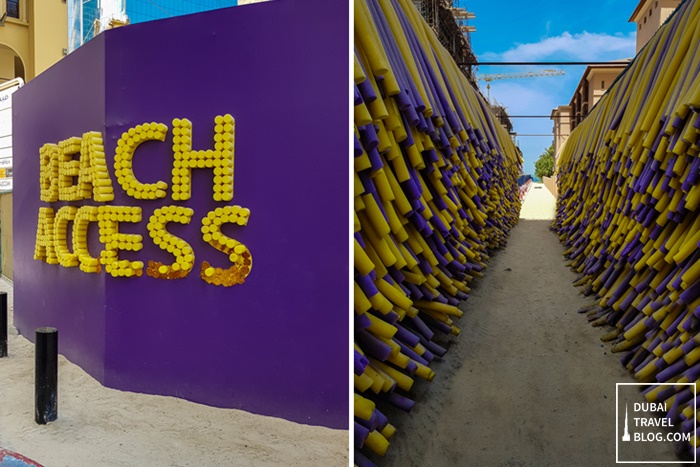 going to the Hydro Water Sports spot via Beach Access in Ritz Carlton Hotel JBR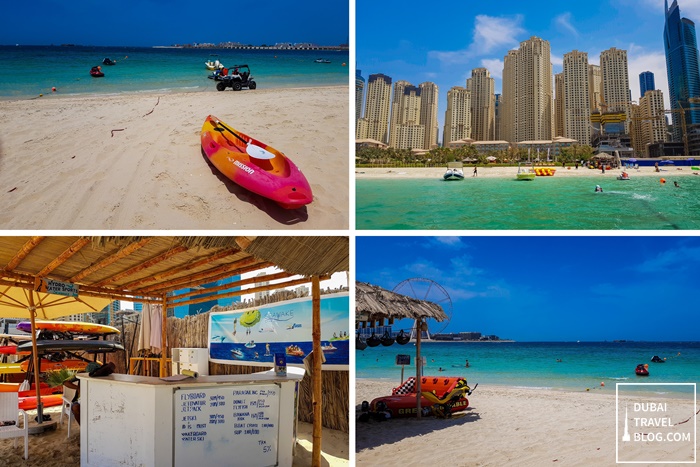 Open Beach at JBR, a popular spot for expats to lounge under the sun
Beginner Flyboarding Lessons in Dubai at Jumeirah Open Beach
We arrived at the meeting point located at the beach area of Ritz-Carlton Hotel in JBR. I'm glad that we found a good space to park our car given that it's still summer. Although the walk to the beach was still far, it was the nearest we could find from the free parking space available. Fridays are free parking in Dubai. 🙂
Anyway, the team from Hydro Water Sports Dubai welcomed us and wasted no time in getting us ready. After signing a waiver, we geared up so we could listen to Armin, our instructor, give a quick introduction and lesson about flyboarding.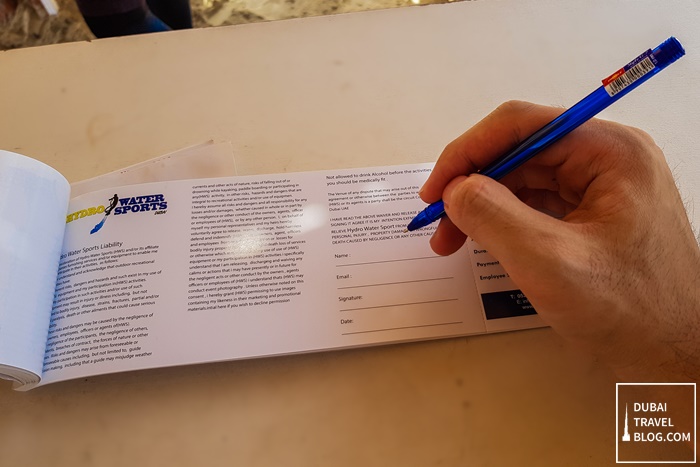 signing a waiver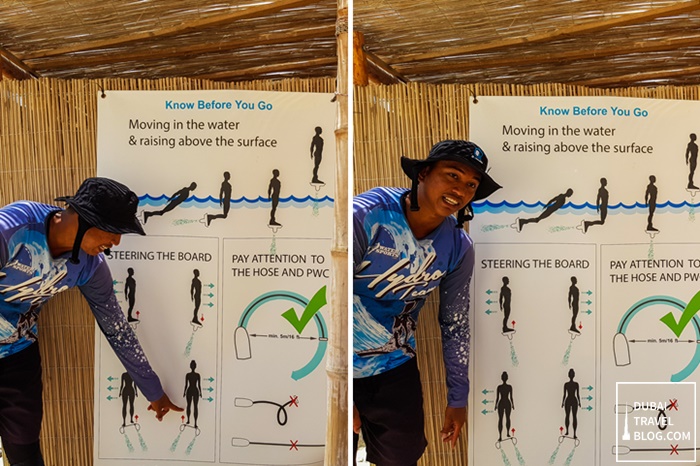 our Filipino instructor, Armin/AJ
As this is a physical activity that's new to us, we initially got a bit conscious because we didn't know if we could control the flyboard properly. But Armin assured us that this is going to be easy so long as we learned to maintain balance. I was the first one to try it.
During the first 10 minutes, they will explain how to use the device, how to take off, and what the hand signals and safety procedures are. The next 20 minutes, you will be flying (and falling).
It helped that there's a radio headset device in our helmet so we could communicate with our trainer easily.
Book a Beginner's Flyboard Session Here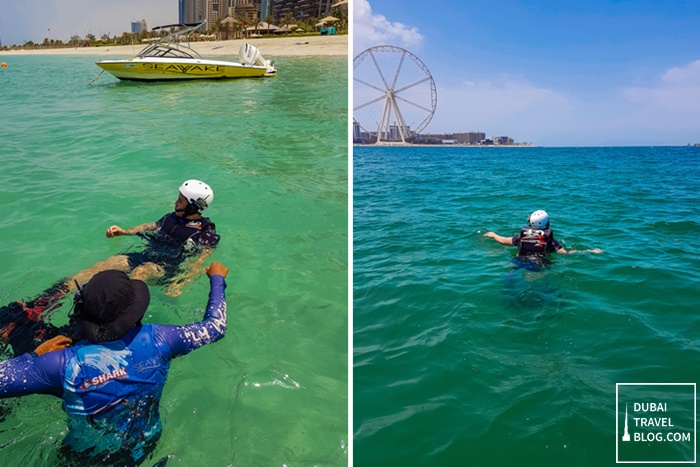 starting the session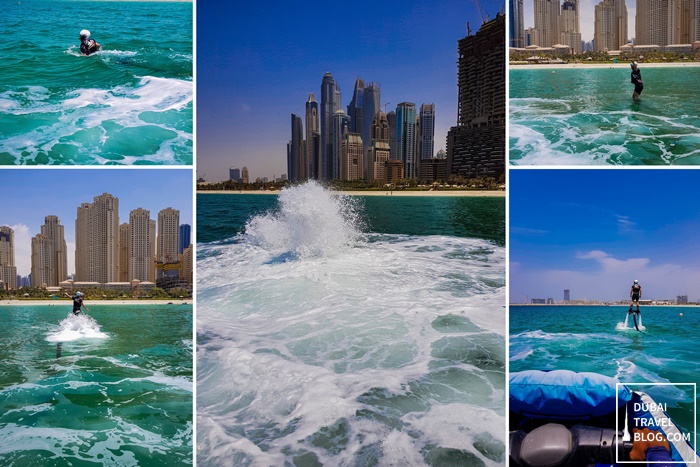 kept falling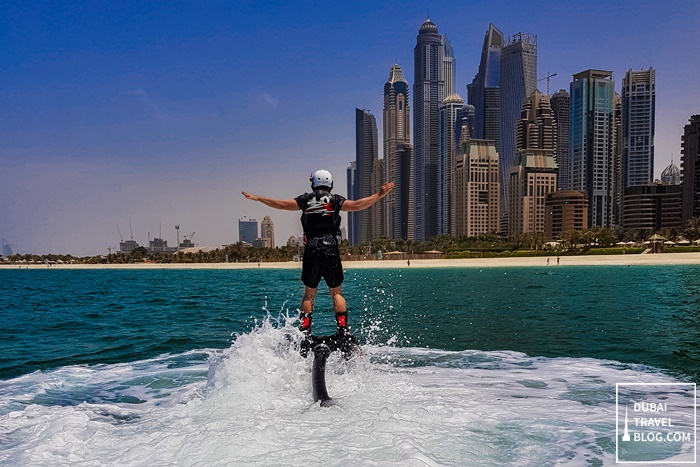 flyboarding in Dubai
Controlling the Board
It was a little challenging in the beginning because once you're in the air, you have to keep your legs straight. In a normal situation, when the ground is not stable, you tend to crouch and squat. However, in this case, you need to stand up straight in order to control the board.
I was able to fly a few times and a lot of times I fell. Armin was the one controlling the water jet and it's good that he didn't make the pressure too strong. Remember that the higher you rise, the harder you fall.
After a few more tries, I soon got the hang of it and I was enjoying the experience. Soon after, my wife and friends tried the flyboard themselves.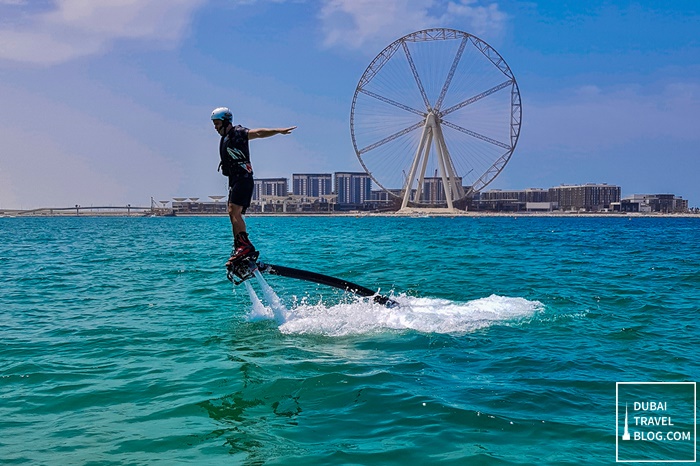 with Ain Dubai (largest Ferris wheel in the world)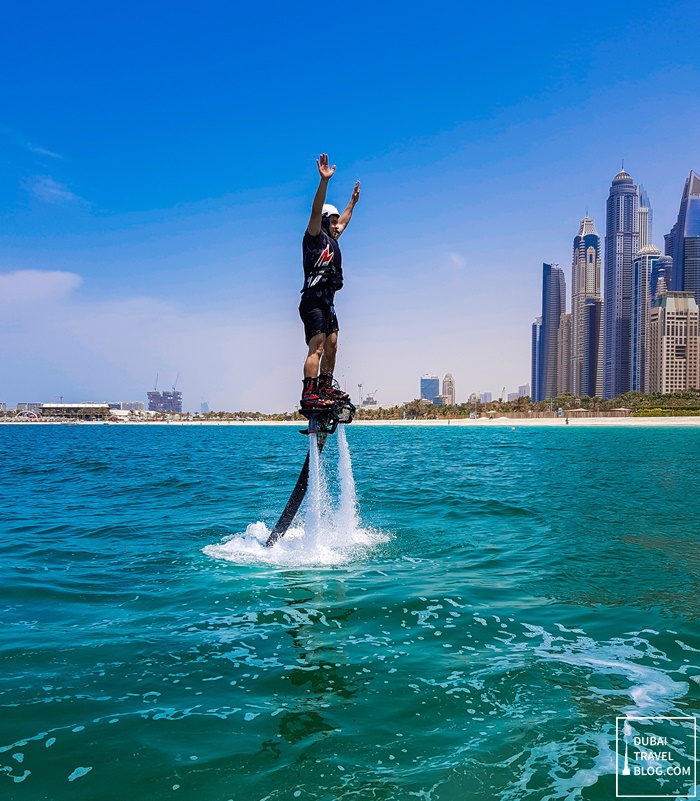 lifted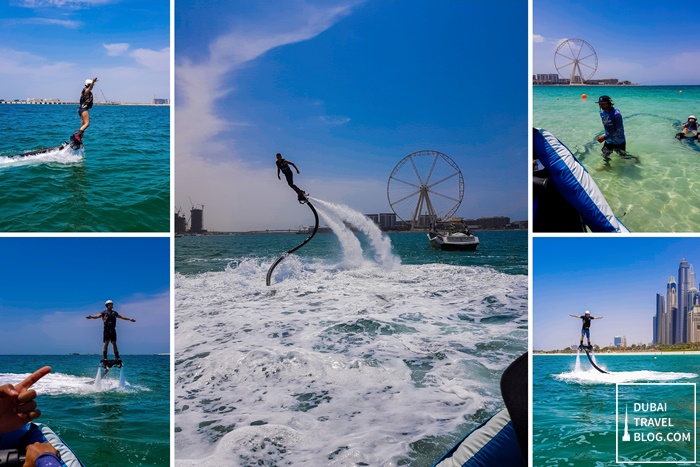 getting the hang of flyboarding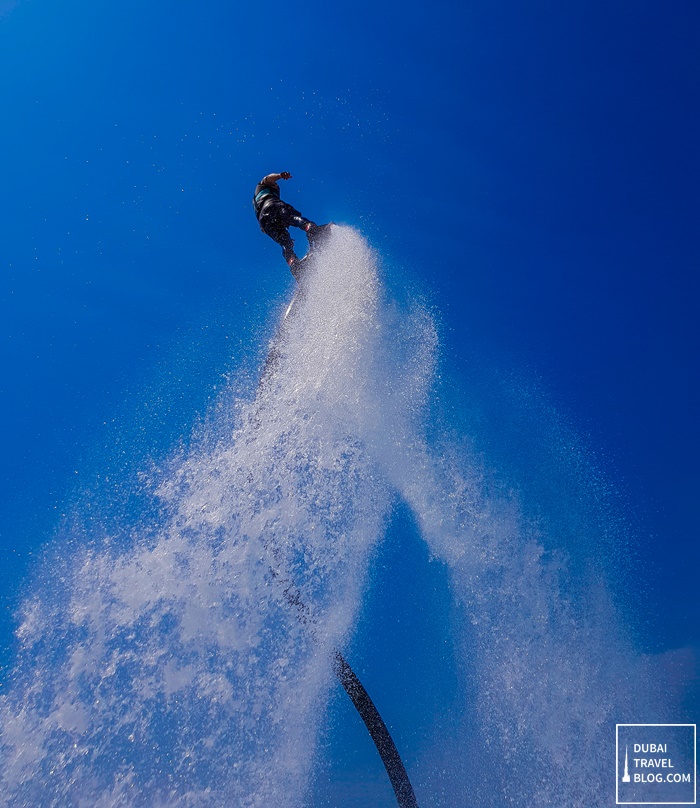 flyboard
Book a Beginner's Flyboard Session Here
Professional Trainer
Armin was very patient, professional, and encouraging. Everytime we would lose control and fall, he would always assure us that it's alright and would push us to start over. He would share some tips until we got the hang of the experience. The reassurance made us more confident in handling it properly and in the end, we had a lot of fun.
This was a really enjoyable Dubai adventure altogether and we're glad to have finally tried it first-hand. As a tip for those who'd like to try this, it doesn't really require that you be athletic (although it may be an advantage) so long as you're willing to get up after you fall into the water. But be advised that you will definitely have a long night's sleep as you'll be exhausted after this activity. 🙂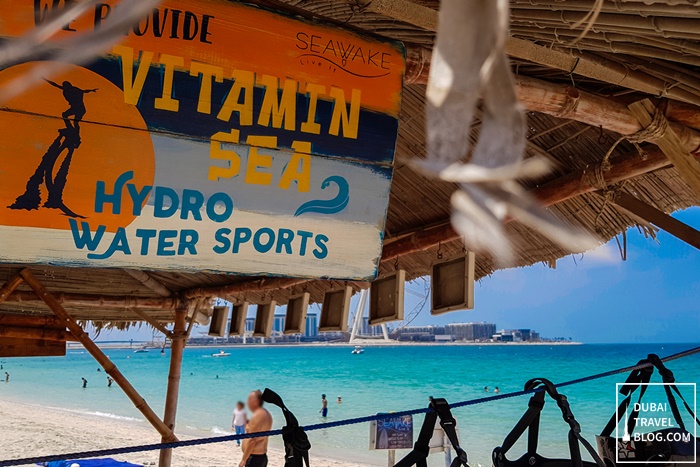 Vitamin Sea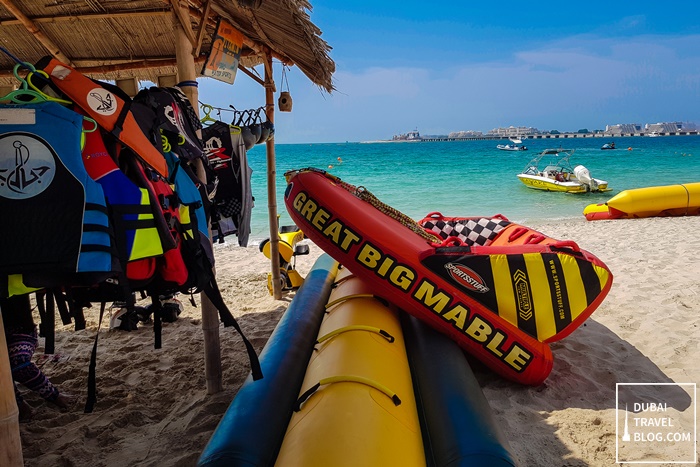 plenty of water activities at JBR with Hydro Water Sports and Seawake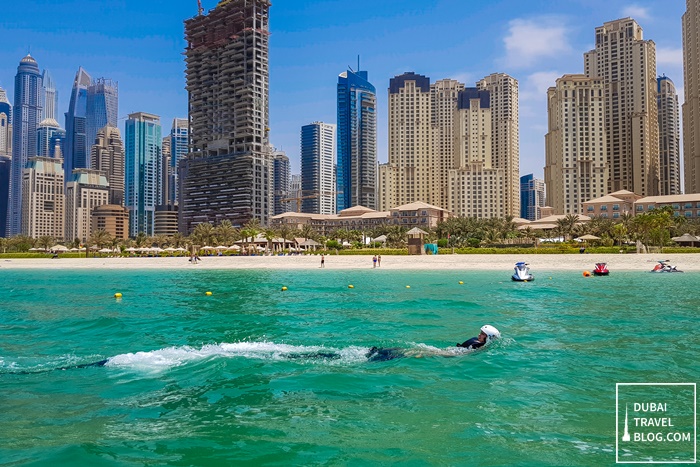 my wife, enjoying the water jet from the flyboard device
Tips and Requirements
Below are some tips and requirements for those who would like to try this activity:
Listen and follow the instructions of the Hydro Sports instructor at all times
Participants aged between 12 and 16 years old must have  the waiver signed by a parent or guardian
Be prepared for thrill and excitement
Participants must know Basic swimming
Book a Beginner's Flyboard Session Here
Video: Flyboard with Hydro Watersports
Here's a short video clip of our experience during the flyboarding session.
Other Branches to Experience Flyboarding
Hydro Watersports Dubai operates in the following branches in Dubai and Fujairah:
JBR beach , Ritz Carlton

 

Hotel

Fourseason Hotel , Jumeirah 1

Nikki Beach . Pearl Jumeirah

Kempinski the palm . Palm Dubai

Jebel Ali Golf Resort , Jebel ali

Sandy Beach Resort – Dibba Fujairah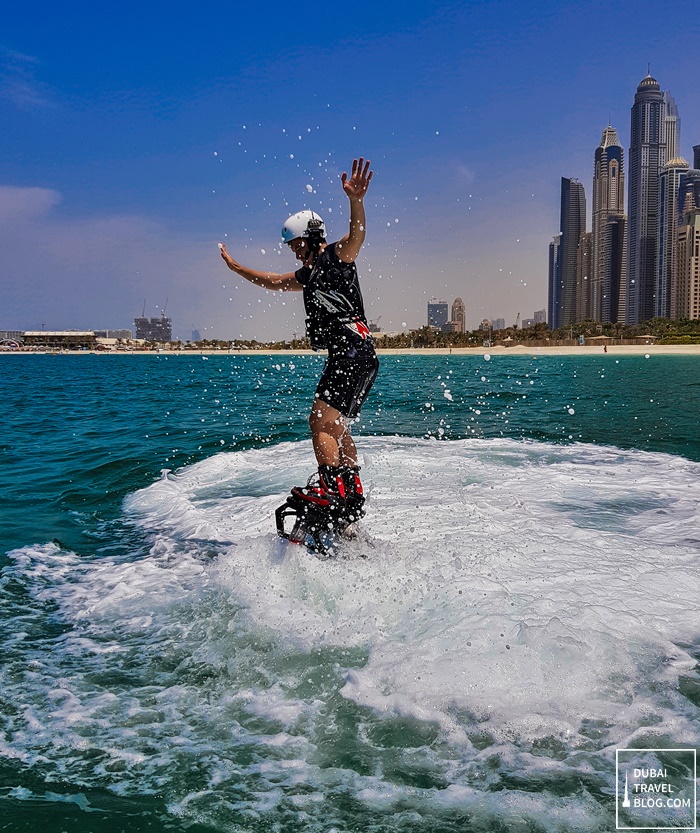 enjoying the splash
Contact Information
Hydro WaterSports Dubai
Address: JBR Beach, Ritz Carlton Hotel – Dubai
Website: https://www.hydro-watersports.com/
Instagram: @hydrowatersportsdubai
Facebook: @hydrowatersportsdubai
Twitter: @hydrowatersport
Book a Beginner's Flyboard Session Here
Google Map Location
Below is a Google Map Location of Hydro WaterSports Dubai in JBR: