A tour in Abu Dhabi would not be complete without dropping by the Sheikh Zayed Grand Mosque. Built over a 30-acre land area, the sheer size of this structure is a sight to behold. And whatever your religious belief may be, you are bound to be struck by its magnificent architecture. Abu Dhabi is only a 2-hour drive from Dubai so if you plan to visit the capital of UAE, this is definitely a must-visit attraction here.
Related Post: 48 Hours in Dubai, a 2-Day Budget Itinerary
The mosque is named after Sheikh Zayed bin Sultan Al Nahyan, a former president of the UAE. Seeking to build a structure that combines Islam with modern architecture, he ended up creating the biggest and grandest mosque in the country. Today, it is one of the most visited places in the city of Abu Dhabi.
Book Sheikh Zayed Grand Mosque Tour Here
Book Sheikh Zayed Grand Mosque Tour + Ferrari World Tickets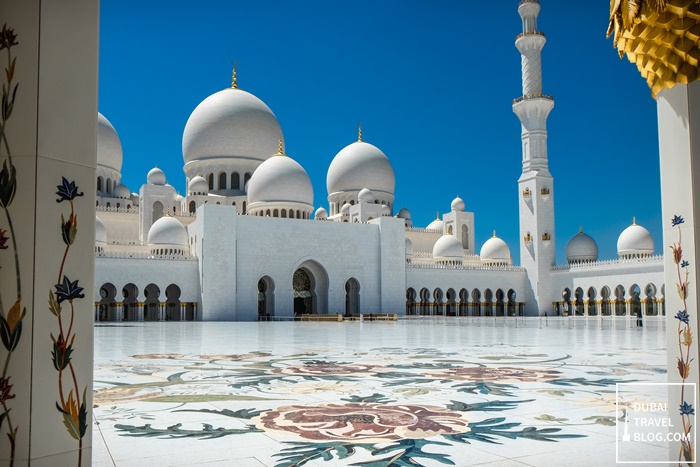 The Abu Dhabi Grand Mosque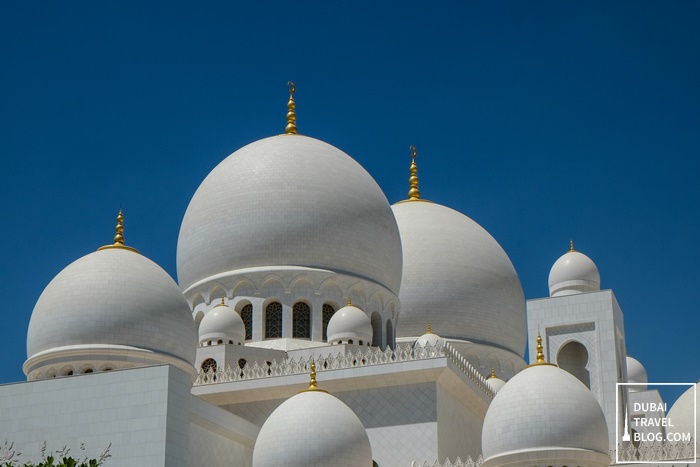 Abu Dhabi is only about 2 hours away from Dubai
Abu Dhabi's Sheikh Zayed Grand Mosque
Before anything else, take note of the following tips on what to wear, when to visit, and other information about the grand mosque:
Proper Attire. All visitors should wear conservative and loose-fitting clothes. Women should wear long-sleeved shirts and long skirts or pants. They must also put on a traditional headscarf and robe. Likewise, the men should also be wearing long-sleeved shirts and pants. Everyone will be asked to remove their shoes before going inside.
Visiting Hours. You can the visit the grand mosque anytime between 9am to 10pm from Saturday to Thursday. It is closed to tourists on Friday mornings due to worship activities, but opens again from 4:30pm to 10pm.
Free Tours. There are several "walk-in" tours that you can join everyday. These are held every 10am, 11am, and 5pm from Sunday to Thursday. On Saturdays, there are additional tours given every 2pm and 7pm. On Fridays, there are tours every 5pm and 7pm.
No Entrance Fee. Visiting the Sheikh Zayed Grand Mosque is absolutely free! You do not have to spend a single thing to explore this building except of course the fare to get there.
Strict Photography Rules. Even if tourists are welcome to visit the mosque, please be advised that we should also show respect even if we take selfies in the mosque. Try to avoid distracting poses in this place of worship.
Book Sheikh Zayed Grand Mosque Tour Here
Book Sheikh Zayed Grand Mosque Tour + Ferrari World Tickets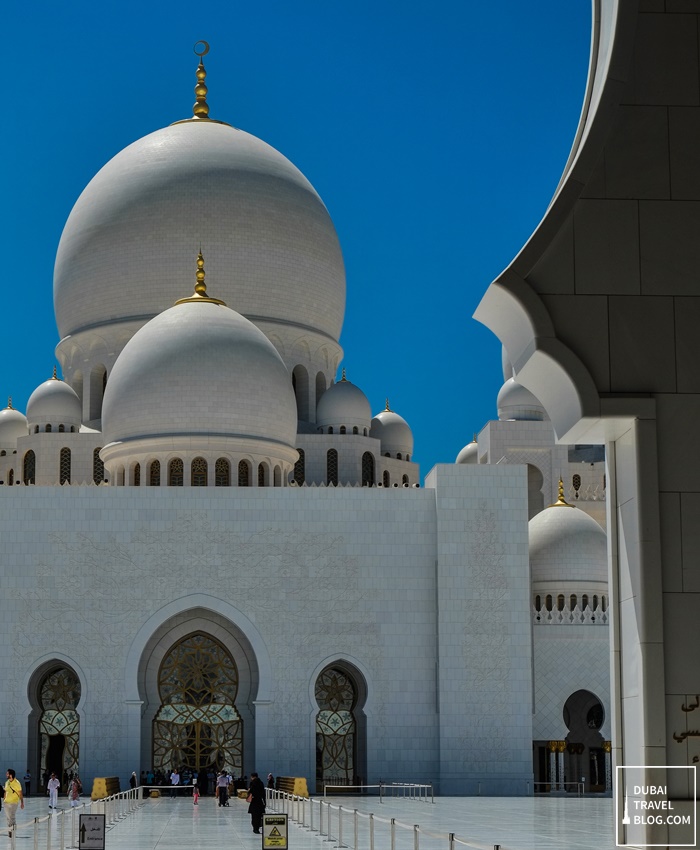 "Grand" is definitely a correct term to describe this mosque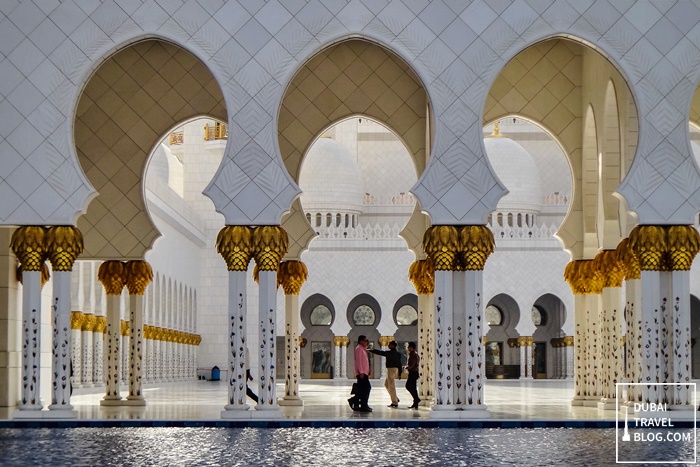 pillars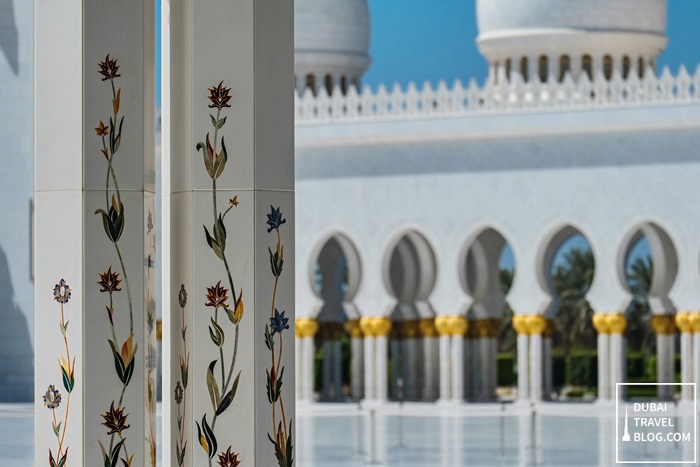 tiles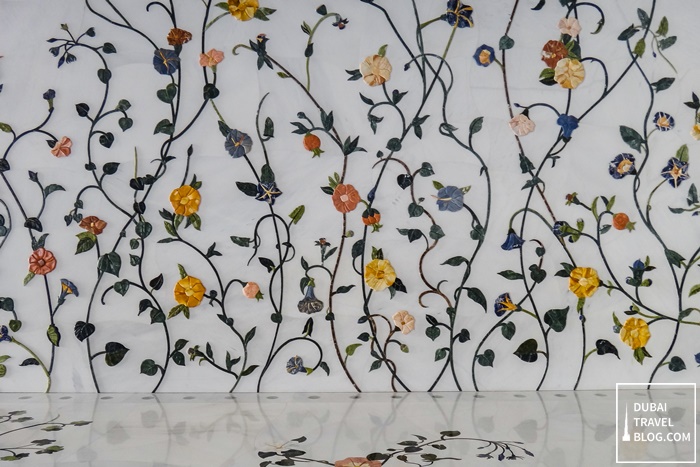 flowers on the wall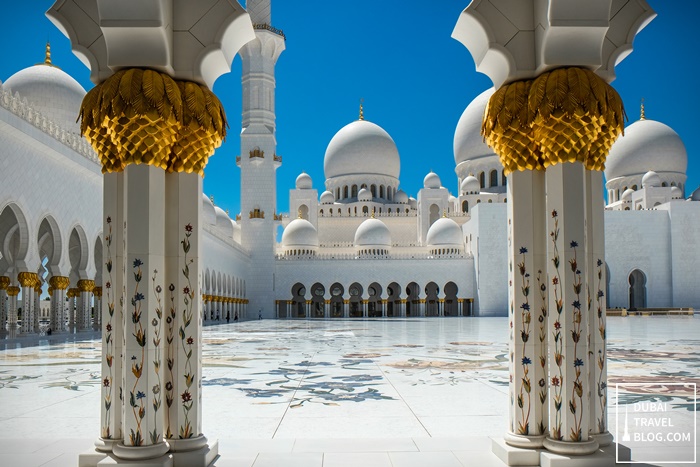 one side view of the mosque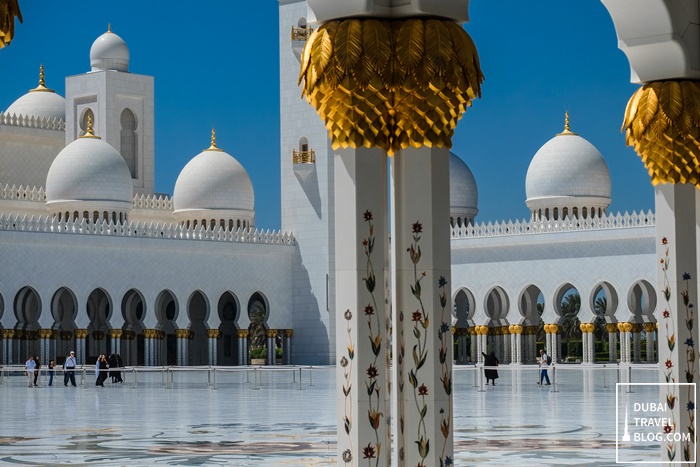 Abu Dhabi's grand mosque
Book Sheikh Zayed Grand Mosque Tour Here
Book Sheikh Zayed Grand Mosque Tour + Ferrari World Tickets
Beautiful Mosque
Once you enter the grand mosque, prepare to be mesmerized by its incredible beauty. Each marble column features hand-painted flowers, whose colors blend in with the rest of the interior. During the day, these columns reflect on the ponds along the courtyard. This amazing view becomes even more magical at night, when the lights dance on the cool, blue water.
Notably, the mosque is decorated not just with materials from the UAE, but also from various countries. The elegant carpets come from Iran as well as New Zealand. The crystal chandeliers are from Germany, while the marble is from Italy and Macedonia.
The "Grand" description of the mosque is a correct term as it's nothing short of it. We are glad that it is open for public and it's welcome even for non-Muslims.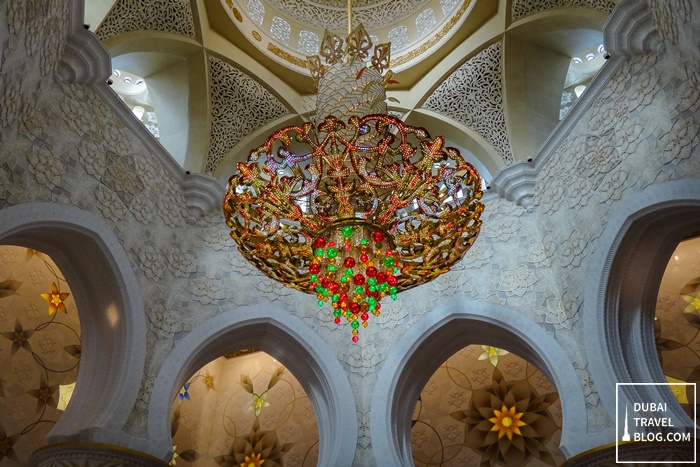 one of the chandeliers in the Sheikh Zayed Grand Mosque in Abu Dhabi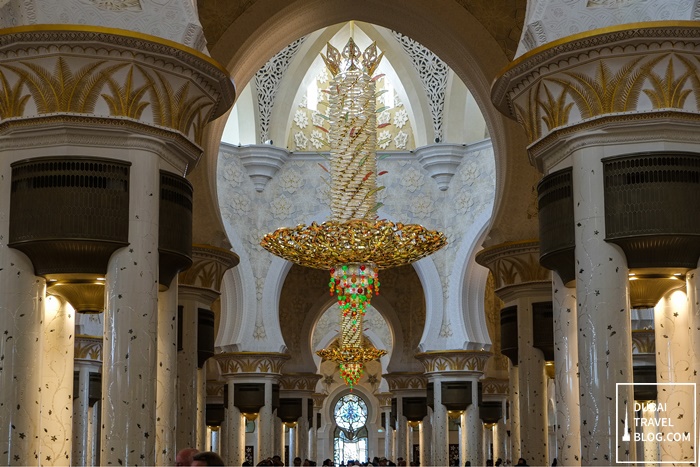 inside the Grand Mosque

beautiful chandelier

huge mosque
Book Sheikh Zayed Grand Mosque Tour Here
Book Sheikh Zayed Grand Mosque Tour + Ferrari World Tickets
Interesting Trivia about the Sheikh Zayed Grand Mosque
Aside from its spectacular beauty and architecture, here are some interesting trivia about the Sheikh Zayed Grand Mosque:
Each column inside the main prayer hall has been inlaid with marble and mother-of-pearl. There are 96 columns all in all.
The carpet inside the main hall of the mosque is actually the biggest carpet in the world!
The mosque has seven chandeliers, each of which contains Swarovski crystals. The largest chandelier happens to be the third biggest chandelier in the world.
A trip to the Sheikh Zayed Grand Mosque is a feast for the senses. If you want to know more about the Emirati culture and Islamic architecture, this is one place in Abu Dhabi that you should not miss.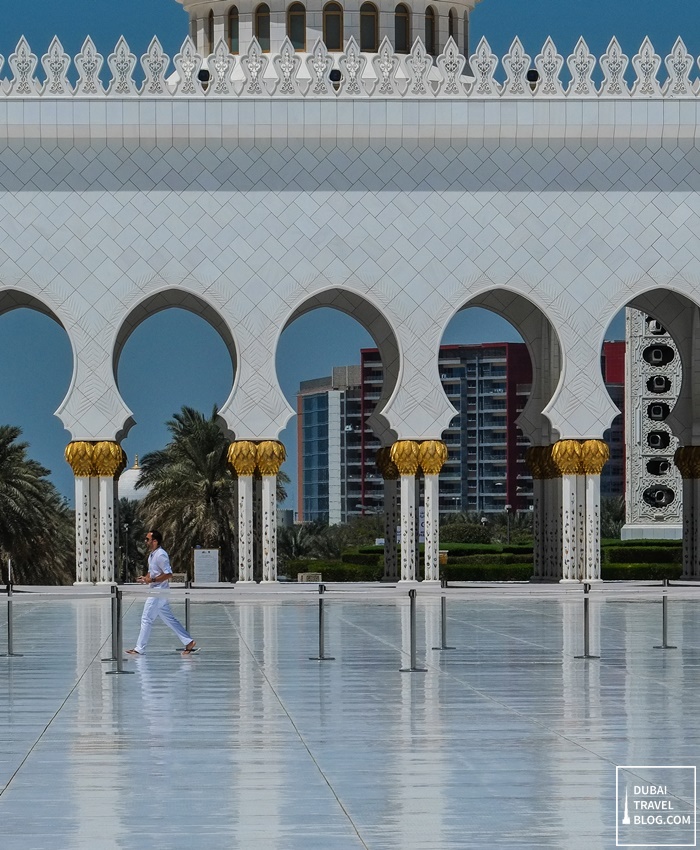 visit the mosque during winter season as this is the best time to see it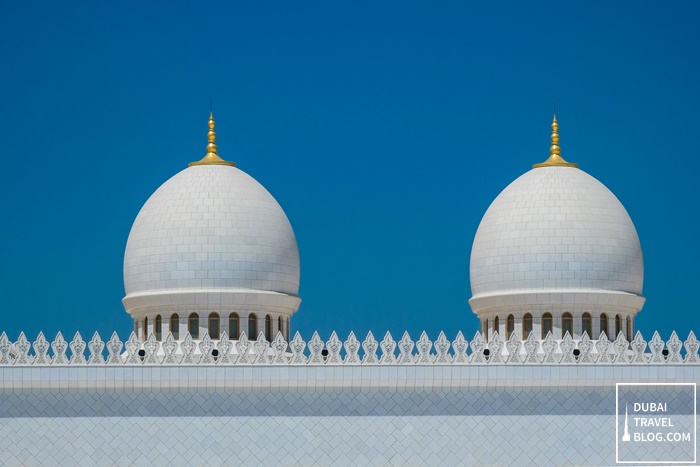 the Grand Mosque
a different perspective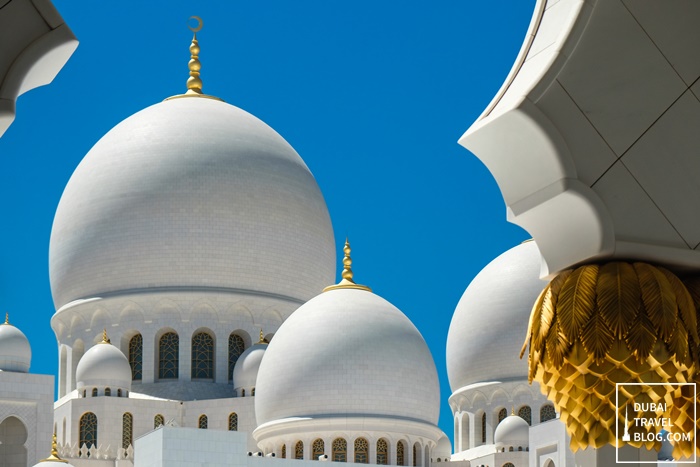 famous Grand Mosque
How to Get to Abu Dhabi Grand Mosque from Dubai via Public Transport
1. Take the public bus at either Al Ghubaiba Bus Station (Green Line) in Bur Dubai, or in Ibn Battuta Metro Station (Red Line). The bus is about 1.5-2 hour ride to reach Abu Dhabi Bus Terminal.
2. From Abu Dhabi Bus Terminal, you can take a taxi heading to Sheikh Zayed Grand Mosque as it's more convenient.
Book Sheikh Zayed Grand Mosque Tour Here
Book Sheikh Zayed Grand Mosque Tour + Ferrari World Tickets
Google Map Location:
Below is a map location to guide you how to get to Abu Dhabi's Grand Mosque