My wife and I had a relaxing staycation at Sofitel Abu Dhabi Corniche. It was perfect timing as she had a few days off from work so we were able to plan ahead and go on a quick getaway. This is, in fact, our first staycation for this year.
We have been to this 5-star hotel a few years back when we sampled a late weekend breakfast at their Corniche All Day Dining restaurant. This time, we got to check in one of their luxurious rooms and try out their facilities as guests.
Our stay took place before the end of Ramadan season. Driving from Sharjah to Abu Dhabi, we arrived earlier than schedule as there was no traffic on the main road.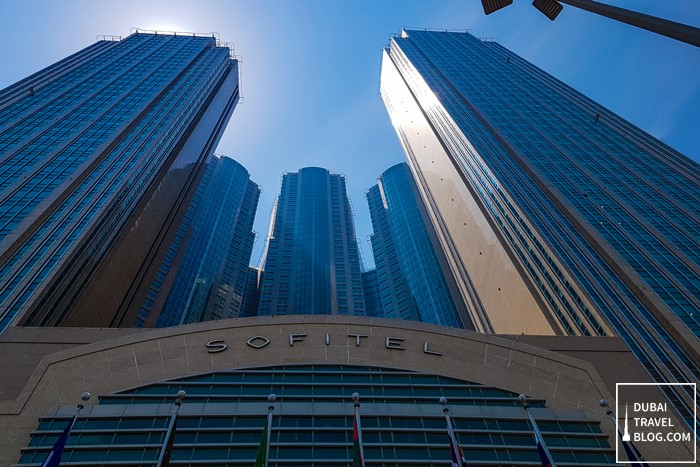 Sofitel Abu Dhabi Corniche building (on the left)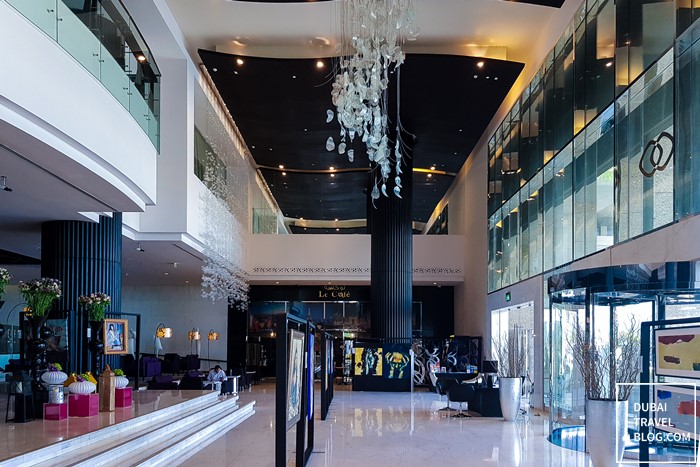 hotel lobby
Sofitel staycation – #LivetheFrenchWay
Staycation at Sofitel Abu Dhabi Corniche
Check in was a breeze and like a few hotels we've been to, I registered digitally on a tablet which helps save paper. We then headed straight to our room to settle in.
Luxury King Room – Sea View
We were booked inside a Luxury King Room which had an area of 42 square meters and comes with a lovely view of the Arabian Gulf. The room has a signature King-size Sofitel MyBedTM, sofa chairs, a huge LCD screen TV, Bose Wave audio system, and free basic WiFi.
I appreciated that the room has a dedicated desk where I could set up my laptop and gadgets (this travel blogger has to work even while on vacation).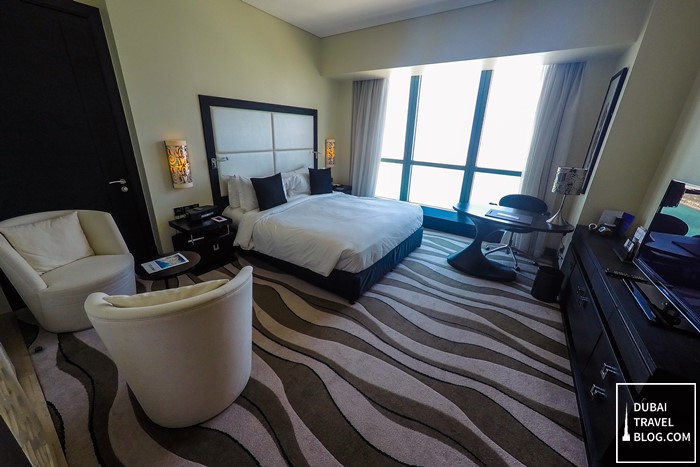 spacious bedroom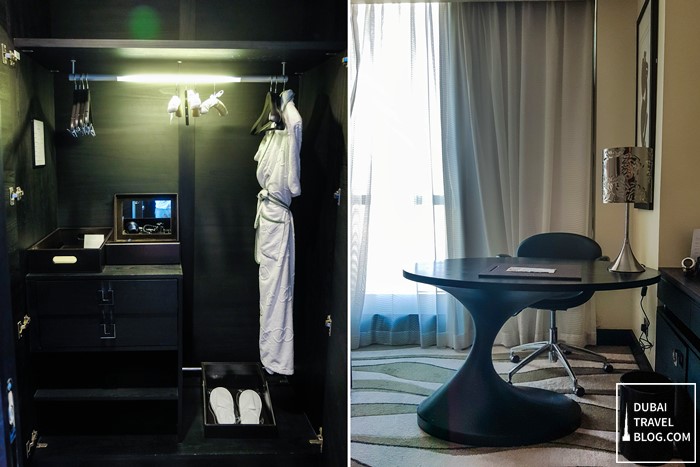 wardrobe, and a work desk
WiFi Speed
As mentioned, basic WiFi is available for FREE. I ran a speedtest check at the time, download speed registered at 3.08 Mbps which is not bad especially for browsing, checking emails, and the occasional posts on Instagram.
For those who wish to get higher speeds, there is an option to pay a premium for the service which you can easily do after you connect to their network.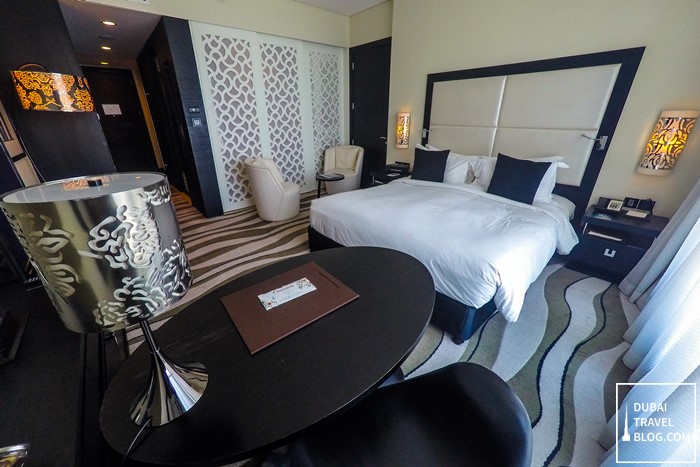 king-size bed

amenities in our room
Bathroom
The toilet and bath was very spacious and occupied a big part of the room. It had a deep-soak bathtub and walk-in rain shower. The rain shower is something that my wife and I would talk about as we really enjoy the feeling of taking a shower under it. They have a dedicated toilet and bidet and had premium items from their amenity box.
The bathroom also has an open plan wherein one wall slides and reveals the rest of the bedroom.
inside the bathroom

spacious bath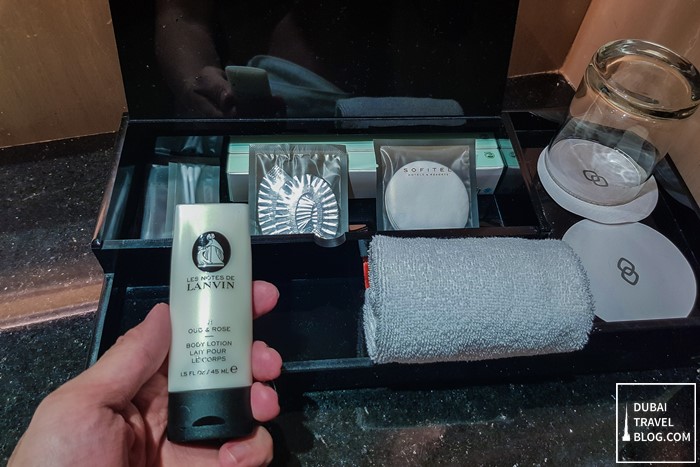 Lanvin lotion and amenity box
Restaurants & Bars
Sofitel Abu Dhabi Corniche has over 9 dining options for their guests so you can spend a number of days in the hotel and yet still dine in different places.
During our stay, we dined in two restaurants, the Corniche All Day Dining restaurant where we had dinner and breakfast, and at Grills @ Chill'O where we had a late-night snack.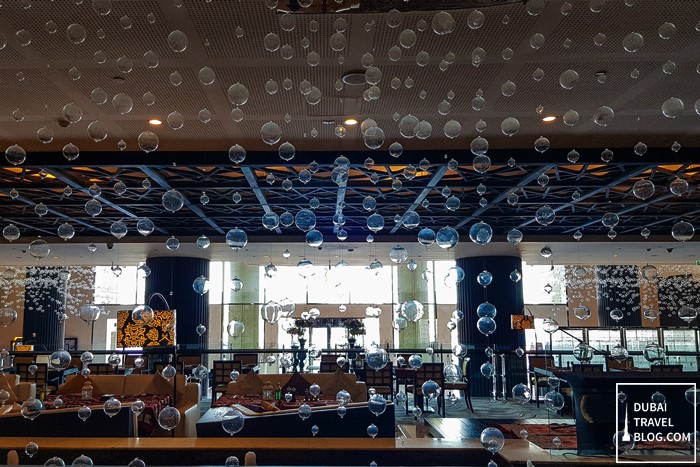 this all-day restaurant has a huge space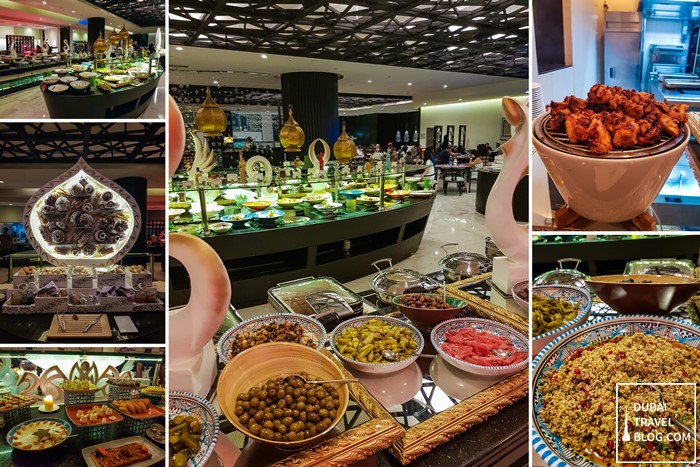 dinner buffet at Corniche All Day Dining
breakfast at Corniche All Day Dining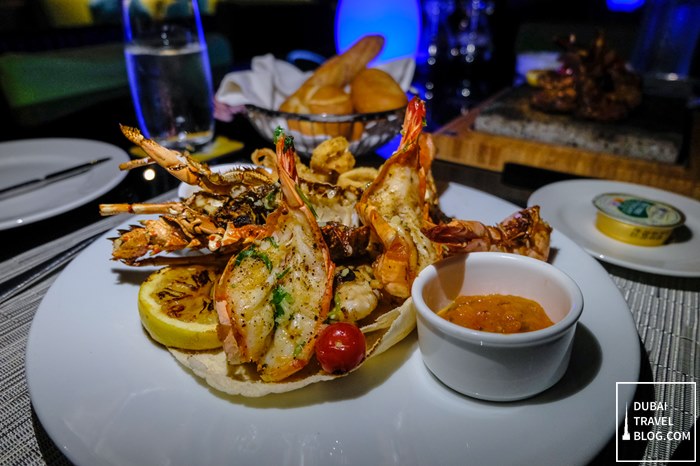 beautifully presented Seafood mix grill at Grills @ Chill'O
These are the restaurants and dining options available in Sofitel Abu Dhabi Corniche:
Corniche All Day Dining – the all-day dining restaurant offering breakfast, lunch, and dinner buffets.
Parmigiana – Italian Restaurant at Level P8 where you can have a casual meal overlooking the Corniche and Arabian Gulf.
Grills @ Chill'O – still at P8, this is the pool bar and restaurant offering Arabic and Mediterranean cuisine. You can also enjoy shisha here.
French Bakery Corner – enjoy some coffee/tea and some breads, patisseries and express snacks quick on the go.
Le Café Lobby Lounge – great place for a quick chat at the hotel lobby with some tea/coffee and light bites.
Jazz & Fizz Bar – Unwind with drinks up on the the 36th and 37th floors of the hotel. Jazz music and Arabic tunes set the mood when you drop by in the evening.
Saray Al Basha – A restaurant and bar that specializes in Lebanese cuisine located at Level P6. They also have belly dancers and entertainment.
Icon VIP – A club and lounge bar located at Level P2
In-Room Dining Service – They have international favourites and regional delicacies for you to order and be served with French hospitality at the comfort of your room.
Swimming Pool
The pool is located at the 8th floor (P8) and this is where we spent most of our time during our stay. It's wide enough for you to have your own space as you relax. It wasn't crowded at the time possibly due to the Ramadan season since a lot of people tend to stay indoors.
Guests can order drinks from their pool bar Grill @ Chill'O. It was nice to order a few rounds during happy hour. I am also happy that the WiFi signal extends to the lounge area at the pool so I was able to update some stuff on social media.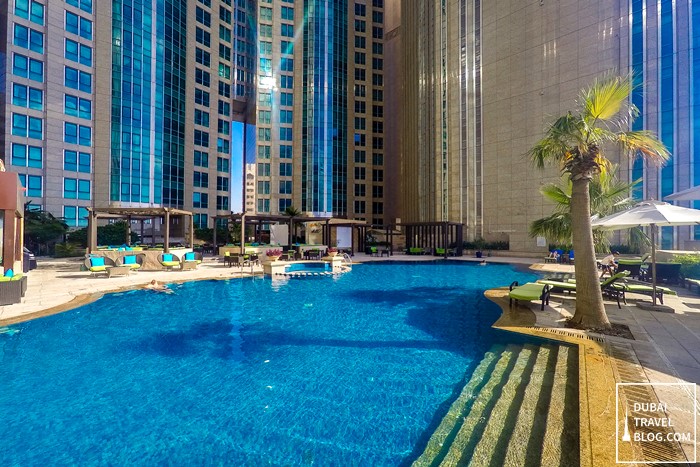 pool area!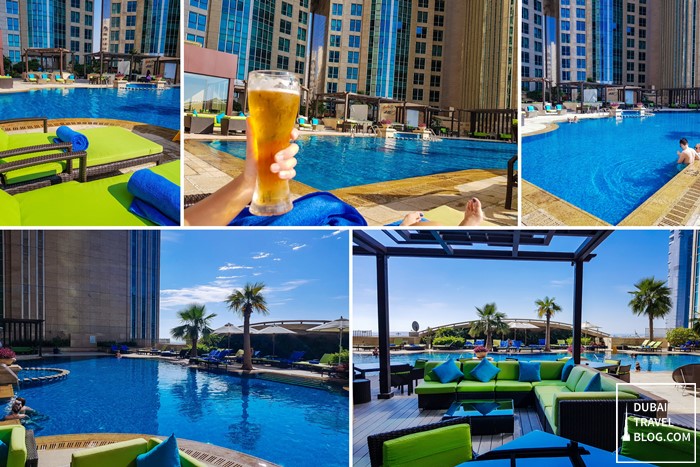 cabanas, lounge chairs, etc.
They have sun lounges, cabanas, and chairs for you to pick a spot and enjoy lazing under the sun. We especially liked that as we swam in the water, we could see a view of the towering skyscrapers against the sky.
We initially thought that it was going to be scorching hot, but the shade from the 5 towers made it a very pleasant day to lounge by the pool. Sunrays still seep through but you have to option to soak under them or choose to stay under the shadows.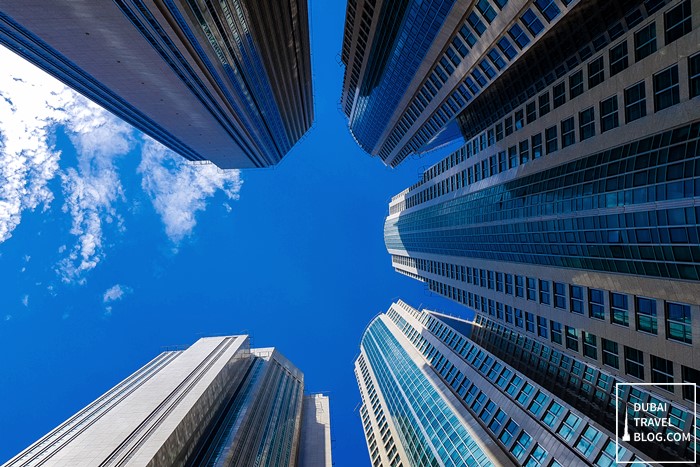 view when you look up as you swim in the pool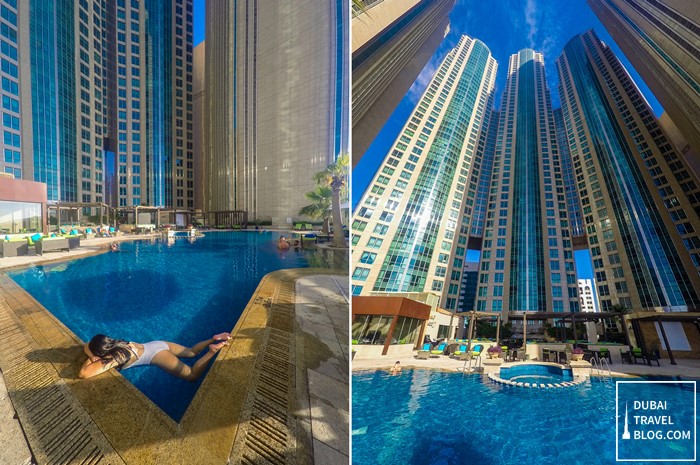 lounging at the pool
SoFIT Health Club & Fitness Center
SoFIT is the health club and fitness centre of Sofitel Abu Dhabi that is in the same level as the pool. They have state-of-the-art equipment for cardio and strength training as well as some free weights.
The fitness centre has locker areas and a steam and sauna. One thing to note is that you will be sharing the facilities with residents of the adjacent buildings as this is located in one building compound.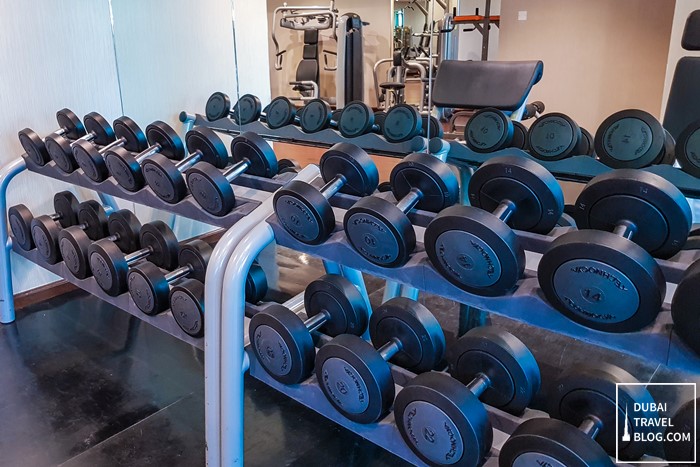 free weights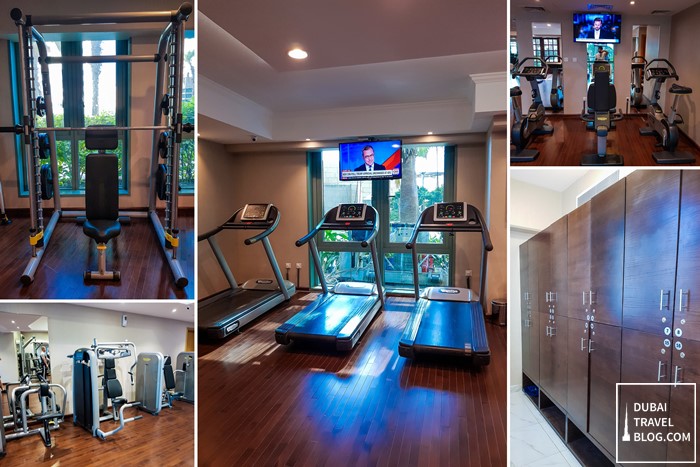 fitness centre
SoSPA for Relaxation & Wellness
Aside from the gym and pool, you can head to SoSPA at Level P7, their massage and wellness centre. Pamper yourself with a French spa experience blended with Arabian well-being traditions.
Guests of the hotel have complimentary access to the steam/sauna and locker facility inside SoSPA. While we didn't get a relaxation treatment during our stay, I was able to drop by So Spa to have a look.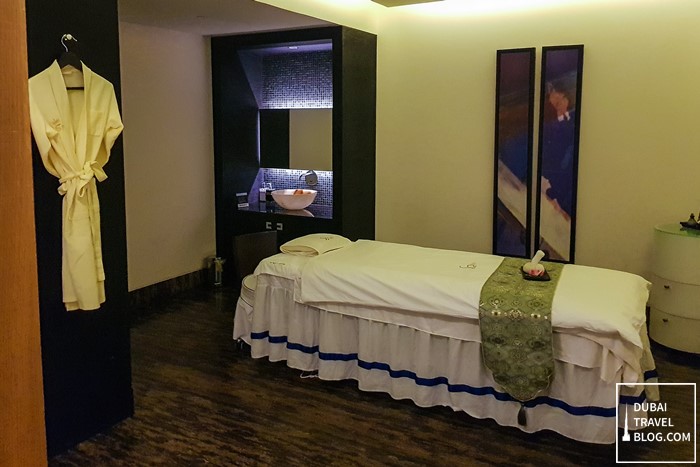 one of the massage rooms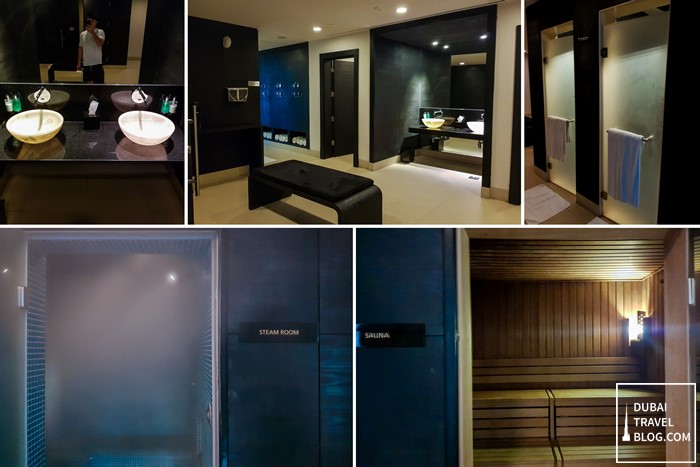 locker, steam/sauna facility in SoSPA
Video: Sofitel Abu Dhabi Corniche
Below is a quick video summary of our staycation in this luxury hotel. Check out a virtual tour to have an idea what to expect when you stay here:
Sofitel Abu Dhabi Corniche offers its guests a great staycation within the city. It is easily accessible to Abu Dhabi tourist spots like the Sheikh Zayed Grand Mosque, Yas Island, Marina Mall, The Louvre, etc. You may check the Concierge for available shuttle rides to selected destinations.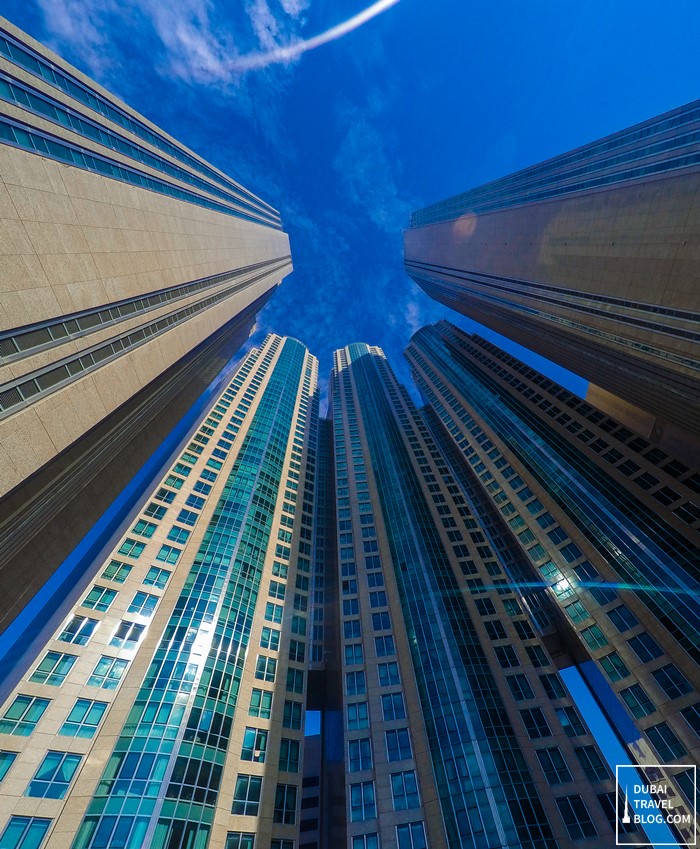 skyscrapers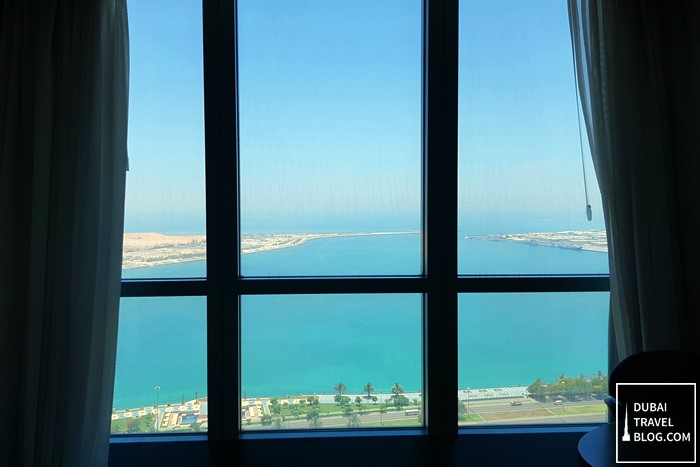 sea view from our bedroom
We had a pleasant and comfortable sleep during this Sofitel stay. I'm glad we were able to arrange this stay despite booking during the last minute. We were finally were able to experience how it's like to #LivetheFrenchWay.
Note: We were invited as guests by Sofitel Abu Dhabi Corniche. All opinions are my own.
Contact Information
Sofitel Abu Dhabi Corniche
Address: Capital Plaza Complex, Corniche Road East – Abu Dhabi
Phone: 02 813 7777
Website: https://www.sofitelabudhabicorniche.com
Instagram: @sofitelabudhabicorniche
Facebook:@SofitelAbuDhabiCorniche
Twitter: @sofitelabudhabi
Google Map Location
Below is a map guide to get to Sofitel Abu Dhabi Corniche. Driving from Sharjah to Abu Dhabi, we only took the E11 road (the main route). It was quite an easy drive. 🙂