On a Friday evening, we had a fun night of food, cocktails, and live entertainment at La Tablita, a Mexican dining restaurant located at the lobby of Hyatt Regency Dubai Creek Heights. This was one of the rare times we visited hotels in Old Dubai as we usually get invited to dine in restaurants along Sheikh Zayed Road or in Downtown Dubai.
Driving towards the hotel was a bit tricky as constructions are going on. But with the help of Google Maps, we arrived at the hotel just in time. Hyatt Regency Dubai Creek Heights has a beautiful lobby filled with a Christmas decorations. We didn't have a hard time locating the restaurant as Mexican masks are painted on the floor to direct you towards La Tablita.
Specialty: Mexican food (Tacos, Ceviches, Caldos, etc.)
Alcohol: YES
Pork: NO
Smoking: YES
La Tablita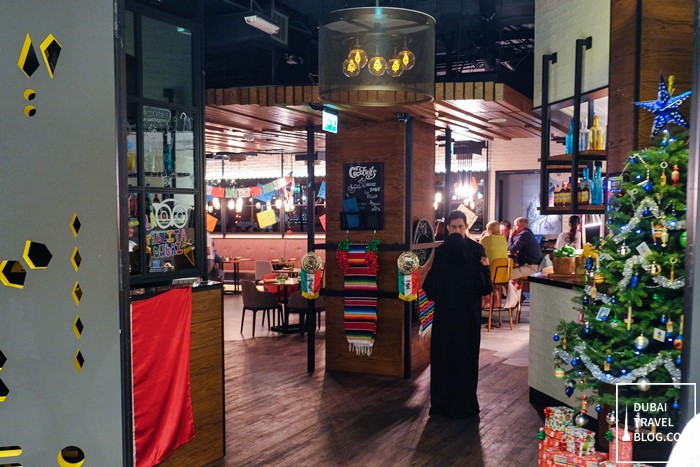 entering the restaurant
Upon entering the restaurant, we could already feel the lively Mexican vibe through colorful Mexican banners, the live music and the interiors that felt warm and inviting. This was going to be a nice and festive night.
interior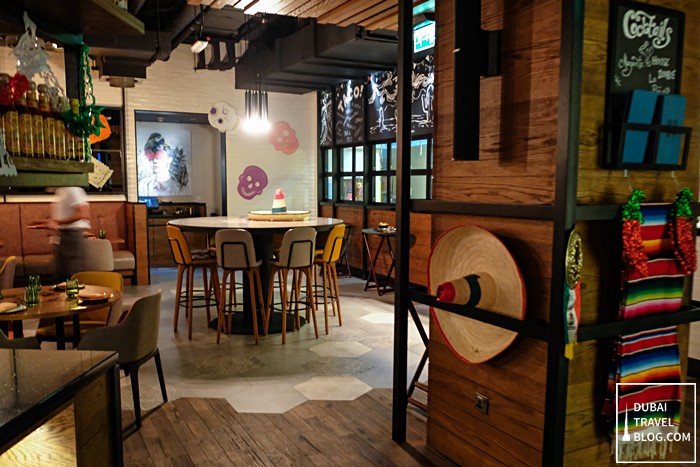 colorful Mexican accents inside the restaurant
Food Fiesta: La Tablita Mexican Restaurant Review at Hyatt Regency Dubai Creek Heights
La Tablita has different tables, high chairs, smoking area, bar area, booths, etc. so you can choose from the many available seating options as you visit the restaurant.
Tacos, Ceviches, Sharing Items
For starters we had to sample their famous taco items. They have a variety of fillings available (at 15 AED per taco). Try the volcancito and queso asado. We also ordered their sizzling camarones al ajillo and a serving of the vuelve a la vida.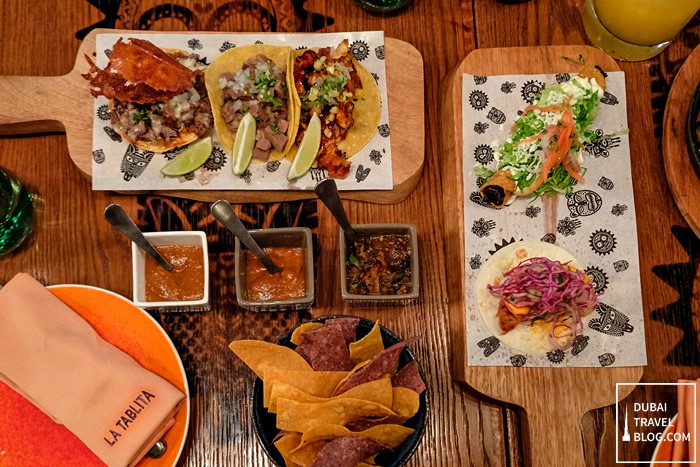 selection of tacos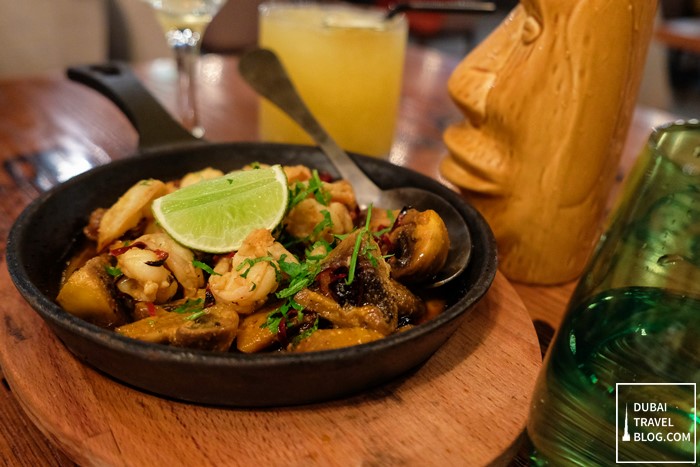 camarones al ajillo – 55 AED
shrimps, garlic, mushrooms, chili guajillo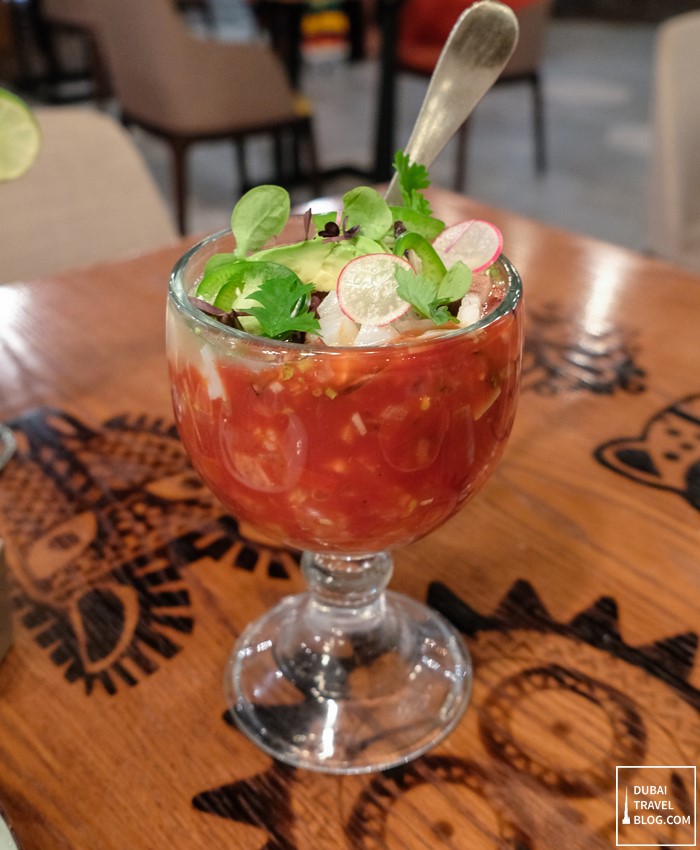 vuelve a la vida – 90 AED
prawns, octopus, scallops, oysters, valentina salsa
Main Course
We opted to get two main courses as one of them was already good for 2-3 persons. We enjoyed the tenderness of the beef, but what fascinated us more was the molcajete dish which contained various ingredients bathed in chili sauce.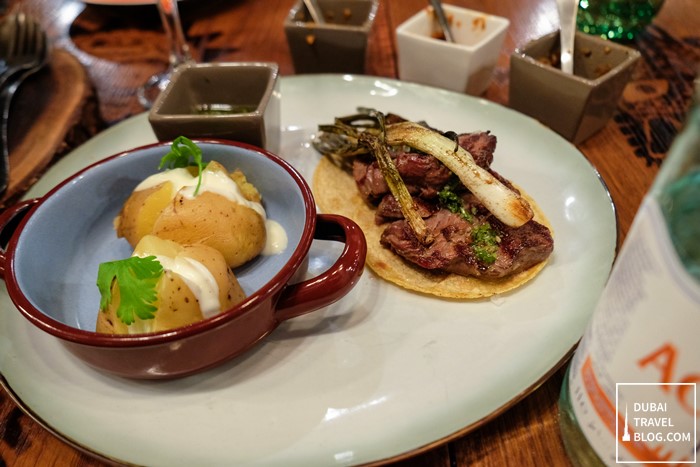 filete de res – 150 AED
US Prime beef tenderloin 180 grams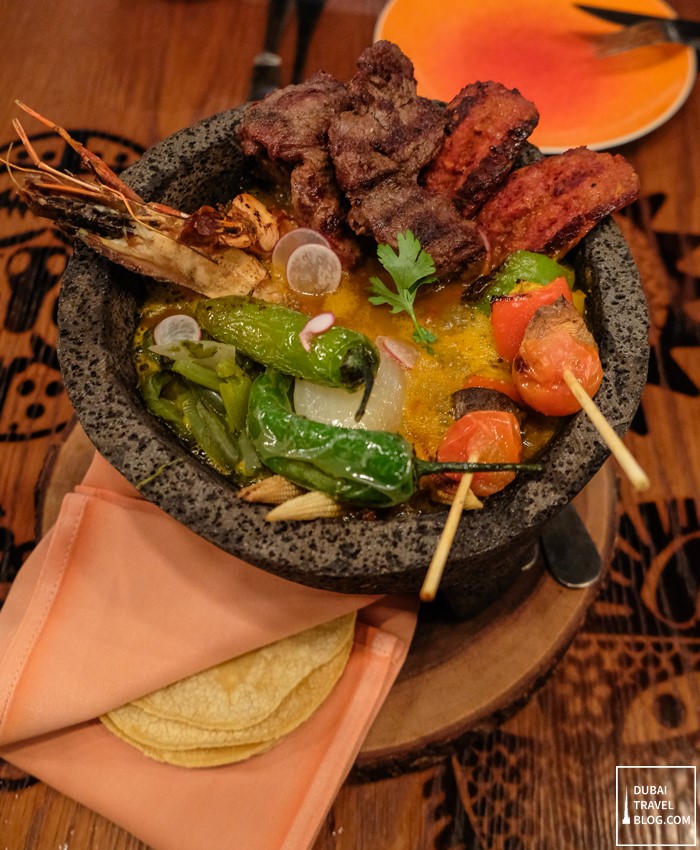 molcajete – 180 AED
beef tenderloin, king prawns, chorizo, cactus, morita chili salsa
Desserts (Postre)
For desserts, we had a coconut caramel flan, tres leches and churros. The sponge cake (tres leches) was the main highlight from the desserts and also the best-seller among the postres of La Tablita.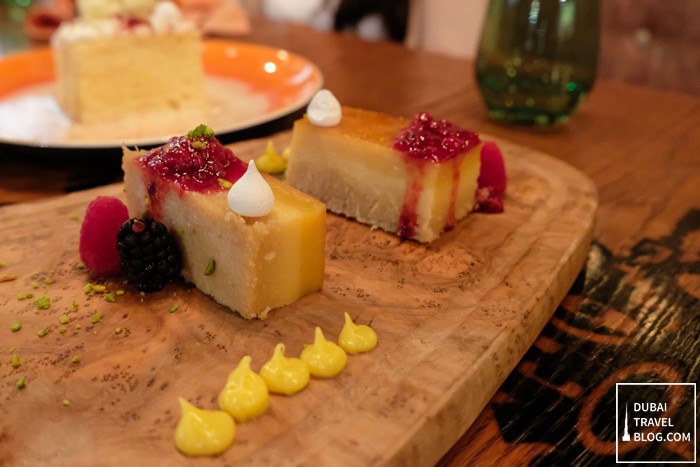 flan – 30 AED
coconut caramel flan, berries compote
tres leches – 35 AED
vanilla sponge cake, jalapeno ice cream

churros – 30 AED
crunchy dough, chocolate sauce
Cocktail Drinks
We were excited to try the alcoholic drinks in La Tablita and upon looking at the bar menu, I noticed that they offer a wide selection of cocktails, beer, wine and other beverages. The staff didn't hesitate to share their recommendations on what would make for an exciting night.
Please do try the Mango Chapparito, Katrina and Mistress Jerry. I enjoyed the drinks that I didn't realize the kick until a little later on.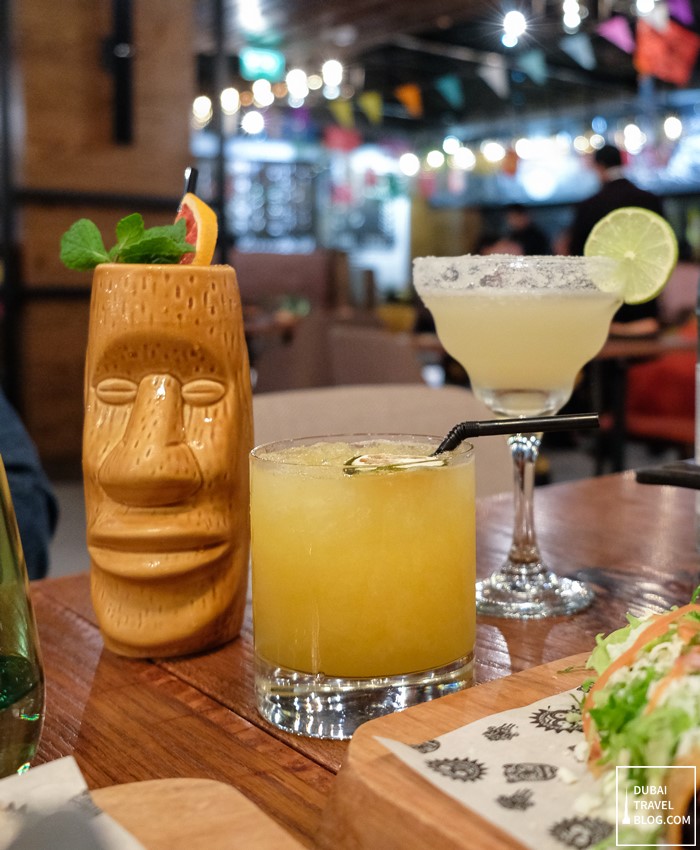 House Zombie – 50 AED
Mango Chaparrito – 50 AED
House Margarita – 45 AED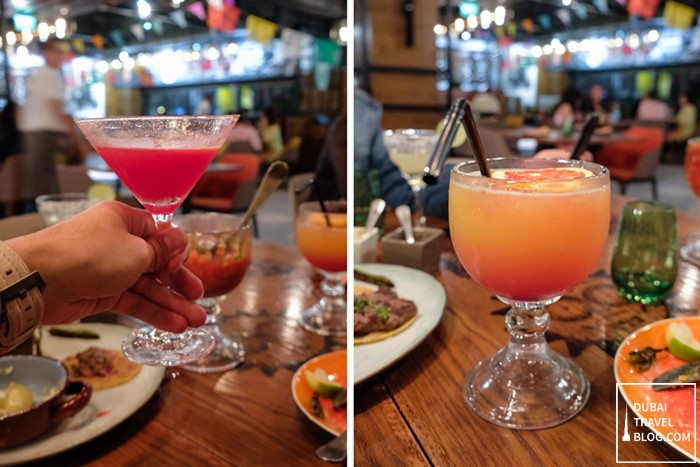 Mistress Jerry – 50 AED
Katrina
Carlos Rodriguez, Mariachi Singer
Carlos Rodriguez is the resident Mariachi singer and entertainer who can really belt out classic tunes such as My Way (not just for the sake of having an entertainer around). He had a great voice and was very engaging to the audience that he would try to visit each table when he performs.
Mind you, he was very professional and respectful of your space as you approach your table. Often he would pose for a photo op and would stop if you're recording him with your camera. Here are a couple of video clips of him singing.
Latin Songs in Between Sets
In between sets, the restaurant played Latin songs much to our delight as we've been listening to the same songs recently. From Shakira to Maluma to Marc Anthony to Nicky Jam, etc. it was good to jam over good food and drinks.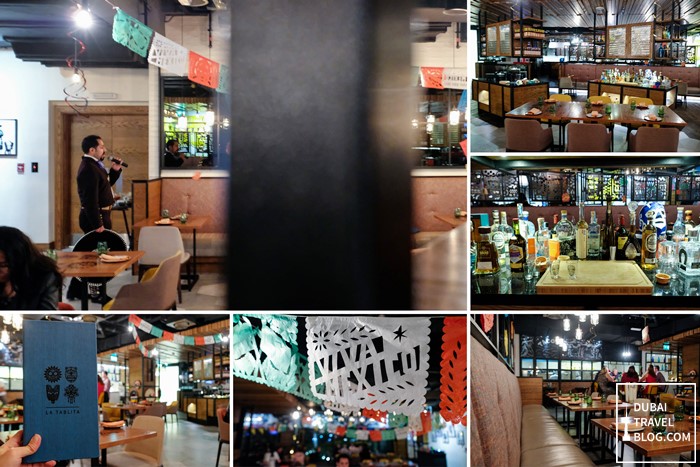 Carlos Rodriguez entertaining the diners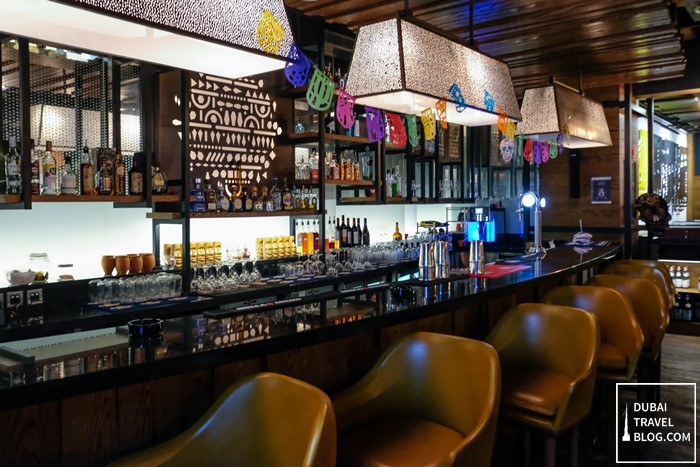 La Tablita bar area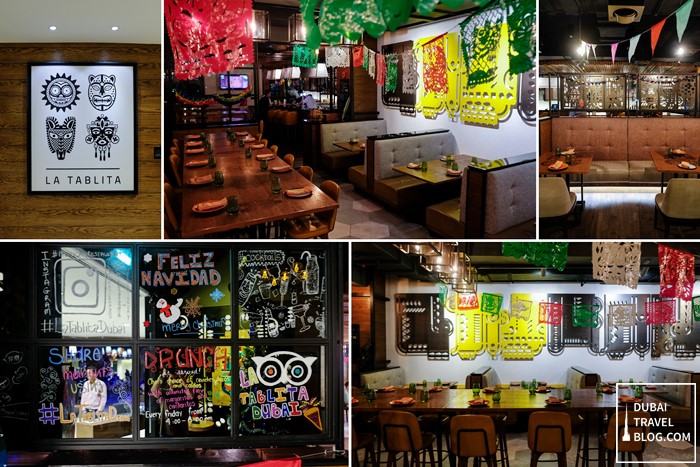 inside the restaurant
Mexican Drinks and Merchandise on Display
There are also Mexican toys and items that can be borrowed from the display area along with famous Mexican drinks. You can play a la matraca, el balero, or el trompo or wear colorful ponchos (scarves), sombreros (hats) and even a lucha libre (mask)
Must be because of the alcohol, I went to try playing them and even invited my wife and my friend to wear the sombreros and ponchos.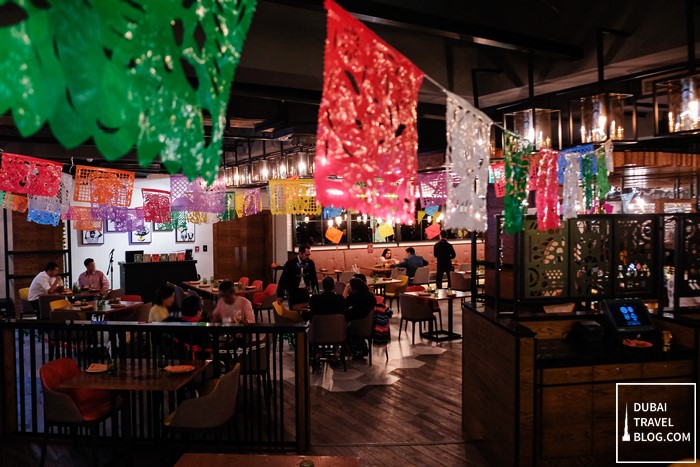 lively atmosphere
long table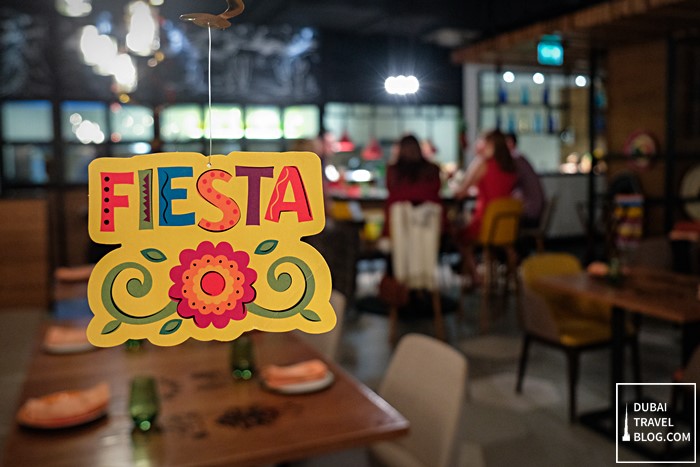 Mexican fiesta at La Tablita Dubai
We had a wonderful time basking in the festive ambiance along with the Latin music and the alcohol. I would recommend you check this place out if you want a relaxed atmosphere of Mexican vibes and great casual dining experience.
La Tablita, a vibrant and lively Mexican restaurant brought to life with a quintessential Taco Shop experience. Theatrical live cooking and a passionate team of native Mexicans both in the culinary and service teams enliven the Mexican culture of shared dining, entertaining and celebrations. Our ethos is Tacos + Music + Fun = Life at #LaTablitaDubai.
Contact Information
La Tablita Dubai
Address: Lobby Level, Hyatt Regency Dubai Creek Heights, 20th Street, Near Dubai Dolphinarium، Umm Hurrair – Dubai
Contact Number: 04 317 2221
Website: http://www.hyattrestaurants.com/gcc/dubai/restaurants-dubai/mexican-in-oud-metha-la-tablita/
Instagram: https://www.instagram.com/latablitadubai/
Facebook: https://www.facebook.com/LaTablitaDubai/
Google Map Location: La Tablita Dubai
Below is a Google Map Location of La Tablita restaurant (inside Dubai Hyatt Regency Hotel) in Umm Hurrair. Nearest metro station is Dubai Healthcare City Metro station (Green Line)