We spent a relaxing vacation at Danat Al Ain Resort which is a top family resort destination in the Garden City of Al Ain, Abu Dhabi. We've been to Al Ain before, but only for a day trip. This time we got to spend two nights inside this beautiful hotel resort.
After a 2-hour drive from Sharjah, we arrived at the hotel and checked in right away. As it was a weekday, there weren't that many people around so we didn't have to wait long to settle.
Related Post: Day Tour of Al Ain City in Abu Dhabi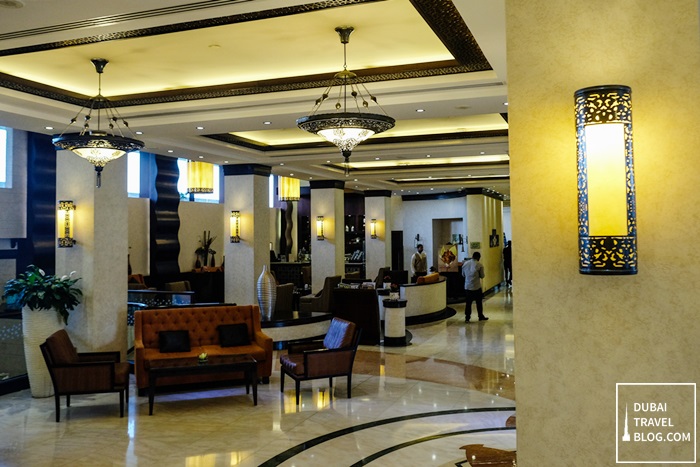 lobby area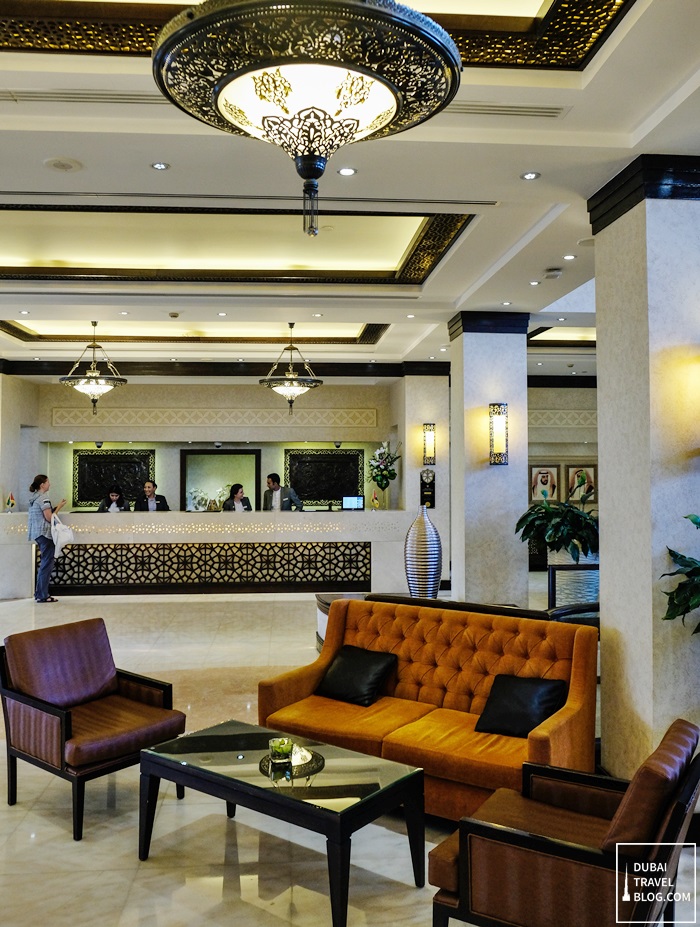 reception area
Hotel Resort Review: Danat Al Ain Resort
Our first expectation from the outside was that the building seems to be dated. However, inside felt different as we could sense the elegance and luxury of the hotel when exploring the amenities. The hotel building has been around for over 30 years.
Executive Suite Room – 1 Bedroom with Kitchen
We were given an executive suite room. Upon arriving, we realized that it was a one bedroom space which includes a living room, kitchen (with fridge and oven), the bedroom, and  huge balcony as huge as the bedroom (or even bigger). We didn't expect that our room was so spacious.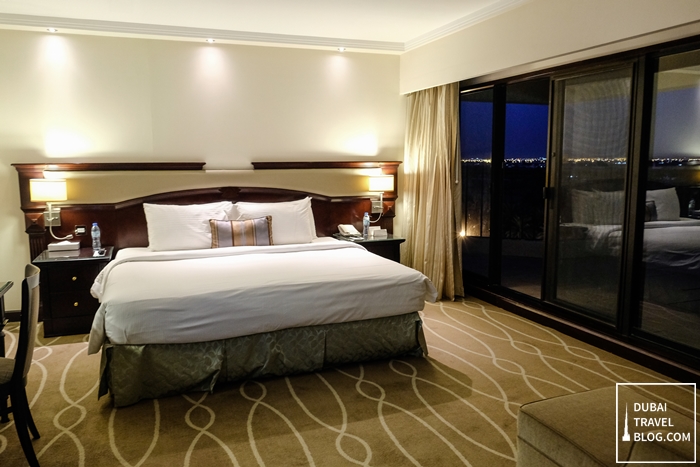 king-size bed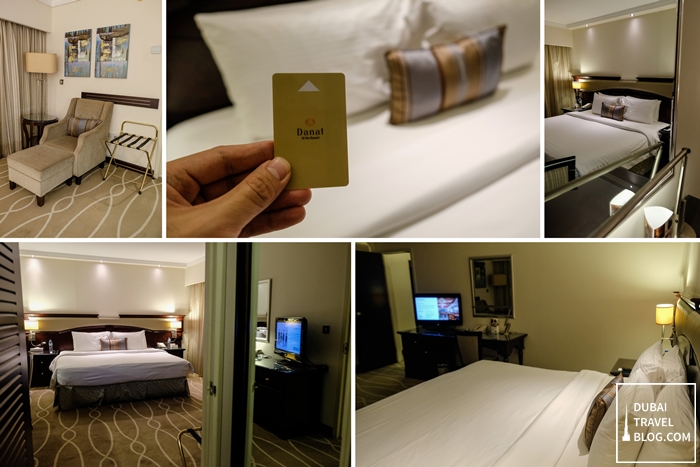 executive suite room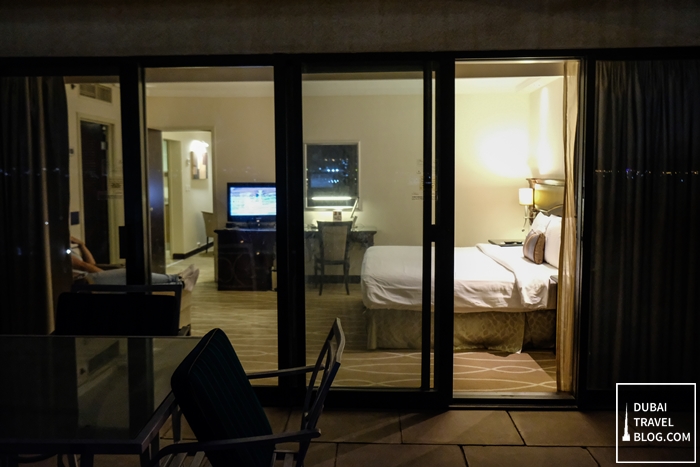 view of our room from the outside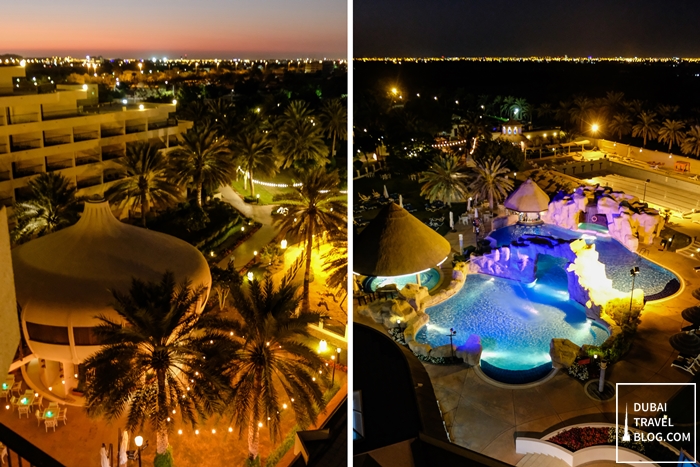 view from our balcony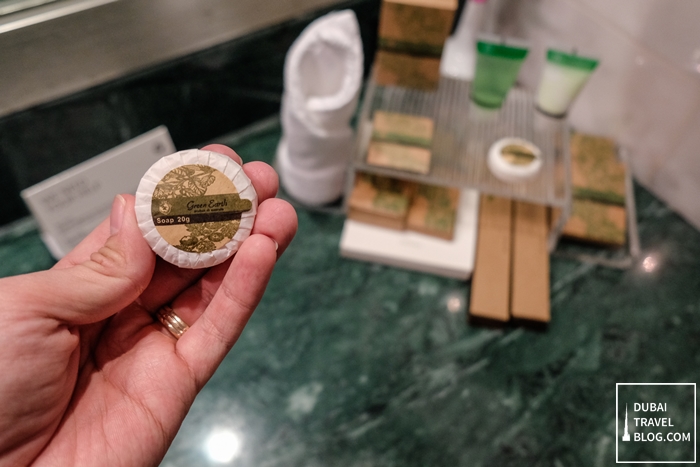 organic soaps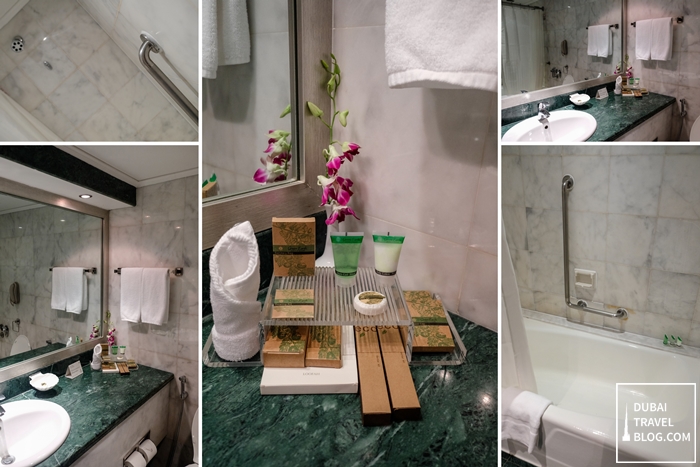 bathroom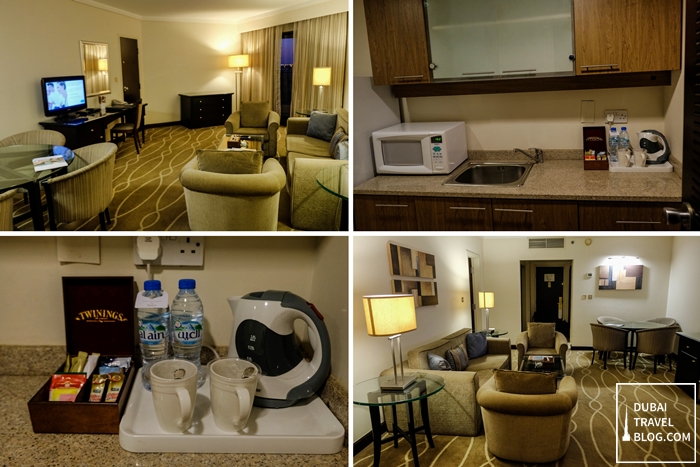 kitchen and living room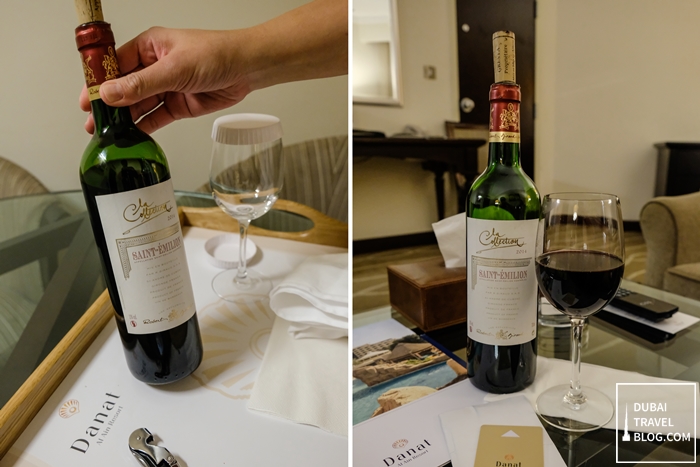 Saint Emilion red wine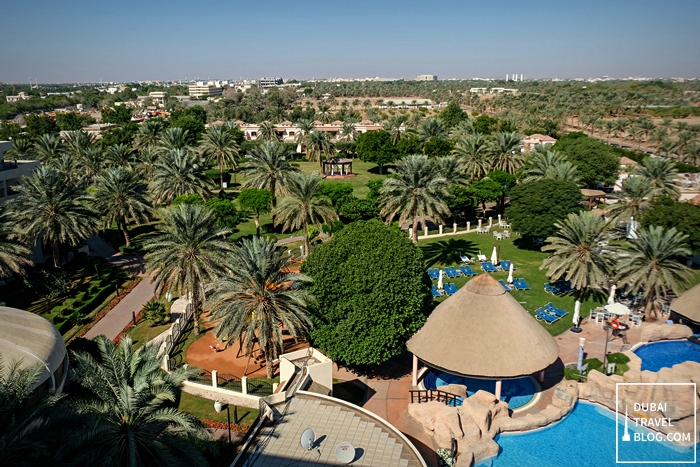 morning view of the Garden City (Al Ain)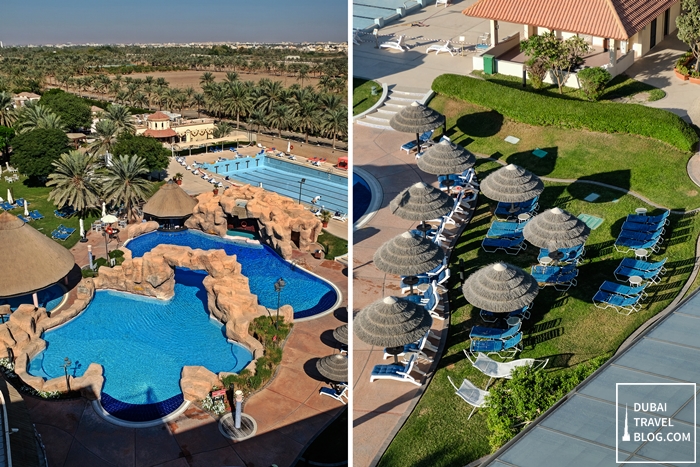 waking up to this view
Restaurants
A remarkable highlight in terms of dining and drinking options is that Danat Al Ain Resort has over 8 restaurants and bars, with some of these places be in the best in the City of Al Ain. Hence, you can simply just stay inside the resort  and choose among its dining areas. We sampled the Arabic and international buffet dinner and the morning breakfast at Arabesque restaurant.
On our second night we had an enjoyable dinner, wine and shisha at Oasis restaurant and bar. Lastly, before we checked out of the result, we a sumptuous North Indian lunch at Tanjore Restaurant. Just recently they open a McGettigan's Irish pub and bar.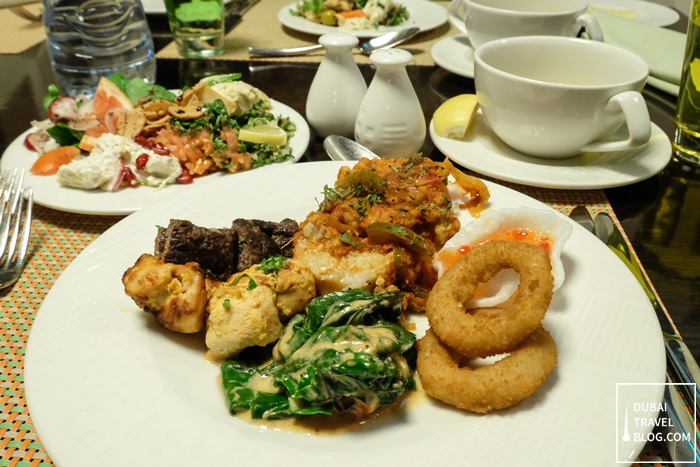 Arabesque restaurant dinner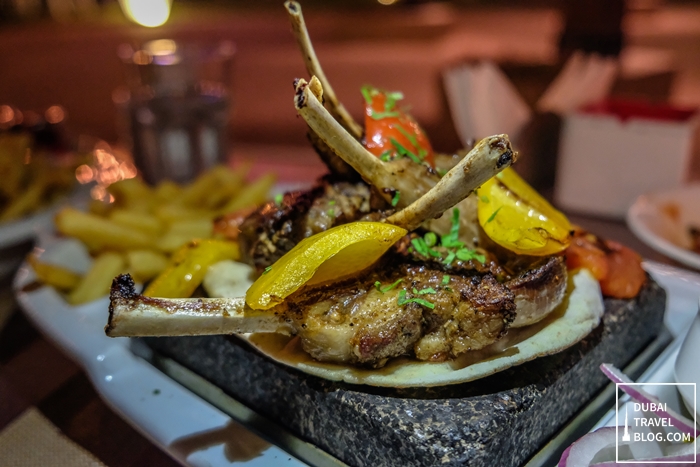 lamb chops at Oasis outdoor cafe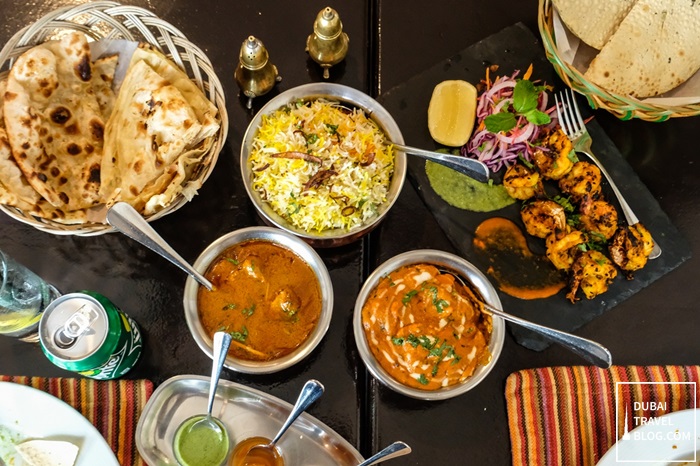 Tanjore Indian food
Here's the full list of restaurants and bars in Danat Al Ain:
Arabesque (International cuisine)
Luce (Italian food)
McGettigan's (Irish pub)
Oasis Cafe (Middle Eastern cuisine)
Oasis Pool Bar (juices, cocktails, and snacks)
Shooters (bar with pool and darts)
Tanjore (Indian cuisine)
Tea Lounge
Body and Soul Health and Recreation Club
They have 2 gyms available with high-end facilities for cardio and strength training. They also have wet area with a sauna room, steam room, and jacuzzi. It was a bit crowed when I took a peek at the wet area so I didn't get to take any photos. The resort offers membership access to the pool and health club for non-checked-in guests.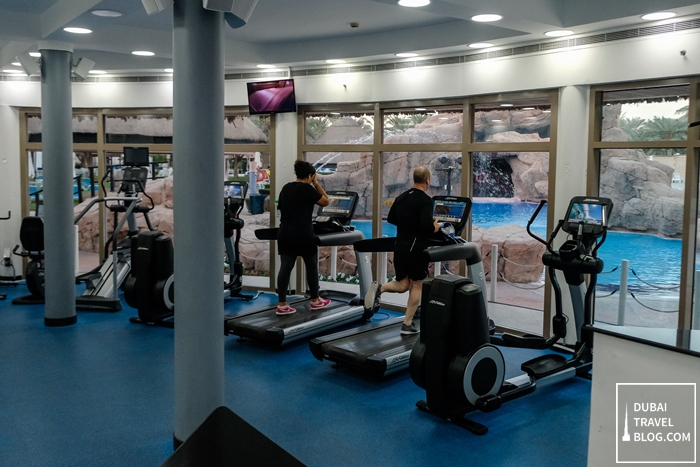 fitness center – Body and Soul Recreation health club
Danat Al Ain Spa
During the afternoon on the second day, we had a relaxing massage at Danat Al Ain Spa. This is a full service spa that includes body and facial massage treatments.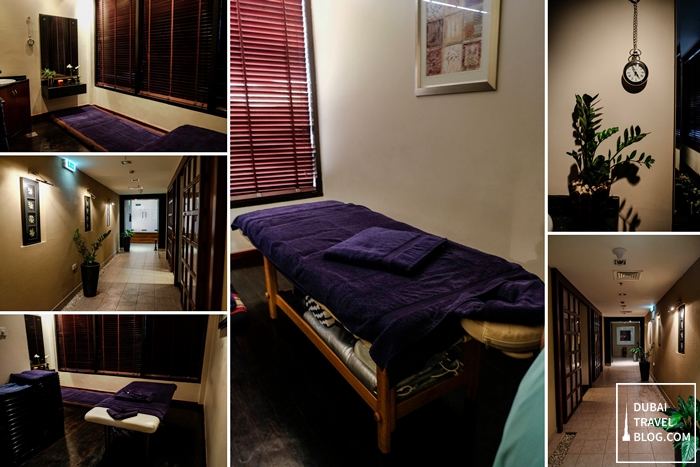 the spa
Swimming Pool and Garden Area
Danat Al Ain has 3 temperature-controlled swimming pools which includes children's pool, a 33-meter lap pool, and a family pool with waterfalls and rock formations. They were doing maintenance work at the lap pool so my wife and I went to the family pool for a swim. The weather was chilly so it was really great that they made the water temperature warmer.
For kids they also have a playground where families can take their children for some fun time. Lifeguards on-duty were alert and always ready to assist us. That's also pool bar why you cannot get some drinks.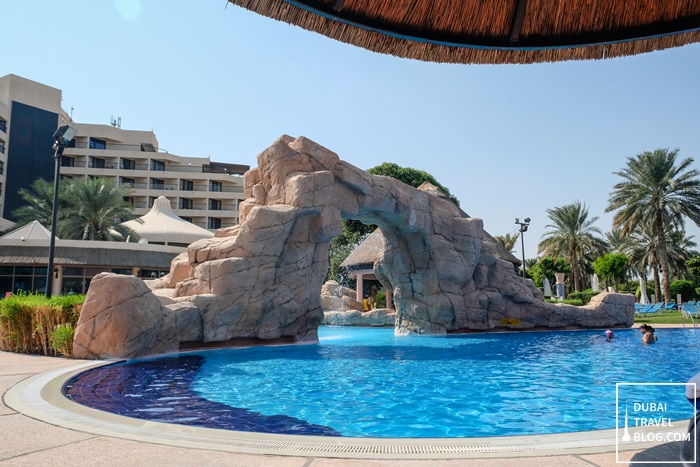 family pool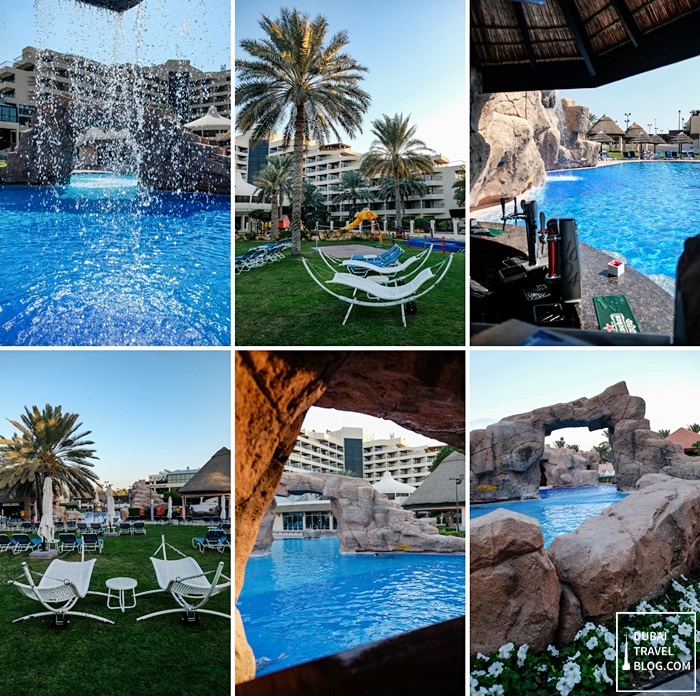 pool and garden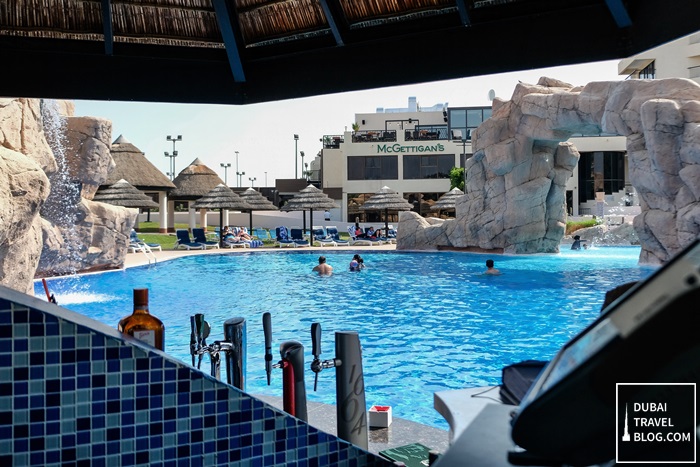 Danat Pool bar
Banquets and Conferences
Danat Al Ain is also an ideal destination for business meetings and banquets because this is the only establishment in the city that is capable of handling a large number of people for business events and conferences in a five-star setting. They are also able to host various events such as weddings, parties and team building activities.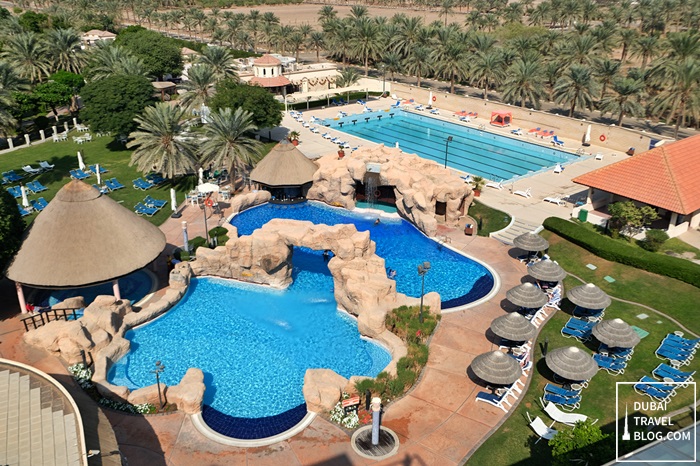 pool resort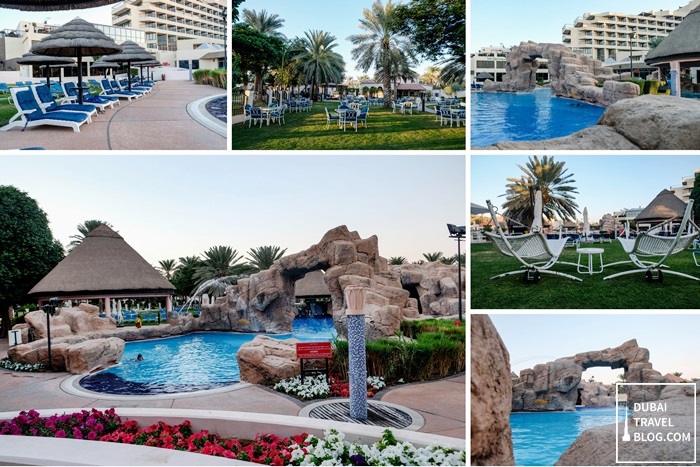 family pool resort
We had this staycation on a weekday (Sunday), and what's great is that there weren't that many people in the resort. Weekends could be different as the it can get crowded.
Even if there are plenty of places to explore in Al Ain, we didn't go out of the hotel as we wanted to just relax and enjoy our stay.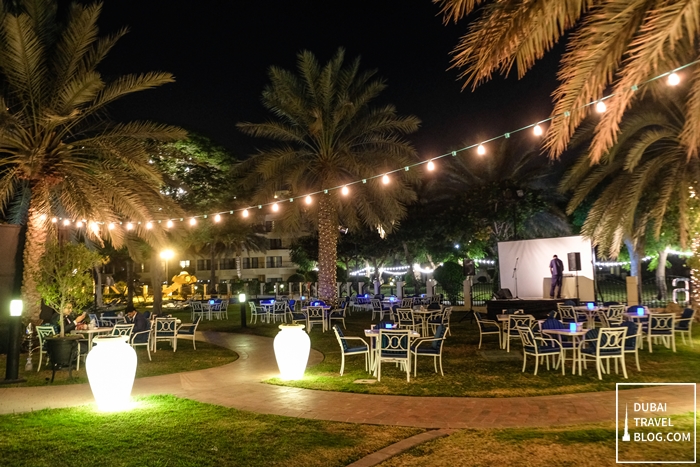 Oasis Cafe – garden restaurant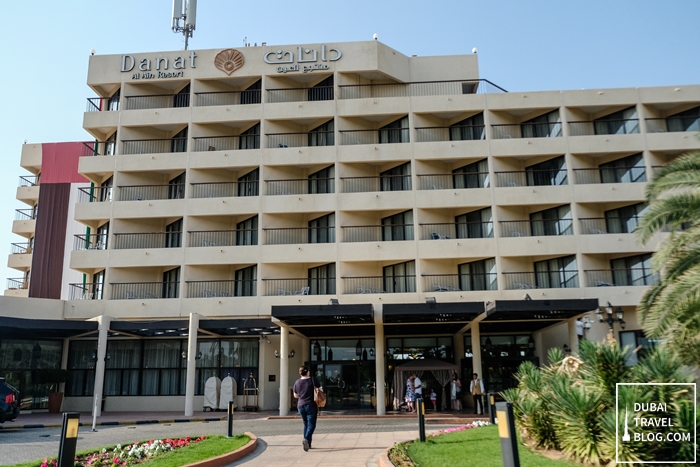 Danat Al Ain Resort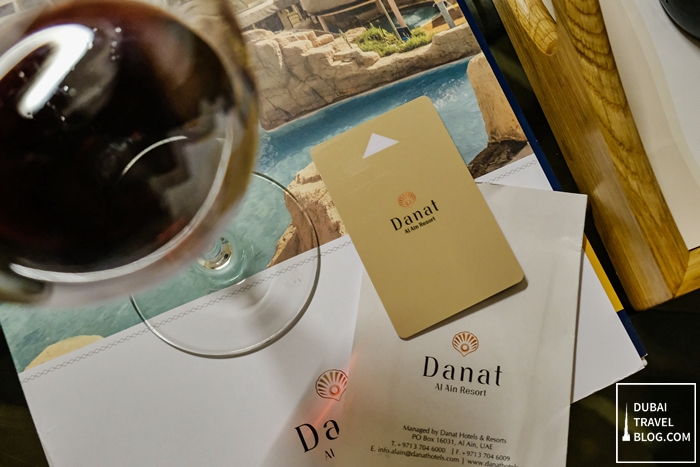 Danat Al Ain
Contact Information
Danat Al Ain Resort
Address: PO Box 16031 Al Ain – United Arab Emirates
Telephone Number: + 971 3 704 6000
Email: info.alain@danathotels.com
Website: http://www.alain.danathotels.com/en/
Facebook: facebook.com/DanatAlAinResort/
Instagram: @danat_al_ain_resort/
Twitter: @DanatAlAinRes
Google Map Location
Below is a map guide how you can get to Danat Al Ain Resort. It took us 2 hours to get to the resort from Sharjah.