We had a satisfying Indian lunch at Tanjore restaurant in Danat Al Ain Resort. Tanjore is an authentic Indian fine-dining restaurant the offers a selection of northern cuisine tailored in traditional Tandoori clay ovens. This restaurant has gone through the test of time as it's been around for over 30 years.
Tanjore has a rustic and traditional ambiance and we felt comfortable right away upon entering. This was our last meal before we were to check out from the resort.
Opening Hours
Lunch – 12:30pm to 3pm
Dinner – 7pm to 11pm
Open daily except Mondays
Related Post: 15-Course PostModern Indian Cuisine at Carnival by Tresind
dining at Tanjore
inside the restaurant with a homey ambiance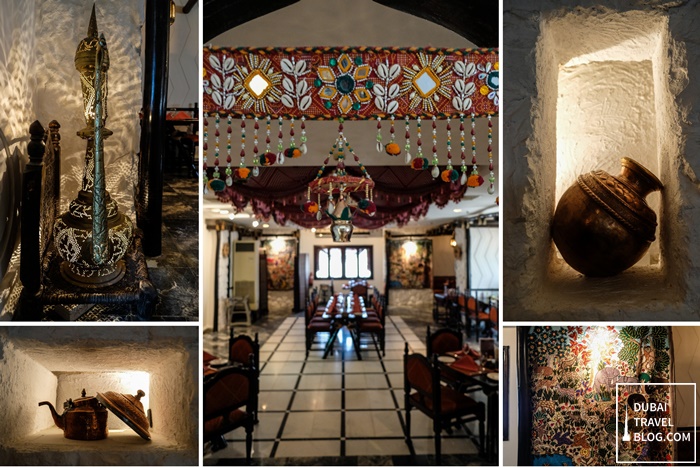 nice accents
Tanjore Restaurant: North Indian Cuisine at Danat Al Ain Resort
Tanjore has won numerous awards and they've been awarded the 2017 Indian Cuisine country winner (UAE) at the World Luxury Restaurant Awards.
Going over the menu it was a challenge to choose which of the items we were to pick. I was looking at the descriptions as I couldn't pronounce the names, more so understand them.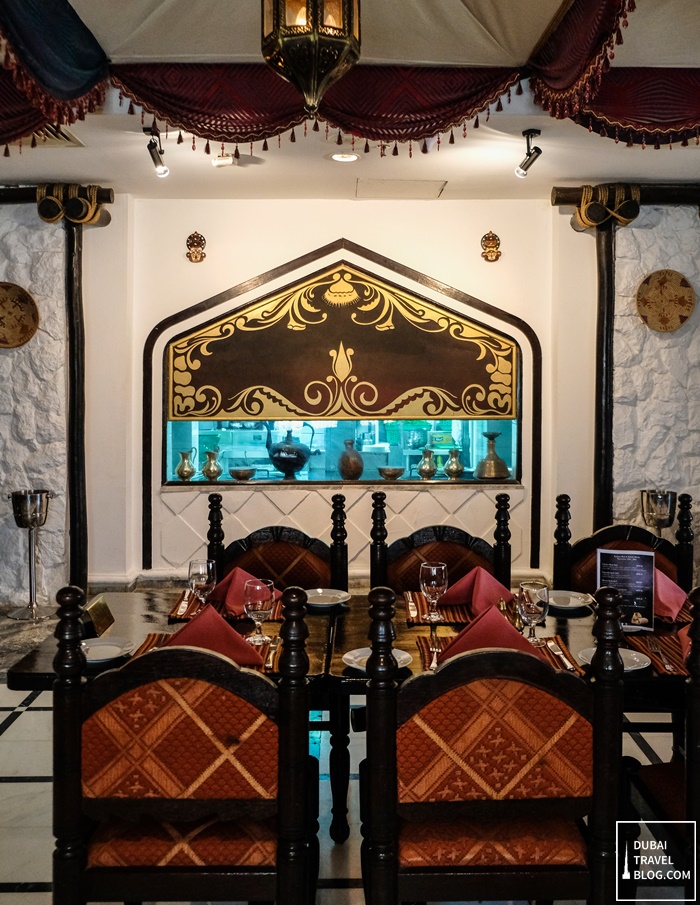 on the wall, you get a peek of the kitchen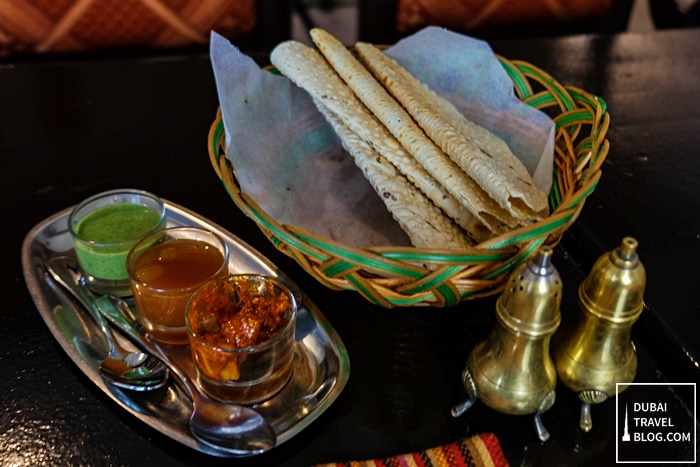 Pappadum with mint chutney, mango chutney and pickles – complimentary
There were so many options to choose from that we decided to ask our host for recommendations. He gladly shared some interesting dishes as he is well-versed with the menu.
Starters / Appetizers
For starters, I chose the Palak aur Anjeer Kebab which is made up of spinach and potato patties. We also had the chicken and prawn tandoori. The starters were very tender and we could taste the rich flavors, especially with the chicken tandoori.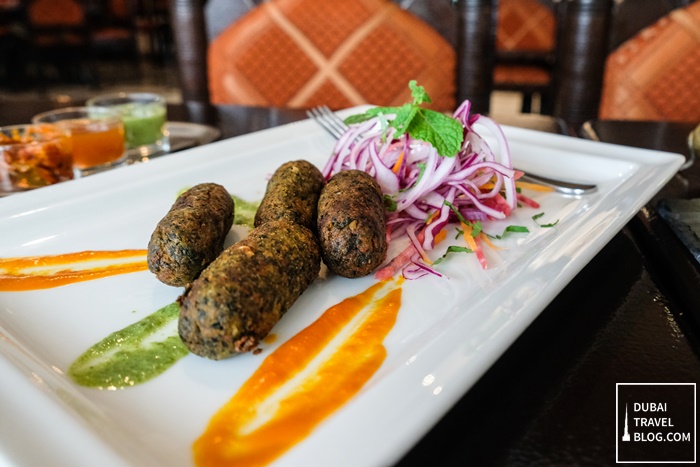 Palak aur Anjeer Kebab – 35 AED
Pan grilled spinach and potato patties with figs and cashew served with mint chutney.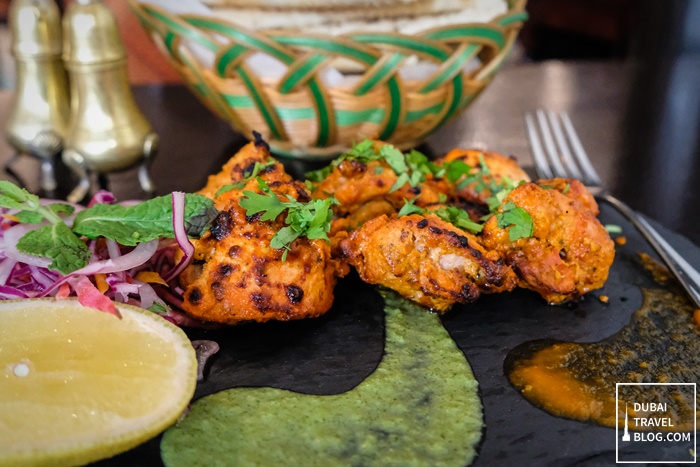 Tandoori Murgh Tikka Apki Khater – 55 AED
Succulent pieces of chicken with a choice marinate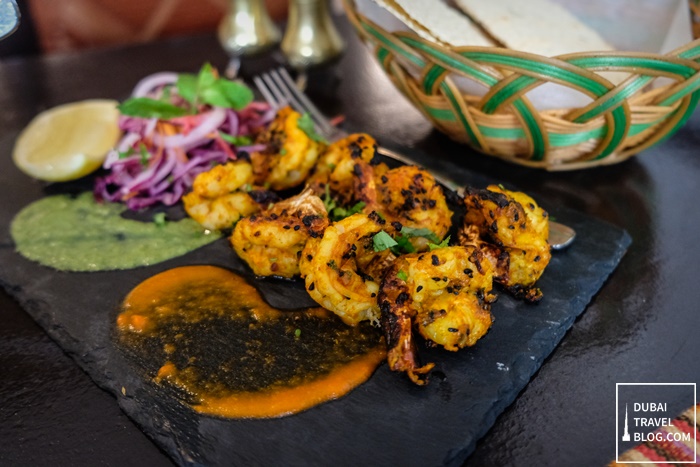 Tandoori Jhinga – 75 AED
Prawn flamed on charcoal with a choice of flavour
Main Course
As we were already happy with our starters, we wondered if the main course would be even better. For sure they did, I ordered the lamb Rogan Josh, while my wife ordered butter chicken. The former was good but the latter was just delicious. The sauce from the butter chicken was very creamy without getting overwhelming.
As we've eaten in a few Indian restaurants, butter chicken is one of the most common dishes being served, so after devouring the dish in Tanjore, we'd have to say this was the best butter chicken we've tried.
With the spices and sauces, we had to order a serving of naan bread and biryani rice.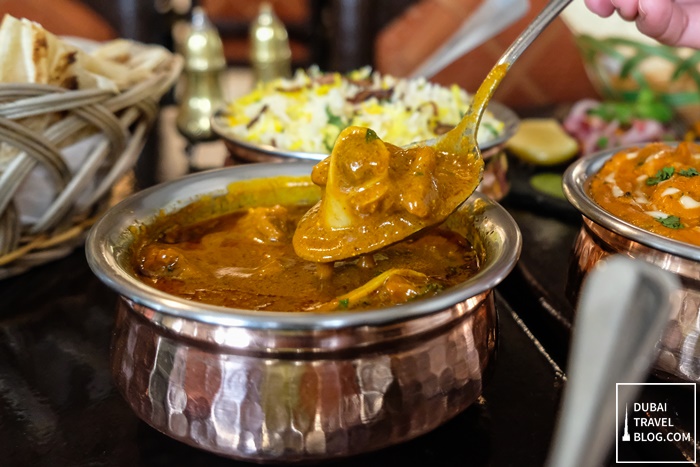 Koh-E-Awadh – 56 AED
Chef's rendition of Rogan Josh, lamb curry cut "Dum" cooked in their own juices
Chicken Tikka Masala – 55 AED
Tandoori Chicken tikka with thick red gravy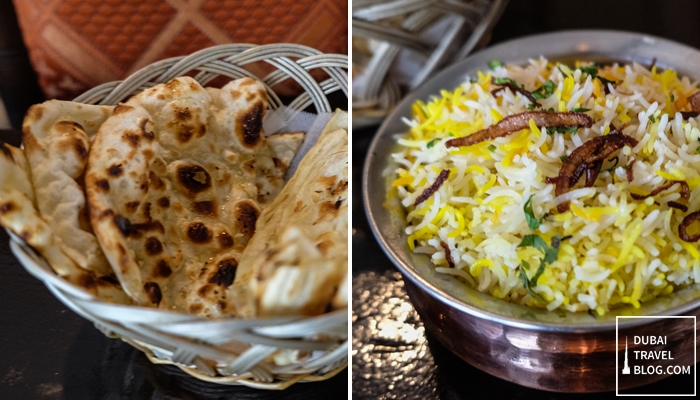 garlic naan (14 AED) and vegetable biryani (40 AED)
Dessert
As we were already so full, we shared a serving of Gulab Jamun for dessert. The sweetness really helped in balancing all the flavors and spices from our dishes. We wished though that tea was available in the restaurant. The host did suggest that we dropped by the tea lounge for some tea.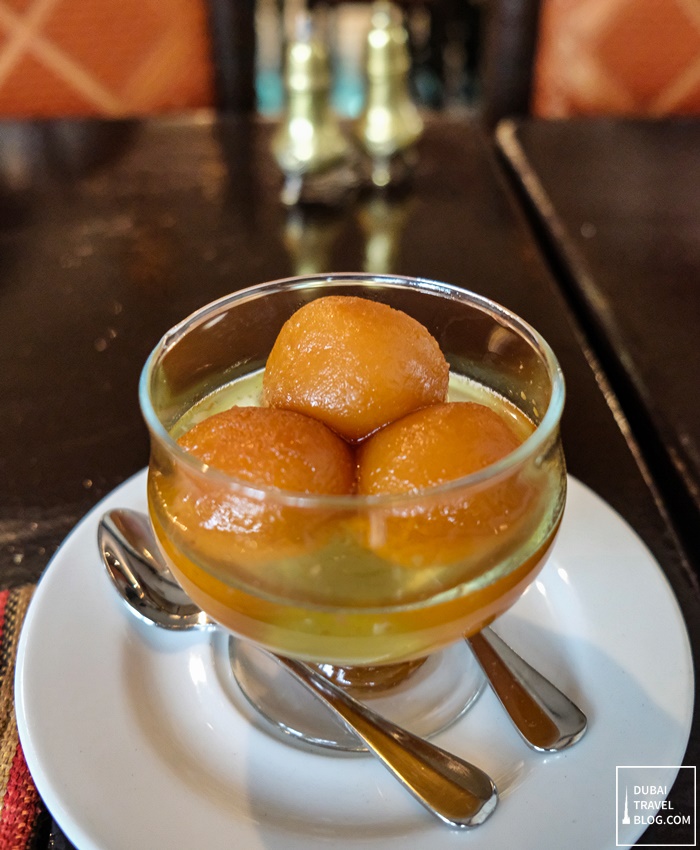 Gulab Jamun – 34 AED
Dumplings of reduced milk, deep fried & served in rose flavored sugary syrup garnished with pistachio
Overall, we thoroughly enjoyed our North Indian lunch at Tanjore. The great thing about our whole dining experience in Tanjore was that we didn't expect the food to be that good. Plating was also top-notch.
We would recommend this place to anyone who would like to try Indian food.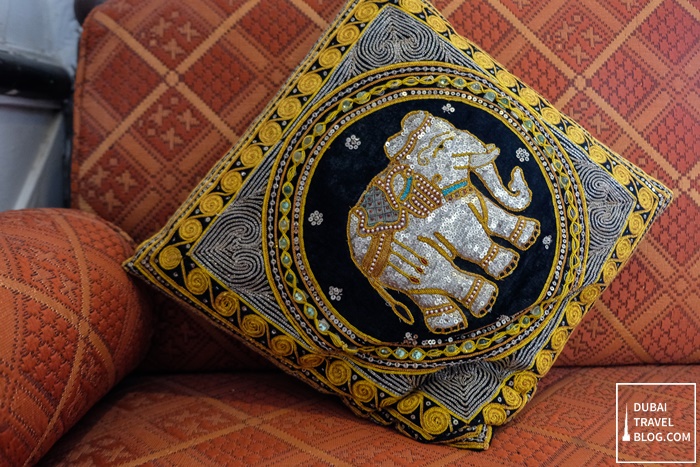 pillow with elephant design
lamp
inside Tanjore restaurant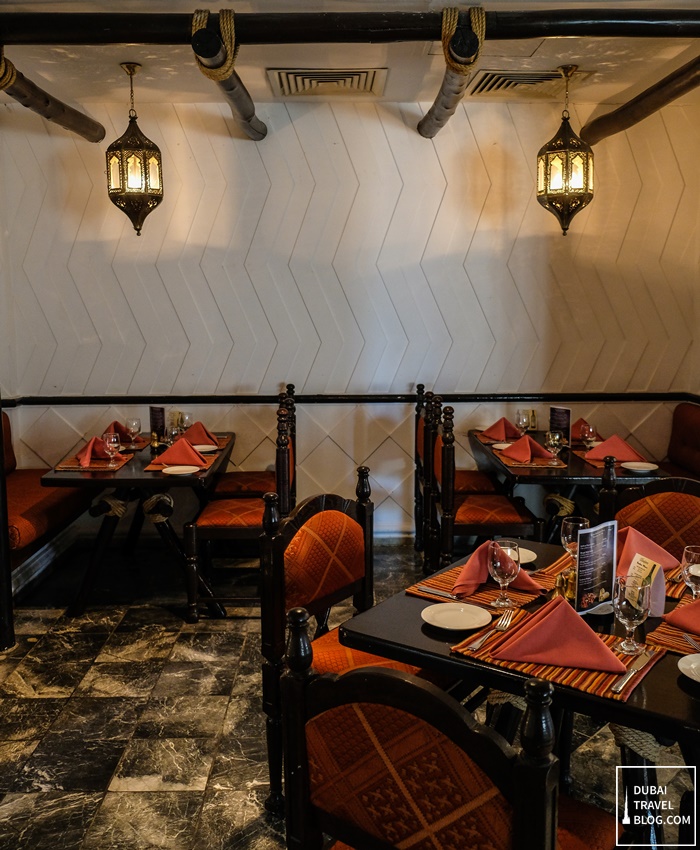 tables and chairs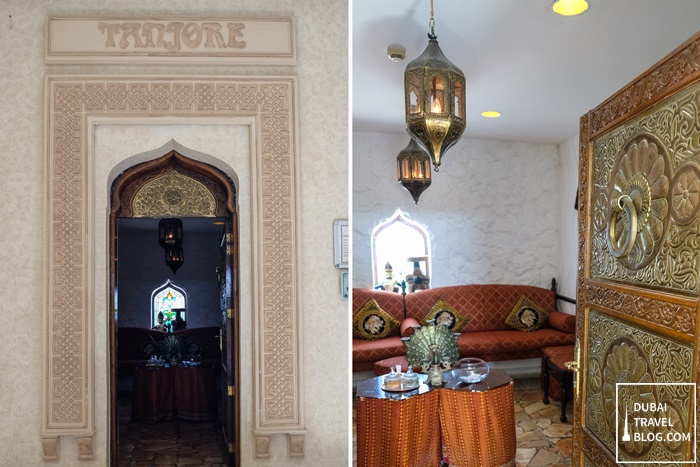 Tanjore Restaurant entrance and waiting area
Contact Information
Tanjore Restaurant
Address: Danat Al Ain Resort – Al Ain, United Arab Emirates
Website: http://www.alain.danathotels.com/en/tanjore.html
Facebook Page: https://www.facebook.com/DanatAlAinResort/
Phone: 03 704 6000
Google Map Location
Below is a map guide of Tanjore in Danat Al Ain Resort:
Related Post: