Seeing as the Dubai Mall is the largest mall in the world, you would expect it to be packed with plenty of great restaurants. And this is certainly the case, as the massive building treats its 54 million yearly visitors to a fantastic selection of meals from over 120 food outlets.
One of the places we dined in is Rosa Mexicano which offers a Mexican menu, and there's a lot more places that are worth trying. This is, after all, a huge commercial and entertainment complex. You won't run out of food options because there's a lot of them to visit here. Here are a few more restaurants that you should try and check out.
Japanese Italian fusion cuisine at Scoozi
Photo by @shadi.aslan on Instagram
For those who are keen to try traditional Italian flavours with a Japanese option on the side, Scoozi could be a good place to try.
This smart and contemporary restaurant has all of the Italian favourites that you'd expect with great Ganbereti Rucola pizzas, Gnocchi Alla Sorrentina and Pesca Alla Limone. But with the bonus attraction of plenty of Japanese treats that include sushi and sashimi platters, it brings great combination of flavours together. And with new delivery companies like Deliveroo also serving Scoozi, we don't even need to visit the Dubai Mall to try this fascinating combination of cuisines.
Five Guys Burgers and Fries
The Five Guys brand has been building up a worldwide fanbase for quite a few years now, and it's great to see how this high quality fast food joint has made a strong impression at the Dubai Mall.
Although burgers and fries are rarely likely to make the food critics salivate, it can't be denied that this outlet gets classic American cuisine perfectly right with plenty of customisable burger options and perfectly cooked fries. Plus the addition of free peanuts whilst you wait is a nice little touch too!
P.F. Chang's Chinese cuisine
Photo by @lawi.m on Instagram
Whilst it has American origins, the P.F. Chang's franchise has become one of the world's leaders in serving up delicious Chinese meals. And a visit to the Dubai Mall outlet certainly didn't disappoint!
With massive portions and a friendly service despite the busy nature of the restaurant, it was a real treat to try house specialities like dynamite shrimp and sesame chicken. And with signature dishes like Mongolian beef and their mini-desserts helping to uncover other food highlights from the Far East, it seems that P.F. Chang's is a great place to grab a delicious meal.
Italian Cuisine at Eataly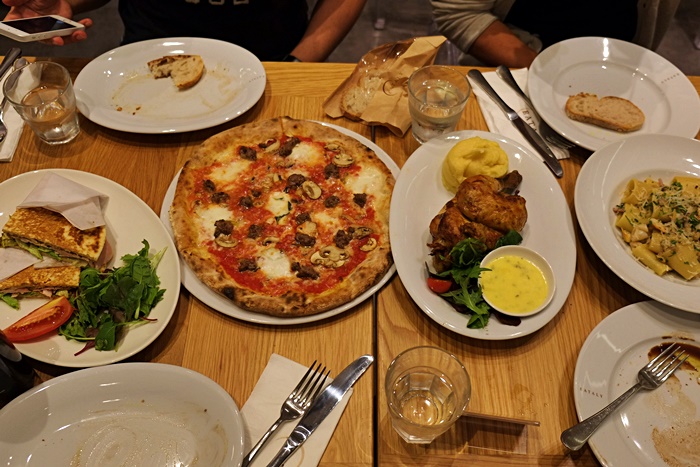 This place offers a variety of Italian food. Aside from the food highlights, you can also enjoy the Italian way of dining at the table. They also have a market where you can shop for pasta, cheese, chocolates, and other ingredients for you to bring home and cook.
Middle Eastern treats at Wafi Gourmet
And finally, we couldn't miss out on including the Wafi Gourmet restaurant that shows off the best in Middle Eastern cuisine.
With a definite focus on authentic Lebanese dishes, this nicely informal restaurant is the perfect place to try a deluxe selection of mezze and kebab delicacies. And with plenty of homemade ice cream for dessert, and home delivery options from Deliveroo, Wafi Gourmet won't leave you with an empty stomach!