Can I buy pork in Dubai? Of course, the UAE being a Muslim country, one would think that certain products such as pork and those considered haram (forbidden) would be hard to find. However, the UAE is also considered an open country, where 90% of its population is composed of foreign nationals, so there's going to be a certain demand for food products such as pork (and alcohol) intended for expats to buy in licensed places.
Note: You will be able to buy pork in all the emirates of the UAE except for the emirate of Sharjah. Please be guided that Sharjah has strict rules and does not allow consumption of pork or alcohol so you cannot find pork in this emirate.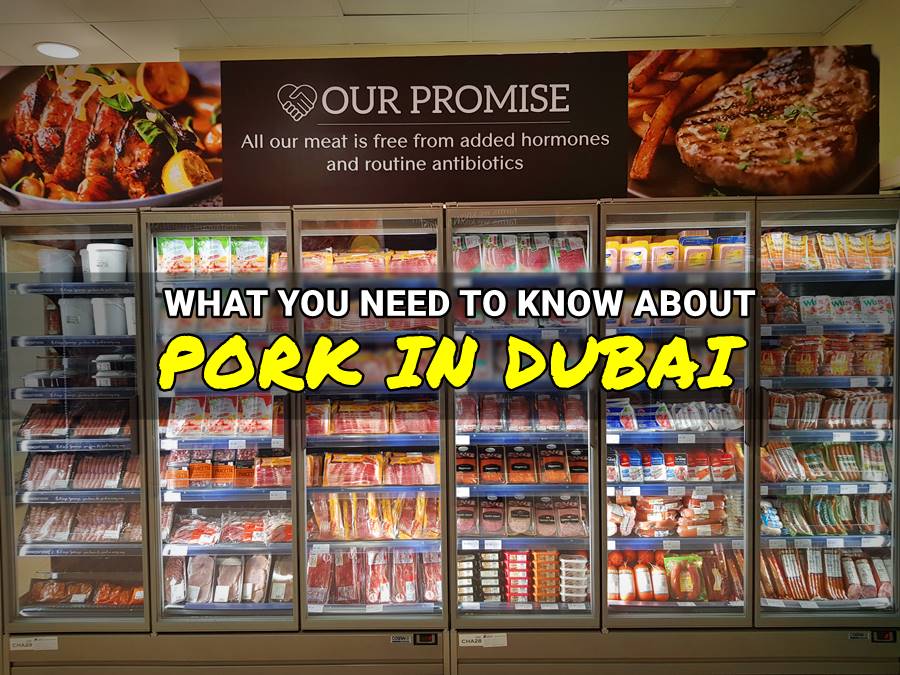 Supermarkets that Sell Pork in Dubai, UAE
In this post, we will share popular shops where you can get pork in Dubai.
To start off, pork, as we've mentioned, is considered among those considered haram or forbidden in Muslim culture. The good news for foreign nationals in the UAE though is that there are places in Dubai that have a license to legally sell them.
These shops have pork counters marked with "Pork Section: For Non-Muslims". Here, you can buy pork sausages, loins, ribs, bellies, chops, bacon, and other pork products. Let's look at the list where we can find these products…
1. Al Maya Supermarket
Al Maya is a supermarket chain that operates several outlets across the UAE. They have a pork section where customers can visit and buy pork items including canned products, frozen and processed pork meat.
2. Baqer Mohebi Supermarket.
This shop is best known for having a section offering AED 1 products as well as cheap chocolates in Dubai. They also have a dedicated pork section for non-Muslims where guests can buy pork products.
3. Choithrams
This Indian-owned chain of supermarkets has outlets that have pork sections. Since its establishment in 1974, the company now operated 30 branches in the UAE, including 16 branches located in Dubai.
4. Spinney's
The supermarket has 30 plus branches in Dubai, but not all of these shops offer pork products. So you better check out the Spinney's location if nearby your area. Some of the Spinney's branches selling pork are branches in Al Furjan, Golden Mile, Bur Dubai, and the Villa Mall.
5. The Philippine Supermarket
A favorite among the Filipino community, this supermarket along Al Muraqqabat Road sells pork, among many other Filipino products. It's the place to go for those craving pork meat and Pinoy products such as tocino, longganisa, chicharon, and many others.
6. Waitrose Supermarket
This British-owned chain of supermarkets only has a few branches in the city, but they offer pork products and similar delicacies for pork consumers in the city. You can find pork in The Dubai Mall as there is a Waitrose supermarket at the lower ground level.
7. West Zone Supermarket
Here's another place frequented especially by the Filipino community in Dubai because of the assortment and affordable set of products they offer, including pork, which Filipinos love.
8. WeMART Asian Market
WeMART is a relatively new hypermarket that specializes in Asian products in cuisine, also offers fresh, frozen, and cooked meals with pork products.
9. New Era Supermarket
New Era supermarket can be found in Deira (Murraqqabat Street), along with other Filipino supermarkets. They have a dedicated pork section for customers to buy pork products and items.
Restaurants that Serve Pork in Dubai
The food in Dubai is quite diverse, with many restaurants offering a variety of cuisines. One type of cuisine that you may not have heard about before are the 'pork' restaurants! These establishments offer pork-based dishes on their menu and can be found throughout this city's neighborhoods.
Yes, there are restaurants in Dubai where you can find pork on the menu. These establishments have obtained a license for featuring this food item.
Some of the restaurants offering pork on their menu include:
Belgian Cafe in Souk Madinat Jumeirah
Casa Mia in Le Meridien Hotel
Double Decker Pub in Downtown Dubai
Irish Village
McGetiggan's Irish Pub
Reform Social and Grill
Miss Wang in Bur Dubai
TOMO
Lamesa Restaurant in Asiana Hotel – they offer pork buffet every evening
Yuraku Restaurant in Asiana Hotel – they offer unlimited pork belly grill (Samgyeopsal pork)
Most of the restaurants that serve pork in their menu are restaurants attached to a hotel. I remember during our staycation in Fairmont The Palm Dubai, we were able to order pork sausage and bacon for breakfast.
So as you might notice, you will not have a difficult time searching for pork in the UAE as there are shops that sell them. You just need to find out which restaurants are licensed to serve them.
Can I eat pork in public?
No. While it is good that the UAE allows import and consumption of pork, it is only allowed to be consumed in licensed and private places so if you buy pork from the supermarket, you need to consume it at home only.
Don't put yourself at risk as there will be corresponding fines and sanctions if you get caught. But more than getting caught, be respectful to our Muslim brothers and sisters and better consume it at home.
Emirati social media personality, Khalid Al Ameri, shares details about being a Muslim and pork consumption in the UAE. This is a much-needed information video that talks about the reason why Muslims cannot eat pork.
For Muslims, it is forbidden to eat pork as they eat meat that abides the Halal standards. The UAE understands that there's a huge population that enjoys bacon, pork ribs, chicharron, and other food items.
Check out the video below:
This is also an enlightening video given that the misconception of newbie expats and Dubai visitors about what is allowed and not allowed in the emirate.
Summary
Despite being a Muslim country, the UAE has allowed for the regulated selling of pork products in places such as Dubai. This is important for expats who came from countries that have pork in their diet.
However, consumers must be responsible enough to remain respectful of their consumption of these products in regard to the people's local culture and religion.