At.mosphere is a restaurant and lounge located on Level 122 of the Burj Khalifa rising at 422 meters from the ground. So you can be sure to have a high-rise dining experience with a view of the breathtaking view of the Arabian Gulf.
Related Post: 5 Rooftop Bars in Dubai
My wife and I have only been to the At the Top Experience at night so it would be an interesting experience to dine in this restaurant. While we might have not yet visited this restaurant, At.mosphere has launched a new five-course menu for its patrons.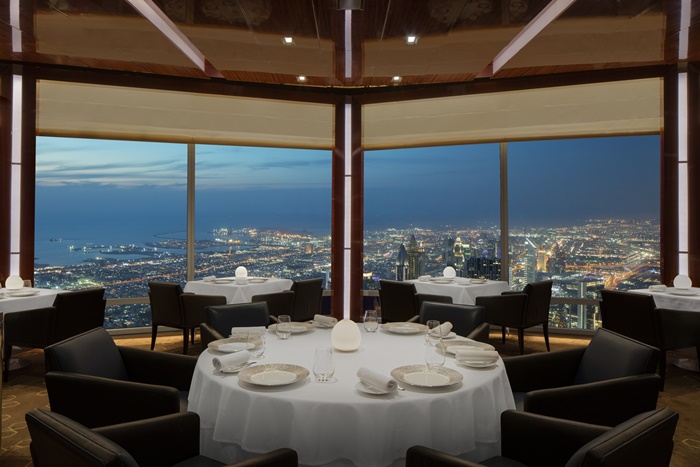 Satisfaction, delight, bliss. These are the most common feelings experienced after dining at the world's highest restaurant, At.mosphere, Burj Khalifa.
The newly launched At.mosphere Market Menu promises exactly this! With a wide array of unique dishes crafted by the Executive Chef, Christopher Graham, the Market Menu brings exclusive food bound to intrigue, excite, and satisfy.
Start the meal submerged within zesty aromas drawn from Home Smoked Mackerel proceeded with fresh and aromatic Risotto brilliantly combined with Tomato Jelly and Pu'Er Tea.
Indulge in a choice of fine mains including Pan Seared Bream designed to combine spiced aubergine and blood orange ceviche in one explosive dish and find yourself speechless for words with sweet and flavourful Slow Cooked Duck Breast accompanied by Cherry, Vanilla, Foie Gras and Pear.
Finish your heavenly five-course meal with Apple Tarte Fine accompanied by velvety Crème Brûlée ice cream, the perfect end to an unforgettable dining experience, all situated within the glittering skies of the iconic Burj Khalifa.
Through carefully fostered relationships with the food vendors around the world, At.mosphere, Burj Khalifa consistently revives its delicacies to incorporate more seasonal fruits and vegetables. Market Menu is their finest example offering an exceptional taste to new and repeat diners.
Location: Level 122, Burj Khalifa
Restaurant Timings: Lunch – 12.30pm to 3pm and Dinner – 6.30pm to 10.30pm
Price: Market Menu @ AED 495 per person
For reservations, please call 04 8883828 or email reservations@atmosphereburjkhalifa.com