We recently visited Pergolas restaurant at Roda Al Murooj hotel to sample their Seafood Night buffet which happens every Tuesday evening from 7pm to 11:30pm. The restaurant prides itself of fresh catches that include a variety of fish and seafood, as well as other specials.
We have already dined in this restaurant a couple of months back for an Iftar buffet during Ramadan Season and we had a good experience then. So when an opportunity arose to try their Tuesday themed dinner, we didn't hesitate in going to Downtown Dubai area for this visit.
Alcohol: YES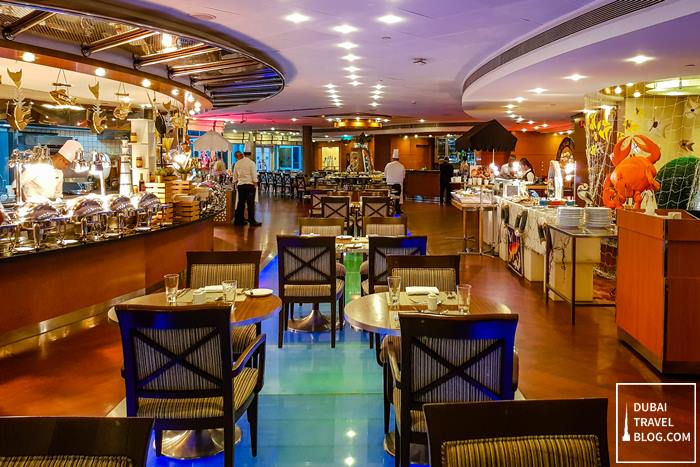 before ther guests came in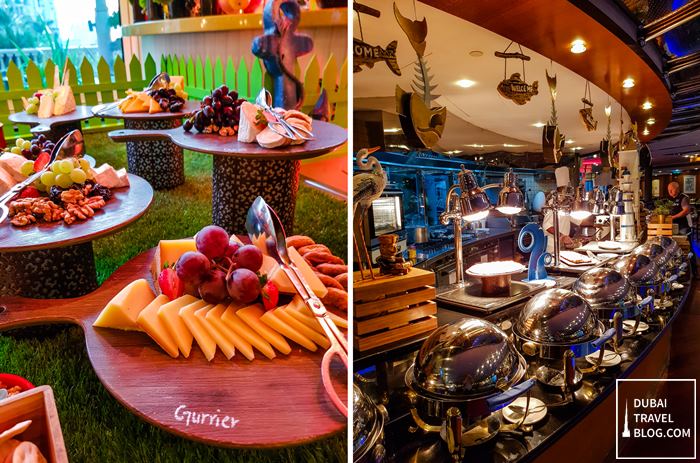 cheese platter stations – main buffet area
Review: Tuesday Seafood Buffet at Pergolas in Roda Al Murooj, Downtown Dubai
I'm glad that we arrived early so I could take pictures of the food before other guests came. As a blogger, I find it quite a challenge to photograph buffet spreads compared to a la carte dishes. After all, I have be extra careful in making sure I don't include people in my snaps. Also, I prefer taking pictures of the beautiful presentations done by the restaurant team before they are devoured by customers, yours truly included, of course. Anyway…
Sushi, Salads, Mezzes
While the main theme is seafood, you cannot expect a buffet in the UAE without the staple Arabic salads and mezzes.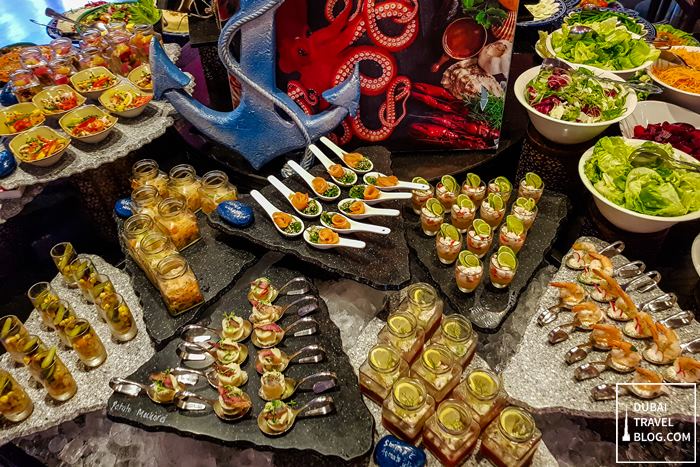 cocktail snacks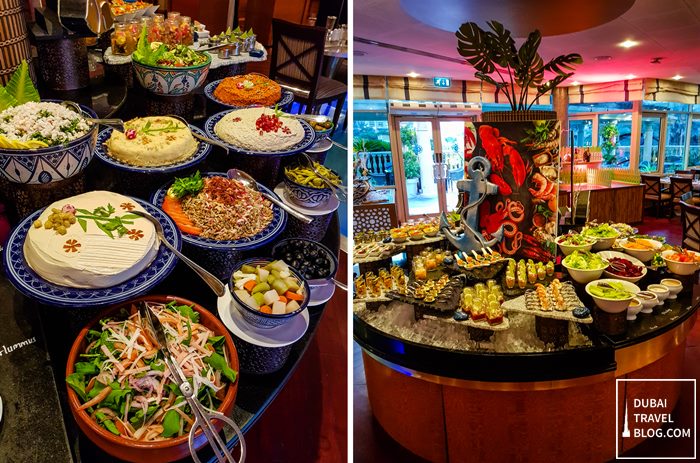 mezze and salad station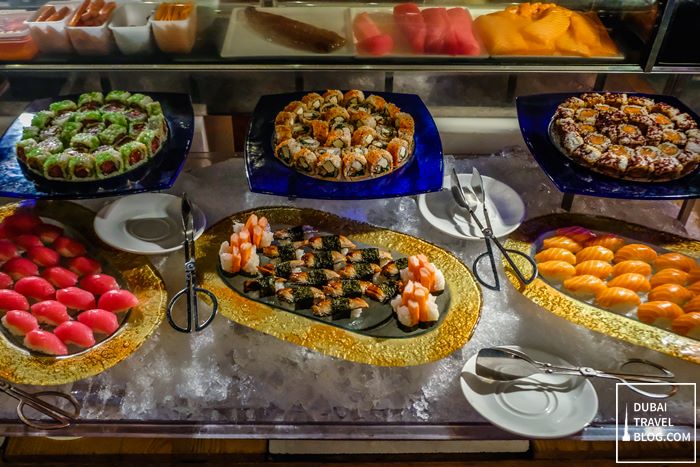 sushi station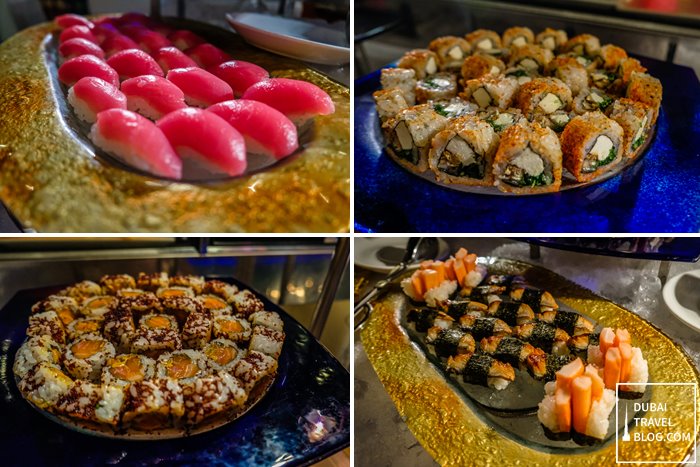 variety of sushi
Main Dishes
Looking at the buffet spread, I was excited to dig in and get some helpful servings. I believe this was our first Seafood themed buffet in the UAE so we were wondering what items we were going to find.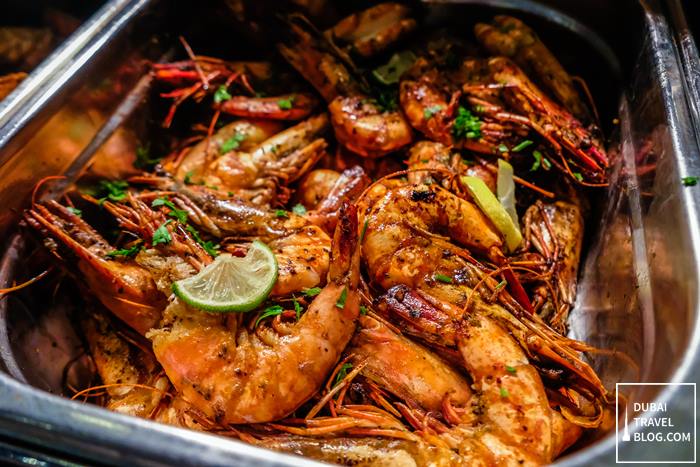 prawns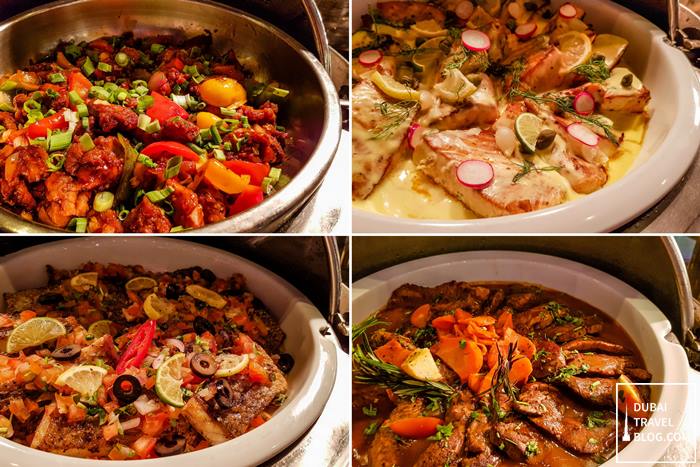 fish, chicken and beef dishes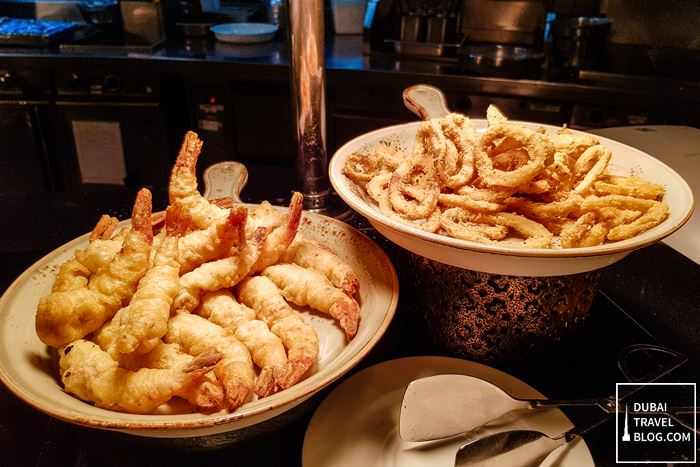 tempura an calamari
Asian Baked Salmon, Baked Nile Perch
Food options were plenty so we were happy with the available choices of seafood. Personally, the main highlight of the night consisted of the grilled prawns, deep-fried shrimps and calamari, and most especially delicious grilled Omani Lobsters.
If it's not so busy, the chefs can grill some lobsters and make a nice a plate presentation for you.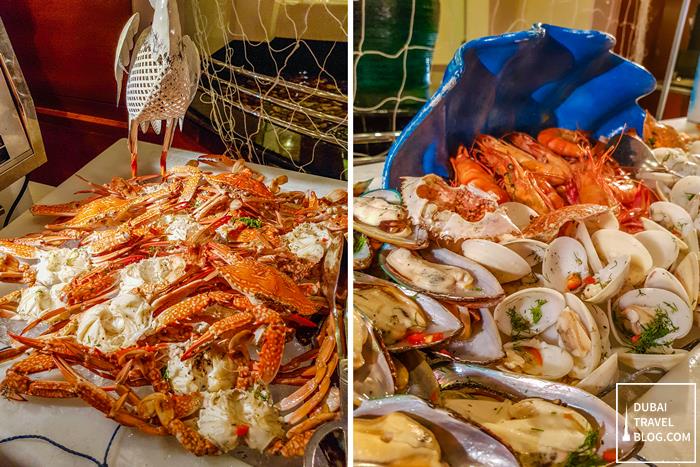 crabs, mussels, clams, shrimps, etc.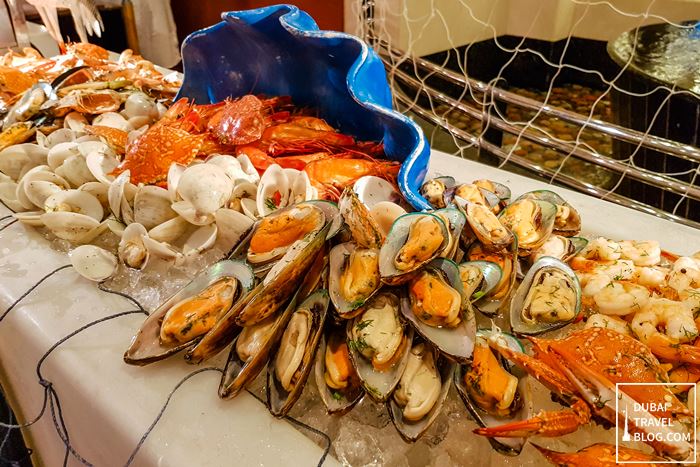 fresh catch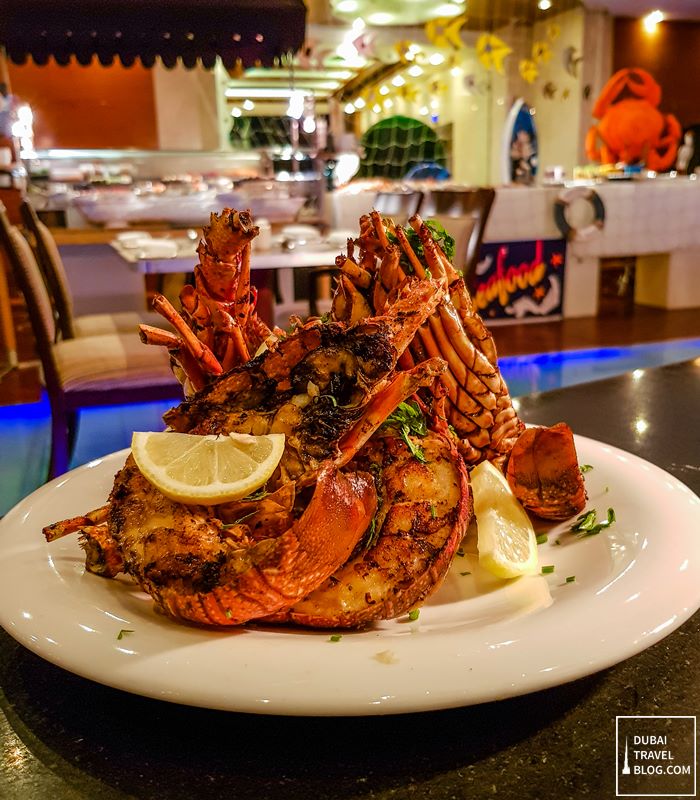 the lovely plating done by the chefs
Desserts
Same like last time, the desserts are also in a dedicated round station and they offer a selection of international desserts and a couple of Arabic sweets. Fresh fruits are also available as well as a chocolate fountain.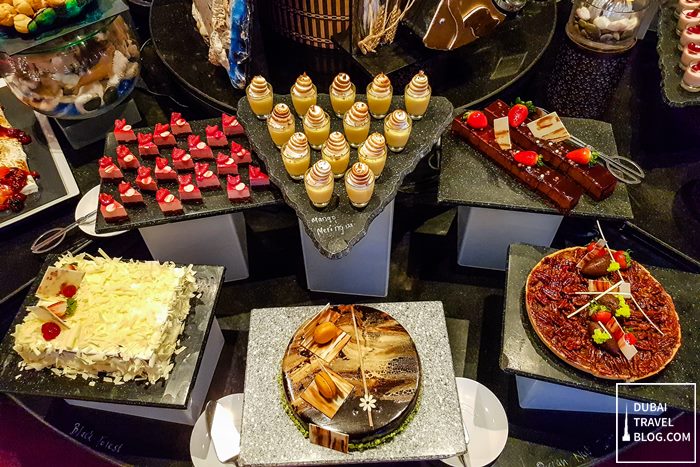 cakes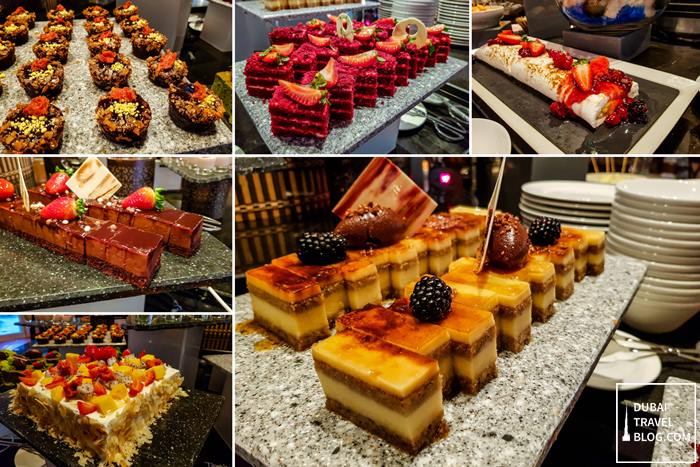 international sweets
Video: Pergolas Restaurant in Downtown Dubai
Check out this quick video of Pergolas restaurant – Roda Al Murooj below:
Have the best catch in town every Tuesday.
Dive into our spread of seafood dishes that include the Omani lobsters and mouth-watering oysters, amongst the other specials catch of the day. Get into the vibe with an array of seafood paired with some beverages that are sure to add a sparkle to your evening.
AED 220 inclusive of soft beverages
AED 299 inclusive of house beverages
AED 370 inclusive of premium beverages
Tuesdays 7pm to 11:30pm
– Roda Al Murooj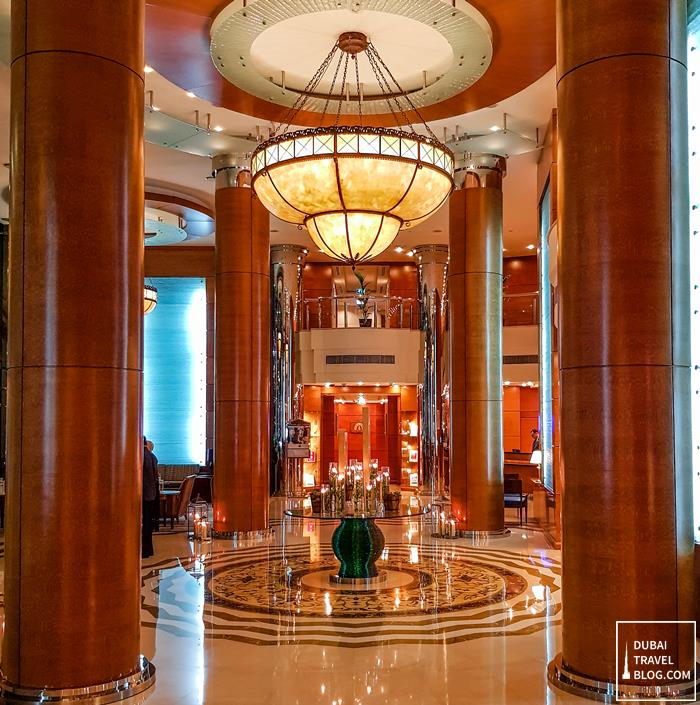 Roda Al Murooj lobby
Thank you to Lalit and to the manager Ekramy for attending to us and making us comfortable.
Note: We were invited as guests in this restaurant. All opinions are my own.
Contact Information
Address: Lobby Level, Roda Al Murooj Hotel, Al Safa Street, Opp. Dubai Mall، Downtown Dubai – Dubai
Phone: 04 321 1111
Website: http://www.roda-hotels.com/al-murooj/
Instagram: @RodaAlMurooj
Facebook: facebook.com/RodaAlMurooj
Twitter: @RodaAlMurooj
Google Map Location
Below is a map guide to the location of Roda Al Murooj Hotel if you plan to drive towards the hotel.