We experienced a different kind of Friday brunch in Dubai at Double Decker located in Al Murooj Rotana hotel. This is a British-themed pub and for a reasonable fee, you have unlimited servings from the buffet (including a pork station) as well as unlimited drinks on selected beverages (alcohol included).
We arrived earlier as I wanted to take photos of the food and the restaurant before it got too crowded. You pay upfront prior to getting inside and you will be given a wristband which serves as your entrance ticket.
Related Post: Thai Food Dinner at Blue Elephant Restaurant in Al Bustan Rotana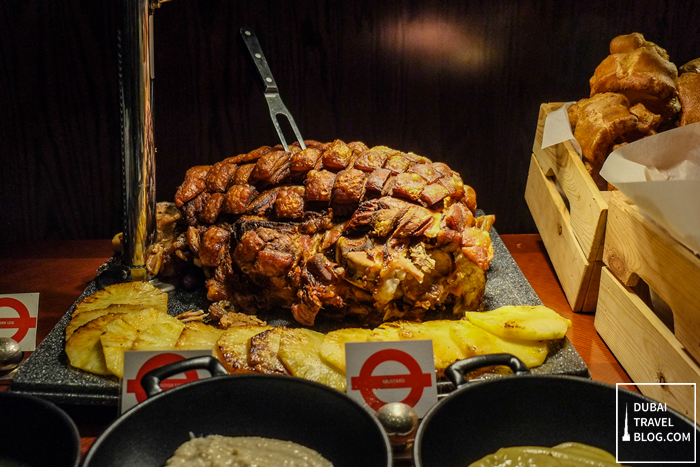 pork leg at Double Decker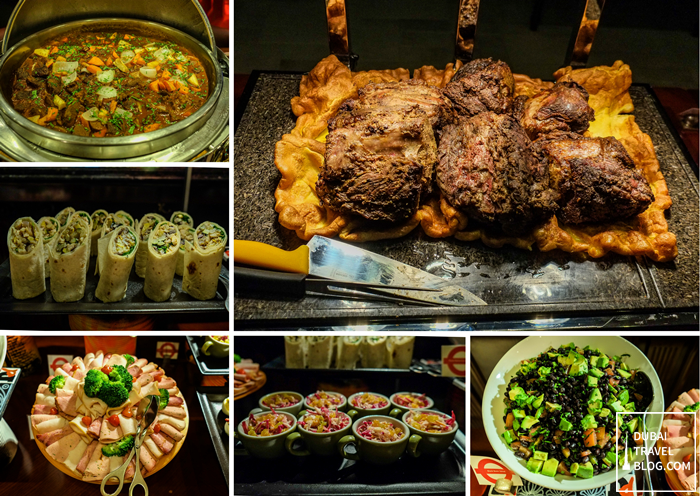 various options: lamb stew, beef, appetizers, cold cuts, salads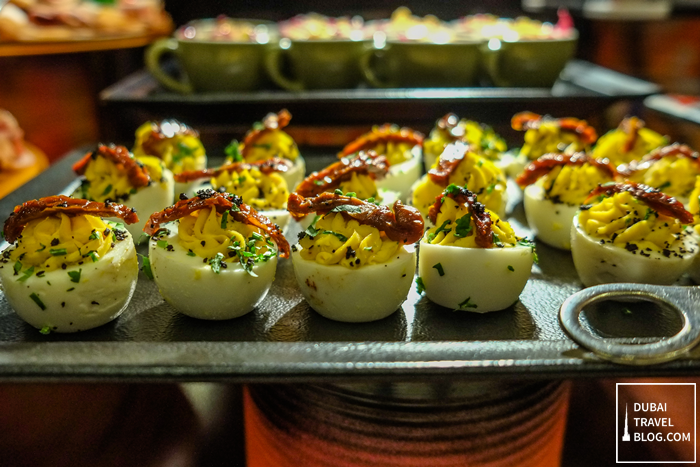 boiled egg topped with sun-dried tomatoes
Double Decker Brunch Review: British Pub in Downtown Dubai
Named after the London buses, Double Decker offers a complete English pub experience as evident from the wooden wall interiors, lamp posts, and much more. There's even a red phone booth outside.
They are also a good venue for watching live sporting events with numerous large screen TVs.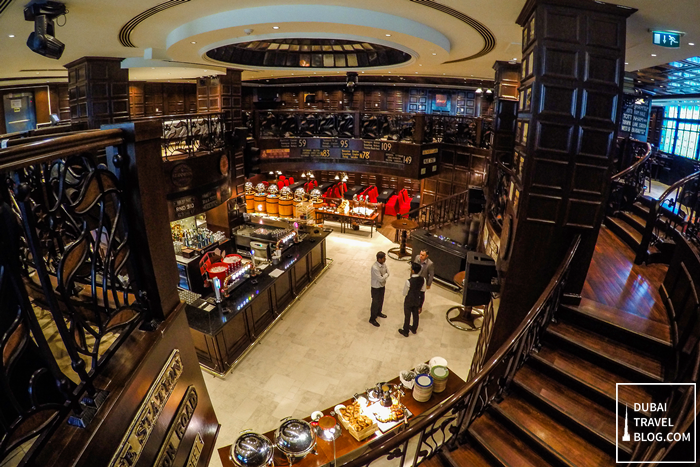 before brunch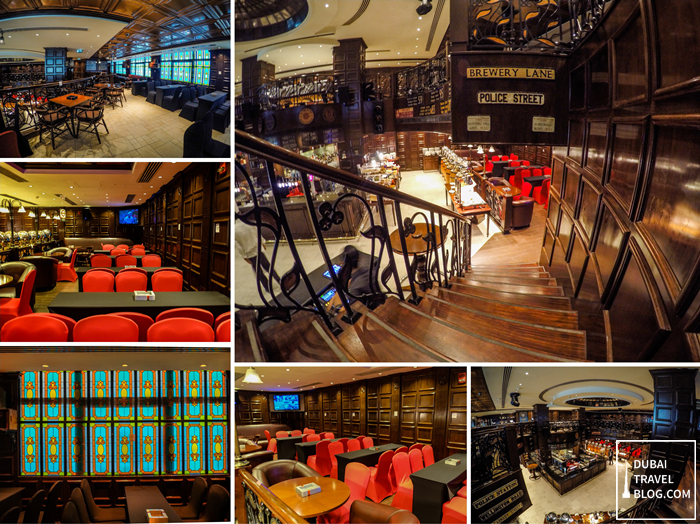 wooden stair case, stained glass windows, red chairs and black tables, dark wooden interior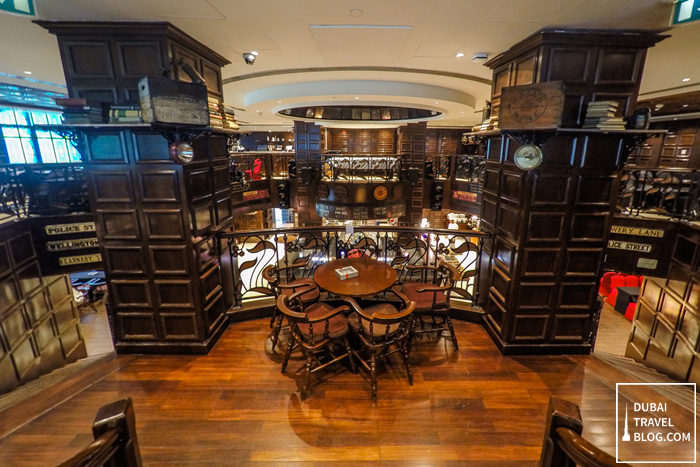 our table that day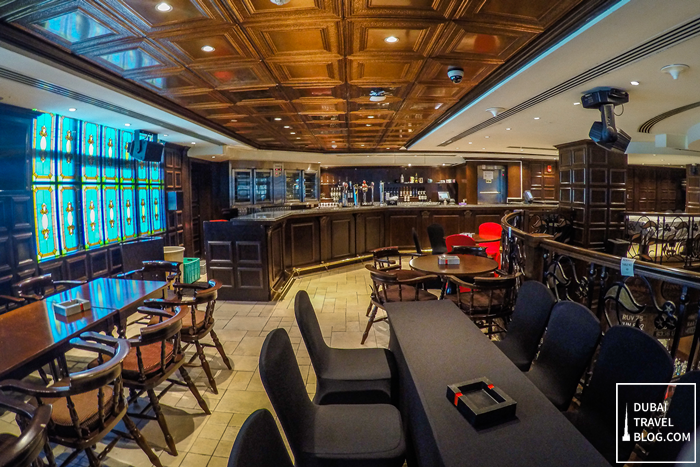 2nd floor bar and tables
Dubai Brunch Food
Double Decker offers cuisines from Wales, England, Scotland, and Ireland. We were given a quick tour by Chef Lal Tamang of the food choices displayed on their buffet stations. These food were prepared on wooden barrels and in keeping up with the theme, even the name tags were labelled in London Underground logos.

appetizers and salads

some of the main course options: breaded fish, buttered chicken, lamb stew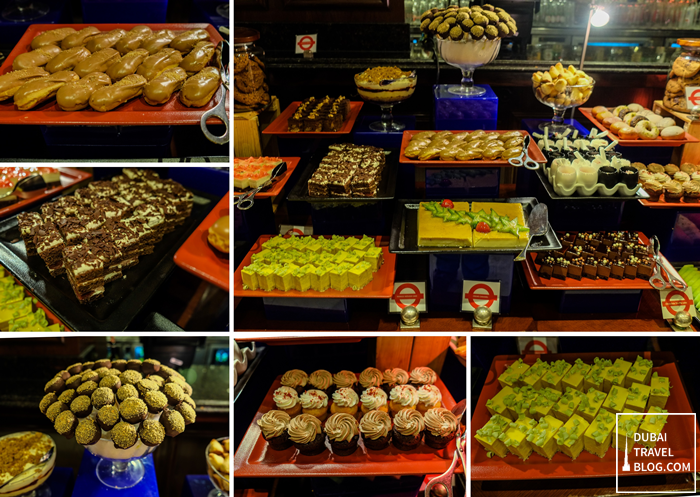 sweets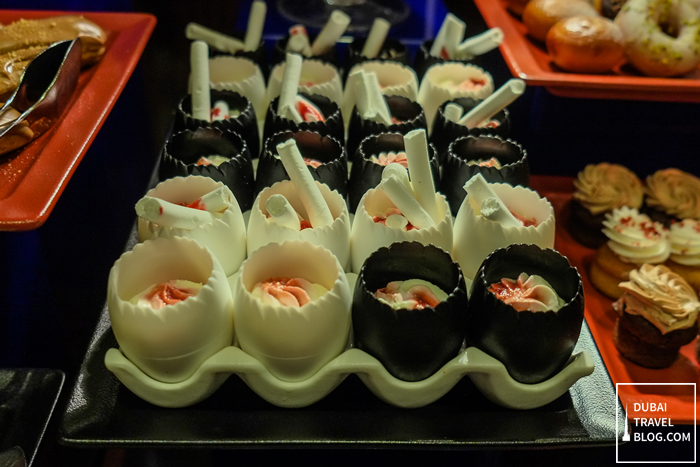 cigarette butts? nope, they're edible desserts (not the shells though)
Pork Station
There's no mistaking how appealing the main course, desserts and appetizers stations looked. But what caught our attention were the offerings in the pork station. The 15kg pork leg was undeniably the star of that station. There were also servings of pork belly with bacon and roasted potatoes, and pork sausages with onion rings. These meat could be delightfully paired with Yorkshire puddings, another English food staple.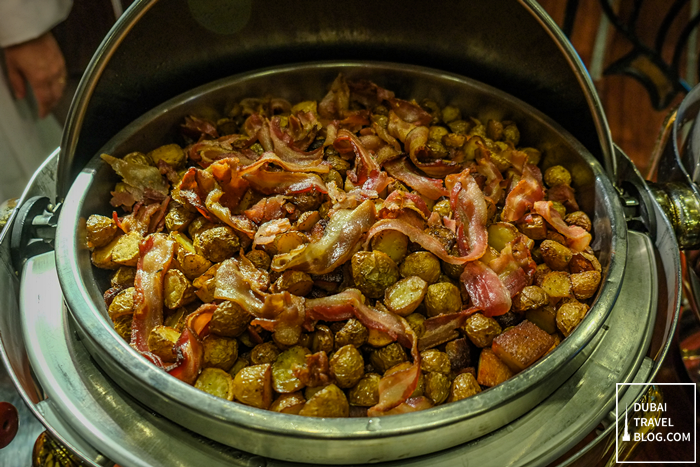 pork belly with bacon and potatoes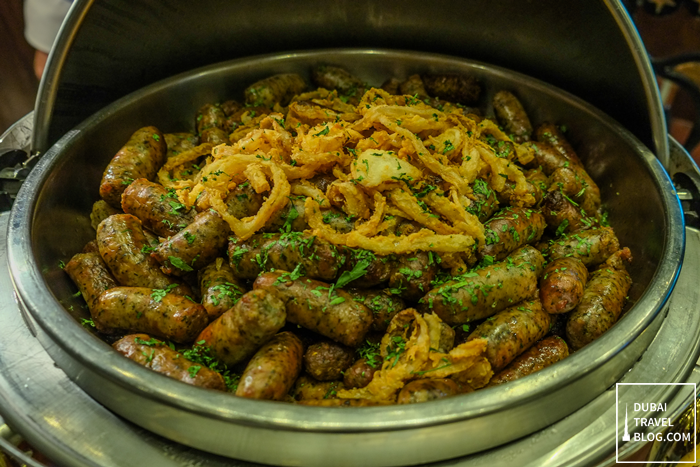 pork sausages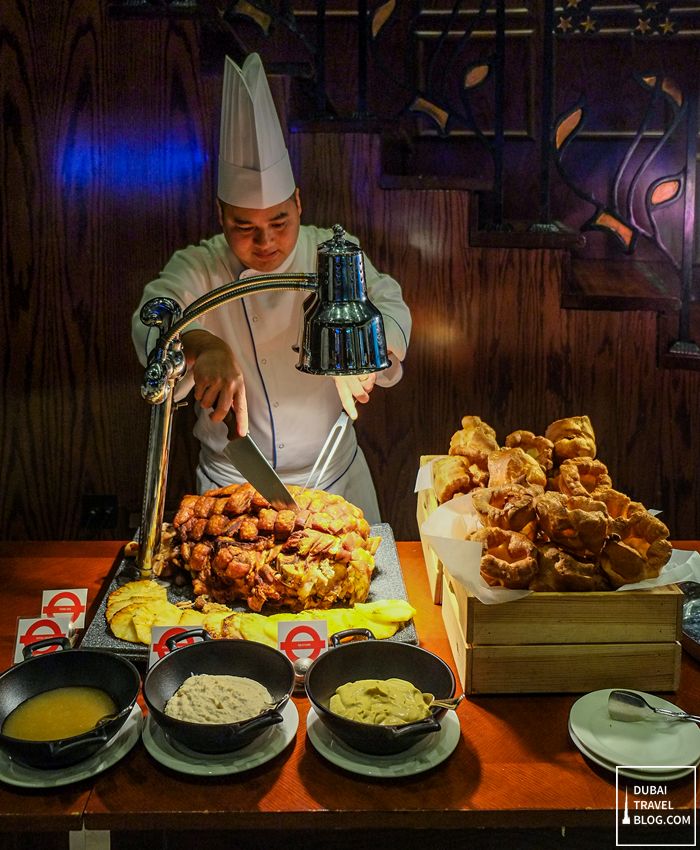 Chef Lal Tamang with the pork leg and on the side are some huge Yorkshire puddings
Relaxing Vibe, Chill Crowd
The vibe is different here compared to the usual 'luxury' set-up in Dubai. The crowd seemed more relaxed and less pretentious. I haven't been to clubs in Dubai, but people in Double Decker seemed more casual. We didn't feel like we were pressured to overdress and rarely did I see people taking out their phones for some selfies.
There were mostly British expats and everybody seemed to want to have a good time chatting with friends over unlimited beer and food.
The stained glass from the walls in the 2nd floor adds a moody effect to the overall ambiance. You might forget that it's actually daylight outside. Much more at 2pm when they turn the lights down. The DJ mixes upbeat tracks from both current and older genres, playing tunes that resonate well with adults and young-adults. You know she (the DJ) is doing a great job when everybody sings along to Sweet Child O' Mine.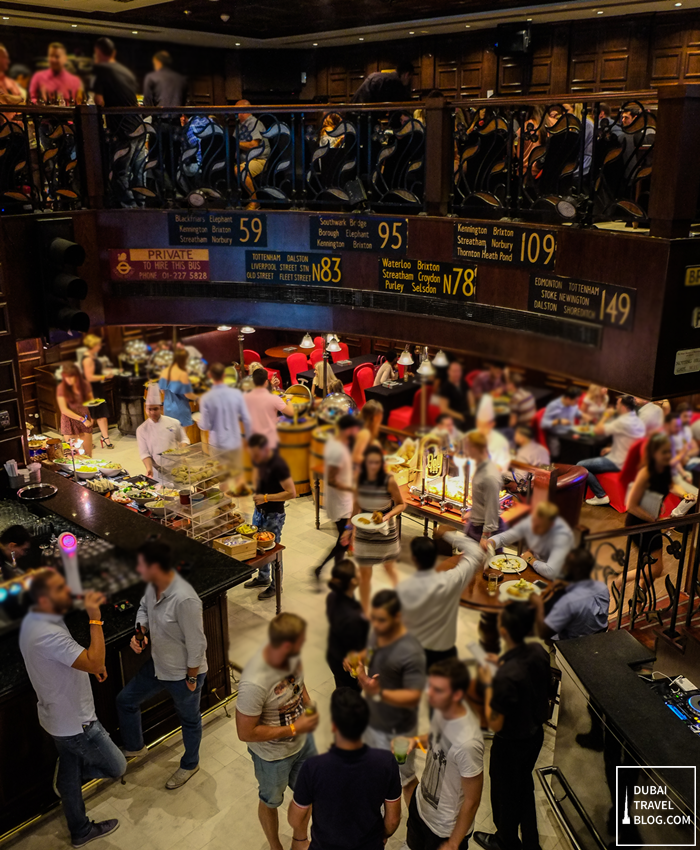 crowd that night err day.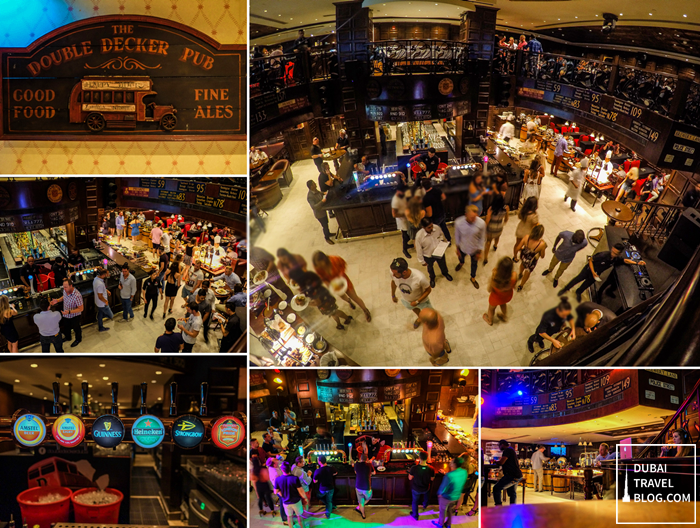 Buffet Brunch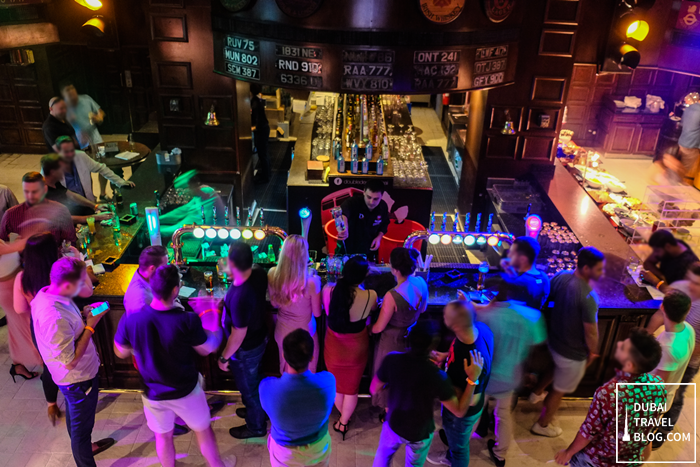 bar area
I haven't been to the UK, nor have I been to other European countries, so seeing the place first-hand gave me a glimpse of what to expect inside pubs if ever I get the chance to travel there.
Enjoy an amazing time with the pub's famous brunch featuring a sumptuous buffet of great traditional Double Decker treats including roast beef, Bangers and Mash, Yorkshire pudding, chunky beef stew, salad and dessert with unlimited selected drinks for AED 275* from 12.00pm to 4.00pm.

chefs at Double Decker

Double Decker staff
You might want to check Double Decker's Friday brunch in Dubai. It's currently at 275 AED per person and you have unlimited drinks on selected beverages (selected alcohol included) and food buffet. This is surely a party brunch to look forward to especially after a week of hard work.
Dress code: Casual.
Smoking is allowed.
Opening Hours: 12pm – 3am
*Price of buffet may change without prior notice. Be advised.
Contact Information
Website: rotana.com/rotanahotelandresorts/unitedarabemirates/dubai/almuroojrotana
Telephone Number: 04 321 1111
Faceboolk: facebook.com/DoubleDeckerDubai
Instagram: instagram.com/doubledeckerdubai
How to Get There
It is located in Al Murooj Rotana hotel in Downtown Dubai. Nearest metro station is Burj Khalifa/Dubai Mall metro (Red Line). Google Map location below: