We had a satisfying dinner during the launch of the Fusion Thai de Latino Night at Bambooda Restaurant. Located at the ground floor of Roda Al Bustan, this is a newly launched buffet happening every Thursday.
Also Read: Seafood Night at Pergolas in Roda Al Murooj
Bambooda primarily serves Thai food and when I found out about the theme, I initially wondered if the Thai and Latin American cuisine was a good combination, but it turned out quite well.
Alcohol: YES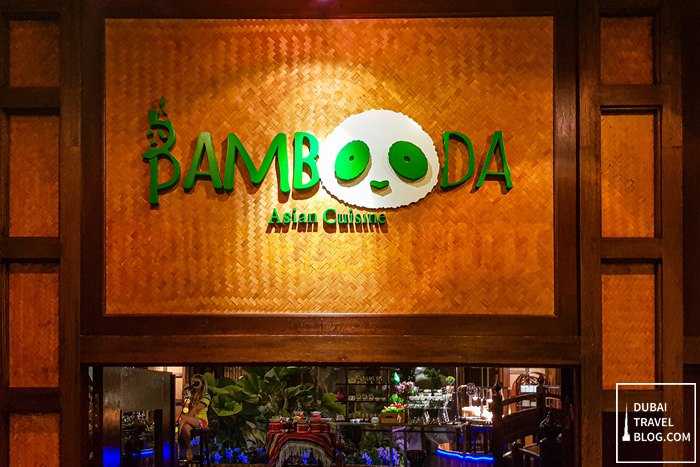 Bambooda Asian Cuisine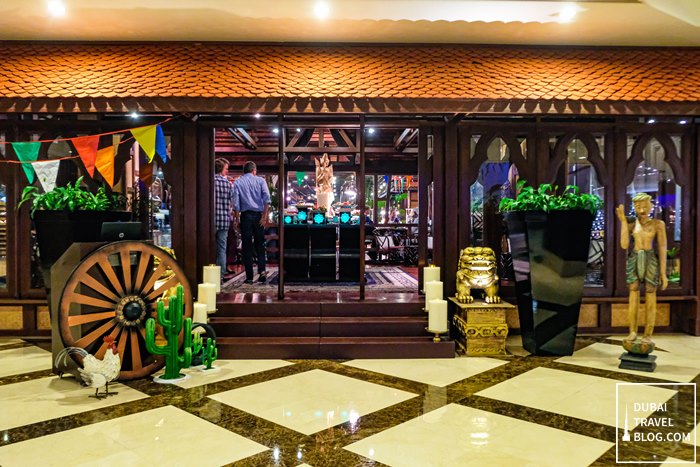 entering the restaurant
Bambooda Restaurant Dinner at Roda Al Bustan: Thai and Latin American Fusion
Upon arriving at the restaurant, I was delighted by the full display of desserts occupying the entrance area. They were quite colorful which made for a lovely invitation to a night of food and fiesta.
Traditional wooden furniture adorn the restaurant as well as a waterfalls, green plants and a stream filled with koi fishes.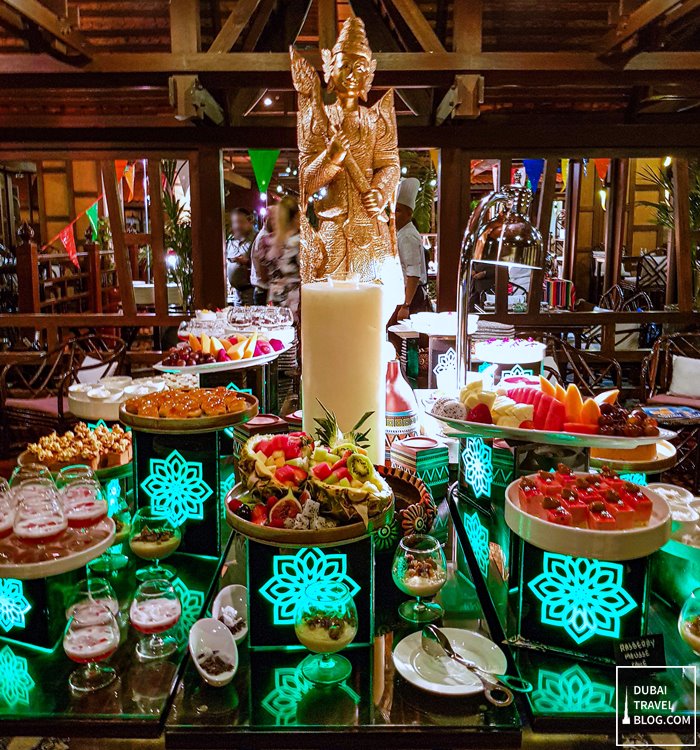 desserts come first when you enter Bambooda restaurant during the Thursday buffet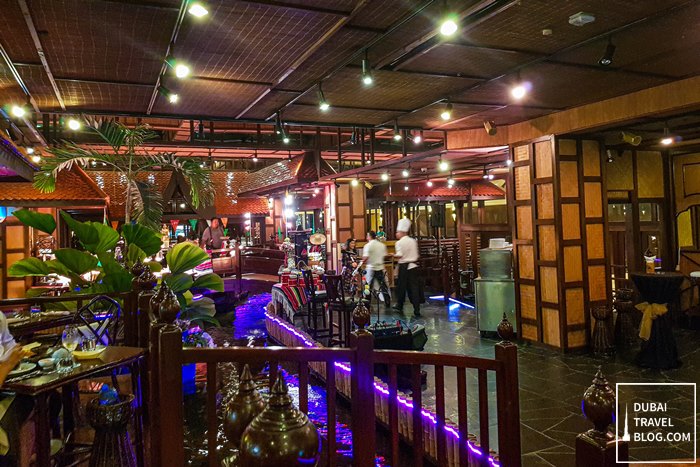 traditional wooden design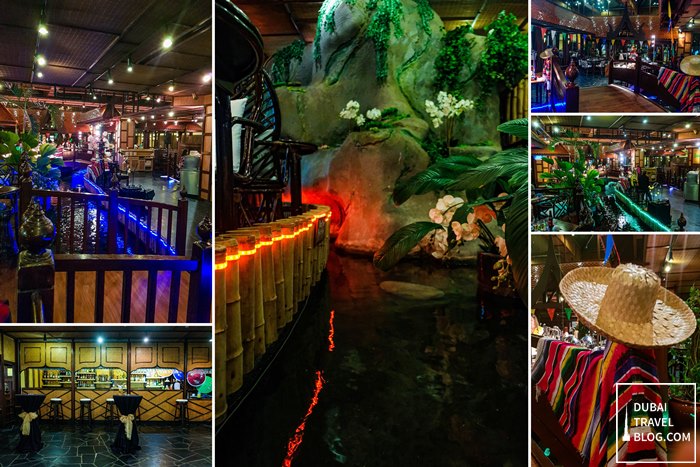 Bambooda
Salads, Finger Food, Tacos, Ceviche
The Thai de Latino Night presentation and set up is like a street market so there are different stations offering small portions of each dish.
There were a selection of delicious fried finger food such as tuna and beef empanadas, crispy squid, and crispy fish fingers. There's a taco station, a salad bar and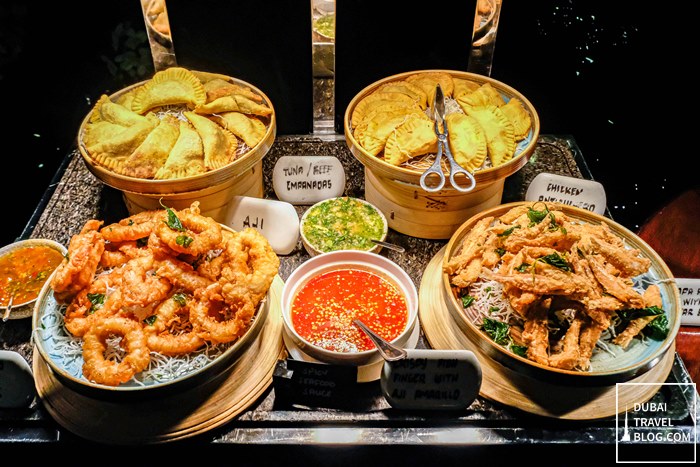 fried finger food: empanadas, crispy squid, crispy fish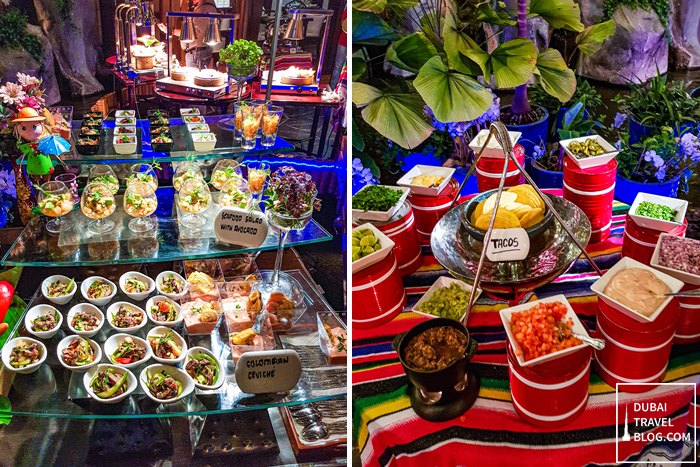 salads, ceviche, tacos!
BBQ Station, Main Course Items
There's a live BBQ station where you can have some prawns, shrimps, chicken and beef skewers grilled.
I especially loved the beef ribs. This was the main highlight during that evening.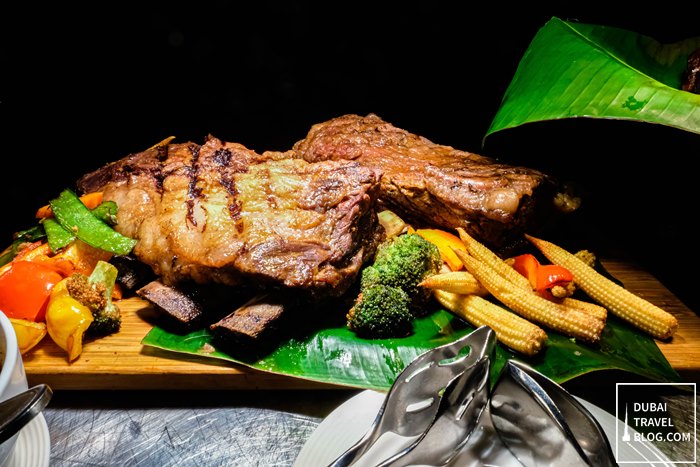 beef ribs – really enjoyed this!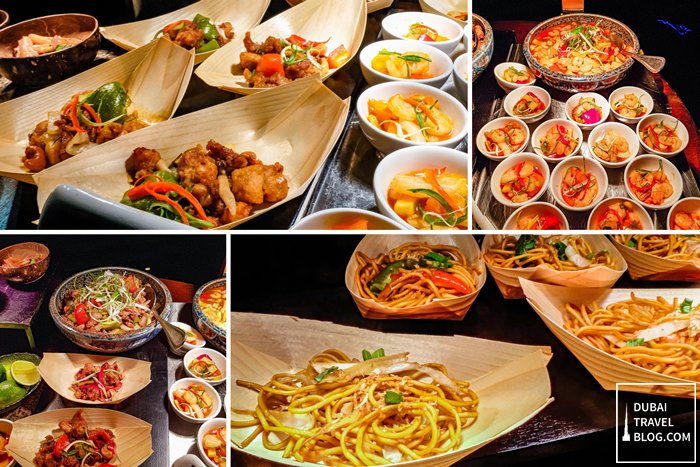 beef, deep fried shrimps with sweet & sour sauce, chicken, noodles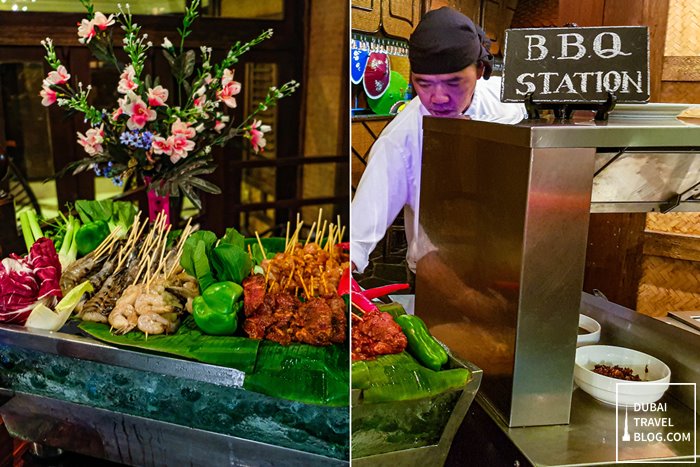 live BBQ station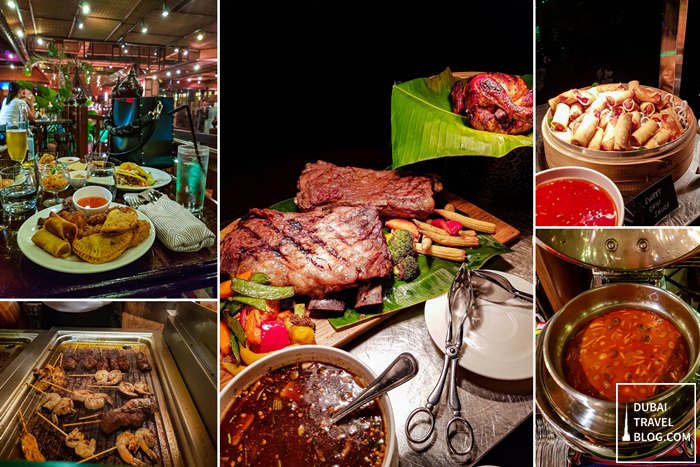 enjoying the food items
Dessert Station
Lastly, as I've mentioned, the desserts looked really well-displayed and offered a variety of delicacies including mango sticky rice, water chestnuts in coconut milk, fresh fruits, tres leches, and churros.
I had to restrain myself from getting more than one serving from a few of the selected sweets.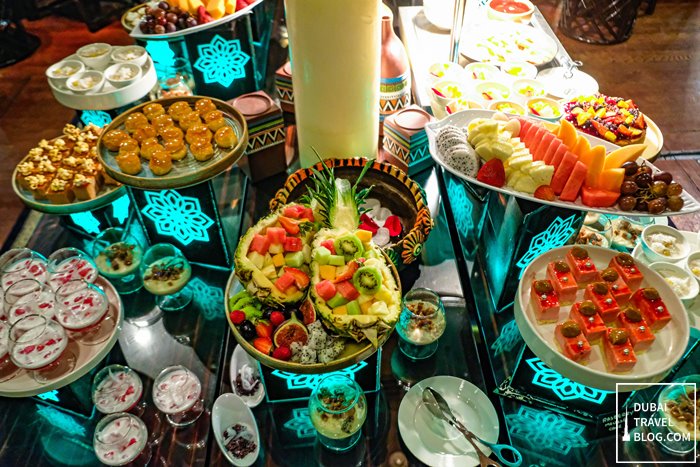 variety of fruits displayed in a colorful presentation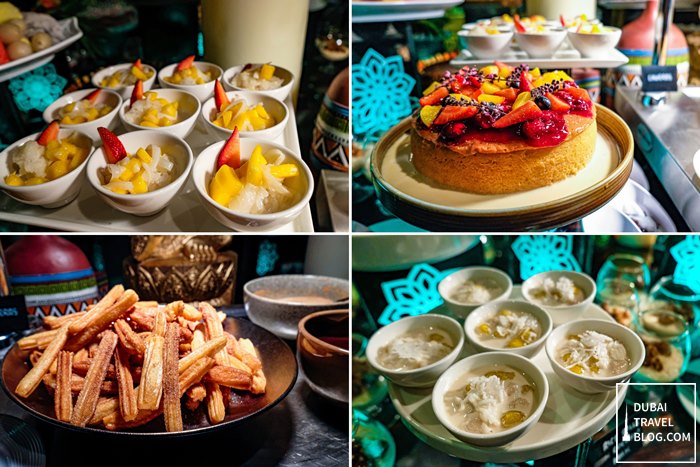 mango sticky rice, tres leches, churros, rice pudding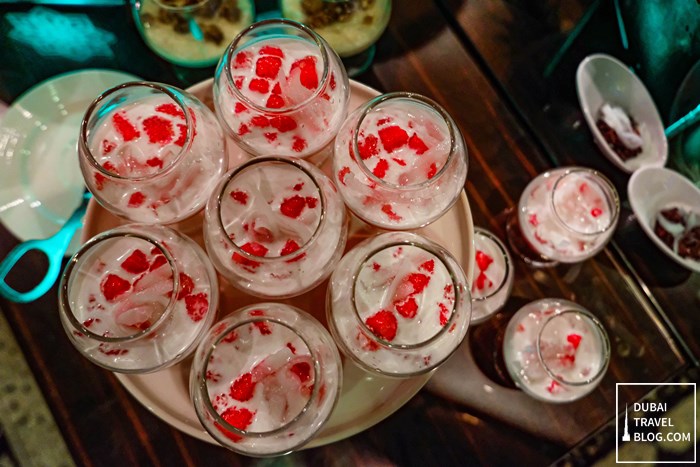 Tab Tim Grob – water chestnut Thai dessert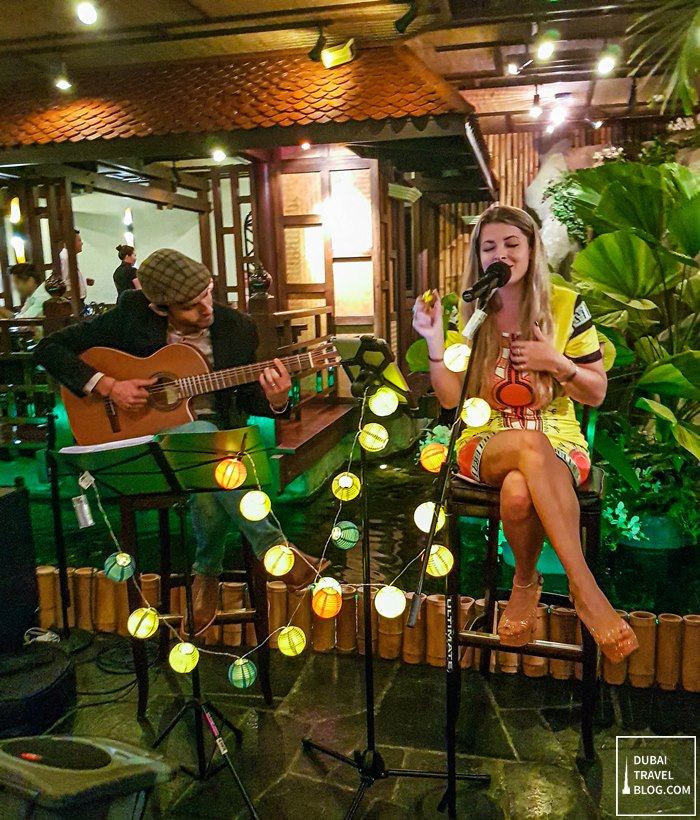 live band playing Latin hits
Cocktail Drinks
The dinner buffet costs AED 175 per person and comes with soft beverages. If you wish to upgrade to include alcoholic drinks, you may do so with their unlimited package..
It's great that they have a variety of custom cocktails inspired by Thai and Latin American influences. We were able to sample the rum-based Latino Mojito, and the Spiced Stinger.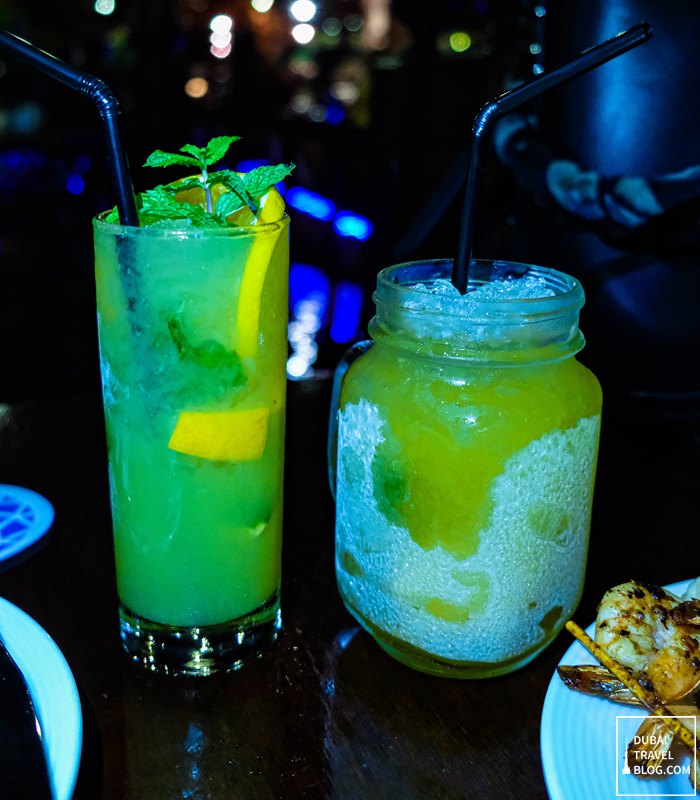 Latino Mojito
Rum, Tequila, orange, mint leaves, lime, orange and lime juice, with ginger ale
Spiced Stinger
Vodka, passion fruit, kaffir lime leaves, galangal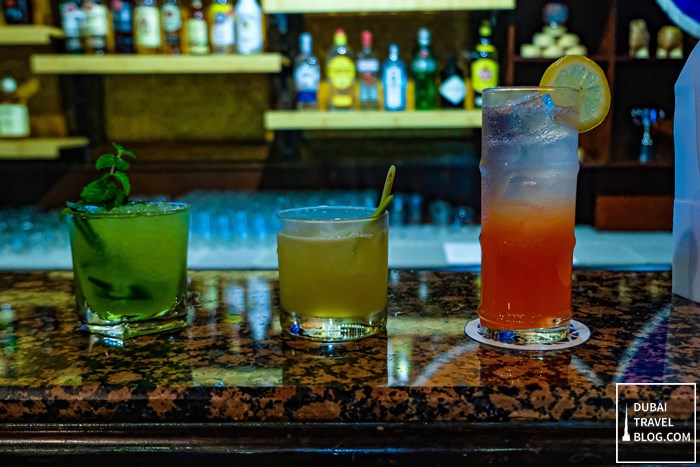 cocktail drinks at Bambooda
What stood out the most for me were the seafood cakes, beef ribs, vegetable spring rolls, tacos, and grilled skewers, mango sticky rice, water chestnuts.
It was a night of fun, food and music as we enjoyed the appetizing food and delectable sweets.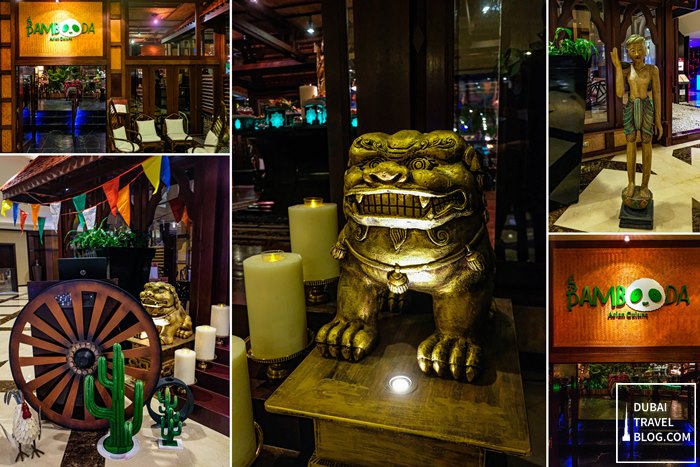 Bambooda Restaurant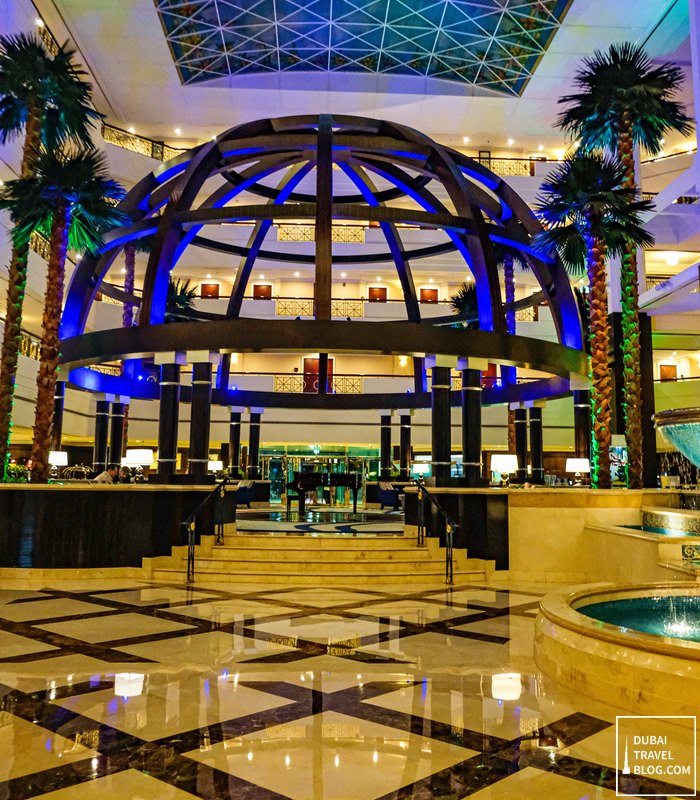 lobby of Roda Al Bustan
Presenting Thai De Latino Night!
Bringing to you the finest flavours from Thai to Latin American cuisines with a street market style twist. Join us on a culinary journey as you groove to the tunes of lively music in a tropical setting.
Every Thursdays from 6.30pm at Bambooda restaurant.
From only AED 175
AED 85 per child (6-12 years old) Special beverage package available on request.
For bookings, please call 04 705 4660
– Roda Al Bustan
Contact Information
Bambooda Restaurant Asian Cuisine
Address: RODA Al Bustan – Casablanca Road, Al Garhoud, P.O. Box 30880, Dubai, United Arab Emirates
Telephone Number: +971 4 282 0000
Website: roda-hotels.com/al-bustan
Instagram: @rodaalbustan
Facebook: @RodaAlBustan
Twitter: @rodaalbustan
Google Map Location
Below is a map guide to the location of RODA Al Bustan. The restaurant is located at the lobby of the hotel.