My wife and I had a late night dinner at Teatro Dubai on a Wednesday evening. Located at the 3rd level of Towers Rotana on Sheikh Zayed Road, this restaurant offers an international menu with focus on Japanese, Chinese, Indian, Thai, and Italian cuisine.
Before our visit, I read a few reviews and blogs about Teatro and I got intrigued especially after seeing pictures of their wine cellar. Much more after I found out that they have been in business for 19 years! They've been around since 2001. Just goes to show that they've withstood the ever changing and, at times, short-lived culinary landscape in Dubai.
Alcohol: YES
"Where Eastern cooking meets Western cuisine" is the restaurant's tagline.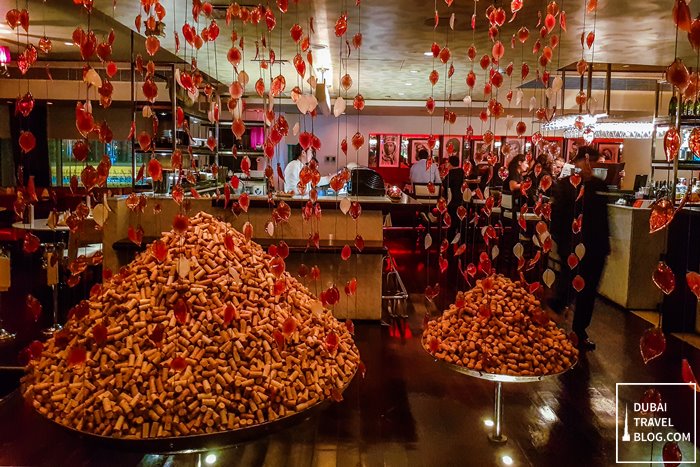 cork collection in Teatro Dubai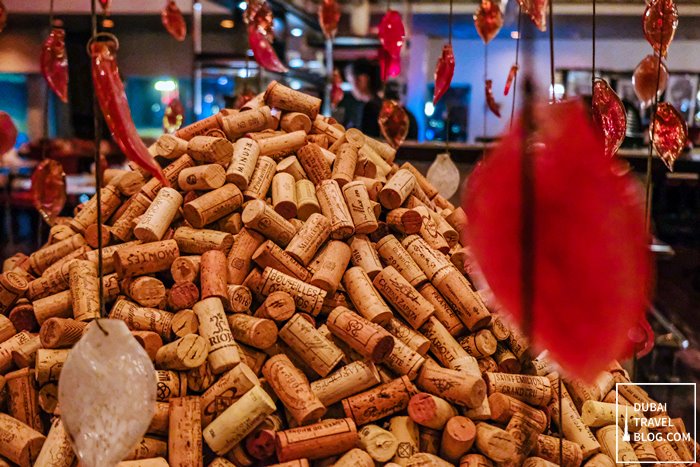 corks
Restaurant Review: Dining at Teatro Dubai in Towers Rotana Hotel
Teatro Dubai surrounds the whole 3rd floor of Towers Rotana hotel and as you enter the restaurant, you will be greeted by a huge cork collection displayed in both areas which shows that they take their wine seriously. The interiors resonate that of a "theater" and walls are designed with hanged frame portraits of Hollywood actors and actresses from an older era.
We had a wonderful date night as its dim lighting set up for an intimate dining experience and opened up for comfortable conversations that lasted the rest of our evening.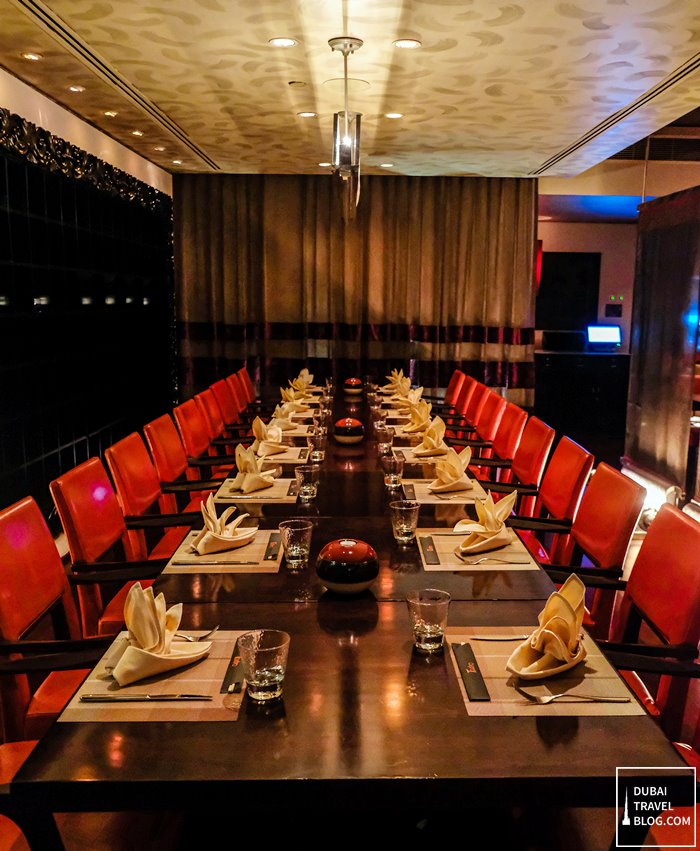 long table for a big group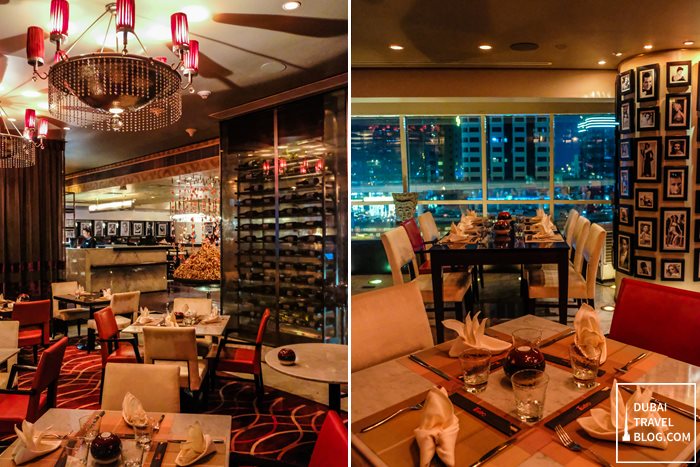 intimate lighting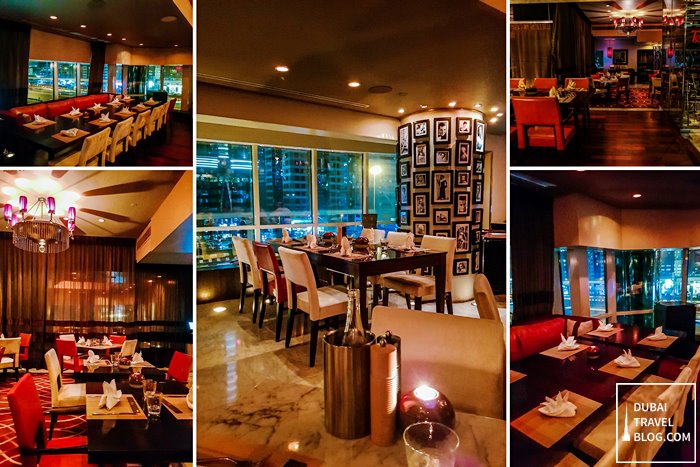 inside the restaurant on the 3rd level of Towers Rotana
Appetizers / Starters
As this was our first time in the restaurant, we took time in choosing from the variety of cuisines on the menu. We also asked for assistance from their team and Aimee mentioned a few of the top picks.
We ended up getting their all-time favourite which is the Wasabi Tempura. We also ordered one of the best-sellers of their sushi which is the Spicy Crunchy Tuna. We loved both of these dishes.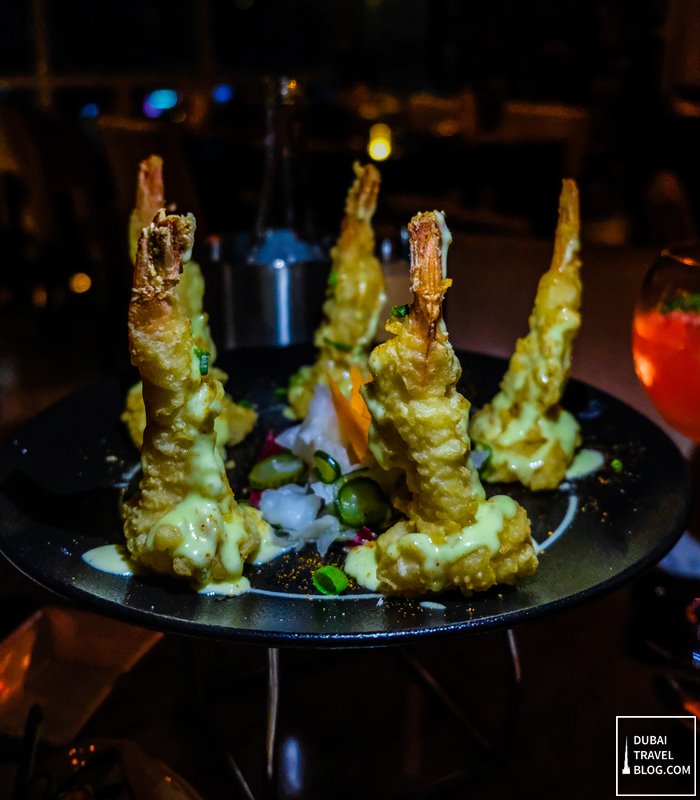 Wasabi Tempura – 96 AED
Tempura battered prawns with wasabi coating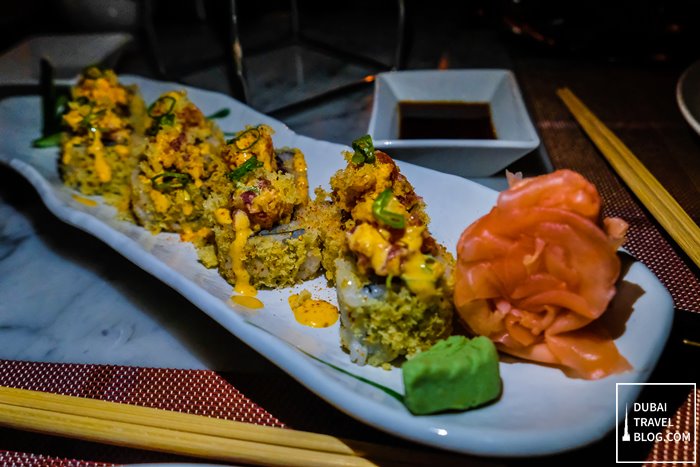 Spicy Crunchy Tuna – 70 AED
Tuna, cucumber and tanuki
Main Course
For main course, we also requested their recommended dishes and we chose a Sea Bass and the Veal Chop Milanese.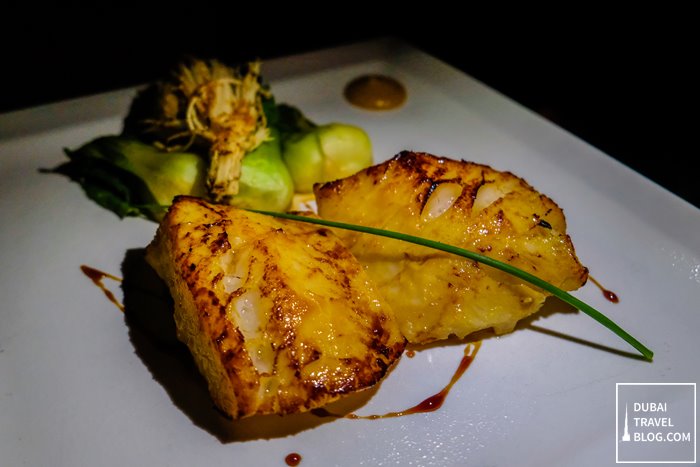 Miso Sea Bass – 220 AED
Chilean sea bass marinated with miso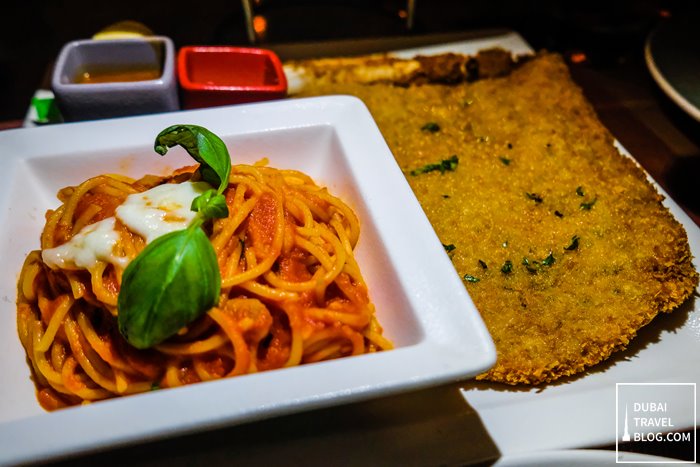 Veal Chop Milanese – 195 AED
Parmesan coated veal chop served with burata, spaghetti in tomato basil sauce
Desserts
For dessert, my wife and I sampled their sizzling chocolate brownie. The chocolate sauce sizzles on top of a hot skillet. We noticed that every table was ordering this dessert.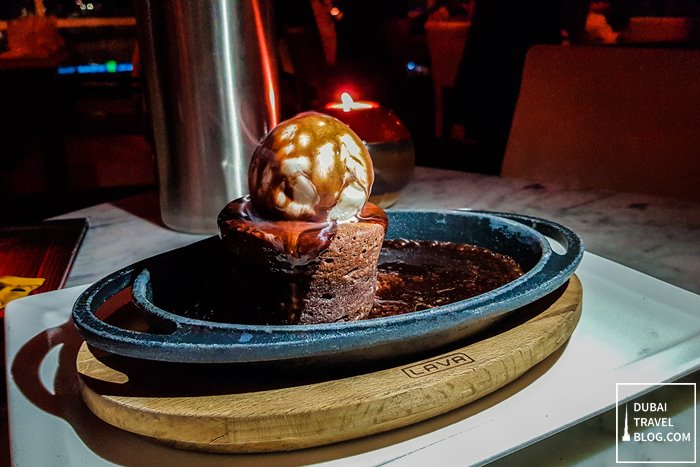 Sizzling Chocolate Brownie
Drinks
Teatro has a lot of drinks. From soft beverages to wines, cocktails, beers, etc. Their drink menu is quite extensive. After all, they wouldn't have a room full of wines if they don't offer a variety.
I ended up ordering their Teatro Signature Mojito as I'm fan of rum-based fruity drinks, while my wife enjoyed her Espresso Martini.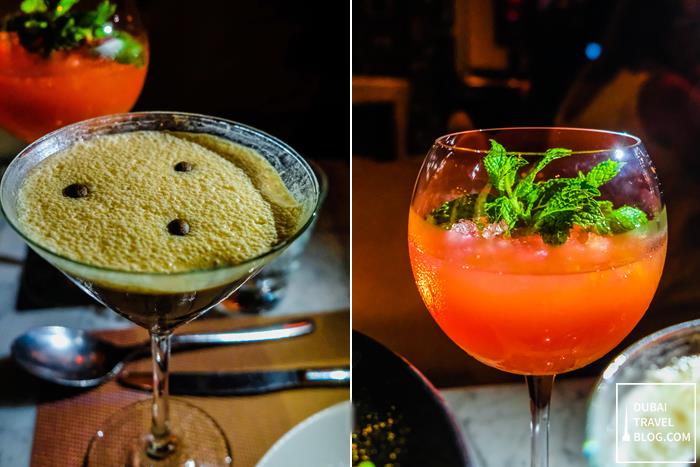 Espresso Martini – 69 AED
greygoose, kahlua and espresso
Teatro Signature Mojito – 72 AED
bacardi white, cointreau, passion fruit puree and watermelon juice
Wine Cellar
As I mentioned, one of the main highlights of this restaurant (aside from the food) is their walk-in wine cellar. It is made up of an enclosed glass and the well-stocked wines are symmetrically displayed showcasing a diverse variety of labels for you to choose. It's quite a feast to the eyes just go inside.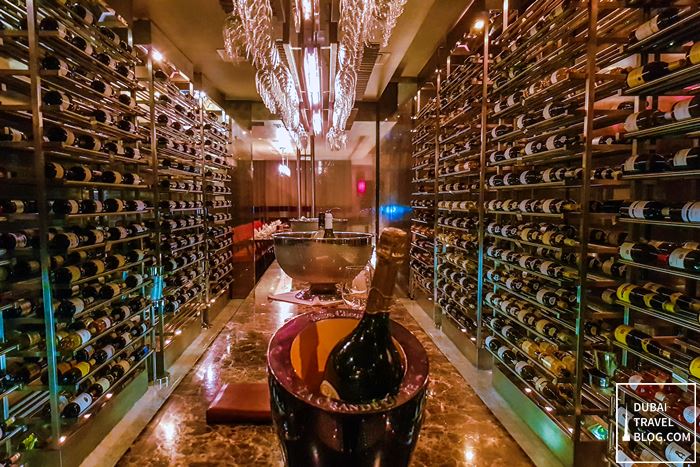 room full of wines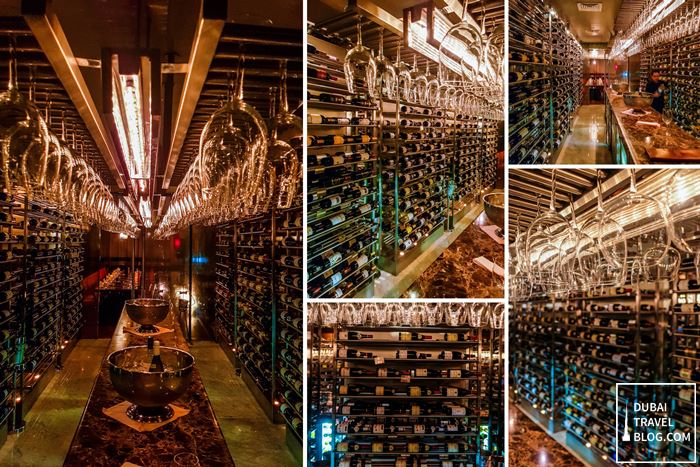 wines of various labels from around the world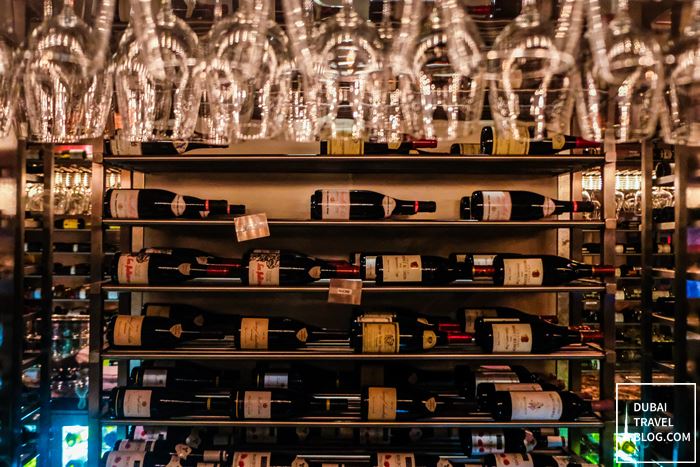 wine cellar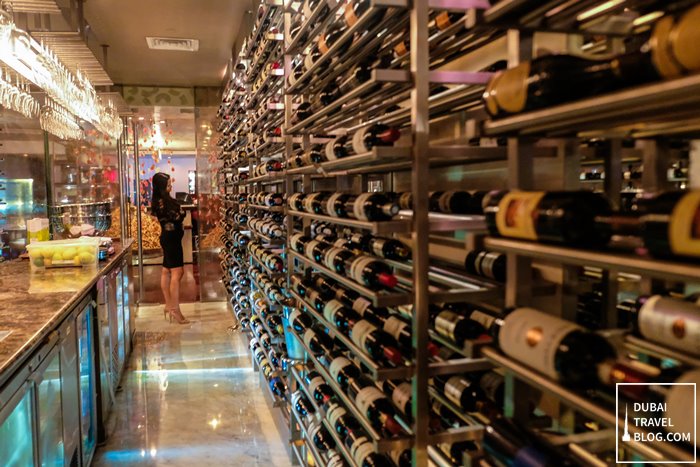 my wife in her element 😉
With 19 years in its belt, it's great to know that there are restaurants that can last this long and Teatro has definitely proved this idea.
It's highly recommended that you book a reservation in advance. Dress code is smart-casual (no flip-flops, shorts or sleeveless shirts).
28 Photos of Teatro Dubai
Check out these pictures of Teatro Dubai based on our experience:
Spend AED 699 in Towers Rotana Restaurants & Get a FREE Stay
Guests who dine and spend AED 699 in Teatro or any of the restaurants in Towers Rotana will get a complimentary one-night stay at one of Rotana's UAE hotels & resorts. This is quite a good deal, especially for those who want to have a relaxing break this summer. You may check out more details about this promo when you click here.
Note: We were invited as guests to Teatro Dubai. All opinions are my own.
Contact Information
Teatro Dubai
Address: Level 3, Towers Rotana, Sheikh Zayed Road, Trade Centre Area, Dubai
Hours: 7pm to 2am
Telephone Number: +971 4 312 2202
Website: https://www.rotanatimes.com/towersrotana
Instagram: @Towers_Rotana
Facebook: @TowersRotanaHotel
Twitter: @TowersRotana
Google Map Location
Below you can find the location map guide to Teatro Dubai. The nearest metro station is Financial Metro Station (Red Line).