My wife and I spent 3 days and 2 nights at Nour Arjaan by Rotana in Fujairah.  This is a four-star luxury hotel apartment located along the main road in the emirate of Fujairah and is a 2-hour bus ride from Dubai. If you travel via private vehicle, you can reach the hotel a little over an hour's drive.
This was our first time to visit the emirate and upon arriving,  it gave us a very laid back vibe which is great for a relaxing vacation. The city is located at the east coast of the UAE.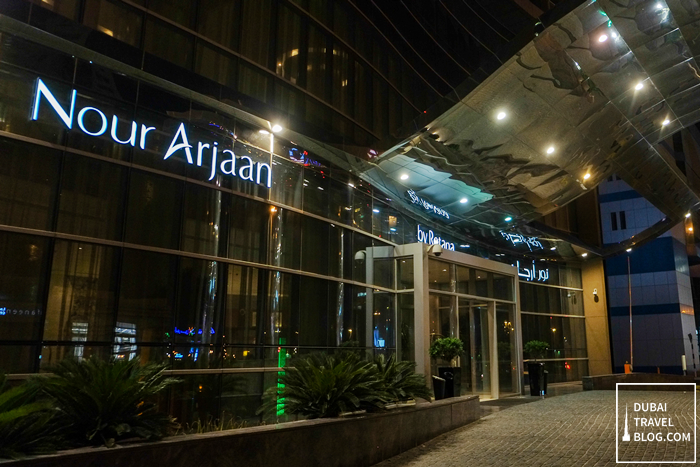 Nour Arjaan by Rotana – Fujairah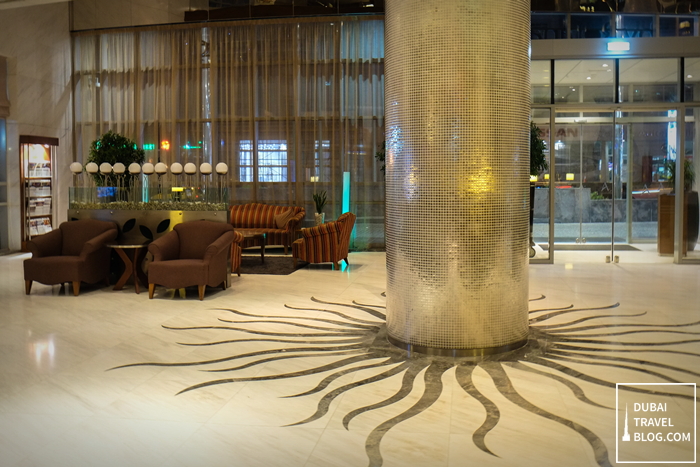 hotel lobby
Nour Arjaan by Rotana Luxury Hotel Apartment in Fujairah
We were able to check in their other chain (Burjuman Arjaan) and we were glad to have stayed there. This hotel apartment in Fujairah wasn't any less of an experience.
Upon arriving at the hotel lobby, the staff quickly assisted us and made us feel comfortable. We were directed to our room right away.
Bedroom
My wife and I were pleasantly surprised by the arrangement in the bedroom prepared by the staff. Petal roses on the bed in the shape of a heart and some were scattered on the floor and room. This was a lovely romantic  touch which really exceeded our expectations and provided a memorable hotel experience.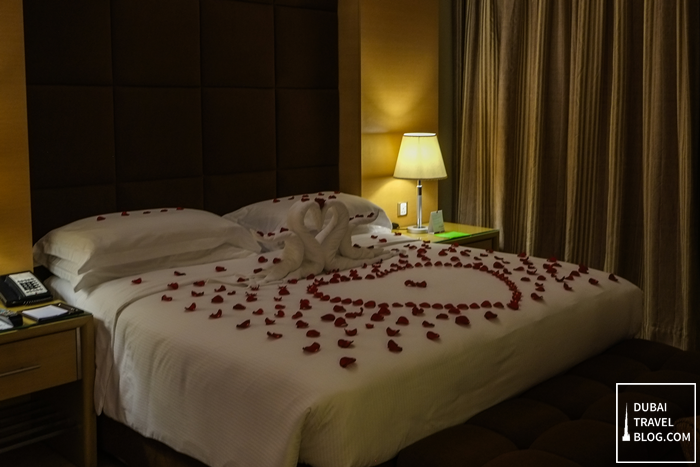 rose petals on the bed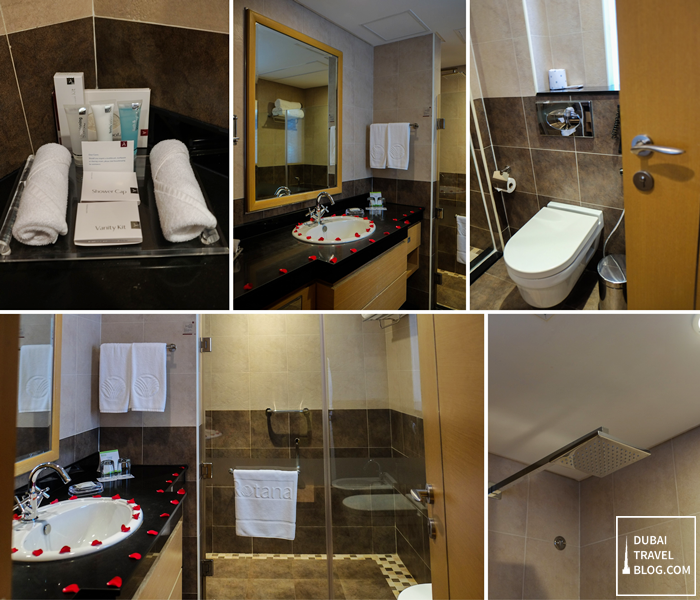 Shower and toilet with prepackaged toiletries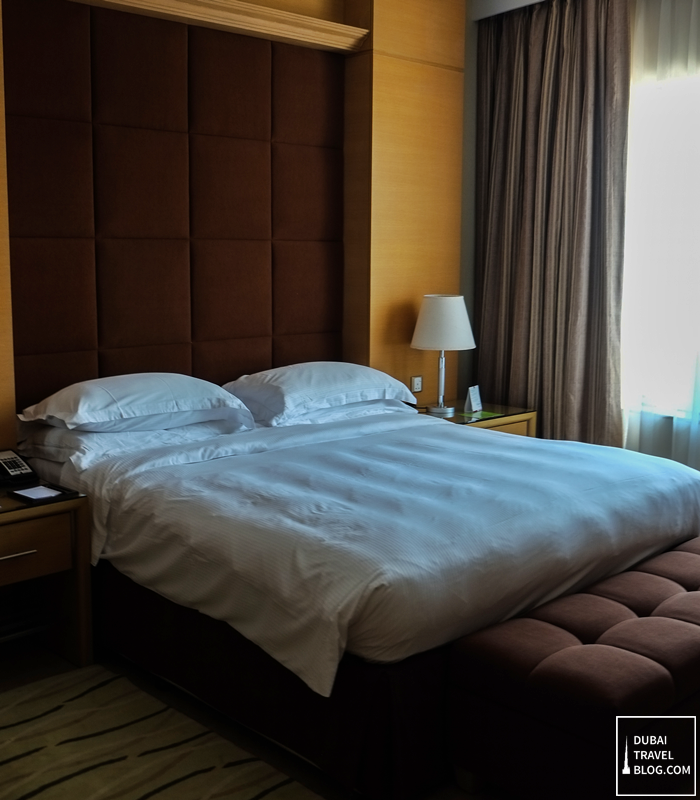 very comfortable king-size bed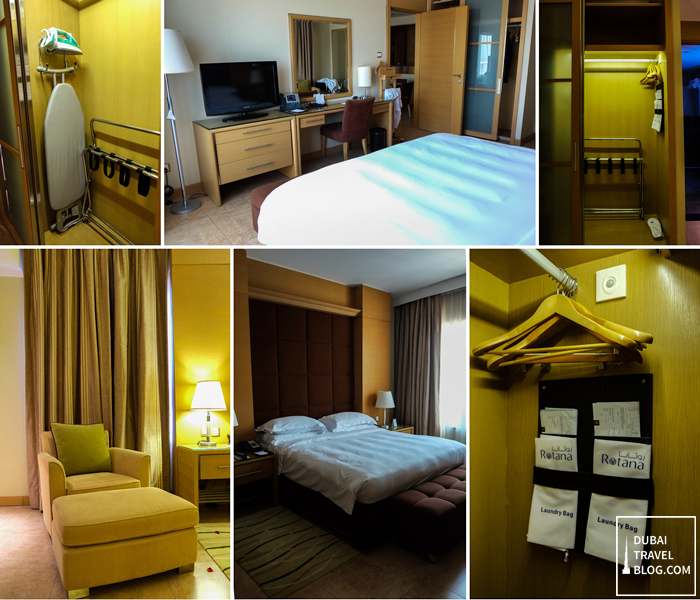 bedroom
Kitchen, Dining Area & Living Room
Nour Arjaan is a hotel apartment that has a spacious living and dining area. So if you have plans of preparing some dishes, you may do so. Don't worry if you forget some cooking ingredients as there's a Lulu hypermarket in front of the hotel.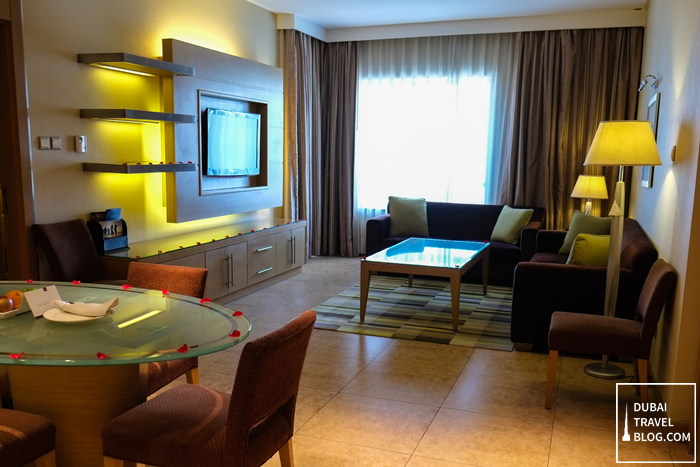 living room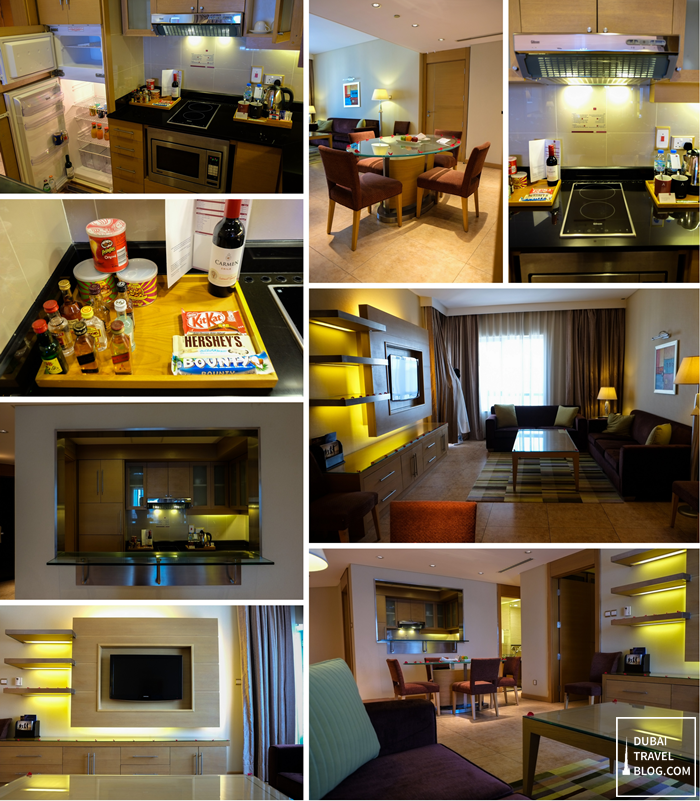 spacious kitchen, dining and living room
Bodylines and Fitness center
Here's a peek at the gym area of Nour Arjaan. They have ample equipment for cardio and strength training. They also have a sauna and steam bath available.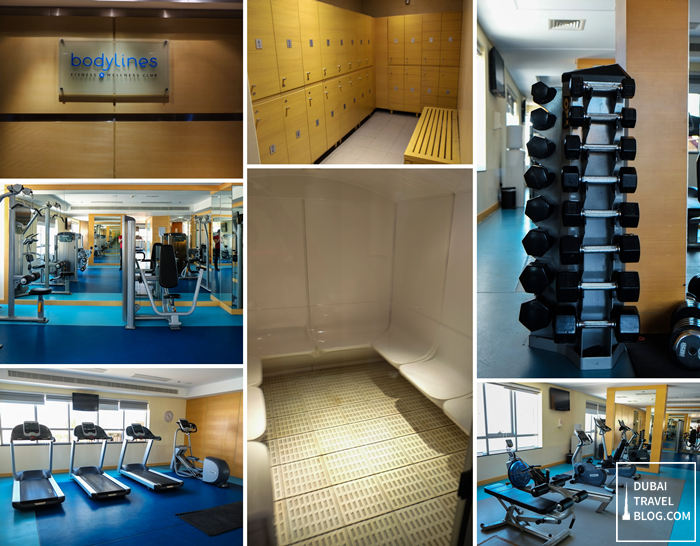 Bodylines Fitness & Wellness Center
We tried to schedule a massage spa session  but it was fully booked at the time. If you have plans to get a massage, better if you call for reservation early.
Kids Play Area
For families bringing their kids, you can drop by their kids room where your children can have fun playing. The size of the play area is modest, but it's great that Nour Arjaan offers these amenities for families on vacation.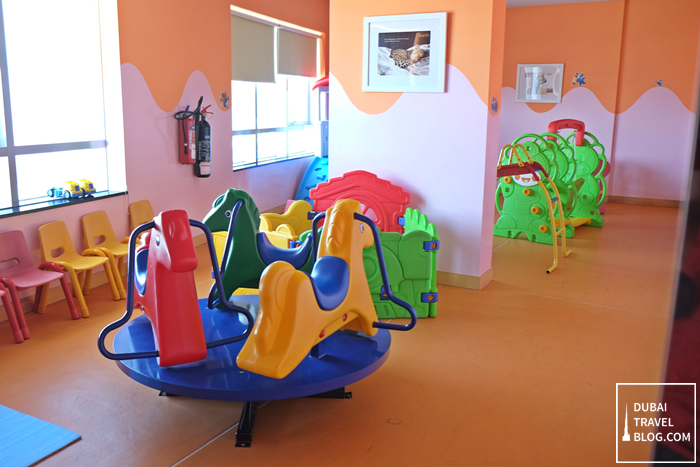 Flippers Kids Club
Murjan Restaurant
For the whole stay, we ate at Murjan restaurant located at the 1st floor. They offer breakfast, lunch, and dinner buffets that range from Arabic, Asian, Italian and International cuisines.
I'll write a more detailed review in another blogpost, but the offered dishes were very appetizing and something we didn't expect to be quite good.
UPDATE: You can view the blogpost feature here – Dining at Murjan Cafe & Restaurant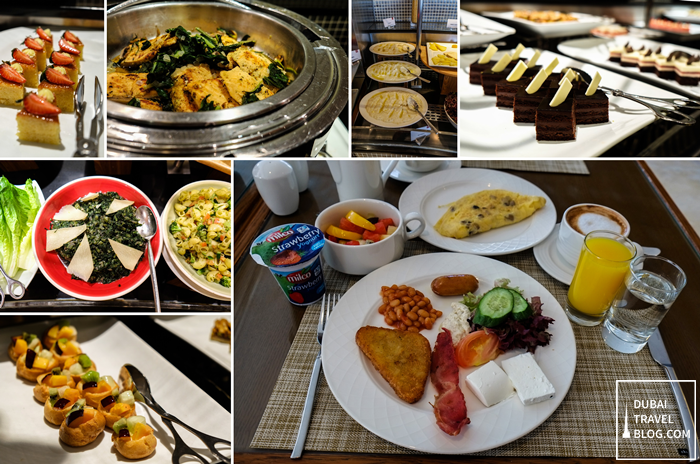 breakfast lunch and dinner at Murjan resto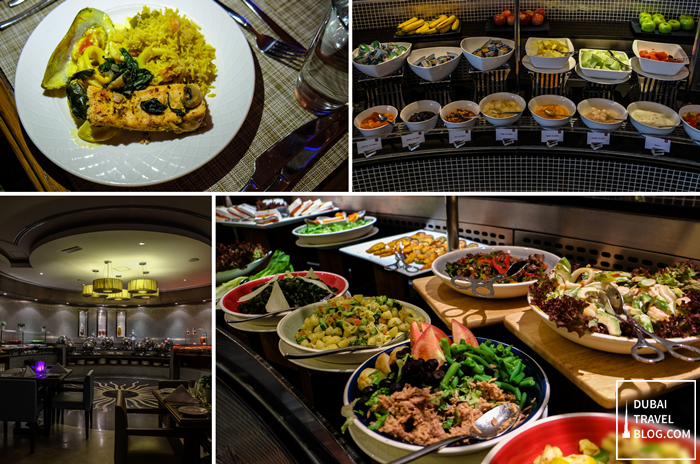 great selection of international menu
Pool and Aquarius Bar
The pool deck offers an interesting view of Fujairah. We didn't swim in the pool and opted to lie on the sun decks to soak up some rays.
If you're craving for the beach, you can ask the reception to schedule a service to take you to their partner resort which is around 45 minutes from the hotel.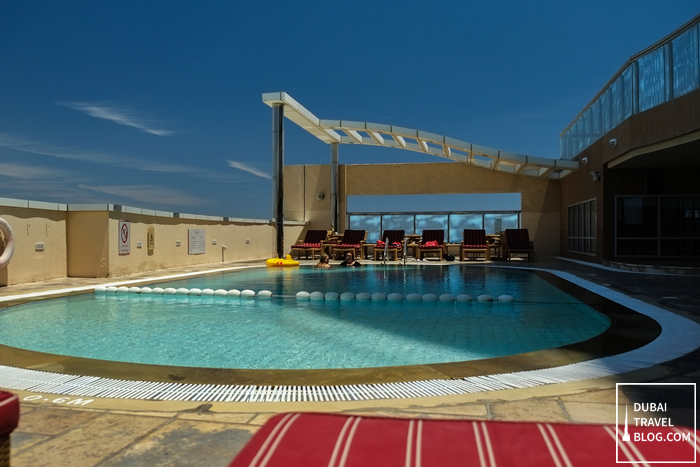 pool and Aquarius bar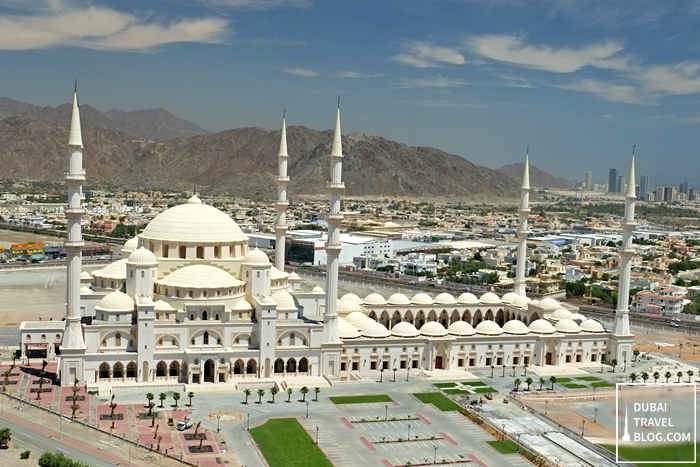 view of the Sheikh Zayed Majlis from the pool deck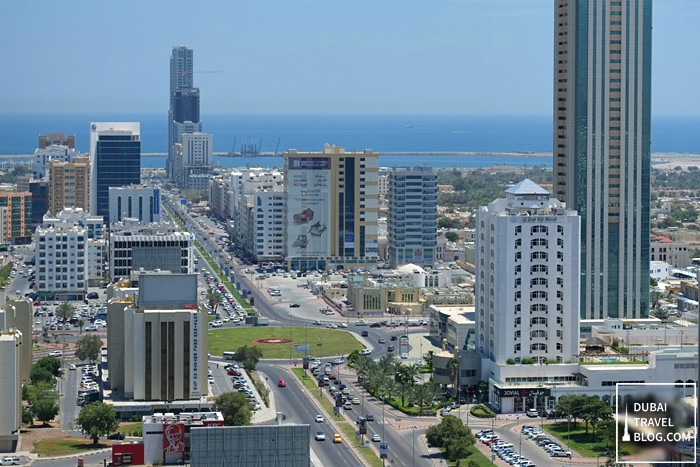 view of Fujairah
DIY Afternoon Tour of the City
Since my wife and I were new to the emirate, we did a very short afternoon tour of the nearby Corniche beach and the Sheikh Zayed Majlis. We hired a taxi to take us to these places. Will write about our experience in another blogpost.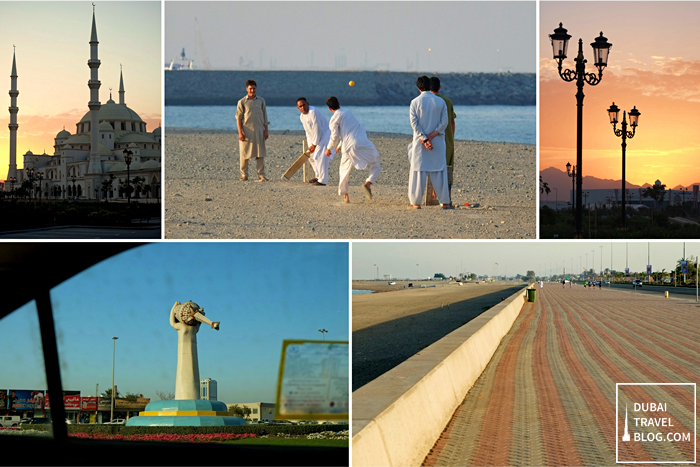 short tour of Fujairah via taxi
The hotel is a great place to check in for business travellers as it is located at the main district of Fujairah. Nour Arjaan provides a great experience for couples or families on a vacation.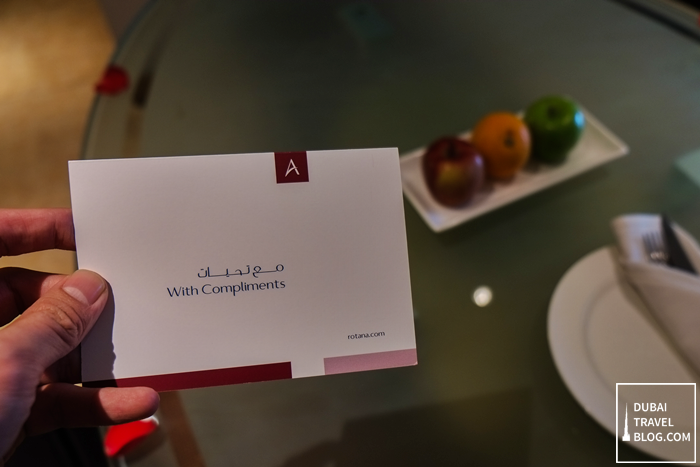 with compliments – from Nour Arjaan
Nour Arjaan by Rotana, Fujairah is a new level of contemporary luxury, style, design and cuisine for business and leisure travelers. Set amid Fujairah's exclusive areas and rich cultural attractions, Nour Arjaan by Rotana provides ideal accommodation solution for long-term business travelers and families with its state-of-the-art technology and facilities. Nour Arjaan by Rotana is ideally located close to several tourist attractions such as Fujairah city center less than five minute drive and Fujairah open beach at a 5-10 minute drive.

– Nour Arjaan website

Nour Arjaan Fujairah, UAE
How to Get There
We took a bus from the Union bus station (outside Union metro station). Fare is 25 AED for the hour ride. Just tell the driver you will stop at the Etisalat bus stop.
Upon going back, we hired a taxi cab where you can pay 40 AED per person  (maximum of 4 persons) to have a faster ride from Fujairah to Dubai. It took us just an hour to get  back. The taxi station is located on the same main highway. Tell the driver to drop you off at the bus station near Choithrams supermarket.
Note: Airport transfers by the hotel can also be scheduled.
Contact Information
Website: http://www.rotana.com/arjaanhotelapartments/unitedarabemirates/fujairah/nourarjaanbyrotana
Address: Hamad Bin Abdulla Street – Fujairah
Telephone number: +971 9 202 5555
Facebook: https://www.facebook.com/NourArjaanByRotana
Twitter: https://twitter.com/nourarjaan
Instagram: https://www.instagram.com/nourarjaan
Google Location Map