We had a lovely dinner at Arabesque Cafe at Arjaan by Rotana in Dubai Media City. We arrived on a Wednesday night and found out that the buffet spread highlight had a barbecue theme.
Arabesque Café offers buffet theme nights from Sunday to Thursday where every night has a different type of cuisine. The friendly staff greeted us upon arrival and brought us to our table.
Arabesque Cafe Barbecue night
Arjaan hotel by Rotana
Arabesque Café at Arjaan by Rotana in Dubai Media City
Having tried a number of buffets in Dubai, whether it be during brunch or dinner, we decided to take our time instead of heading to the food area right away. At around 7pm, there was plenty of time available since the buffet closes at 10:30pm. We ordered a pot of Moroccan tea.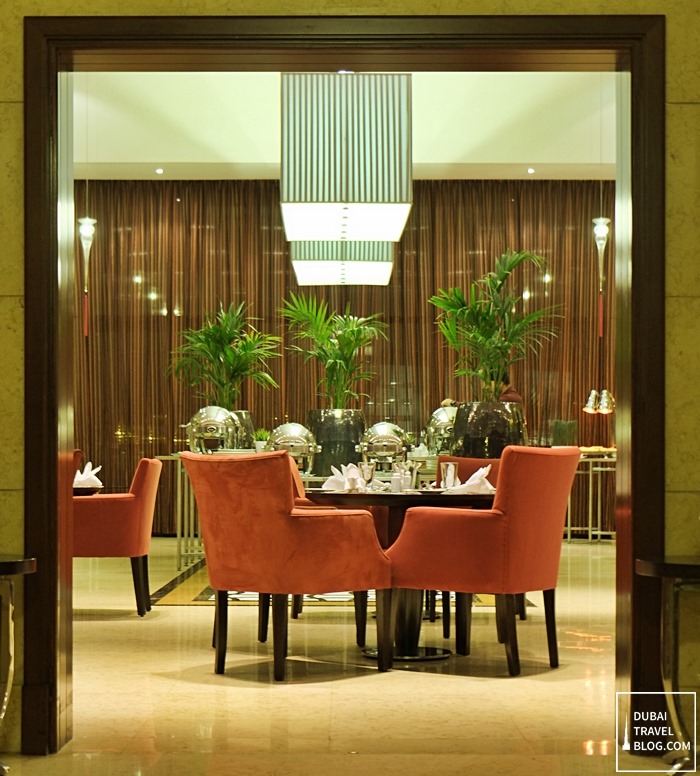 view from the elevator lobby of the hotel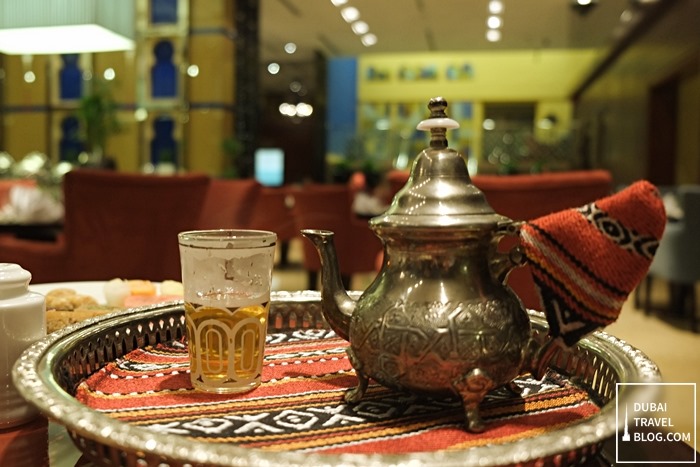 Moroccan tea before we head to the buffet area
Spacious Restaurant for Private Dinners and Small Events
This was our first time to visit Arjaan by Rotana hotel and we were delighted by the ambiance of the restaurant. Arabesque Cafe has very high ceilings which makes the place very spacious.
The staff mentioned that some areas had long tables prepared because of a number of guests they were to serve the next day. The restaurant can handle private dinners and small events as needed. Better call them if you wish to reserve.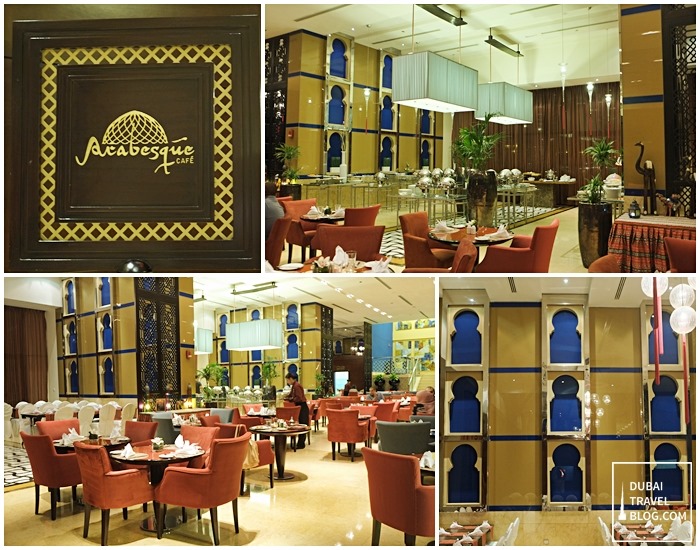 inside the restaurant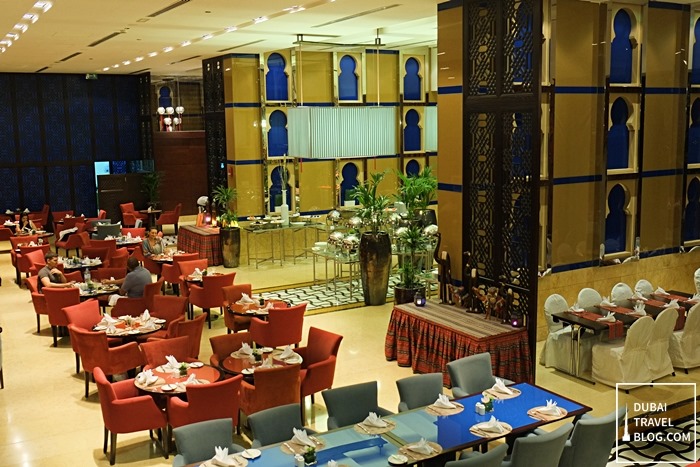 big and spacious
Family-Friendly Restaurant
Arabesque cafe is a family-friendly restaurant where you can bring your family and friends for a good time over sumptuous food.
We noticed a Kids Zone area where children can hang out and play before or after they're done with their meals. This is great for adults who want to have more time for good conversations over lunch or dinner.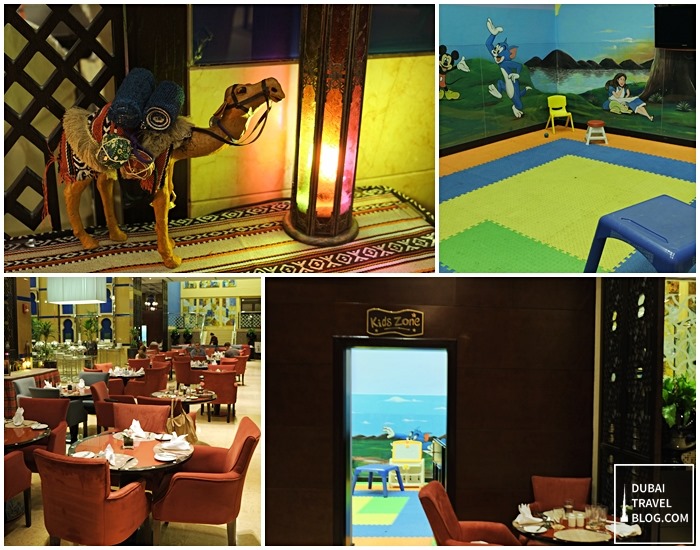 Kids Zone area
photo from the stairs
Wednesday Barbecue Night
After finishing our tea, we started exploring the buffet area and helped ourselves with their food and desserts. They have a modest array of food options and the choices of dishes were good.
Arabesque Cafe Theme Night: From Sunday to Thursday, here are the themes:
SUNDAY – Exotic Asian
MONDAY – International Feast
TUESDAY – Authentic Italian
WEDNESDAY – Sizzling BBQ
THURSDAY – Arabian Flavour
Check out the theme night package here – Arabesque Revamped Theme Nights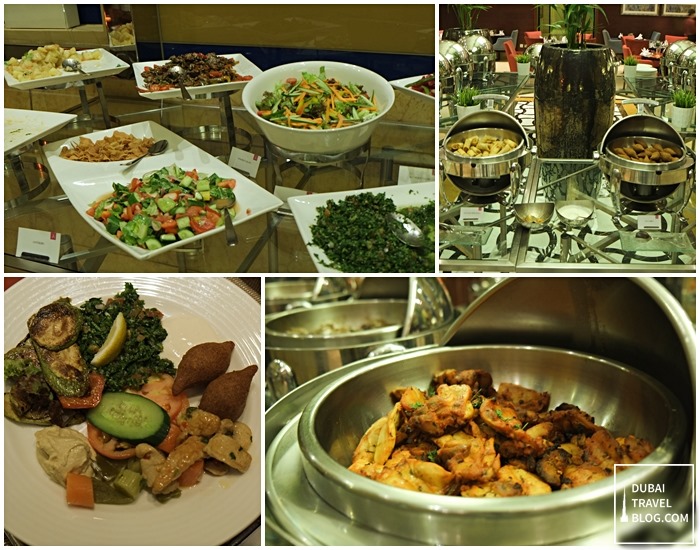 salads, appetizers and main course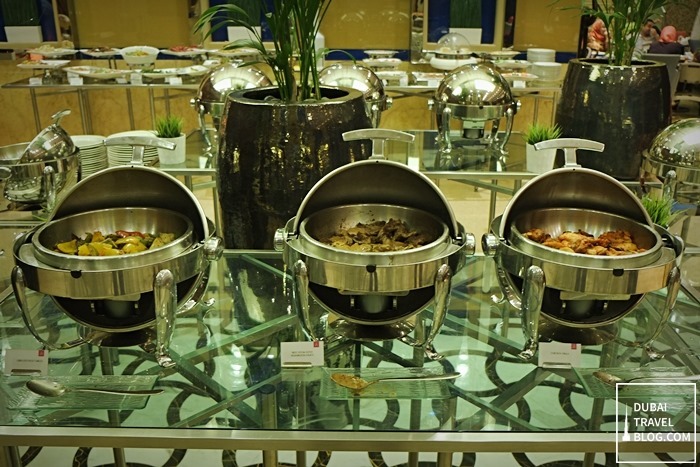 grilled mixed vegetables, beef steak with mushroom sauce, chicken tikka
We took our time eating and enjoying the food. Some of the items that stood out were the tumeric potatoes, kibbeh, and the hamour fish. Arabic desserts and fresh fruits were also great to cap the night off.
If you're within the Dubai Media City area, we recommend you try Arabesque Cafe in Arjaan by Rotana. To check out other offers and promos of this hotel, visit this link – Arjaan by Rotana Dubai Media City Offers
Arabic dessert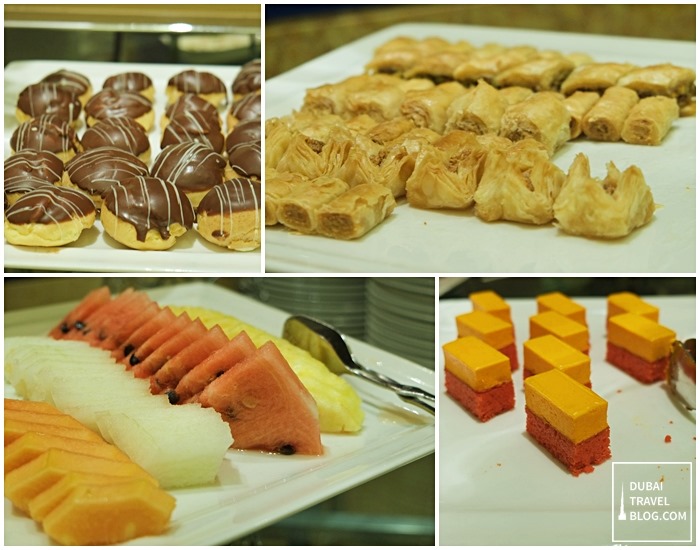 dessert area
Arabesque Café is the perfect location for an informal meeting, a family brunch, or just a quick snack of tea and homemade pastries. Breakfast and Lunch buffets are served daily, along with delicious Friday brunches, and feature tantalizingly delicious Arabian home-style cooking and continental cuisine. Diners have the option of having dinner served a la carte or partaking in our delicious worldly buffets during our special Themed Cuisine Nights. The restaurant is also equipped to handle small events and private dinners, with exceptionally friendly staff and efficient service in a cozy and comfortable atmosphere.
— from Arjaan by Rotana site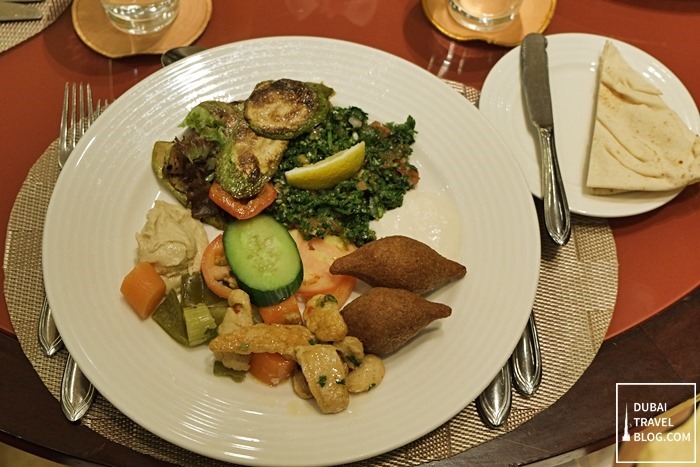 last few bites 🙂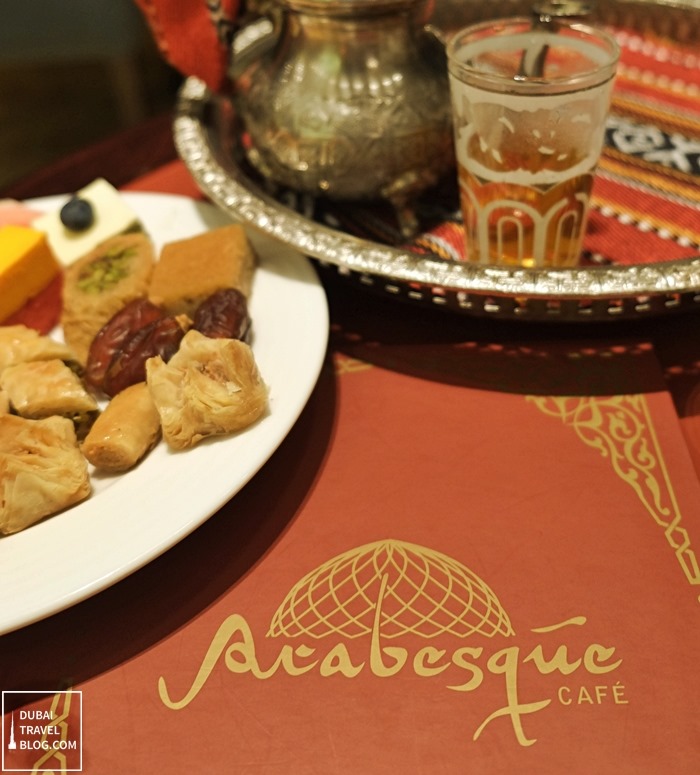 tea and desserts to cap the night off
How to Get There via Public Transport
Ride the Dubai Metro going to the DAMAC Properties metro station (Red Line)
Switch to the Dubai Tram and stop at the Dubai Media City tram station
Arjaan by Rotana Hotel is just walking distance
Opening Hours is from 6:30 am – 10:30 pm
Contact Information
Arabesque Cafe
Lobby of Arjaan by Rotana – Dubai Media City
Contact Number: (+971) 4 436 0000
Email: arjaan.dmc@rotana.com
Website: http://www.rotana.com/arjaanbyrotanadubaimediacity
Twitter: https://twitter.com/arjaandubaidmc
Facebook: https://facebook.com/ArjaanByRotanaDubai
Instagram: https://instagram.com/arjaandmc
Pinterest: https://www.pinterest.com/arjaandmc