My wife got me a GoPro camera as an early Christmas present. I've been wanting to get one but I kept postponing it because I wanted to get a good deal during a Gitex Shopper festival offer. Somehow, the offers during this gadget shopping festival doesn't seem as good compared to other brands. I guess that's how popular and hot this camera is. Even sales reps would comment that GoPro camera prices don't really go very low because of its demand, and the reason why it's in-demand is because of its quality and usage.
Anyway, my wife gave me this and was ecstatic to have this baby in addition to my other camera – a Fujfilm X-E1.
GoPro Camera for this Dubai Travel Blog
Even if I have my trusted Fujifilm X-E1 camera when I go out to different attractions and food spots in Dubai, I still want an extra camera so I could bring with me when I need to do physical adventures such as desert safari trips or hot air balloon rides.
This would also help me capture pictures where spaces are tight. With it's wide-angle capability, I can take an area without having to keep stepping back to a corner. Lastly, I want to have an underwater camera when I will finally enroll in a scuba diving class – yes, I've been meaning to get a diving license in Dubai and getting a GoPro would push me to finally sign up for a class.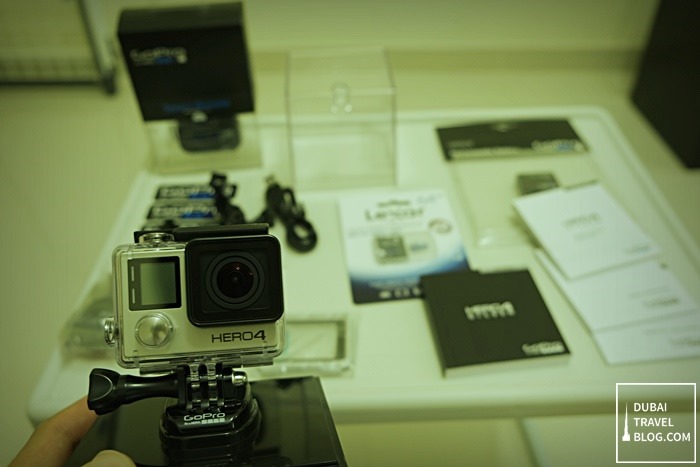 unboxing and figuring out the camera and accessories – the struggle is real
Anyway, I got the Hero4 Silver which comes with an LCD screen at the back. I also got an extra battery and a remote as part of the shop's deal (bought this at Grand Stores).
I unboxed the gadget and was overwhelmed to see so many accessories such as mounts and whatnots that I had to leave the thing in a table for a while in order to digest the stuff that came with the package. I have to go through the manual and some YouTube videos just to understand how to open it properly and know how to operate. But I know this is a good start to more adventures and activities here in Dubai!