We had a satisfying lunch buffet at the award-winning Middle Eastern restaurant, Ewaan. Located at the Ground Level of the five-star Palace Downtown hotel, this restaurant specializes in Arabic and Oriental dishes and is well-known for their seafood.
Our lunch was part of an ongoing summer offer by the luxury hotel wherein you can have a buffet and pool access for AED 200. The price, for an opulent setting, is very good. Some buffet and brunch options would cost more than AED 200 and it does not even include a pool access yet. This deal is quite a catch already as you can lounge in the pool from 7am until 8pm.
Alcohol: YES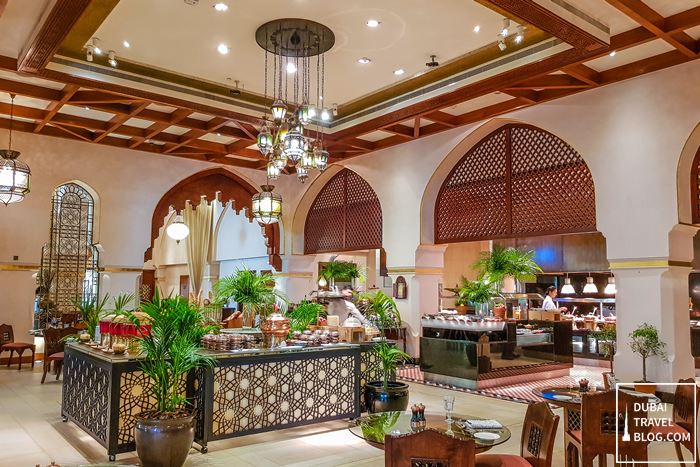 food stations at Ewaan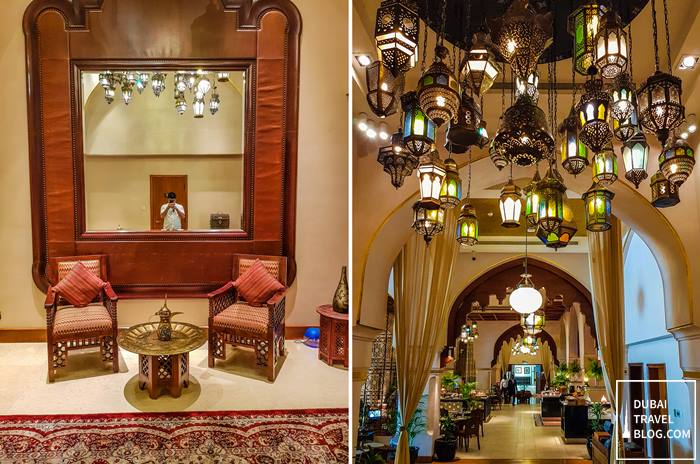 lobby of the restaurant – Arabic lamps
Arabic Buffet at Ewaan Restaurant Review in Palace Downtown Dubai
Arriving at Palace Downtown, I was amazed by the grandness of the lobby and its interior. The design is distinctly Arabic and it's very spacious. This is, after all, part of The Address Hotels + Resorts brand (Emaar).
We stepped a floor below and arrived at Ewaan around 1pm. Much like the lobby, the restaurant is also spacious and has a high ceiling. There's plenty of tables, chairs, and lounges that can accommodate huge groups and those who are seeking more privacy when dining.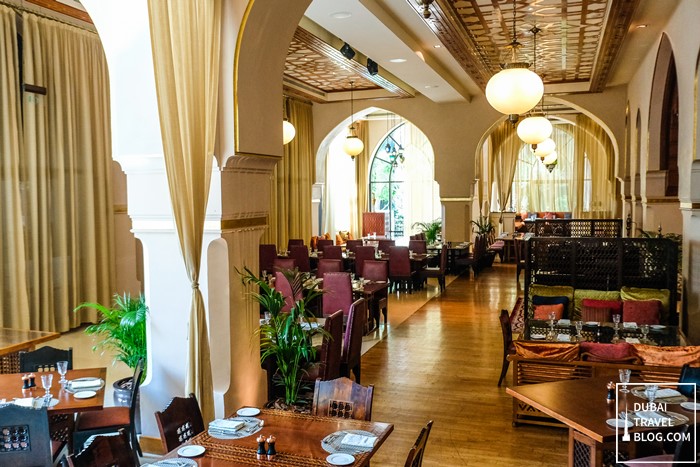 spacious with high ceiling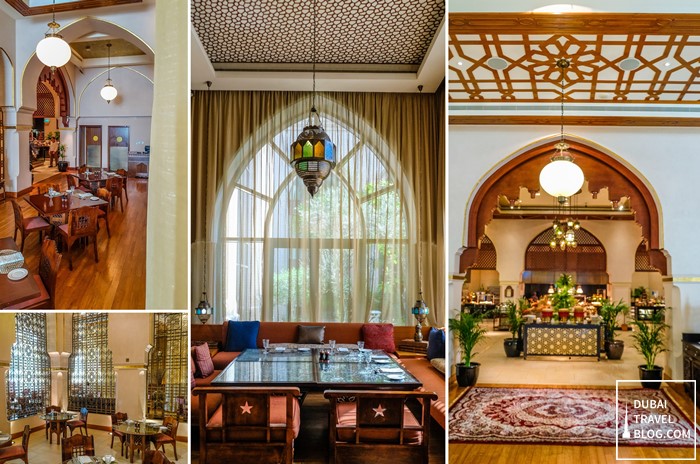 dining tables aplenty
I initially thought the offered package was an a la carte menu so we were pleasantly surprised to find out that this was a buffet. From the appetizers/soups, salads, sushi, main dishes, desserts, etc. we had more food options.
Standouts were the lamb ouzi, chicken tikka, dumplings, and the delicious and fresh seafood options. As for desserts, they also have a chocolate fountain, creme brulet, assorted cakes, and ice cream!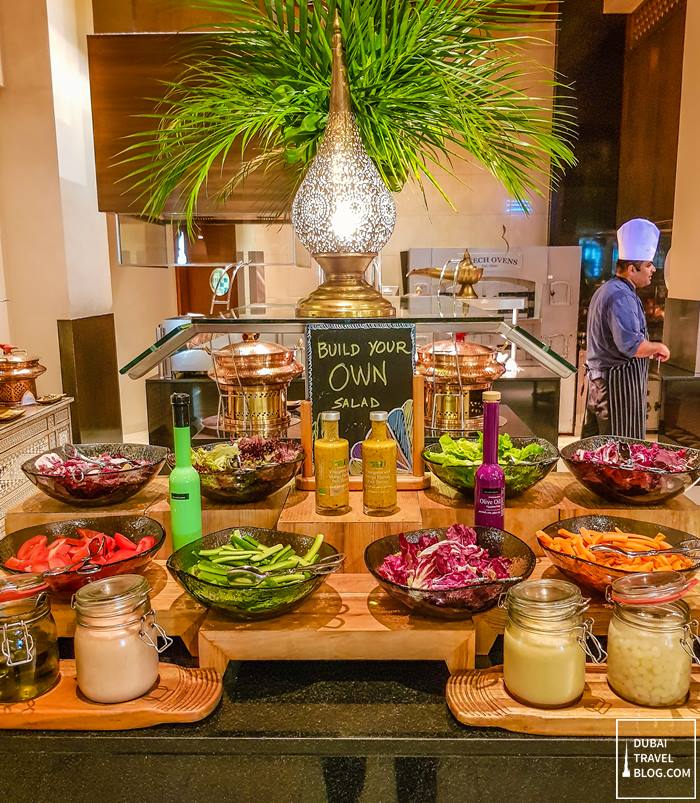 make your own salad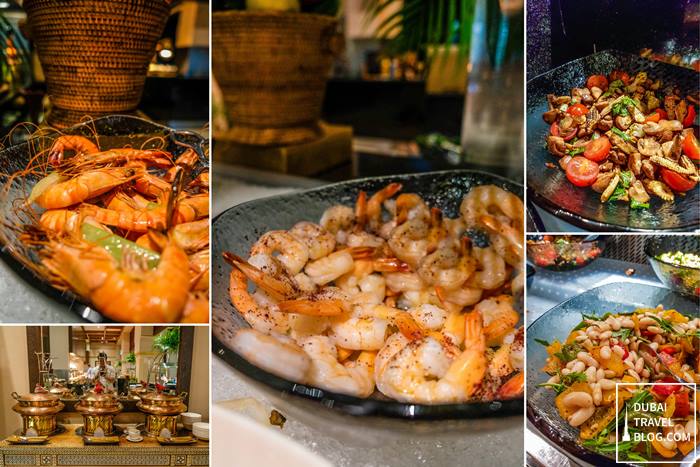 fresh seafood and salads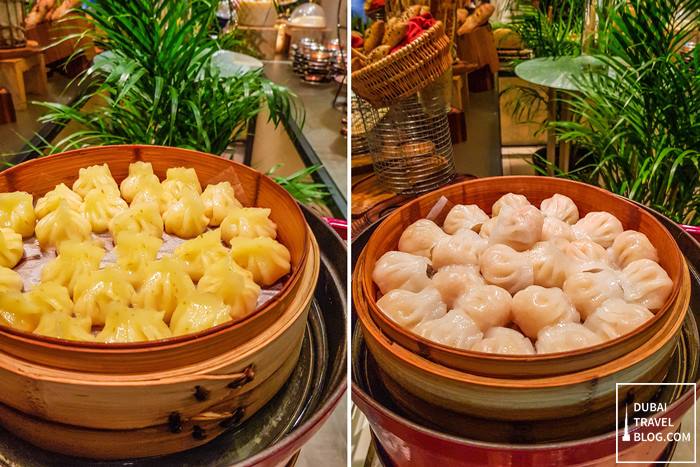 dumplings
Dining in this restaurant was a great experience. We didn't expect to have plenty of choices given that it was a weekday. More often in the city, restaurants tend to have bigger and better presentations during weekends when there's more guests coming in.
The restaurant also lives up to its name being inside a 'palace'.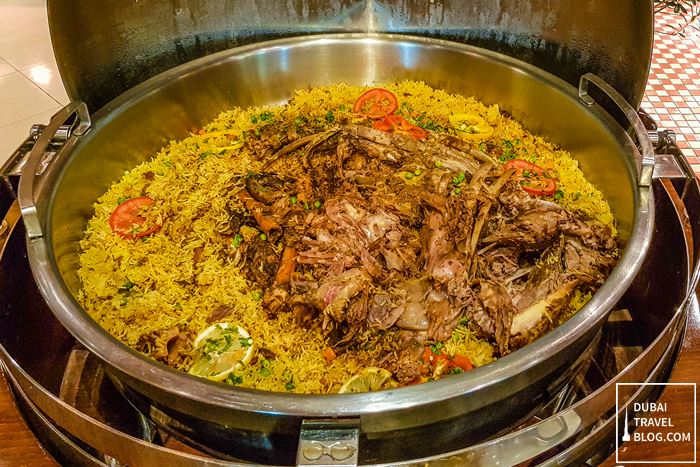 lamb ouzi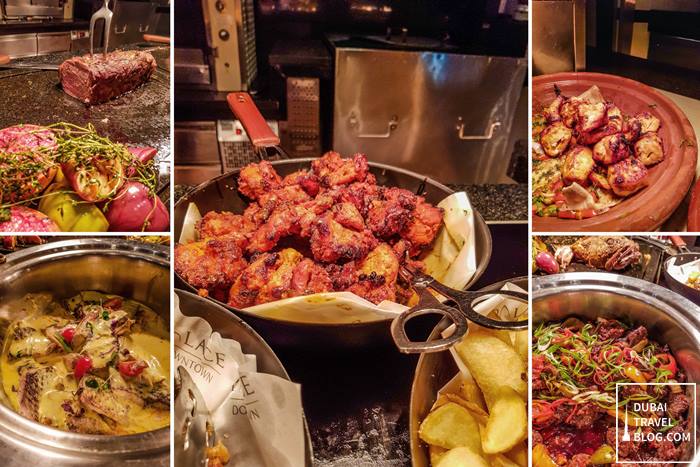 delicious Arabic and Oriental food options at Ewaan
Ewaan is set against a backdrop of regal arches, wooden trellises, luxurious drapery and flamboyant accessories. Dishes are served from live cooking stations and buffets along with coffee and hubbly-bubbly on the open-air terrace, or traditional private dining alcoves for a little seclusion.
– Ewaan Restaurant
Arabic sweets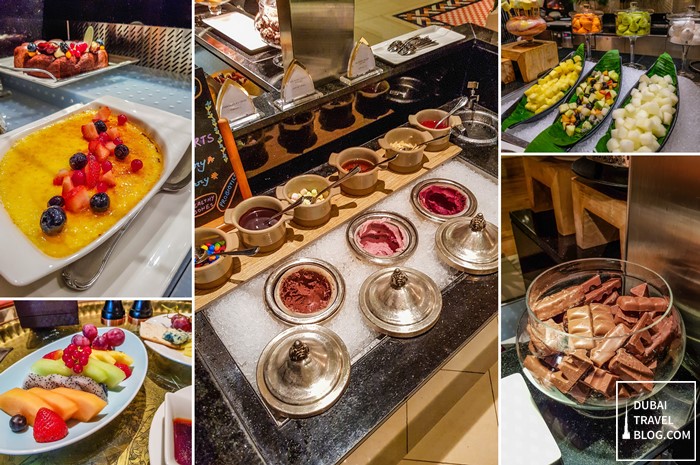 dessert options – international and Arabic
We left lunch feeling satisfied and full. It was a great experience but it's not yet finished as we were to head to the pool area and enjoy the view of Burj Khalifa.
Contact Information
Ewaan Restaurant
Address: Ground Level, Palace Downtown, Sheikh Mohammed Bin Rashid Blvd., Downtown Dubai
Phone number: +971 4 888 3444
Website: https://www.addresshotels.com/en/hotels/palace-downtown/dining/ewaan
Google Map Location
Below is a map guide to Ewaan Restaurant located at Palace Downtown. Afte arriving at the hotel, you need to go one floor down to access the restaurant.