We had the opportunity to try the Thai Hot Pot dinner at Benjarong Royal Thai Cuisine with other Dubai bloggers. Benjarong is an authentic Thai restaurant which is located on the 24th floor of the Dusit Thani Dubai. If you're a fan of Thai food, then you can head to Benjarong inside this hotel along Sheikh Zayed Road.
This restaurant has won many awards in the Dubai dining scene so it's really nice to sample an experience from this place.
ALCOHOL: Yes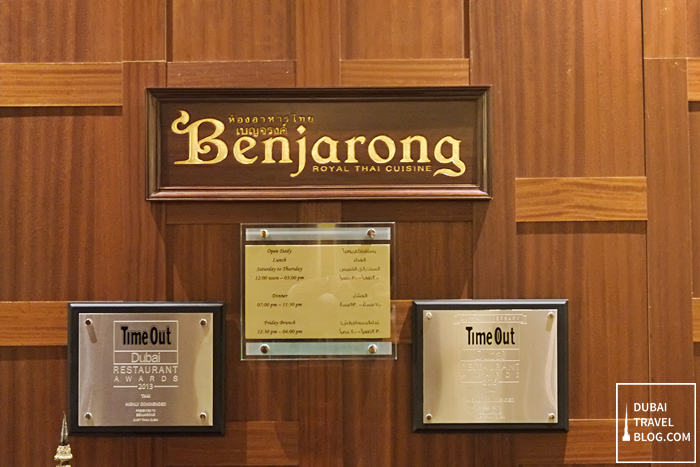 Benjarong restaurant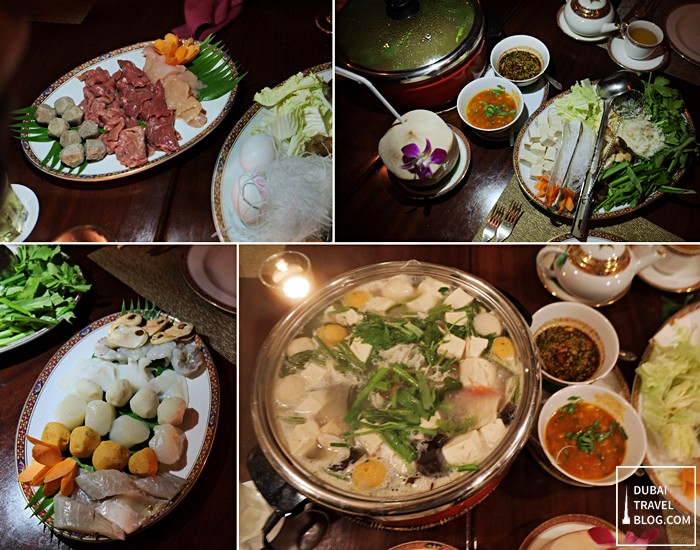 preparing the food
Benjarong Restaurant in Dusit Thani Hotel
The Dusit Thani Dubai is an iconic 5-star luxury hotel that showcases the essence of Thailand in the vibrant centre of the city. First thing you will notice when you see this unique building is it's design which has two-bases that meet at the top. This structure, according to sites I've come across, takes the shape of the Thai greeting called "Wai" where two palms touch each other as though in a 'prayer'.
The spacious hotel lobby is a grand sight. I was glad to have finally stepped inside as we always pass by this building when we go to The Dubai Mall.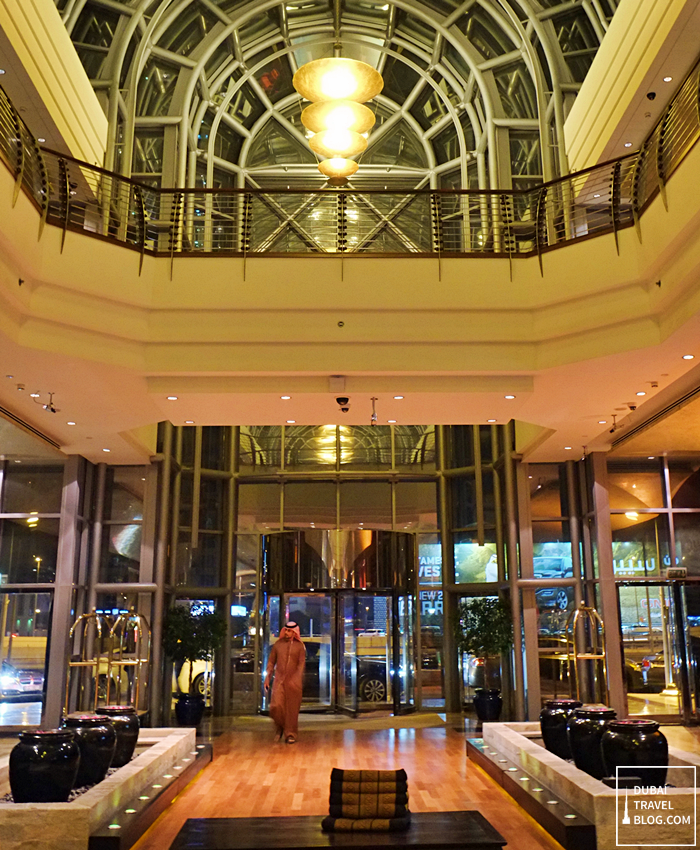 high ceiling at the lobby of Dusit Thani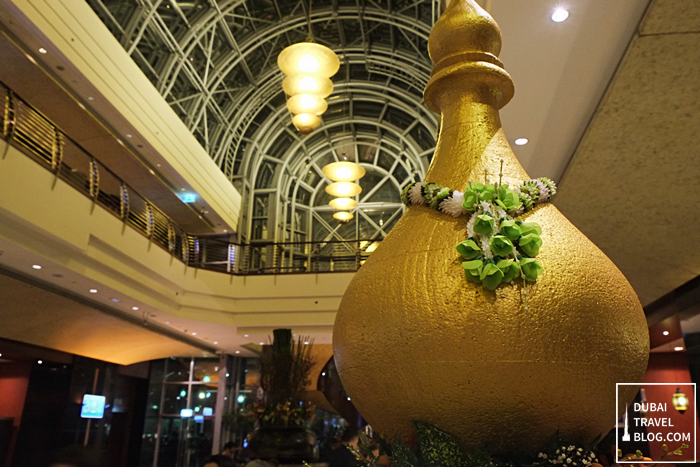 Dusit Thani Hotel lobby
Benjarong is located at the 24th floor and when you arrive at the central lobby, there are actually 3 restaurants available. The Californian which offers international dining, PAX which offers Italian cuisine, and Benjarong Thai restaurant.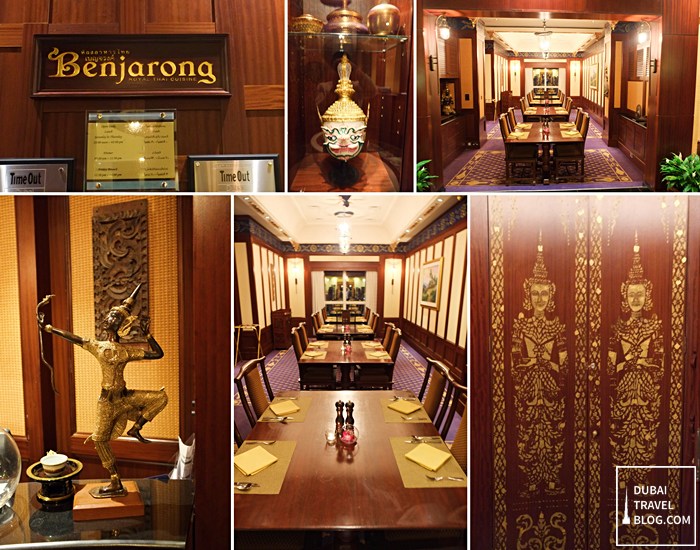 Benjarong restaurant at Dusit Thani Dubai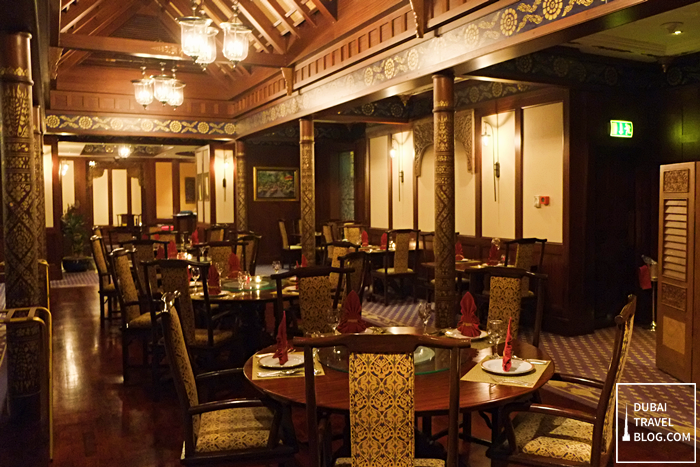 royal ambiance
I was pleasantly surprised by the interior because of the wooden tables and chairs, pillars, and designs that make up the restaurant. Despite the futuristic look of the Dusit Thani Dubai from the outside, here lies traditional Thai decorations that also prepared us for a night of good food.
Thai performers would come up to the stage and entertain diners by playing a musical instrument or through a cultural dance. This makes a unique dinner experience overall.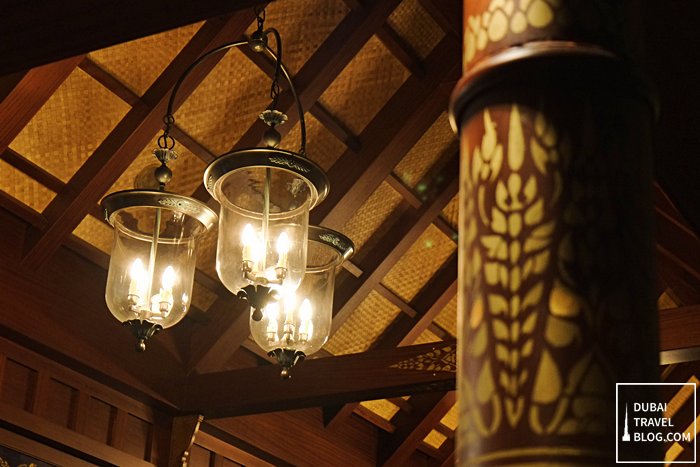 lamp
 Thai entertainer
The Thai Hotpot offer is part of Benjarong's promotion this January which gives you the experience to cook your ingredients right on your table. They have a seafood hot pot, meat hot pot, and vegetarian hot pot.
We opted for the vegetarian and the meat hotpots. We also ordered some Thai menu staples such as Thai Green Curry (Chicken) and Pad Thai Noodles. Here are some photos of the food.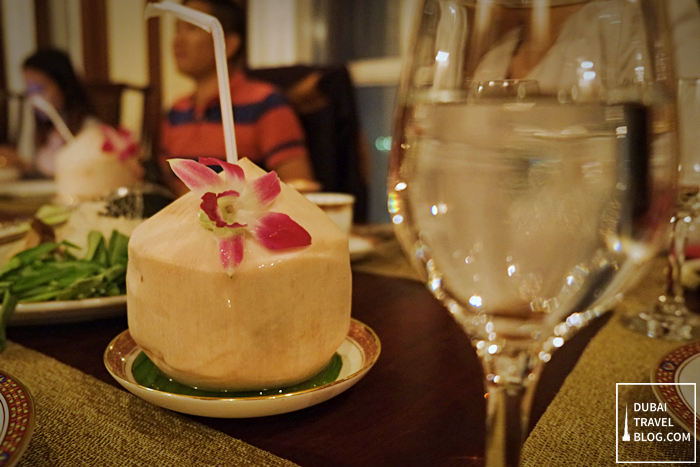 coconut juice
Pad Thai Noodles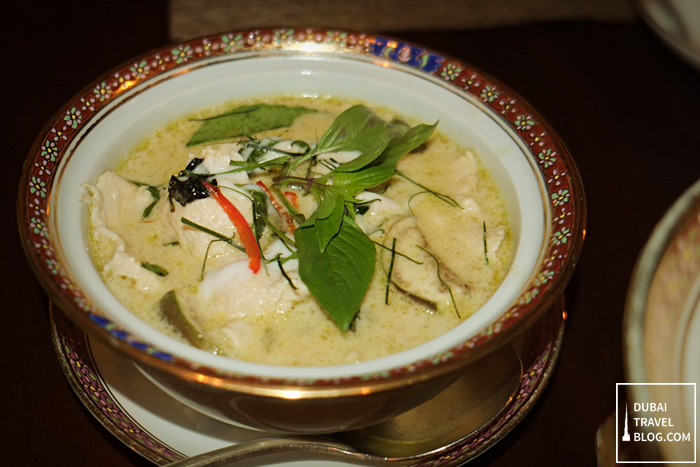 Thai Green Curry (Chicken)
You will be presented with the ingredients and if this is your first time to try the hot pot, you can simply request the friendly staff to demonstrate how to prepare the soup. They will also explain the process as well and share the sauces included. This hotpot meal is good for 2 persons.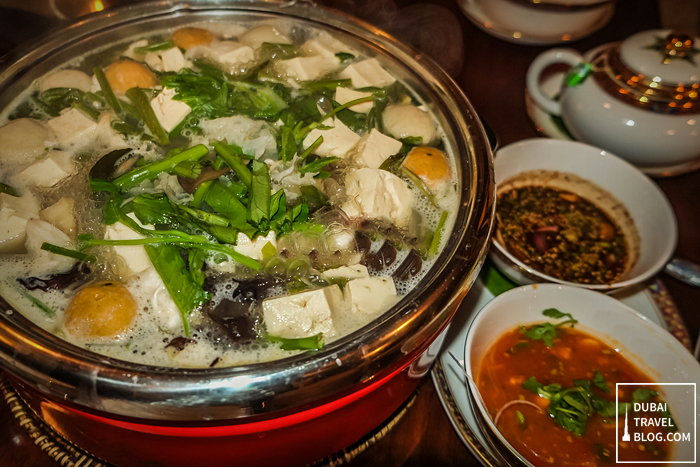 vegetable hot pot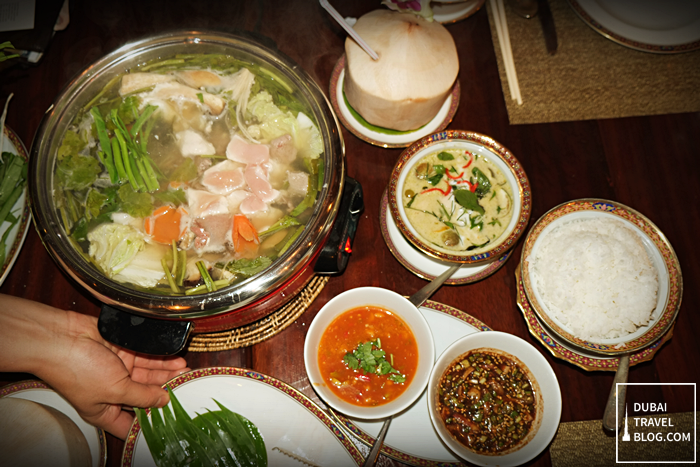 our food at Benjarong
It was a night of fun conversations over good food and what better way to finish our 3-course set than with Thailand's famous Mango sticky rice dessert! I was also able to try a dessert made of water chestnuts in coconut milk called Tub Tim Grob.
If you're looking for authentic Thai cuisine, you can check out Benjarong restaurant in Dusit Thani Dubai.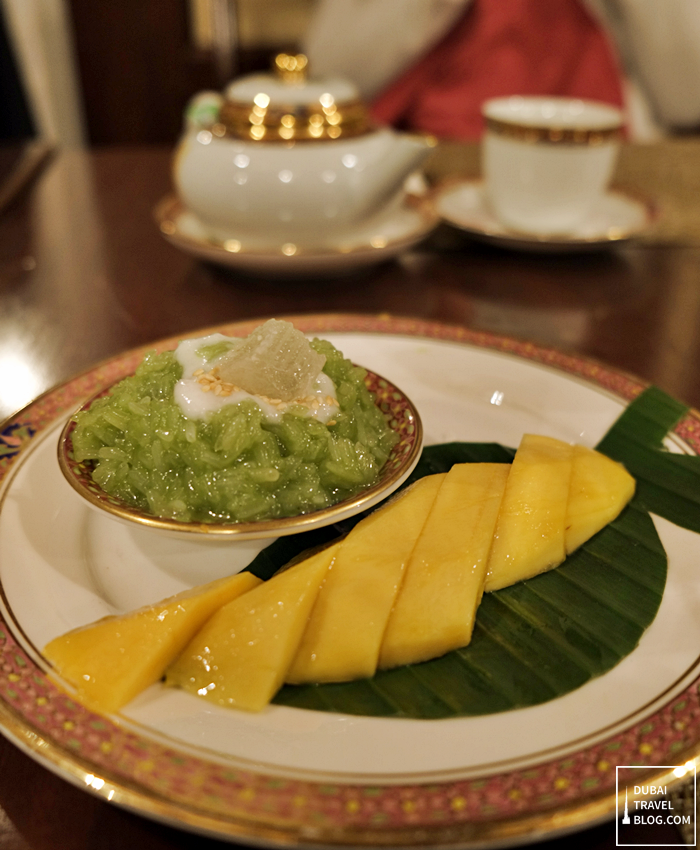 Mango sticky rice dessert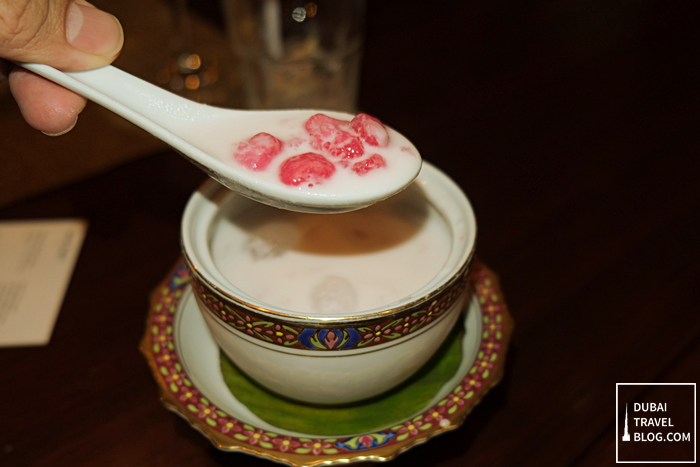 Tub Tim Grob, coconut milk based dessert with crunchy water chestnuts
Benjarong Restaurant
Award-winning signature restaurant Benjarong affords diners gorgeous views of the Dubai skyline whilst serving the unforgettable flavours of Royal Thai cuisine, featuring centuries-old recipes straight from the palaces of Thailand. The restaurant's majestic interior resembles the royal dining halls of King Rama IV, and the gentle sounds of our classically trained Thai musicians add to the authenticity of this unique dining experience.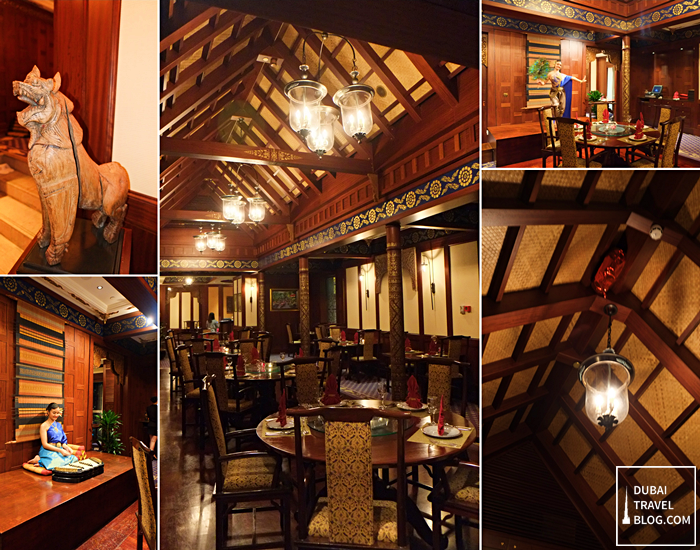 inside the restaurant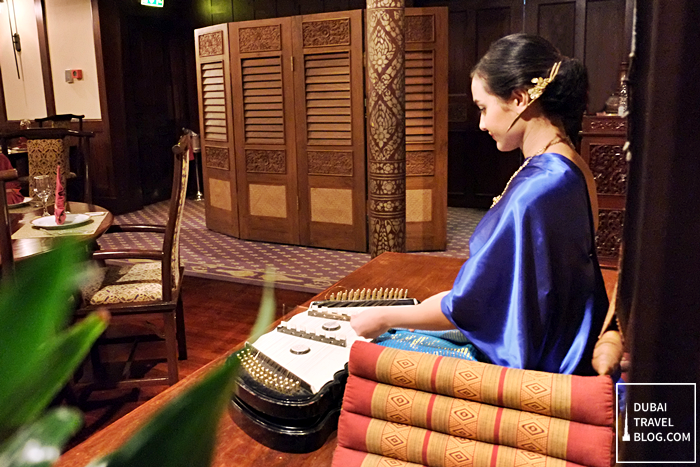 Thai performer entertaining the diners
Thai Hot Pot – January Promotion
Good for 2 persons
Seafood Hot Pot – AED 220
White prawns, calamari, scallops, mussels, fish balls, shrimp balls and red snapper fish fillet
Meat Hot Pot – AED 200
Beef meatballs and sliced chicken, beef and lamb
Vegetarian Hot Pot – AED 180
Bean curd, Enoki mushrooms, black fungus and white fungus
All dishes are served with: Morning glory, Chinese cabbage, celery, spring onions, oyster mushrooms, glass noodles and eggs
Opening Hours: Saturday to Thursday
Lunch – 12noon-3pm
Dinner – 7pm to 11:30pm
Friday Brunch – 12:30pm to 4pm
Website: http://www.dusit.com/dusitthani/dubai/dining/benjarong-restaurant/
Address: 133, Sheikh Zayed Road P.O. Box 23335 Dubai,
Telephone Number: +971 (4) 343 3333
Facebook: facebook.com/dusitthanidubai
Instagram: instagram.com/dusitthanidubai
Twitter: twitter.com/dusitthanidubai
Snapchat: DusitThaniDubai