After our Asian streetfood dinner at 24th St., we stepped outside Dusit Thani Dubai to roam a bit and check out the buildings around. We were interested in scanning the neighboring places as we rarely have a chance to hang out along Sheikh Zayed Road. Afterwards, we headed to the new outdoor terrace of the hotel – VIEW by Dusit.
When I went through pictures of the VIEW online, I initially thought that this lounge was set on a higher floor. Turns out that this is basically located at the lobby next to Jones The Grocer. Designed with plants and fences, plus the trees in the background, the setting feels as if you're in someone else's yard. Only this time, you have a magnificent vie of Burj Khalifa.
Alcohol: YES
Shisha: YES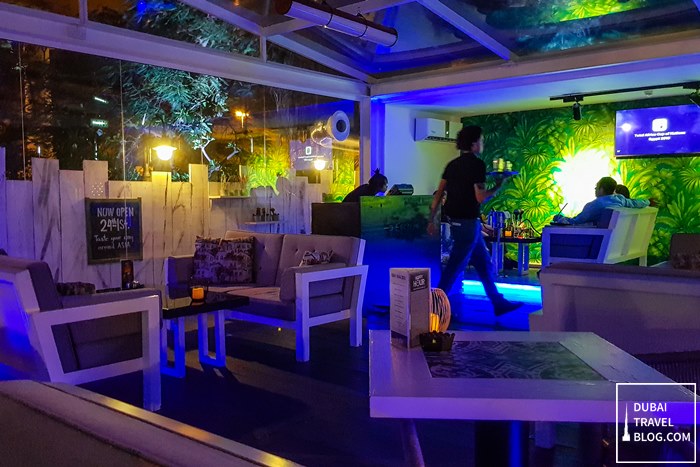 View by Dusit Thani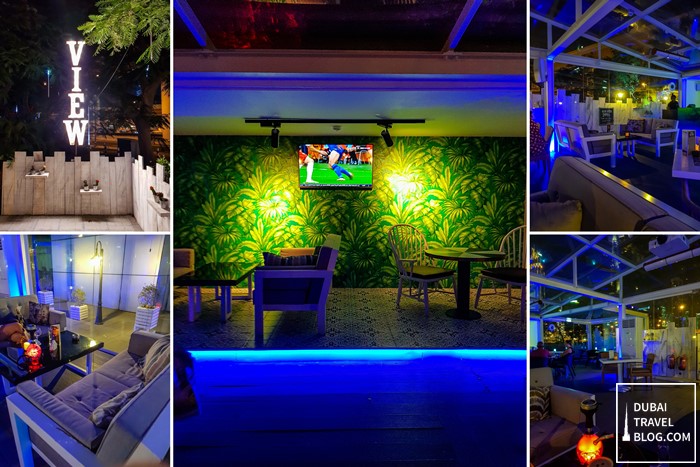 the outdoor terrace is currently covered by glass
#View by Dusit – Outdoor Terrace & Lounge in Downtown Dubai
As it is the summer season, Dusit Thani set up an air-conditioned glass tent so guests can still enjoy and hang out while admiring the night sky.
VIEW is a restaurant and lounge area where you can enjoy a variety of premium gourmet food, drinks and shisha.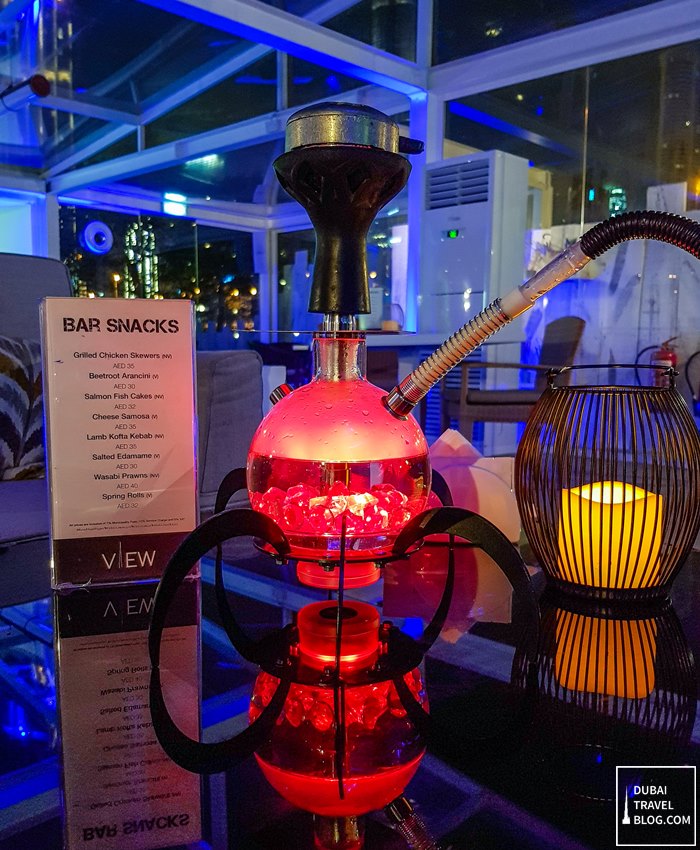 Shifter Shisha – AED 105
grape mint shisha – Our shisha has legs :p
The food items come from the menu of the award-winning Jones The Grocer and the dishes available piqued my interest. However, we were quite full that we ordered some light bites instead. There's always next time 😉
We had a pizzetta and some fried prawns.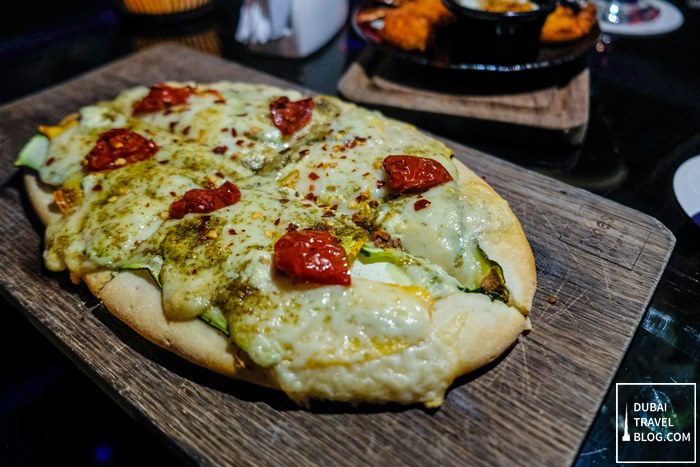 Provoione and courgette pizzetta – AED 52
Persian feta, chili, zaatar and semi-dried tomatoes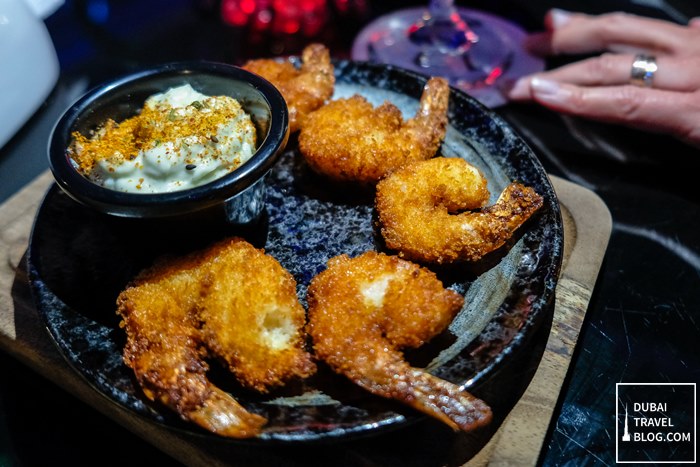 Wasabi Prawns – AED 40
We ordered some alcoholic beverages. I especially enjoyed the Espresso Martini. We also had a grape mint Shifter Shisha which was quite smooth.
We enjoyed the music played with RnB beats reminiscent of our younger years. As the night progressed the songs also transported to current tunes.
Staff were very friendly and accommodating. Thank you Michael, Meena and Lucas for the service!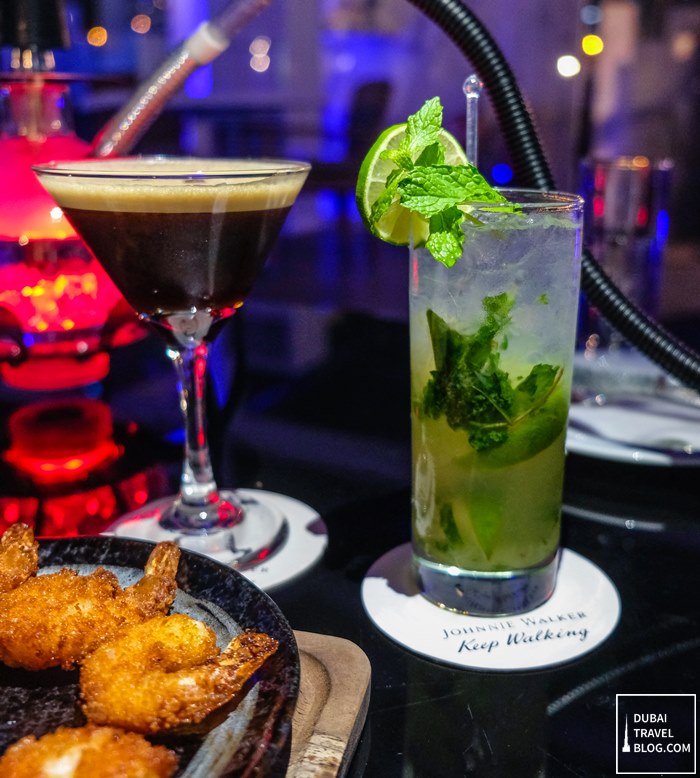 Espresso Martini – AED 69, Mojito – AED 59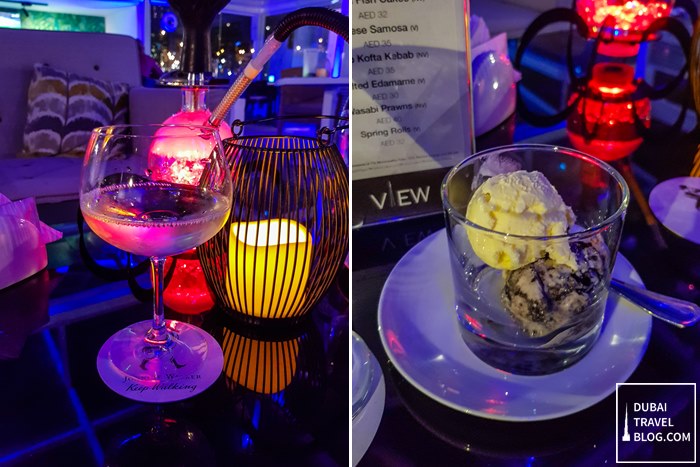 White wine, ice cream!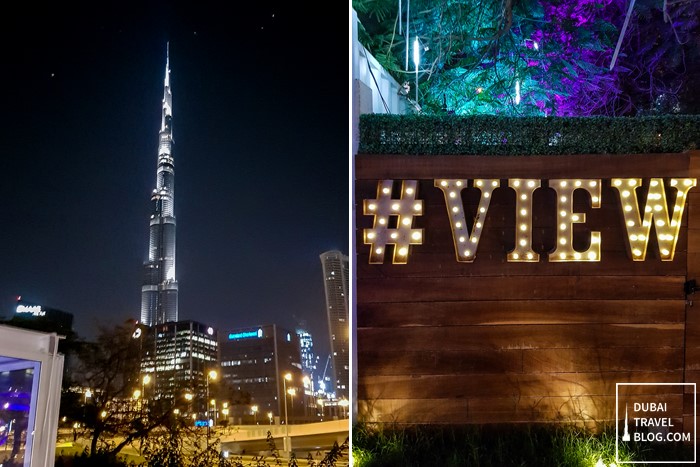 VIEW of Burj Khalifa
This is how View looks like when the tent is out. It's definitely more picturesque during the winter season. But we still had a very enjoyable night of tunes, food, drinks and shisha here!
View this post on Instagram
An outdoor terrace nestled in between Downtown skyscrapers serving Jones The Grocer's award-winning menu, an array of beverages.
– View by Dusit Thani Dubai
Note: We were invited as guests by Dusit Thani Dubai. All opinions are my own.
Contact Information:
View – Dusit Thani Dubai
Address: 133, Dusit Thani Dubai, Trade Centre Area, Dubai 23335
Phone Number: +971 4 317 4457
Website: https://www.dusit.com/dusitthani/dubai/dining/view/
Instagram: @ViewbyDusit
Google Map Location:
Below is a map guide to Dusit Thani Dubai. The View is located in the ground level. From the front part of the hotel, it's on the right side (next to Jones The Grocer).