We had a late-afternoon drink at Another Bar, a new and trendy experimental cocktail bar located on the 24th floor of Dusit Thani Dubai. We have checked in the hotel before for a short staycation and this bar was the only place that we haven't visited. To think that the hotel staff had recommended this venue for its unique setting.
On a weekday, I was glad that we finally had the opportunity to see what they were raving about. Upon entering the bar, we were welcomed by Another Bar's quirky interiors and designs.
Alcohol: YES – this is a bar, after all 🙂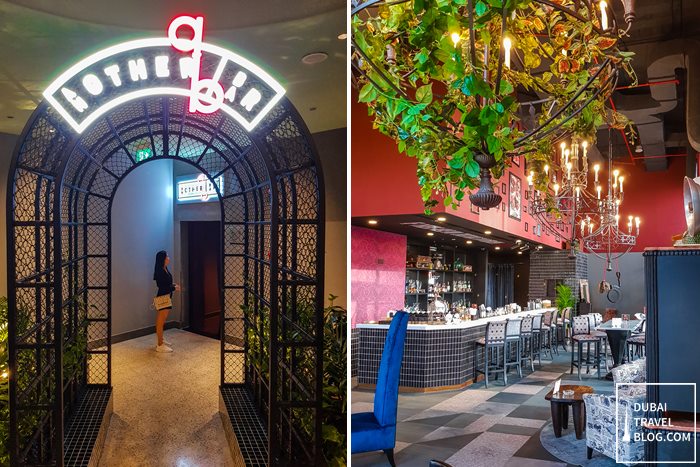 Another Bar at 24th Floor Dusit Thani Dubai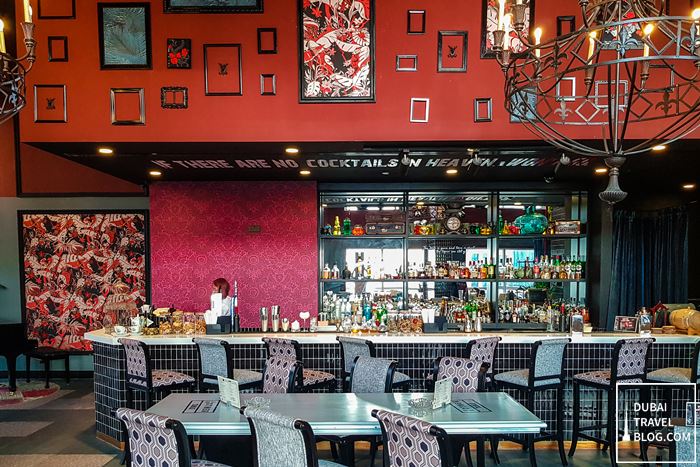 bar area
Another Bar is Not Just Like any Other – Review of Dusit Thani Dubai's Trendy New Cocktail Bar
Huge chandeliers with plants adorn the ceiling, giant framed patterns are plastered on the walls, high chairs plus some red & blue velvet seats of various shapes and sizes are spread across the venue. There's also a grand piano inside. All of these are set against a red backdrop. Peeking through the windows, you will see a great view of the busy city below.
The interior reminds me of Tim Burton movies with a touch of Sweeney Todd but more of Alice in Wonderland. It's definitely weird and non-traditional and we loved it as it offered something different.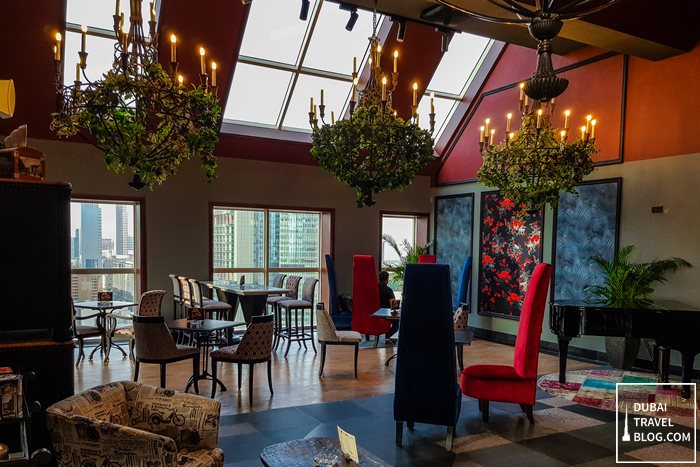 like an Alice in Wonderland set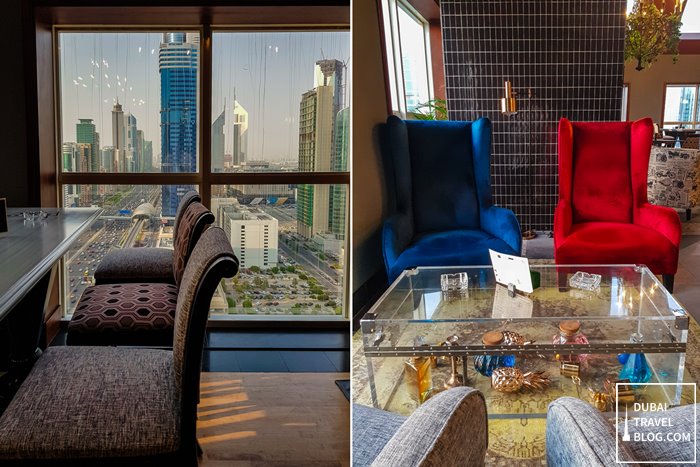 playful chairs
Signature Cocktail Drinks
Before getting too caught up with the interior, let's talk about the drinks as it's definitely the most important part of our experience. We ordered signature cocktails prepared by their resident mixologist, Melanie. She created all the drinks and were all quite spectacular.
While the names of the drinks left us a bit confused (with This Cocktail, Why Not Cocktail, More Cocktail, etc.), it helped a lot that ingredients were include in the menu. Melanie also helped us with her top picks.
Among the drinks, the Last Cocktail and the Recommended Cocktail were the best in terms of taste and presentation. I also enjoyed the dried/dehydrated pineapple cocktail garnish.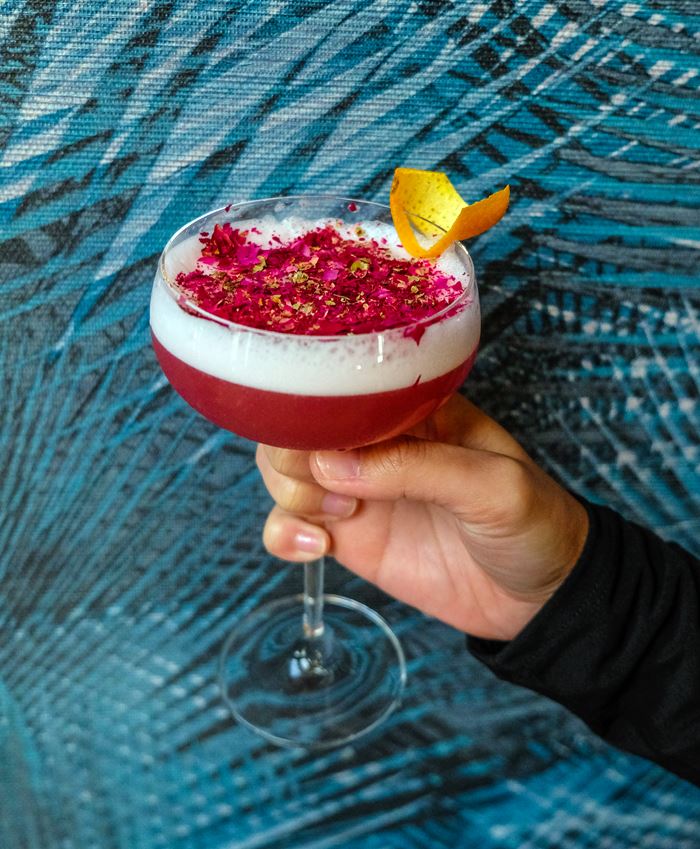 Recommended Cocktail – AED 69
Dry pin gin, cranberry juice, rose infused lime cordial, raspberry syrup and egg white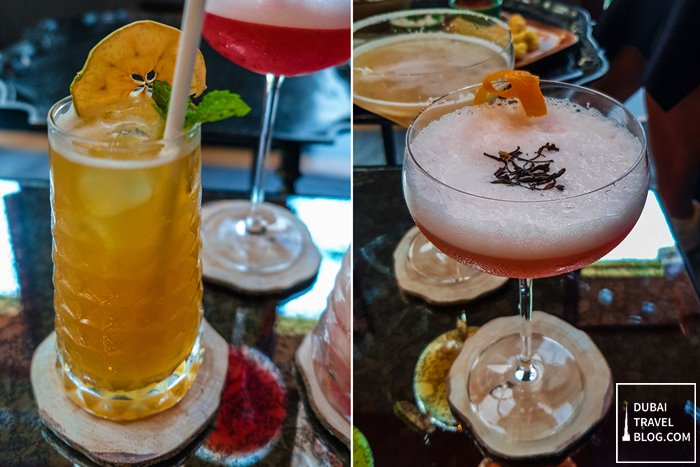 Why Not This Cocktail – AED 69
Spiced rum, masala syrup, fresh emon juice and red apple juice
More Cocktail – AED 69
Gin, campari, cherry herring, cherry blossom honey, fresh lemon juice and chickpea water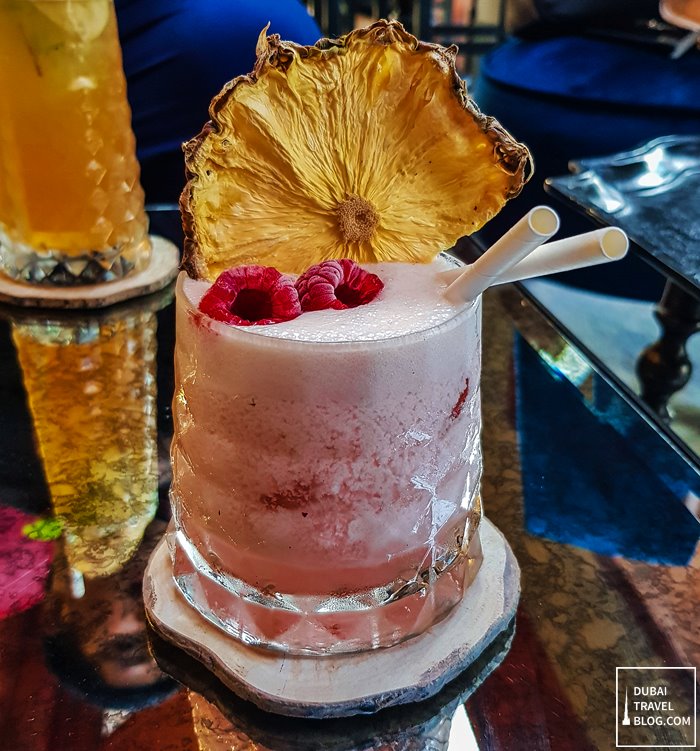 Last Cocktail – AED 69
Spice rum, coconut rum, raspberry puree, coconut milk and fresh lemon juice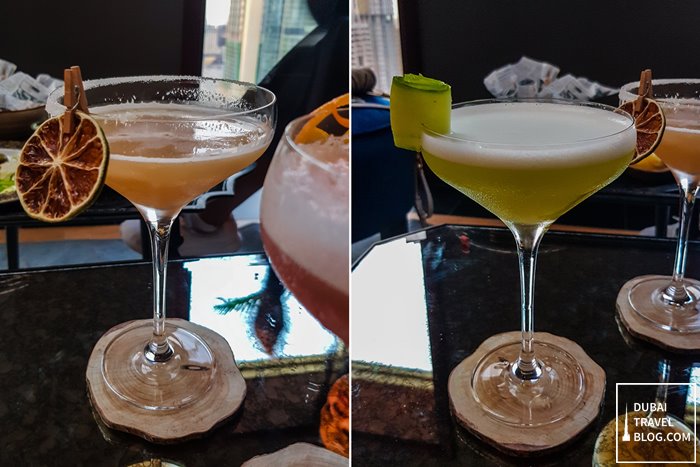 Same Bar, Another Cocktail – AED 69
Tequila reposado, cointreau, tamarind puree, agabe syrup, and fresh lemon juice
This Cocktail – AED 69
Tequila silver, Creme de cassis, fresh lemon juice, elderflowery syrup, agave syrup and beer
Small Bites
Along with our drinks, we ordered some finger food which consisted of prawn dynamites and seafood calamari. I enjoyed both dishes, but the prawn dynamites really stood out.
It took time to prepare the food as it actually came from Jones The Grocer (a home-grown Australian brand that serves fresh, simple and delicious items) from the ground level.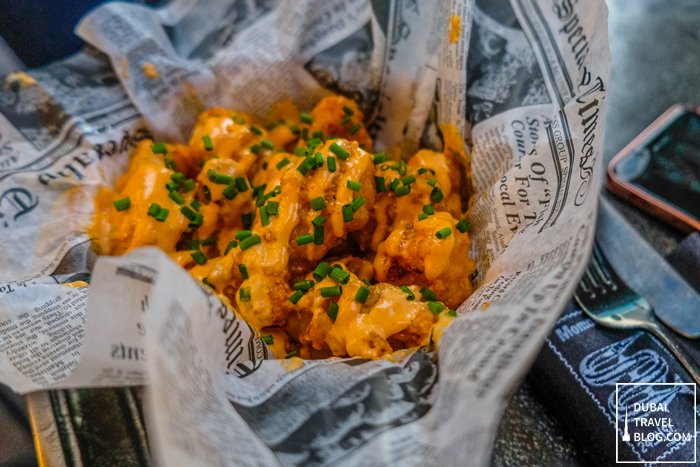 Prawns Dynamite – AED 70
Battered fried prawns tossed with spicy sauce
Crispy Calamari – AED 50
Served with tartare and spicy tomato sauce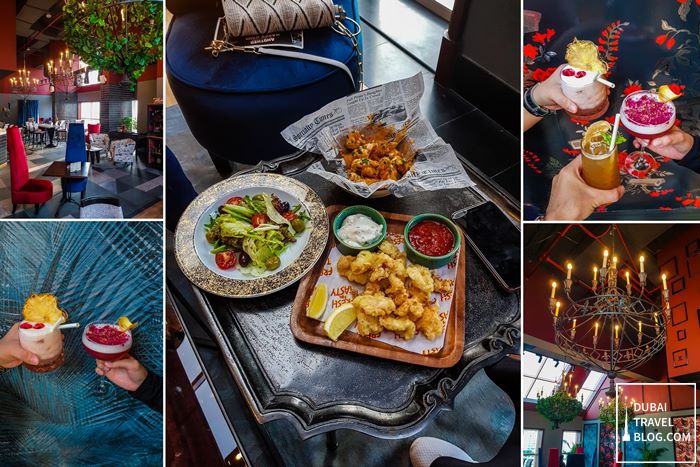 we were pleasantly surprised by the cocktail drinks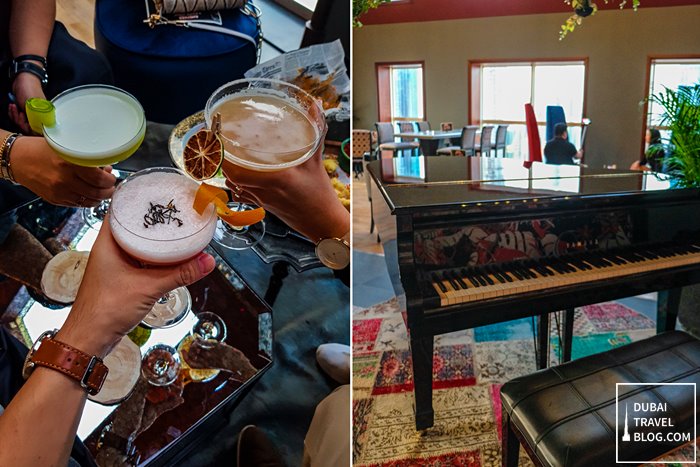 inside there's even a grand piano!
I was thrilled to write and post about our experience in this cocktail bar. What I like best is that it's quite relaxed and casual. We also enjoyed the music beats they played which had early 2000 R&B beats.
Another Bar is a place where you can have a relaxing drink with delicious bites. All set in a lively environment that showcases stunning views of Dubai. Don't miss it when you are in Dusit Thani Dubai. While the title may imply that this is just Another Bar, our visit suggested that it's not just like any other.
Another Table, Another Flooring – enjoying the stamps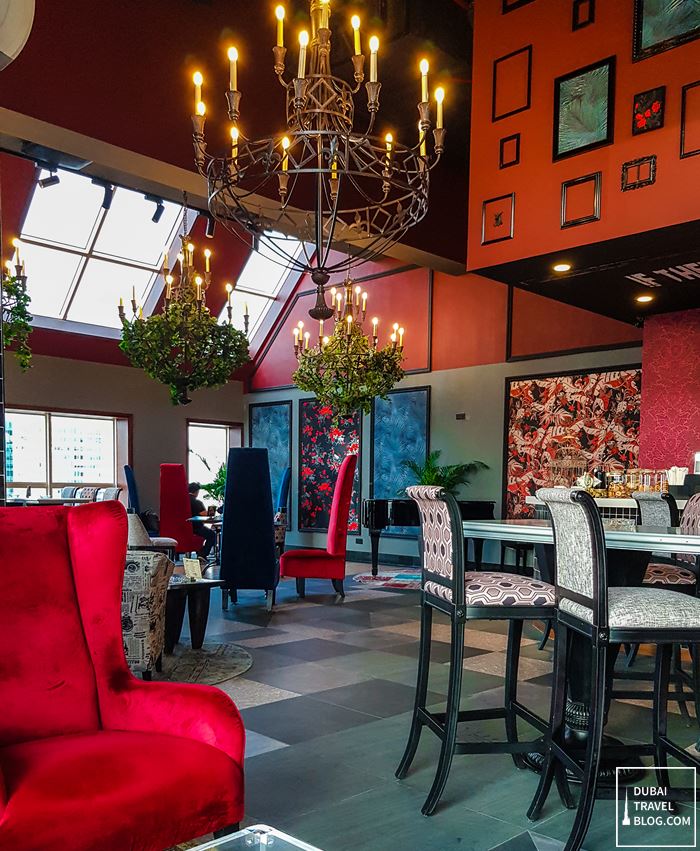 couldn't help but take plenty of pictures during our visit in this cocktail lair
Our visits to Dusit Thani Dubai has been nothing short of wonderful. I like the fact that this five-star hotel has provided us with the most memorable casual dining experiences in the emirate. Check out our other articles about Dusit Thani Dubai below:
Note: We were invited as guests to this restaurant. All opinions are my own.
Contact Information
Dusit Thani Dubai
Address: 133, Sheikh Zayed Road P.O. Box 23335 Dubai, United Arab Emirates
Contact Number: +971 4 343 3333
Website: https://www.dusit.com/dusitthani/dubai/
Instagram: @DusitThaniDubai @AnotherBarDubai
Facebook: @DusitThaniDubai
Twitter: @DusitThaniDubai
Google Map Location
Below is a location map guide to Dusit Thani Dubai. Another Bar is located at the 24th floor of the hotel.