After our pre-dinner drinks at Another Bar, it was time for our Thai dinner at Benjarong restaurant. Located in the same floor (24th level) of Dusit Thani Dubai hotel, we only walked a few steps before we were transported to another  setting.
I believe that this was our third instance to visit Benjarong. The first instance was when we had a Thai hotpot dinner, and the second was during a Friday brunch affair. When the hotel revamped its food offerings in this floor, it's only Benjarong that was kept as is. After all, what's a Thai-owned hotel without its signature Thai restaurant.
Alcohol: YES

Royal Thai wooden interior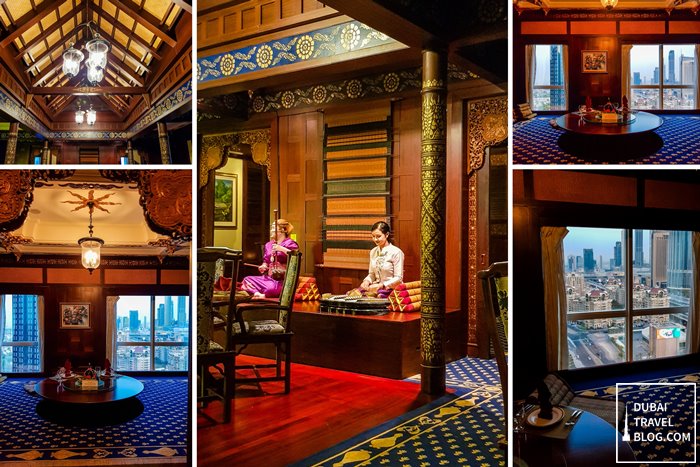 inside this Thai restaurant
Food Review: Thai Dinner at the Award-Winning Benjarong Restaurant
Upon settling in our table, we ordered straight to main course. We were still reeling from the drinks in the previous bar that's why we skipped starters.
Menu is divided into main course chef specialty, fish, beef chicken and duck, rice & noodles, desserts. I also like that they have English descriptions below the Thai menu. It made it easier to check which items we'd like to have.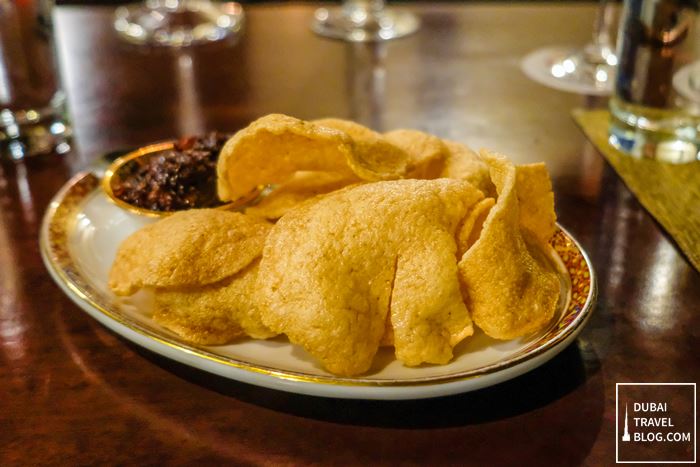 complimentary crackers with chili paste
We ordered the famous Thai staple, Phad Thai Noodles, and this one I was excited about, Pineapple fried rice.

Phad Thai – AED 78
Stir-fried Thai rice noodles with tofu, bean sprouts, ground peanuts, and tamarind sauce with prawns

Khao Ob Sapparod – AED 82
Fried rice with shrimps, chicken, chicken sausage, raisins, green peas, and carrots flavored with turmeric powder served in pineapple shell
For our main dishes, we chose seafood and ordered prawns and the lobster. I really like the size of the prawns as each piece is more than bite sized. The lobster was humongous and we took our time devouring it.

Goong Phad Nam Prig Pao – AED 131
Stir-fried lightly battered prawns with onion, mushroom, bell pepper, sweet basil leaves and chili paste

Goong Mungkorn Benjarong – AED 244
Stir-fried battered main lobster with roasted chili paste, red onion, bell pepper and sweet basil leaves
For desserts, we had another Thai staple, mango sticky rice, and water chestnuts in coconut milk. We've both tried these desserts previously and the taste and quality has still been consistent.

Khao Neaw Mamuang – AED 48
Sticky rice flavored with pandanus and served with mango
Tap Tim Krob – AED 38
Ruby water chestnuts in iced coconut milk
Actually all the food we ordered at Benjarong has always been consistently good. This restaurant lives up to its fine dining and award winning status.
Thank you to Nino and Rose for the service! Very attentive and was always quick in refilling our water and making sure we were comfortable.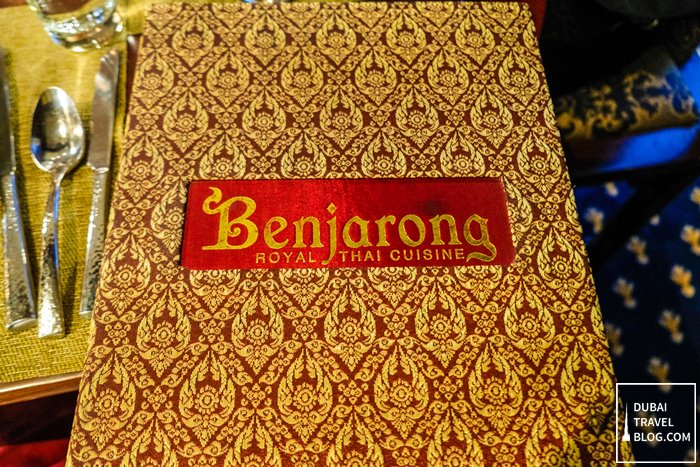 Benjarong Dubai
ROYAL THAI CUISINE HISTORY
Benjarong means "Five Colors" – of different hues and shapes and floral designs painted on he porcelains of Thailand. Detailed and complex, it is prepared and meant for the Royal Thai Family from the noble courts of Old Siam to present day Thailand.
Centuries ago, Thailand was called Siam. It is during the reign of King Rama IV that closer ties with the West started, eventually fusing Western elements into the Thai way of life. The union of these cultures led to the evolution of flavours. Come the rule of King Rama V, Royal Thai cuisine reached its prime. Flavours were combined to define the complex, elaborate and delectable Thai cuisine as we know it today.
Authentic Royal Thai cuisine presents a well-rounded combination of tastes – not too spicy, salty, sour, or bitter – but with a bit more emphasis on sweetness. A large extent of creativity and attention to details is involved in the creation of each dish. Elaborate fruit and vegetable carvings not only make up the presentation but are also used in the preparation of the dish itself. Equally famed is the detailed shaping of savory and sweet delights to resemble the flora an fauna of Thailand. Indeed, Royal Thai cuisine appeals not only to the sense of taste, but also to the senses of scent and sight.
-Benjarong, Dusit Thani Dubai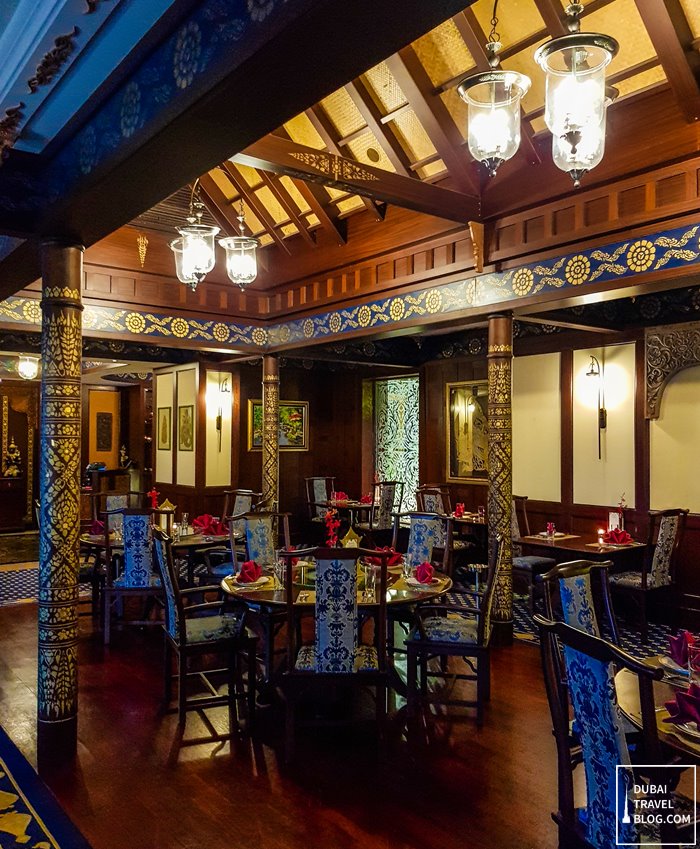 Benjarong night
Our visits to Dusit Thani Dubai has been nothing short of wonderful. I like the fact that this five-star hotel has provided us with the most memorable casual dining experiences in the emirate. Check out our other articles about Dusit Thani Dubai below:
Note: We were invited as guests to this restaurant. All opinions are my own.
Contact Information
Dusit Thani Dubai
Address: 133, Sheikh Zayed Road P.O. Box 23335 Dubai, United Arab Emirates
Contact Number: +971 4 343 3333
Website: https://www.dusit.com/dusitthani/dubai/
Instagram: @DusitThaniDubai
Facebook: @DusitThaniDubai
Twitter: @DusitThaniDubai
Google Map Location
Below is a map guide to Dusit Thani Dubai. Benjarong Bar and Pub is located at the 24th floor of the hotel: