UPDATE: This cafe/restaurant is now closed and has replaced by an Apple store.
We had dinner with a great view of the Dubai Fountain at the terrace of Madeleine Cafe and Boulangerie one Friday evening. This restaurant in The Dubai Mall specializes in French cuisine and has weekly specials for its patrons to offer something different aside from their regular menu items. We were in for a treat as they prepared a three course set for us that night.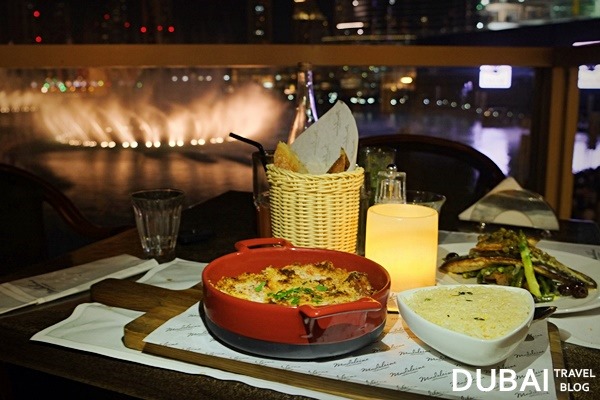 water fountain view from Madeleine Cafe terrace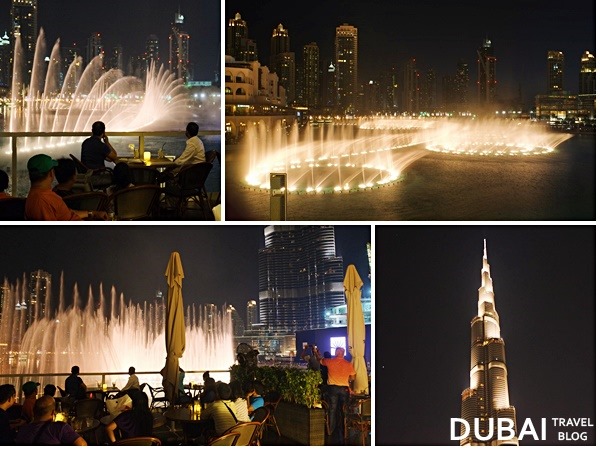 the terrace has an unobstructed view of the fountain, book your seats when you dine in!
Dubai Fountain View during Dinner at Madeleine Cafe and Boulangerie
We've been in this Parisian-inspired restaurant before. We had their All Day Lazy Breakfast and a dinner with their guest chef and in both occasions, we sat inside. This time was different as they reserved a table at the corner of their terrace.
This terrace corner is considered to be a popular spot for diners because you get a lovely view of the Burj Khalifa lake below and the anticipated fountain show presentation. Might I say that we were very lucky to have sat there!

Madeleine Café & Boulangerie in Dubai Mall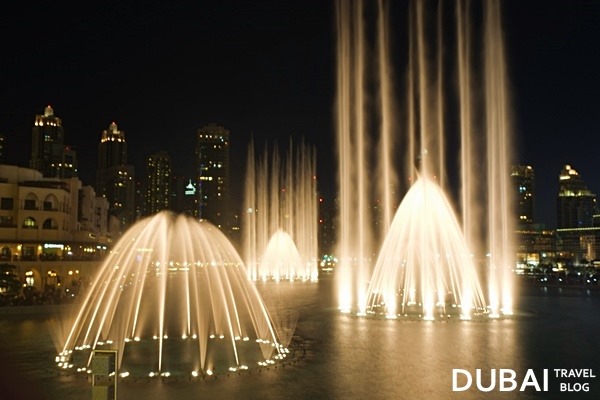 Fountain show
Mr. Mohit, the manager, introduced us to a mix of their weekly specials and their regular menu items. This is their way of providing new items on their menu and offering something different to their regular customers.
Drinks
We had their mint lemonade and parisian sunrise. Summer is coming up in Dubai and what better way to start the 3-course set than with these refreshing mocktails!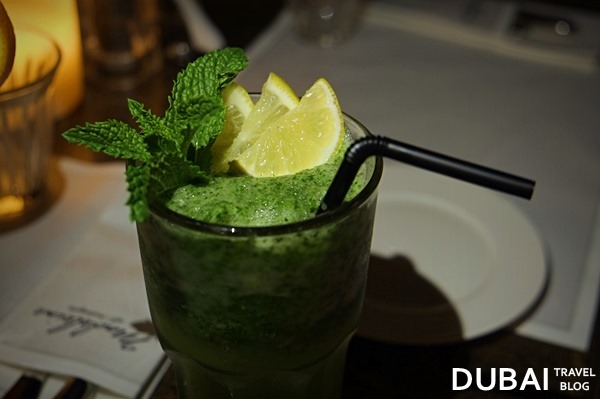 Mint Lemonade
Fresh mint blended with homemade lemonade – 30 AED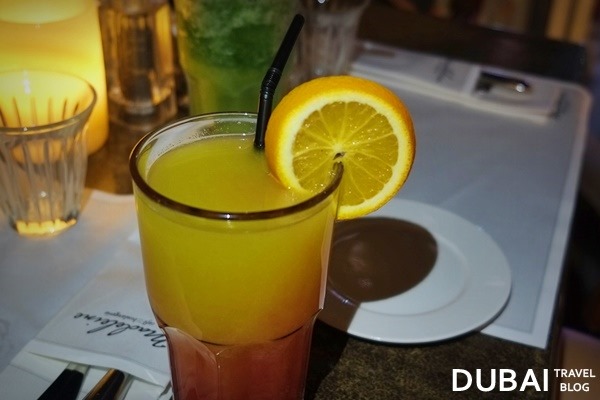 Parisian Sunrise
Orange, mango and pineapple topped with grenadine syrup – 30 AED
Appetizers/Starters
We had the Lentilles de Oeuf Poche and Fois Gras de Canard Torchon for starters. The fois gras was rich and creamy and the fig jam added a sweet touch to the duck.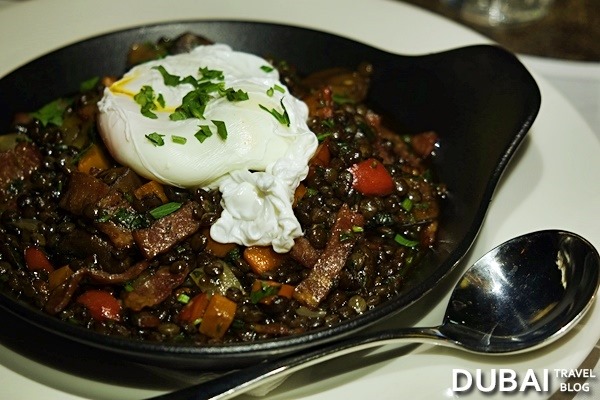 Lentilles de Oeuf Poche
Poached egg with puy lentil, turkey lardon and smoked red pepper – 60 AED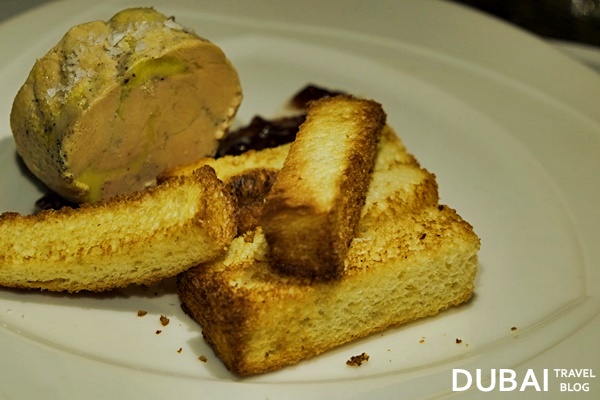 Fois Gras de Canard Torchon
Duck liver, fig jam and toasted brioche – 95 AED
Main Course
For our main course, we had a chicken thigh casserole which was partnered with Pilaf rice. The casserole serving was really huge that it could stand by itself without the rice. We also had sea bass with a very lovely presentation. It looked too good to eat!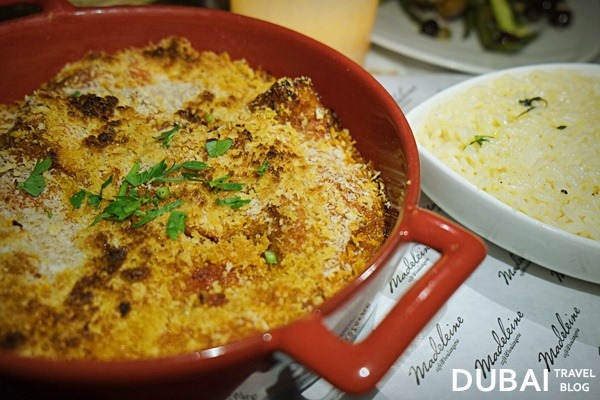 Cuisse de poulet Basquaise
Boneless chicken thigh casserole served with Pilaf rice – 95 AED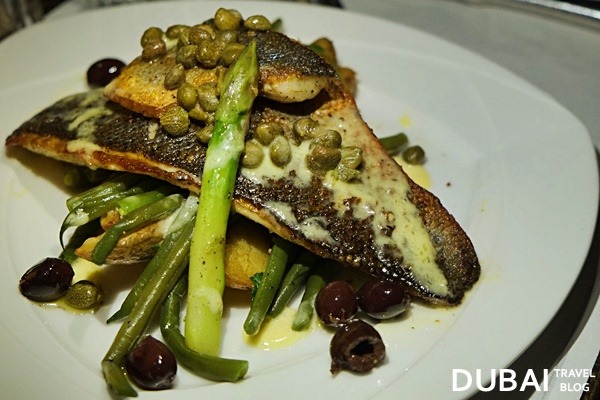 Filet de Loup Nicoise
Sea bass fillet served with La Ratte potatoes, beans, asparagus, olives, cherry tomatoes and capers in noisette butter – 120 AED
Dessert
As for dessert, my favorite part, we had coffee ice cream and berries frangipane tart. The ice cream had some crunchy coffee bits that added a different texture to the sweet dessert.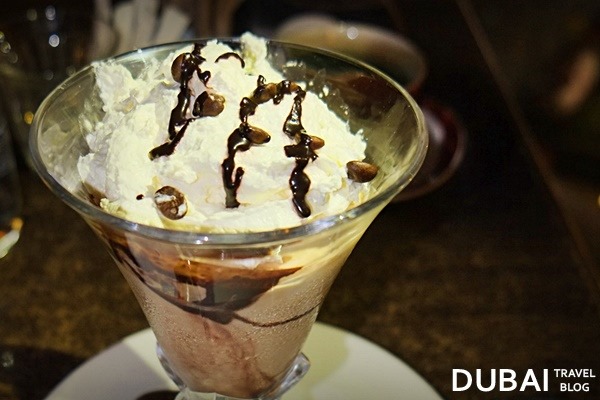 Cafe Liegois
Coffee ice cream with lightly sweetened coffee and Chantilly cream – 40 AED

Frangipane Tarte Fine de Baise
Berries frangipan tart – 35 AED
We were very full afterwards that we took some more time to relax and enjoy the water fountain show. The view was something worth staying longer so we sat and stared at the lake.
Dancing Fountain Show in Dubai
The show begins at 6 pm and includes a selected song number accompanied by the dancing water and light fountain. Every night, Dubai tourists and residents flock to this area to witness this activity. This is after all, a great tourist attraction in Dubai Mall and Dubai as a whole.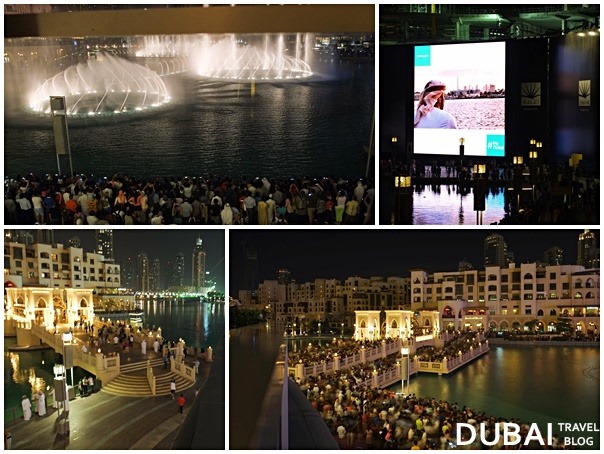 view down below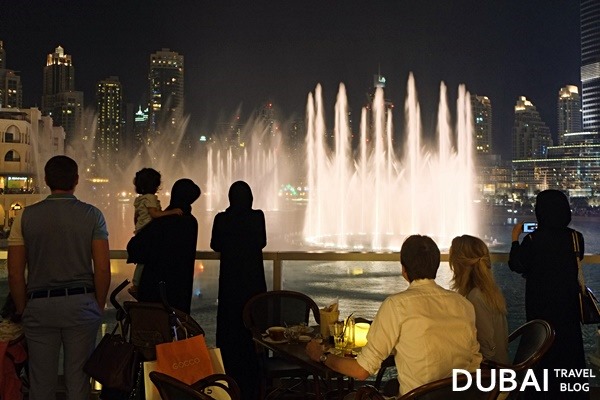 The fountain show is always a sight to behold
This was a great weekend and a satisfying dinner experience altogether. If you plan to watch the water fountain and  light show, I recommend you dine at the terrace of Madeleine Café. Don't forget to call for reservation if you wish to get seats outside!
Contact Information
Restaurant: Madeleine Café & Boulangerie Address: Ground Level, Fashion Avenue, The Dubai Mall, Dubai, U.A.E.
Telephone Number: +971 4 438 4335
Email: infomadeleinecafe@emaar.ae
Website: www.madeleinecafe.com
Facebook Page: facebook.com/madeleinecafe
Instagram: instagram.com/madeleinecafeboulangerie