UPDATE: This cafe/restaurant is now closed and has replaced by an Apple store.
Madeleine Café and Boulangerie in The Dubai Mall offers an all-day lazy breakfast menu during weekends to their patrons who want to have their "morning" meal in the afternoon. Every Friday and Saturday, you can check out the combination of their popular food items and lounge in this French-themed restaurant.
Breakfast Menu All Day
Madeleine Café & Boulangerie – The Dubai Mall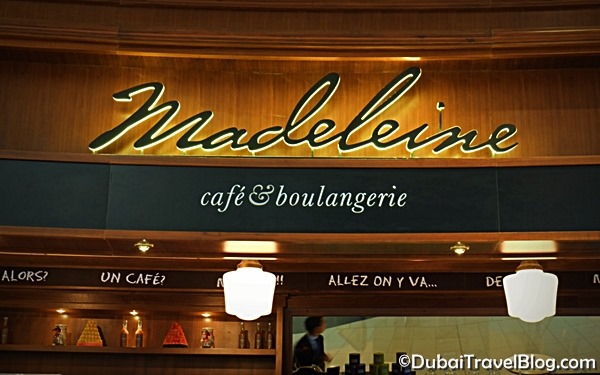 Madeleine Dubai Mall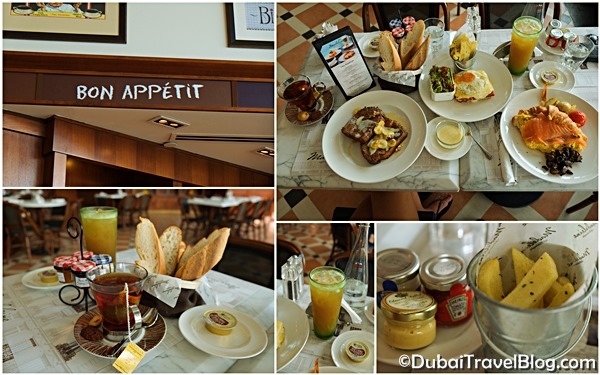 Bon Appetit!
Madeleine in The Dubai Mall
Madeleine Café is located at the Fashion Avenue of The Dubai Mall and this is a French-themed restaurant that offers a venue for family or friends to have a relaxing meal after shopping inside the mall outlets. This is also a good place for you to catch up on your books while sipping coffee or tea.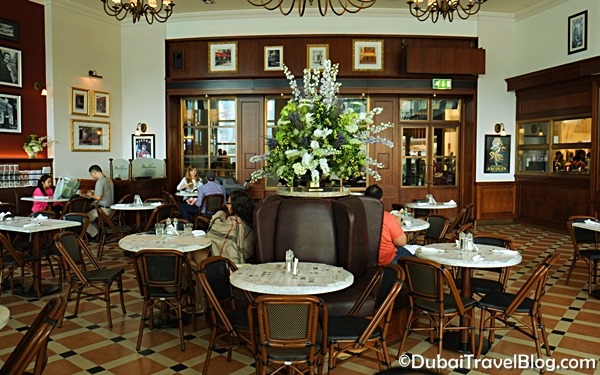 Parisien style café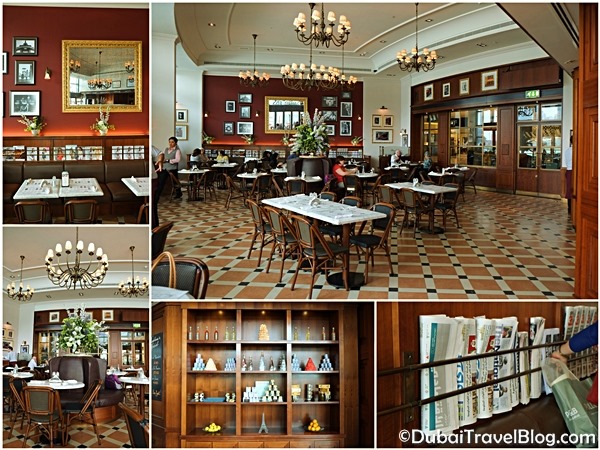 inside the resto
Newspapers and magazines are available so you can really take time to enjoy your food and the ambiance inside this café and bakery. This is a good place to dine when you want a break from the crowd inside the mall. You can have your own quiet corner and relax for awhile.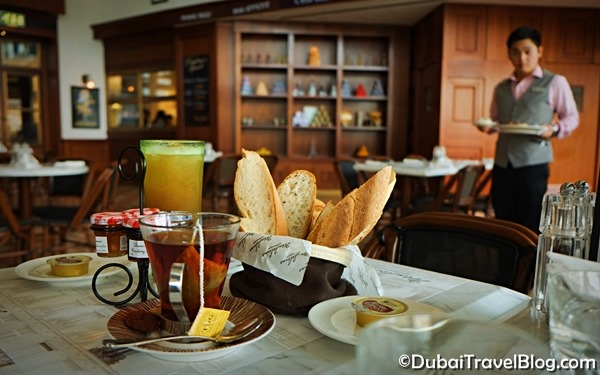 bread, tea and juice while waiting for our main meals
Madeleine's Outdoor Terrace
The amazing views of The Dubai Fountain and Burj Khalifa from the outdoor terrace creates an ideal backdrop to indulge in traditional French cuisine that includes gourmet items and pastries as well as some of the finest hot and cold beverages.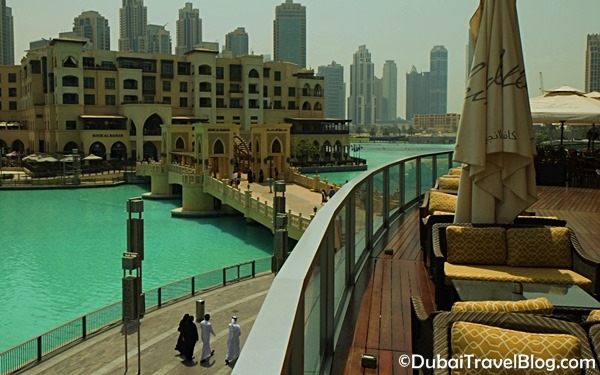 view of the Lake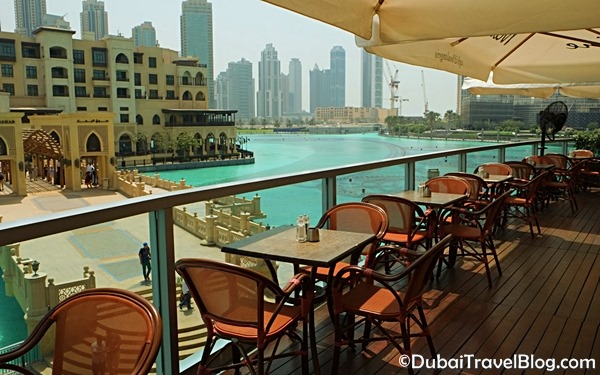 Option to Dine Outside – Best to do so during Winter season!
Management and staff informed us that the place (especially the terrace) gets busy early in the evening till night because of the gorgeous view you can get from the resto. We were lucky enough to have witnessed one of the fountain shows in the afternoon with a clear view of the lake.
True enough as well, I noticed a couple of tourists ordering coffee while waiting for the fountain show to start. Plenty of tourists come to this café because it offers one of the best views  (if not the best) outside.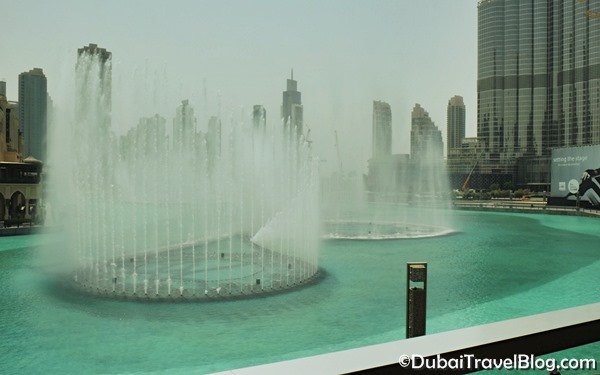 Dubai Fountain Show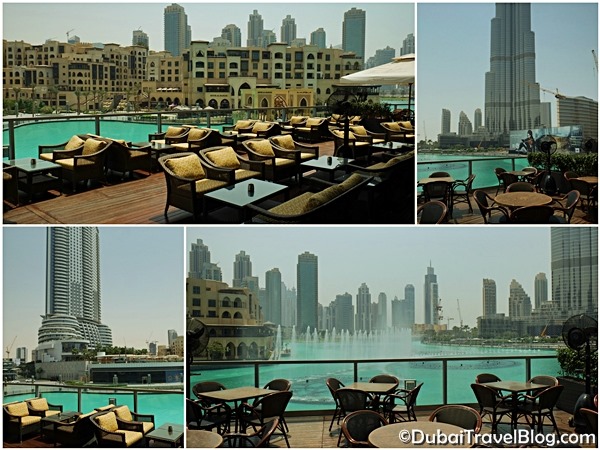 terrace of Madeleine CaféCafe
Madeleine Cafe and Boulangerie (Bakery) Breakfast Menu
The lazy breakfast is available only on weekends (Friday & Saturday) from 12.00pm until 5.00pm. "Bon Appetit!" is what the staff ensures after preparing our food.
We asked for their recommendations for the Lazy Breakfast items and they advised us to try the Croque Madame and Smoked Salmon Scrambled Egg Croissant. We also had French Toast and had Tea and Peach Iced Tea as our drinks. Below are the food that we ordered.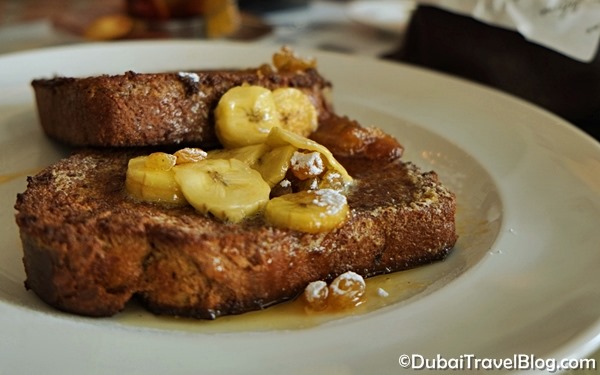 French Toast – 55 AED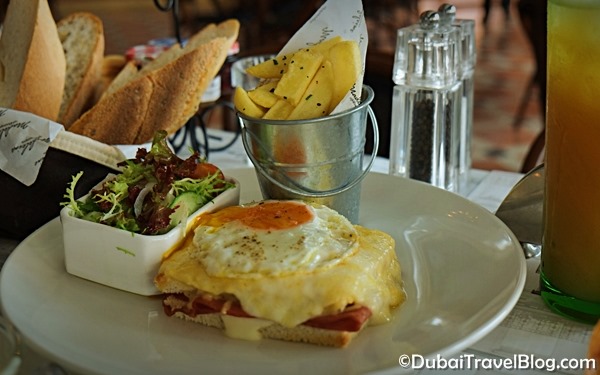 Croque Madame – 55 AED
Smoked Salmon Scrambled Egg Croissant – 55 AED
All Day Lazy Breakfast "Un Grand Petit-Déjeuner"

"Our à la carte Lazy Breakfast on the terrace at Madeleine is for those who enjoy in a charming brasserie-style setting with a choice of excellent breakfast items prepared à la minute. Additionally, the outstanding views of Burj Khalifa make this superb all-day breakfast, an all-round winner."

Time: Friday & Saturday, 12.00pm until 5.00pm
Price: A la carte

– From the Madeleine café Website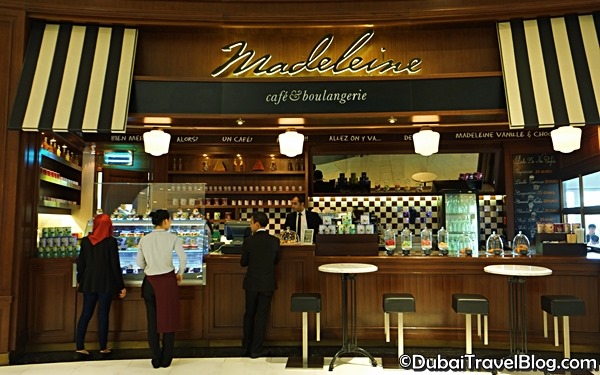 front of the restaurant café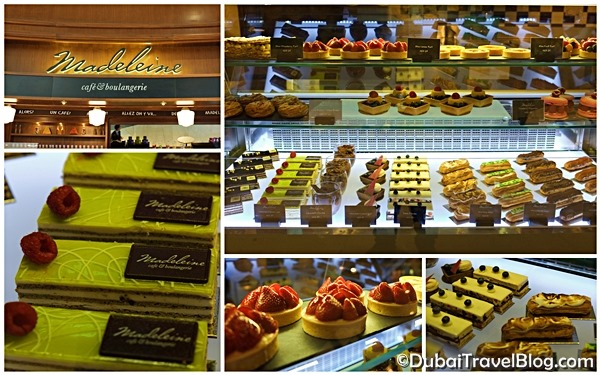 Madeleine pastries
Here's the complete list of the Lazy Breakfast items:
French Toast: Brioche dipped in egg & milk batter pan-fried, served with raisins, caramelized banana and honey – AED 55
Croque Madame: Gratinated ham & gruyere cheese sandwich with fried egg, roasted tomatoes, potato and mushroom – AED 55
Egg Benedict: Poached eggs on brioche with smoked salmon and hollandaise sauce – 55 AED
Scrambled Egg Croissant: Croissant filled with scrambled egg and served with tomato, potato and mushroom – AED 50
Smoked Salmon Scrambled Egg Croissant: Croissant filled with scrambled egg, salmon and served with tomato, potato, and mushroom. – AED 55
Assorted Cheese Platter – AED 45
They also offer breads and pastries. We weren't able to order for ourselves as we were so full already. There's always a next time. They also advised us to visit in the evening when you can fully appreciate the Dubai night lights and sky.
Contact Information
Restaurant: Madeleine Café & Boulangerie
Address: Ground Level, Fashion Avenue, The Dubai Mall, Dubai, U.A.E.
Telephone Number: +971 4 438 4335
Email: infomadeleinecafe@emaar.ae
Website: www.madeleinecafe.com