On a Saturday night, a few friends and I went to Itzza Pizza shop in Jumeirah beach road for some pizza and pasta treats. This is a humble place that serves freshly baked wood-fired pizzas and with its wood and brick interior, it created a cozy atmosphere with friends to enjoy a good dinner on a weekend.
Wood-Fired Pizza in Itzza Pizza UAE
This was our first time to dine in the pizzeria in Jumeirah, Umm Suqeim and were pleasantly surprised by the homey feel of its interior. It left a good impression especially when we were going to try their wood-fired pizzas that night.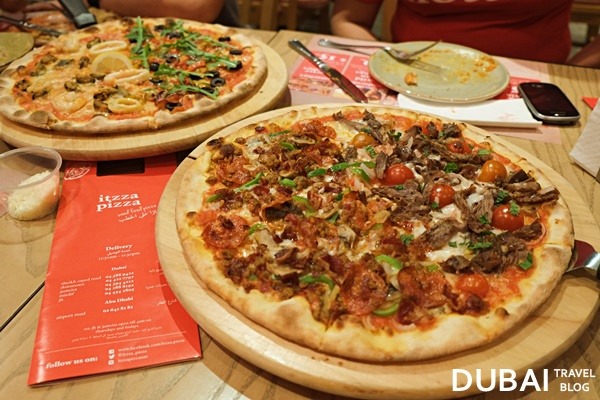 a Saturday casual dinner at Itzza Pizza Dubai!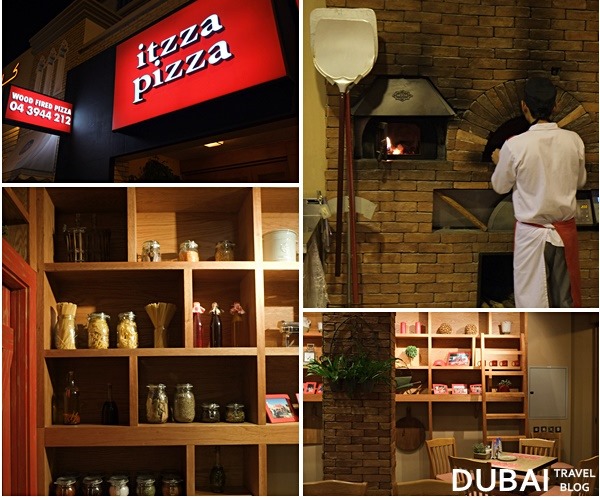 wood-fired pizza – brick walls and rustic feel
Itzza Pizza Daily Specials
Itzza Pizza has daily special offers depending on the day of the week (except Thursdays and Fridays) where you can get good prices on certain food items. Like on Sundays, they have a Pizza Mania which is an all-you-can-eat feast of all their pizzas or on Wednesdays where you can go Wild on Wings which is an unlimited frenzy of their barbecue or buffalo-flavoured chicken wings! These specials are good for dine-in orders only and are available in all their UAE branches.
Starters & Drinks
We had the itzza Triple combo which is a combination of 3 appetizers served in one tray. Great to taste a bit of their starters to prepare us what the shop has to offer.  We also ordered their fresh cooler drinks.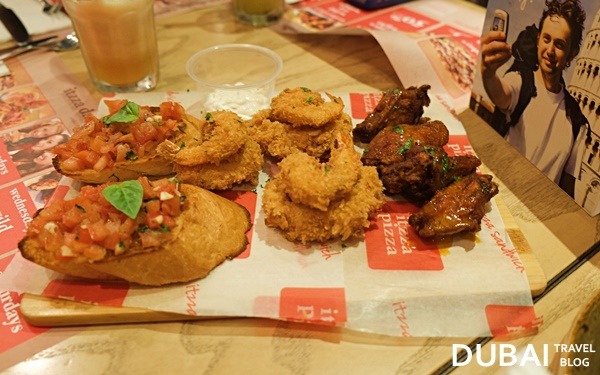 appetizers – Bruschetta, Shrimps & Calamari, Buffalo Wings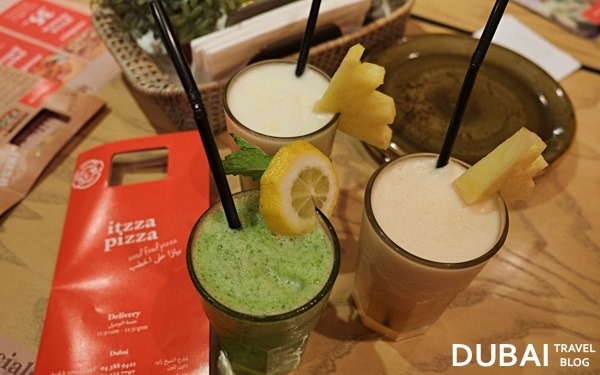 Cyclone Tropical – fresh pineapple, passion fruit
Virgin Pina Colada – fresh pineapple, coconut
Lemon Mint – fresh lemon juice, mint leaves
Pastas
Aside from pizzas we has a helpful serving of their pastas. Lasagna is their signature pasta dish and is also baked using their wood-fired oven. We also had their Spaghetti Seafood which comes with a school of shrimp, mussels and clamari cooked with their home-made white and red sauce. According to our taste buds, the red sauce stood out more.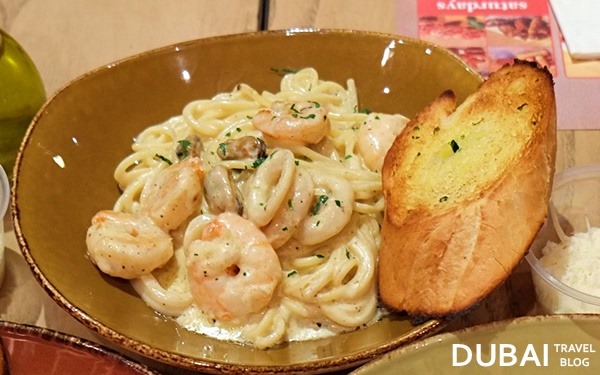 Seafood Spaghetti in White Sauce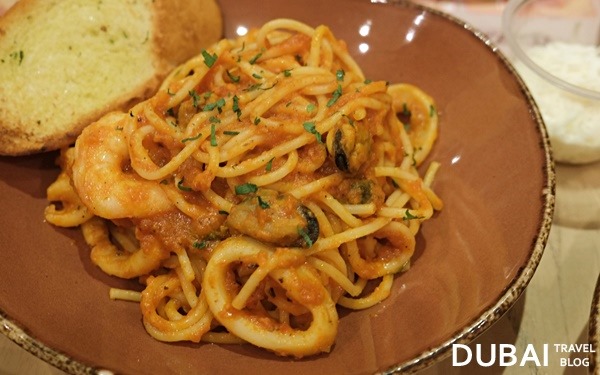 Seafood Spaghetti in red sauce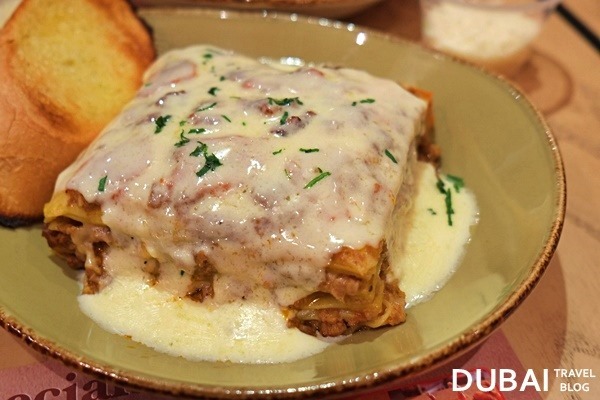 Home-made Lasagna
Pizza Combinations
One of the things that you may fancy when ordering is to split the pizza flavors into two. Itzza Pizza restaurant provides an option to choose two toppings in one pizza. You can have seafood flavors in one side and have an all-metal craze on the other. This is perfect for those who want a certain topping to be included on the dough.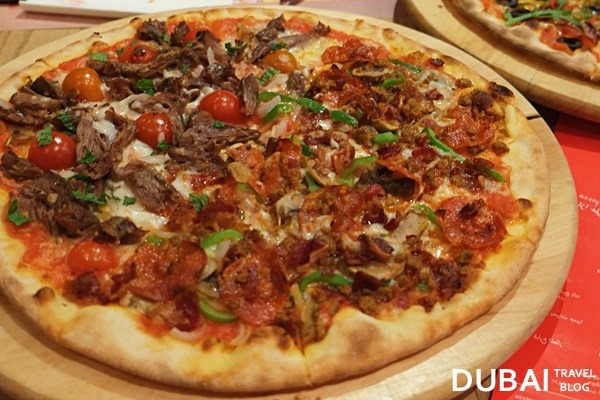 Lamb Roast and Itzza Classic Toppings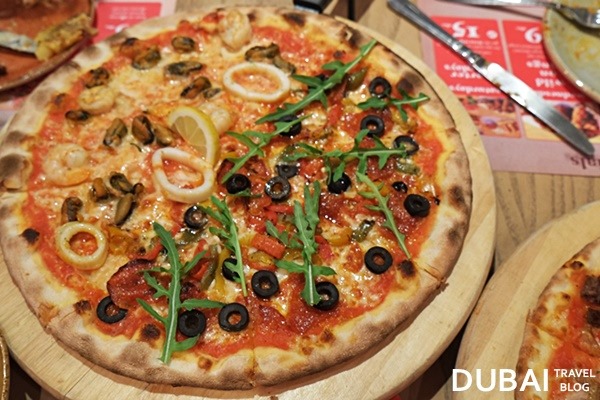 Seafood and Itzza Spring Toppings
Lemon-Baked Cheesecake Dessert
The lemon taste adds a tangy taste to the cheesecake. Try this dessert from Itzza Pizza for a unique finish. It's best eaten when shared with friends.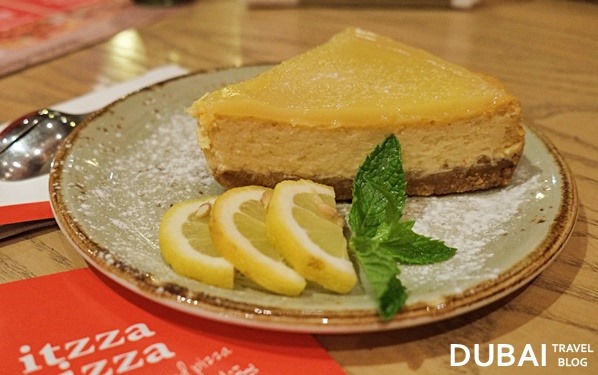 itzza pizza dessert
Homey and Rustic Interior
The ambiance is cozy and relaxing with brick walls and wooden decorations. Dining in itzza Pizza will make you feel like you are dining in a traditional home where you can appreciate having your meals prepared.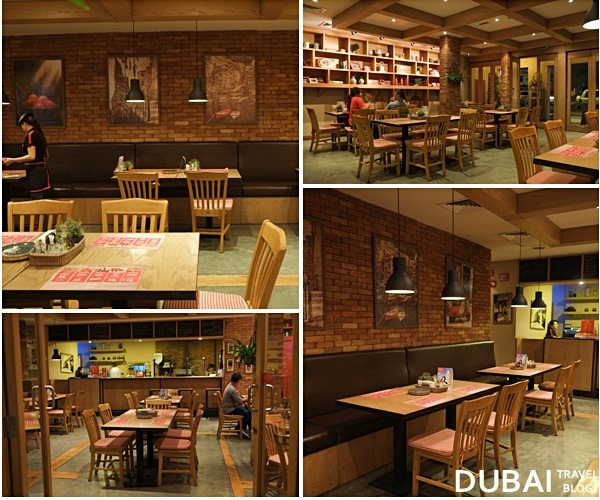 interior
This is the experience that the pizza place wants to bring to every diner. To have a fun and relaxing time with people you want to share stories over a casual dinner. You can't help but stay for a few hours and take time to enjoy the food and conversations.
Itzza Pizza restaurant has branches I'm key areas of Dubai and one in Abu Dhabi. They also accept deliveries.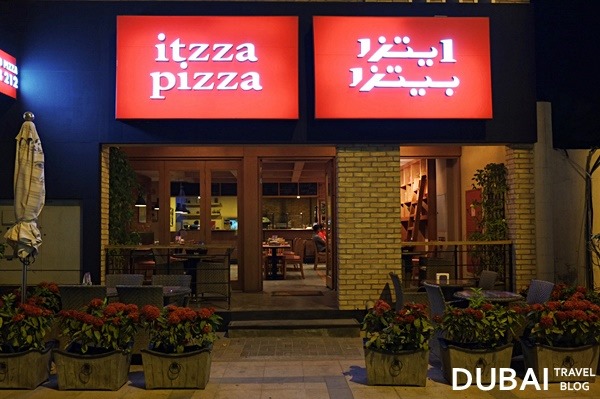 Jumeirah road, Umm Suqeim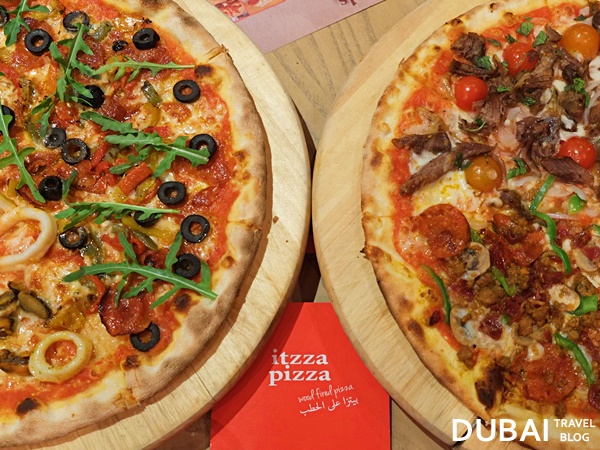 100% Wood-fired Pizza
Itzza Pizza Telephone Numbers
Dubai Branches
Downtown – 04 388 9422
JLT – 04 454 2805
Jumeirah – 04 394 4212
Mirdif – 04 288 8192
Abu Dhabi Branch
Airport Road – 02 641 8182
Website: www.itzza-pizza.com
Facebook: facebook.com/itzzapizzauae
Instagram: instagram.com/itzzapizzauae/