On a Saturday evening, my wife and I went to Sharjah-Hatta desert to experience a different kind of dune buggy adventure. The Night Raid Buggy Tours is one of the adrenaline-fueled activities of Big Red Adventure Tours where one can enjoy driving through the desert dunes for two hours and at night time.
While we've experienced driving a dune buggy in the desert before, this was our first time to try driving in the dark, which made it all the more interesting.
TRIVIA: Will Smith is one of their customers. We saw a signed waiver with the Hollywood celebrity's name framed and displayed in the counter.
Book a Dune Buggy Adventure Here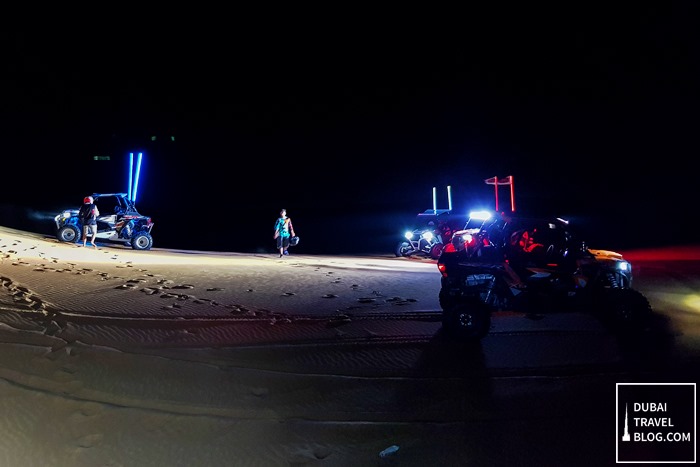 night raid tour on a dune buggy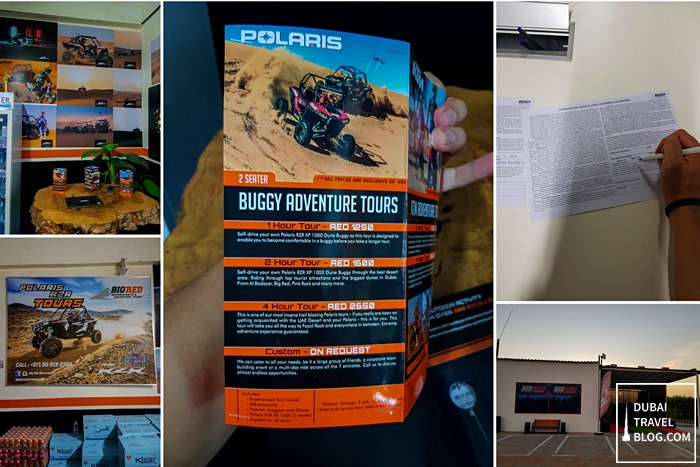 Buggy Adventure Tours by Big Red DXB
Dune Buggy at Night in Hatta-Sharjah Mleiha Archaeological Site
Driving towards the meeting point took us about 50 minutes. We didn't realize how big Sharjah was until we drove that far and we never passed through other emirates.
As we arrived, the sun was already setting and we were excited to try this extreme activity. We signed a waiver and secured our safety gear. It was time to start.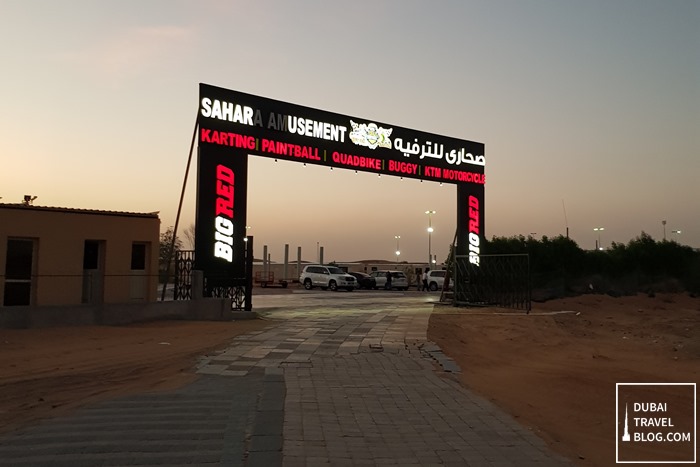 Big Red Adventure Tours Dubai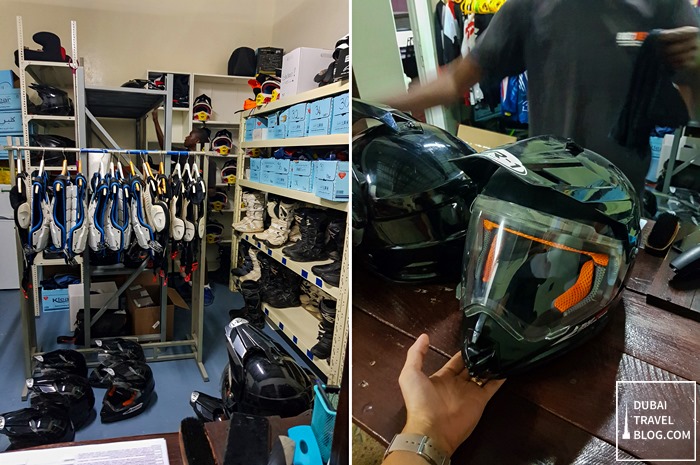 getting our safety gear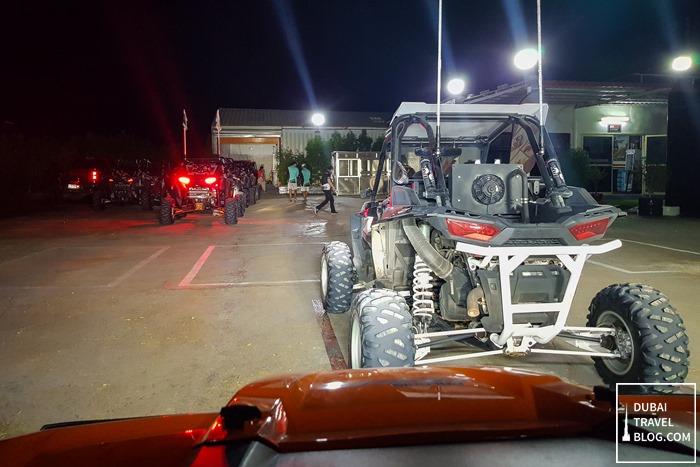 starting point
Book a Dune Buggy Adventure Here
Starting the Desert Adventure
They gave us a dust mask to put underneath our helmets. We started the trip around 6:30pm and we passed through dunes and climbed slopes. At one point I got stuck on a slope and didn't know what to do that I just froze. Sebastian and Donovan quickly assisted us and told us to reverse the engine so we could slide down backwards.
At times it felt the drive was scary, and we could hardly see the view. But this was all part of the desert adventure and something adrenaline enthusiasts might fancy.

going over slopes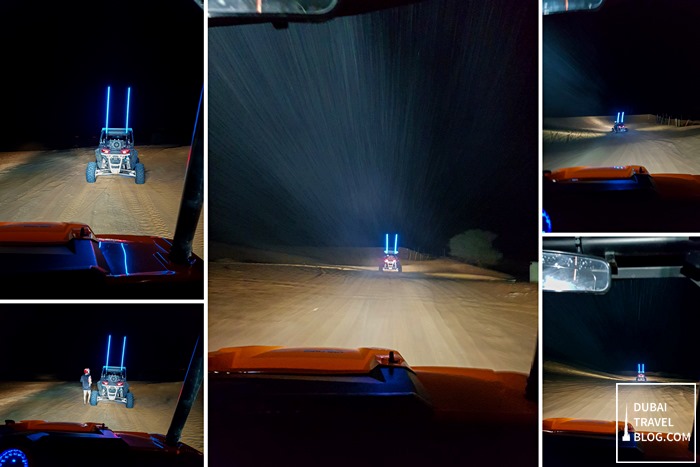 dusty ride

following our guide
Book a Dune Buggy Adventure Here
Tourists Stuck on the Desert
We saw a group of tourists in a Land Cruiser and were stuck in the sand. We paused for awhile so our guide could help them. He gave the number of their Recovery Team in order to assist them with their dilemma.
He says that a lot of people drive with their private vehicles in the desert. Desert dune drivers require special and driving license since this is on a different terrain. It was good that we were there so we could somehow help them as they were there for a few hours already.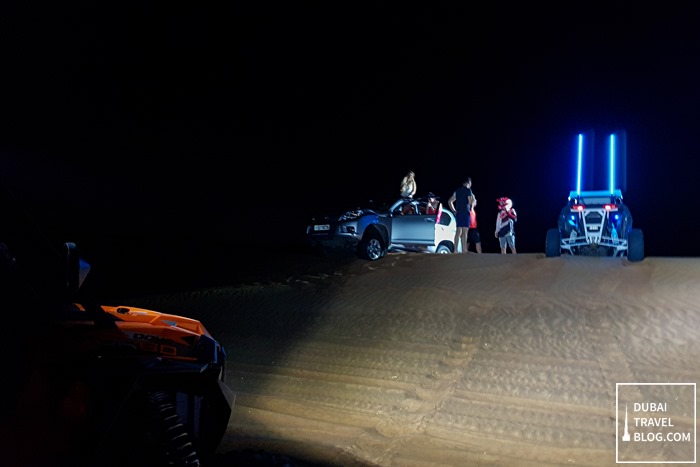 tourists that got stuck with their private land cruiser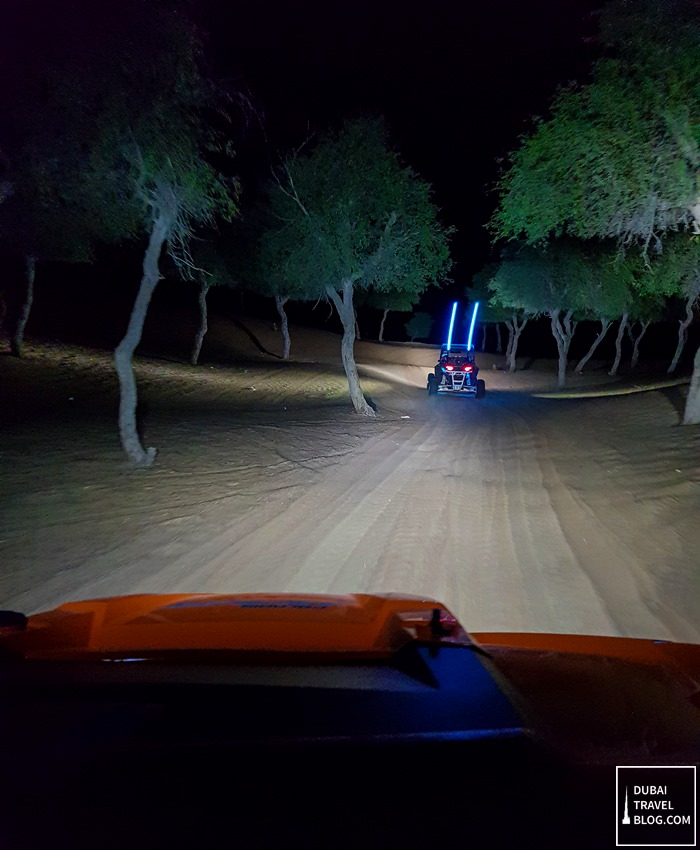 passing through trees in the desert
Marshmallow Snack & Campfire
We passed through trees and afterwards, we stopped to make a quick campfire. They brought out marshmallows for us to roast and have a short snack.
We didn't expect the marshmallows to be a nice added touch to the experience. We munched on them while gazing at the stars. We didn't realize the drive lasted for about an hour and the camp was a good break before heading back to the site.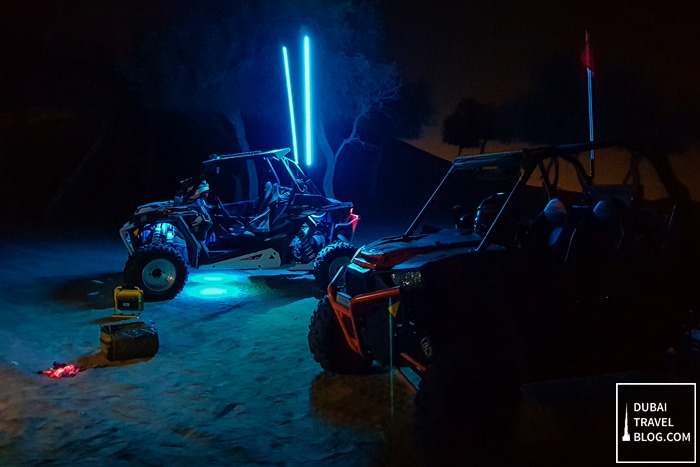 putting out the fire and getting ready to head back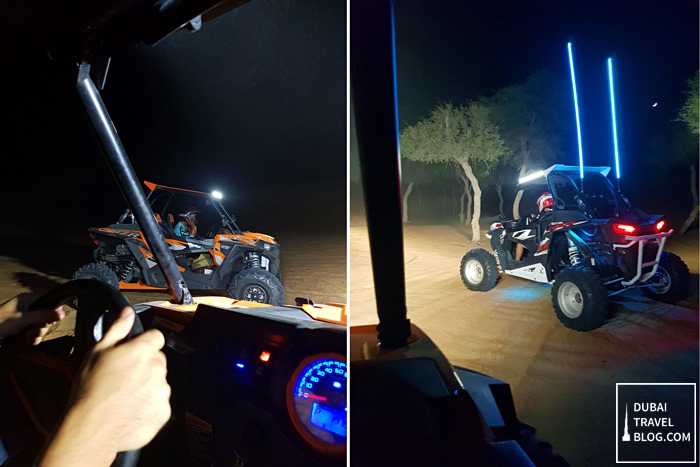 on our left is Donovan, on our right is Sebastian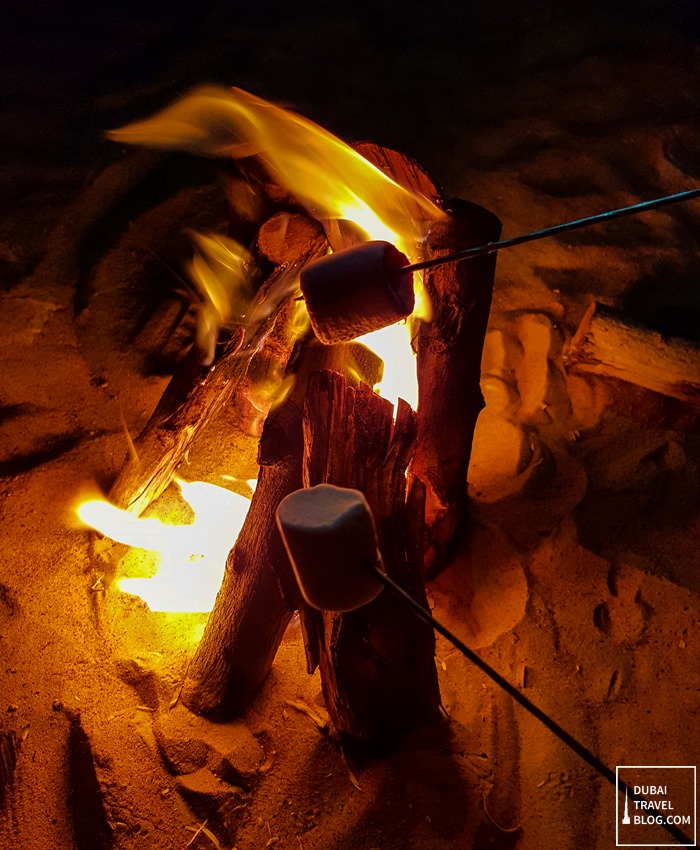 marshmallows
Heading Back to the Site
We drove back to the site and still passed through desert dunes and slopes. It was a bit more adventurous this time. I guess our guides were able to assess our level of driving. Soon-after, we arrived at the main site and finished our experience.
By the way, it was really dusty driving the buggy so the helmets were really useful.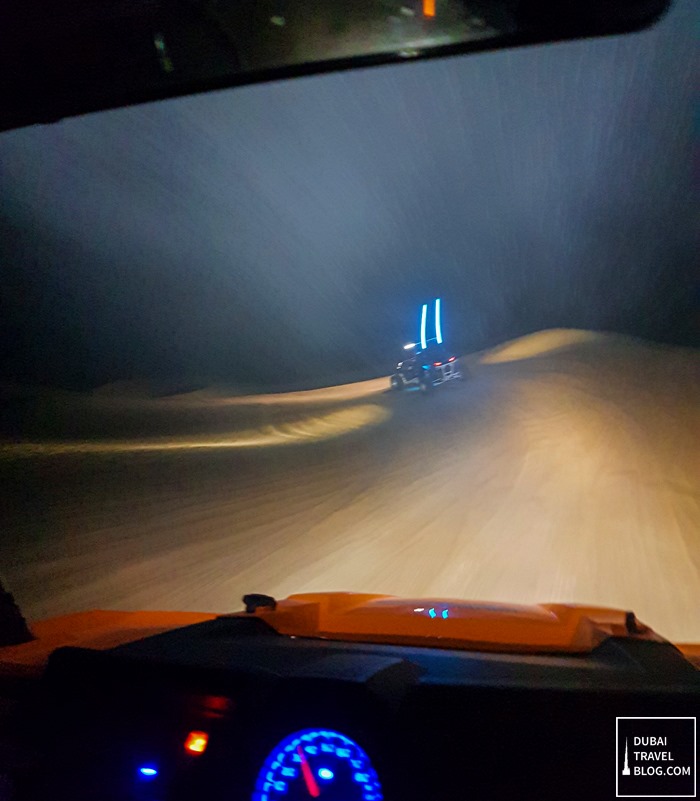 passing through more slopes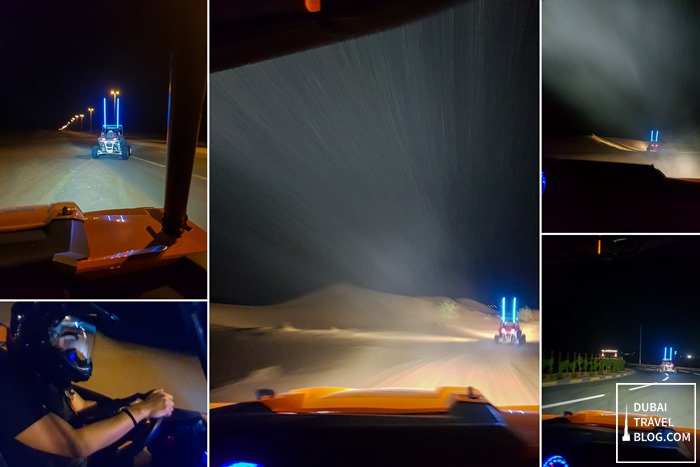 desert dune buggy at night in UAE
It was an exhilarating activity altogether and just to share an insight, we didn't really see much views of the desert. But it was still a thrilling drive because of the added degree of difficulty.
If you have not experienced a dune buggy tour at all, I would suggest you try the morning or sunset tour first so you can see the beauty of the desert during day time, especially from this desert where the famous Mleiha Archaeological site is located.
Book a Dune Buggy Adventure Here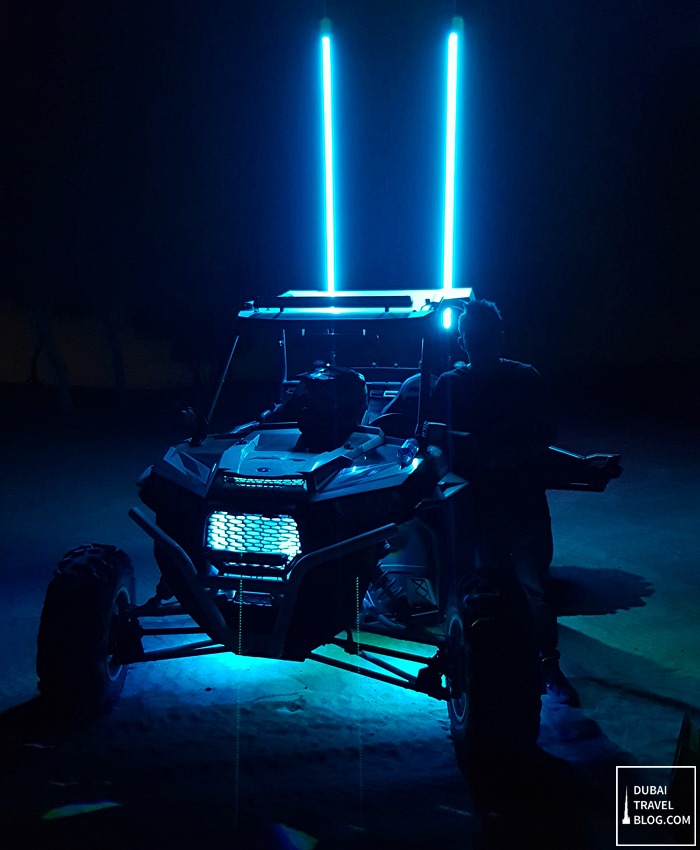 night raid tour by Big Red DXB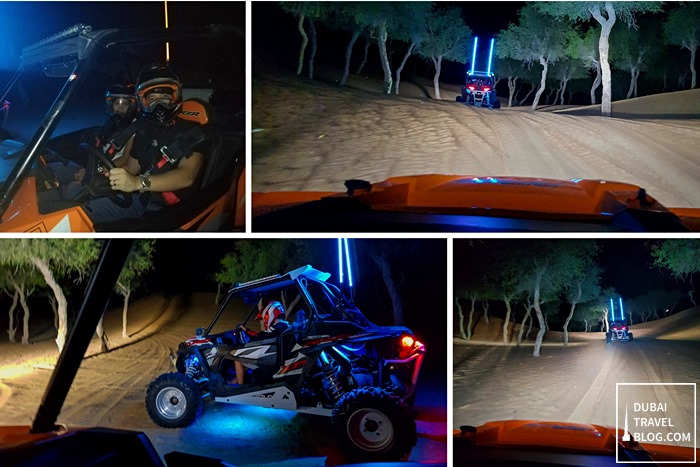 great dune buggy desert experience
Safety and Security
Big Red Adventure Tours have professional drivers and guides. Sebastian and Donovan assisted us during the tour and from the onset, they taught us the basics of handling the vehicle and what we should do when on the desert sand. They were very serious with their duties and advised us to follow them on the trail at all times.
We are, after all, handling machines and it's not all just fun and games when you drive. You also have to practice caution. The instructions they gave were helpful and reminded us that we should remain responsible during the drive.
Book a Dune Buggy Adventure Here
Video: Dune Buggy at Night in Dubai
Here's a video clip of our experience during the dune buggy at night in Dubai:
As the need for extreme adventure in human nature becomes more apparent day by day we have created a product for you to explore the depths of your own adrenaline.
– Big Red DXB
Thank you to Sebastian and Donovan for being excellent guides!
I would like to give credit to my wife who took pictures while I was driving. I wasn't able to use my camera during the drive and she used my Samsung Note8 to take photos.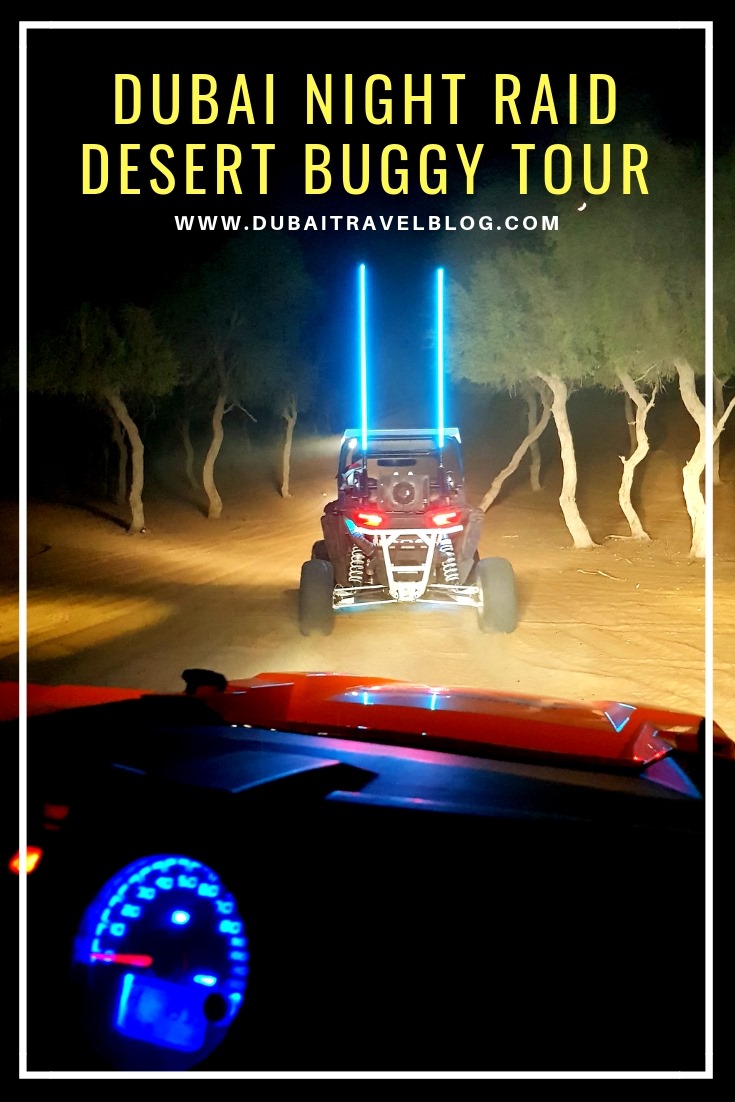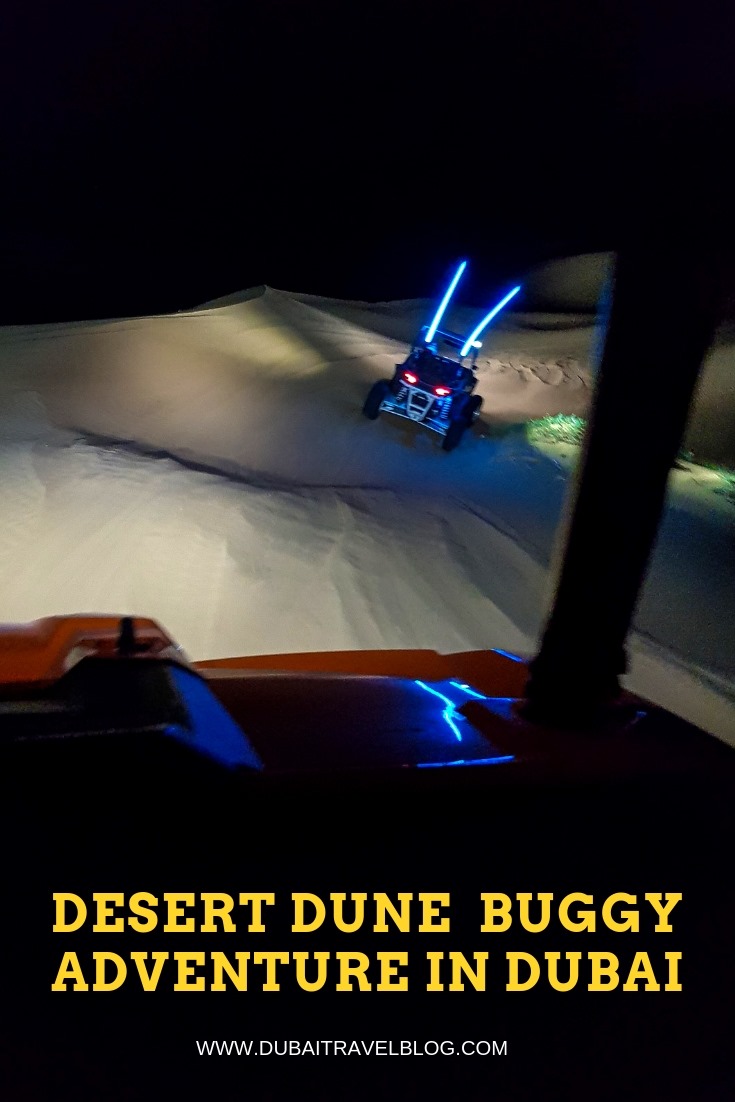 Contact Information
Address: Hatta Road, Sharjah, UAE Sharjah, UAE – Sharjah
Phone: +971 50 919 2394
Website: https://www.bigreddxb.com
Instagram: @bigreddxb
Facebook: @BigRedDxb
Twitter: @BigRedDxbTours
Book a Dune Buggy Adventure Here
Google Map Location
Below is a map guide to the Big Red DXB adventure site which is the starting point of the adventure. It took us about an hour to reach the site (from Sharjah).