We had another sand dune buggy adventure in the Dubai desert. This time we drove at the Mleiha desert site in Sharjah, this time with Desert Fox sand rails. We had an extremely wonderful time driving and enjoying the beautiful view especially since this is a famous spot for sand adventures in the UAE.
While our first sand buggy experience occurred during the morning, and the second time was at night, this third time it was during the afternoon and was prepared by Explorer Tours UAE. Seeing the red sand dunes while driving over slopes of sand was an exhilarating escapade!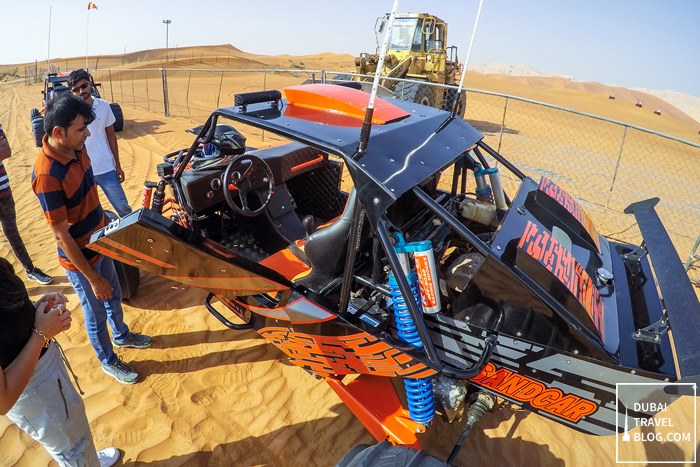 Explorers Team preparing our ride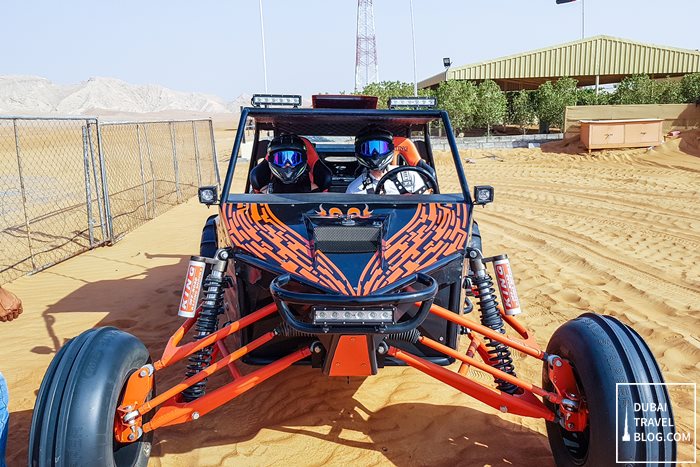 quick photo
Desert Fox Sand Rails Adventure at Fossil Rock in Mleiha Desert, Sharjah
This desert adventure package already comes with pick up from your hotel accommodation. In our case, we drove to the starting point which is about an hour's drive from our place.
We had a safety briefing upon our arrival and they provided us with helmets and goggles. An experienced convoy leader advised us to always follow him, and there's a back-up team in a 4×4 to accompany us in case we may get stuck in the sand.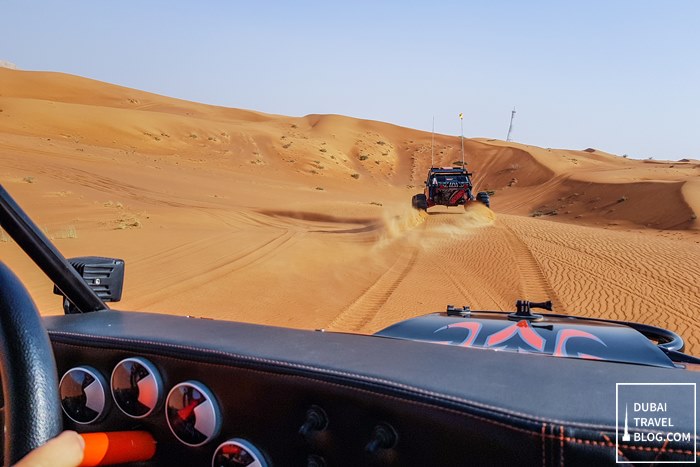 starting our desert adventure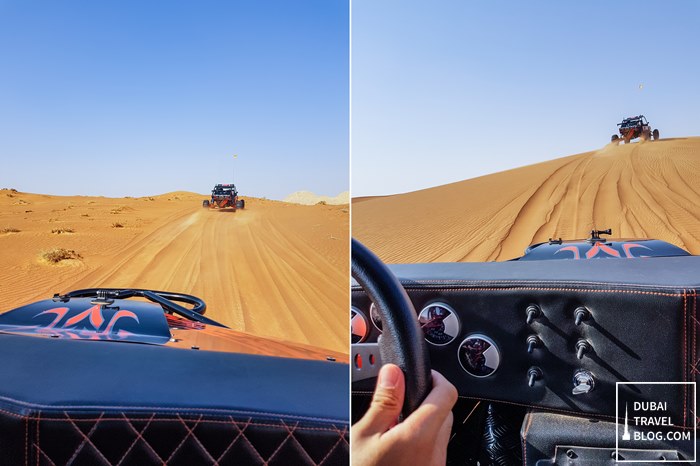 driving over valleys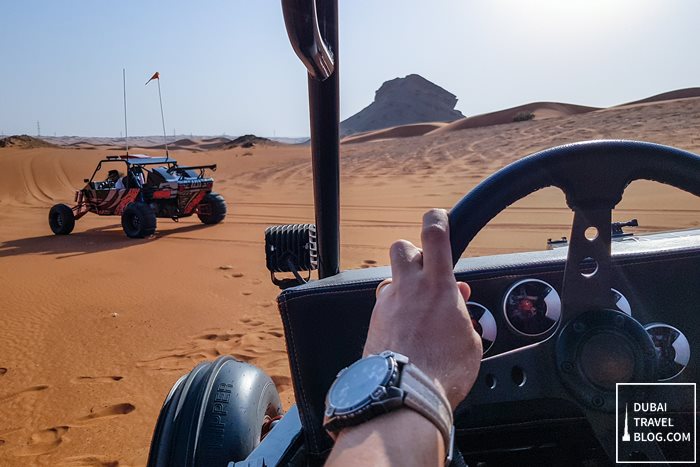 enjoying the view
Driving the Desert Fox buggy was different as I felt really secure in them. The tires were huge and the seat and exterior of the buggy were sturdy. Even my wife mentioned that this was her first time where she didn't feel too scared because the buggies were really equipped for heavy-duty bashing.
After the first slope, we were already pumped-up to take the next few ones. It was an adrenaline-filled sandy afternoon driving over amazingly red desert dunes!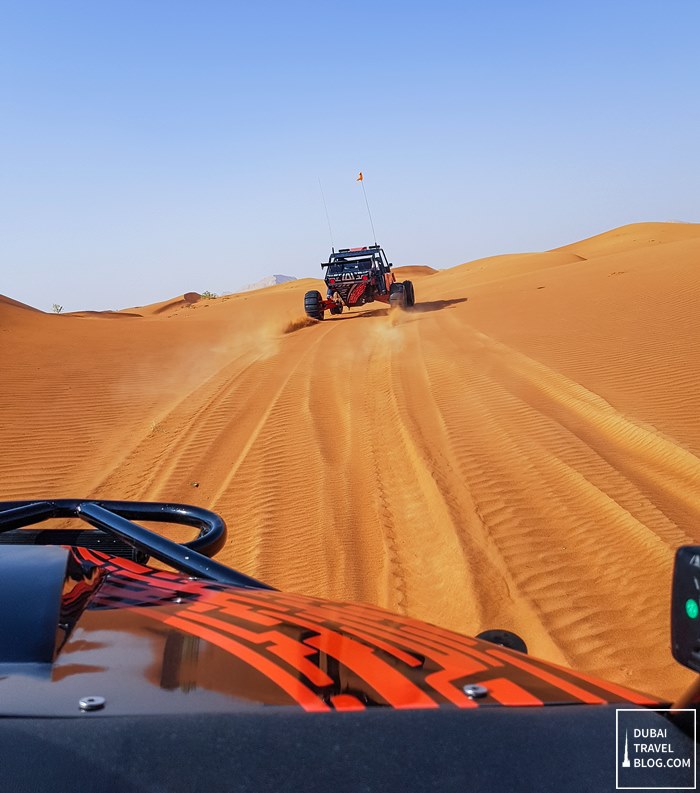 loving the desert sand and the view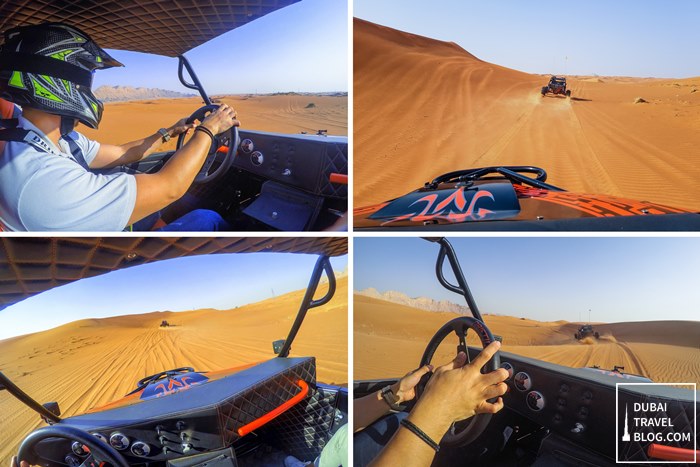 Heading to Fossil Rock
One thing I noticed after booking a few desert safari trips is that you have to go beyond the city, let's say desert spots that are an hour away from Dubai, as the sand is redder and there are lesser plants. In fact, this desert is actually located in the emirate of Sharjah already.
You feel more isolated from the city because there are no people around. Just a few camels along the way! 🙂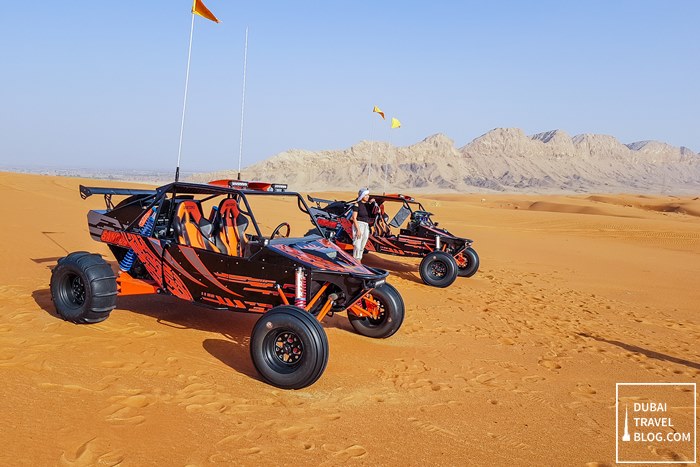 a quick stopover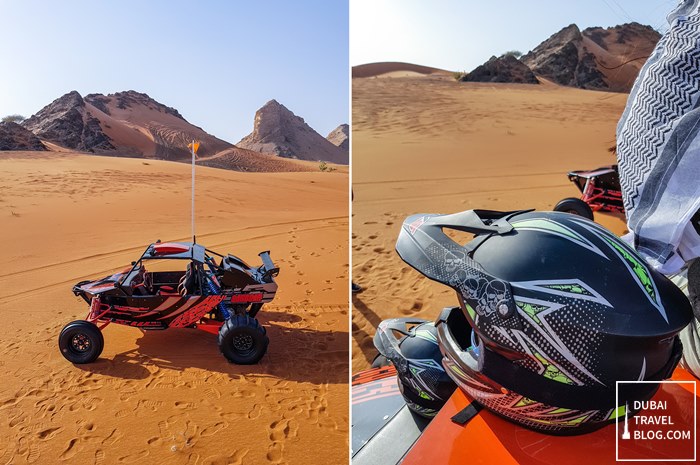 took a few more pictures during this break
We felt very secured since we had one guide driving the same buggy to guide us on the slopes and another guide to assist us in case we got stuck in the desert.
This buggy experience package will take about 3 hours – 2 hours include the transport to and from your hotel and 1 hour for the actual safari. After 30 minutes, we took a quick break while we hydrated with refreshments which the tour company provided. We also enjoyed the view and took pictures during the break.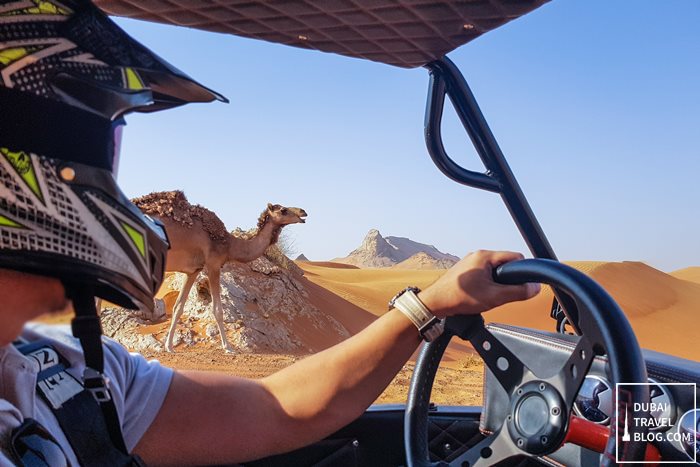 watch out for camels along the way (you MUST give way to them too!)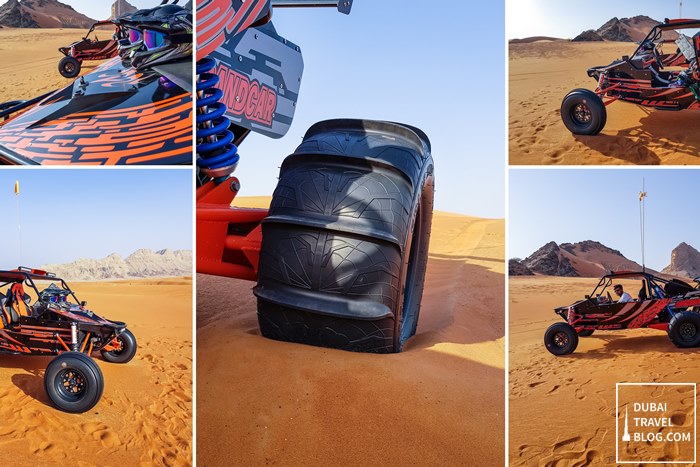 After the break, we continued with our dune buggy experience. I am really glad with the service that the team provided. They were very professional and they gauged our driving skills as well as level of enjoyment. Whenever we screamed in excitement because of one slope, our guide would take us back to the same spot. We had a lot of fun in this adventure.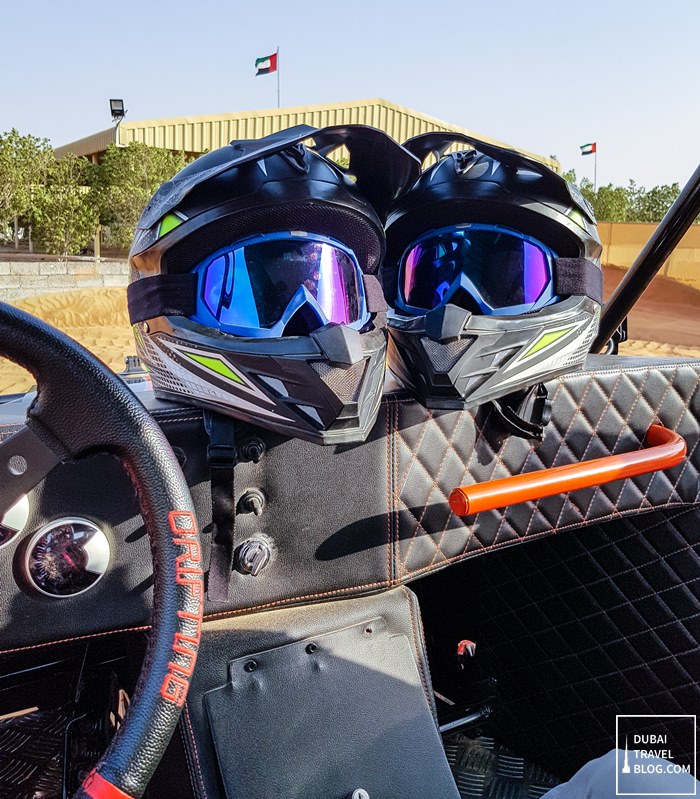 helmets – safety first!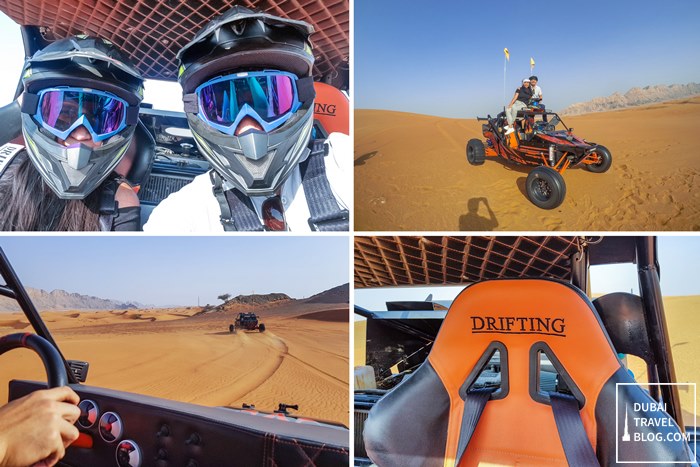 desert safari – dune buggy style
If you are an adrenaline-junkie, looking for some outdoor activities in Dubai, I recommend you check out a dune buggy safari trip. It's really different when you're on the wheel driving on the sand.
Video: Dubai Desert Sand Buggy Safari
Below is a quick video which summarizes our experience:
As you smash through the dunes and race along the valleys, you'll notice that the Desert Fox is also safer than most ATVs currently out in the market, coming equipped with a full roll cage, bucket seats, safety harnesses, and state-of-the-art shock absorbers. Get set to defy our 10km track, complete with its own challenges and hazards. Don't sweat the technicalities! We've got a team on-hand in case of mechanical problems, and we also provide refreshments.
– ExplorerTours.ae
Contact Information
ExplorerTours.ae
Address: Office 412 The Metropolis tower Al Abraj St. (Business bay) Dubai
Phone. +971 4 286 1991
Website: https://www.explorertours.ae/
Email: info@explorertours.ae
Instagram: https://www.instagram.com/explorertoursuae/
Facebook: https://www.facebook.com/ExplorerToursUAE
Google Map Location:
While the office of Explorer Tours is located in Business Bay, below is the map guide to the meeting point of the buggy experience. This adventure package already includes pick-up from your hotel. Since we drove our car, we decided to just head to the meeting point ourselves.