We spent a relaxing staycation at Al Seef Heritage Hotel, Curio Collection by Hilton in Al Seef Dubai. Located at the Dubai Creek area, this hotel is very distinct and charming as it celebrates Arabic heritage and culture.
Al Seef Heritage Hotel is within walking distance to Al Fahidi Historical Neighborhood and the Dubai Museum, one abra ride away from the Gold Souk, Perfume Souk and Spice Souk. Yes, while this hotel is easily accessible to the famous souks in Dubai, it is also right in the city that you can easily take a metro train and go to the New Dubai attractions like The Dubai Mall, Dubai Marina, etc.
Instead of having one building where the rooms are housed in, the hotel encompasses the whole traditional side of Al Seef. The rooms are spread out in different Arabian houses called "bayts" and these bayts are scattered around the neighborhood. Our room was located in Bayt #9 and we rode a hotel buggy to get to our bayt.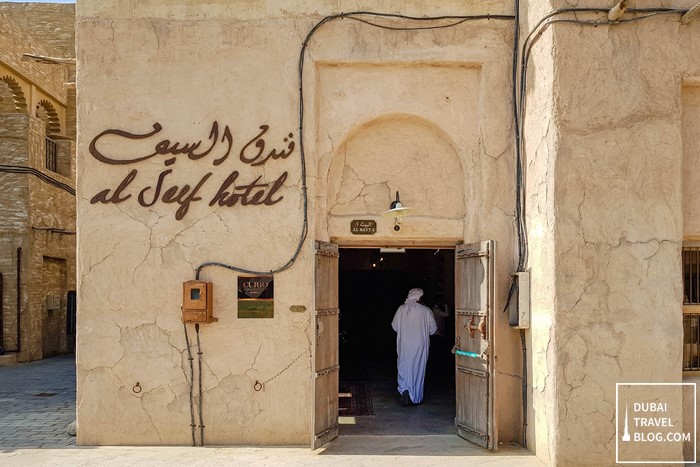 Al Seef Heritage Hotel Dubai, Curio Collection by Hilton
celebrating Old Dubai
Staycation at Al Seef Heritage Hotel Dubai, Curio Collection by Hilton
This hotel is such a wonderful place to be in. The team behind it has really put careful thought in its design as it takes pride in the heritage of Dubai. It offers a traditional design with modern offerings.
They try to keep the furnishes/facilities as minimal as possible while still maintaining its comfort and luxury. I would recommend this place if you're looking for a unique accommodation, especially if you want to stay in Old Dubai while still being able to access New Dubai (since it's located right in the city).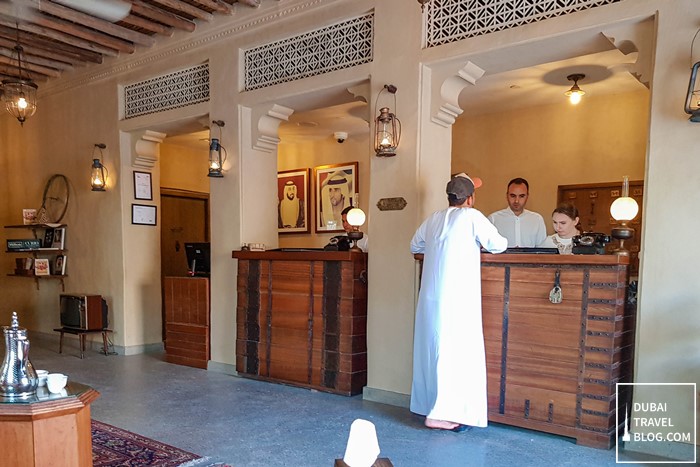 checking in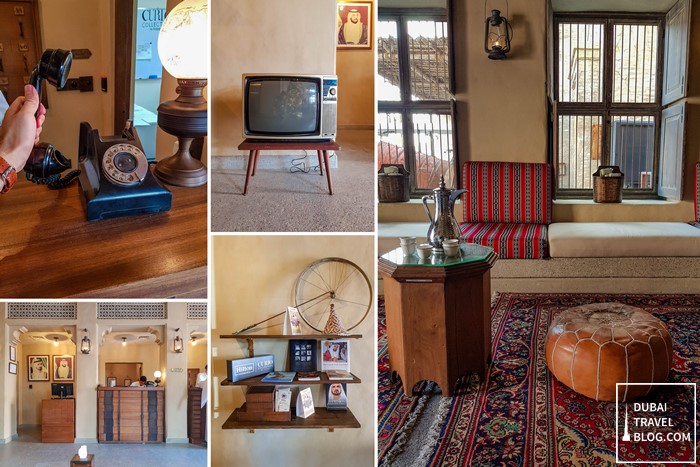 hotel lobby
Room – KING HERITAGE ROOM WITH SOUQ VIEW
Arriving in our room, I immediately noticed the local decor and the overall presentation. The room is decorated with a wooden ceiling and there's a wooden fan above the bed. It has vintage accessories such as a an old telephone, a radio, a kerosene lamp (but actually fitted with a light bulb), light switches where you turn the dial, etc. The mood feels as if we're in an Arabian night experience!
Despite the vintage accessories, the room is equipped with modern comforts. There's a comfortable king-sized bed, 47-inch HD TV, a coffee machine, complimentary WiFi, a mini-fridge, and a safe. Although I wasn't so ecstatic about the stool in the desk, I guess it needed to jive with the overall wooden theme.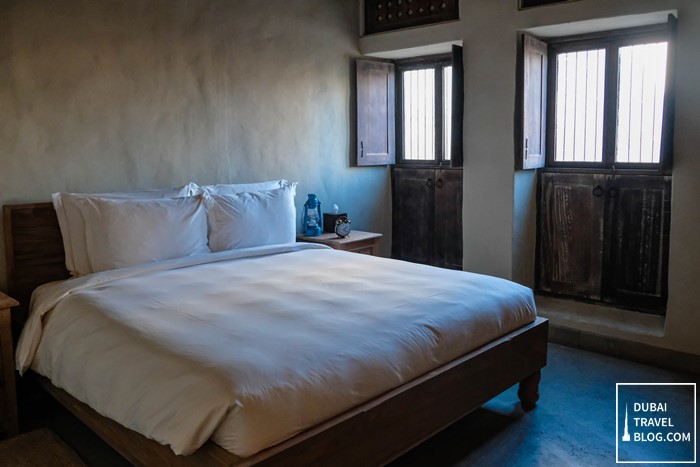 king-size bed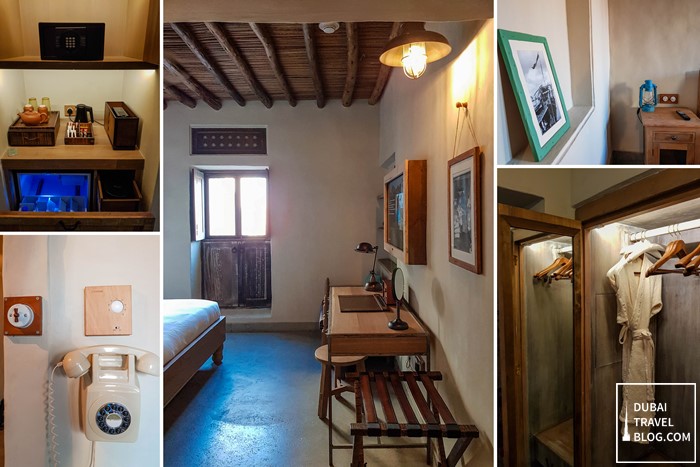 items inside the room
comfortable bed
WiFi Internet Speed
I ran a speedtest of their complimentary high-speed internet and it registered a download speed of 8.3 Mbps at the time. It was good enough for doing some serious online tasks, check emails and browse through sites.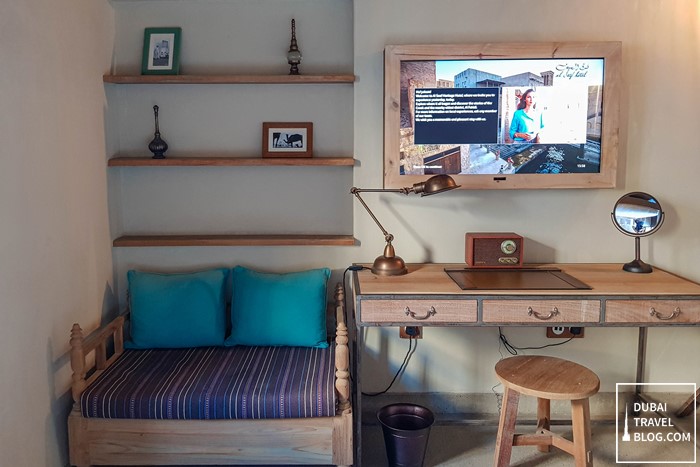 sofa and study area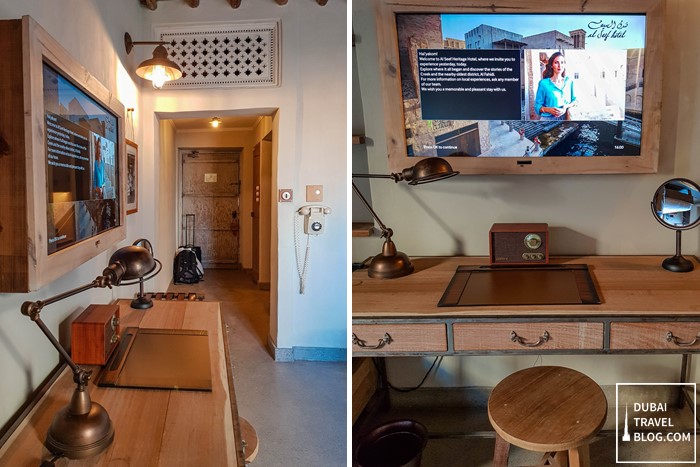 office desk
Bathroom
The bathroom also has a traditional yet elegant design. It is fitted with a double door where you can lock it by adjusting a wooden bar into a connected slot. The sink, faucets, and rods are in brass. They have locally-made eco-friendly bath toiletries. The bathrobes and towels are in neutral brown shades and even the lid on the toilet seat is also wooden.
It's surprisingly delightful how they try to maintain the natural colours to preserve the old Arabic design and feel of the hotel.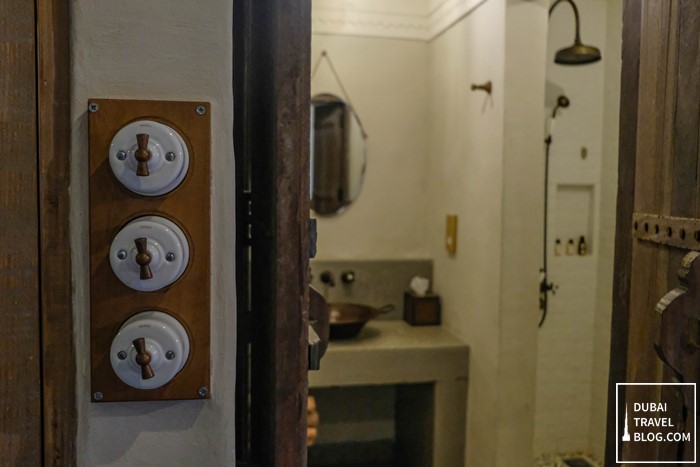 light switches where you turn the dial for On and Off settings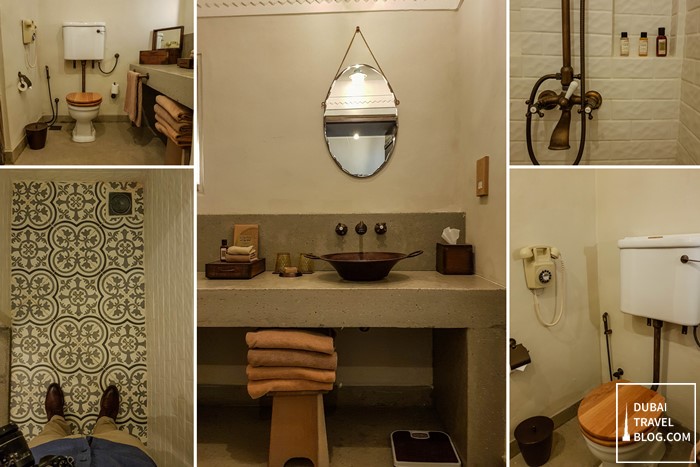 inside the bathroom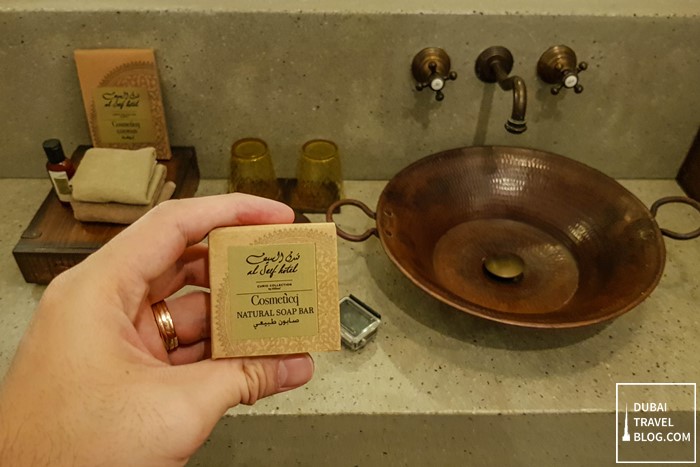 toilettries
Open Areas Outside the Room
One more thing, outside the room, you can find lots of open spaces, corners and areas where you can enjoy some alone time. Even the pathways on the 2nd floor is quite a place to explore.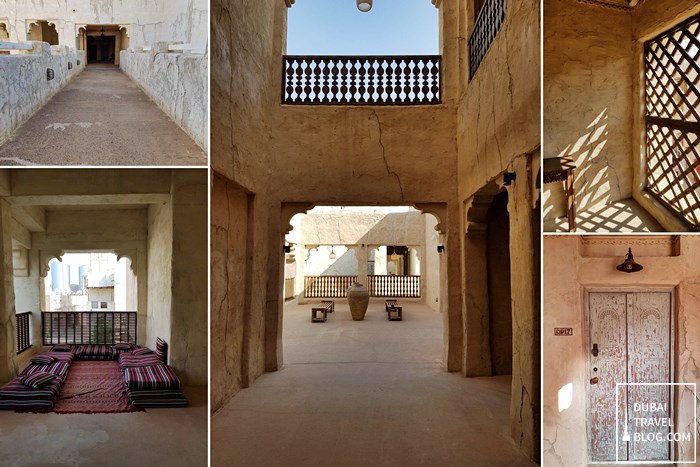 open area outside our room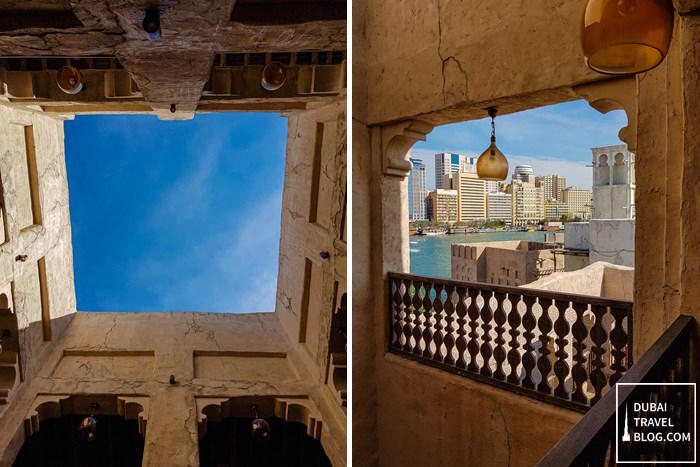 looking up and checking the view of the Dubai Creek
Restaurant
Saba'a is the main and only restaurant of Al Seef Heritage Hotel. They serve breakfast and dinner. We walked past alleys and pathways to get to the restaurant located on a second floor of one of the buildings.
The restaurant also carries the same ambiance as the neighborhood. The design inside the place still focuses on Arabic heritage starting from the buffet stations to the cutlery, to the furniture and the wooden and concrete interior.
During our breakfast, we opted to dine outside to make the most of the climate. The terrace offers a nice view of the Al Seef area. Read about our breakfast experience here.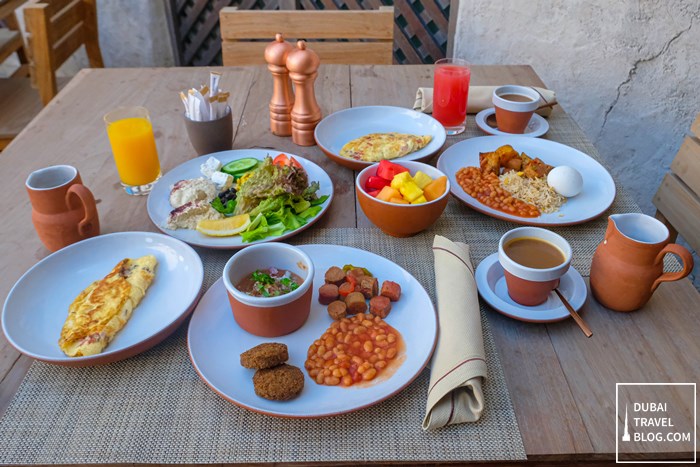 breakfast at Saba'a Restaurant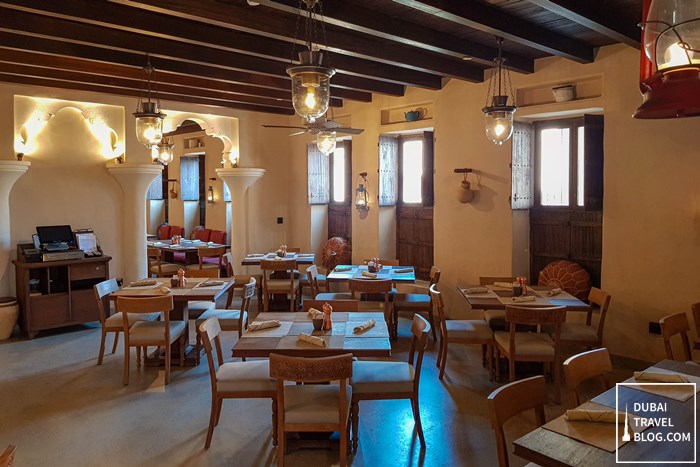 the restaurant design also pays tribute to Arabic heritage
So in case you're wondering where we had dinner and snacks during our stay, we took advantage of visiting the nearby restaurants of Al Seef. We dined at Al Fanar Seafood Restaurant, Kims DXB, Piadera, and Haleeb O Heil. We also ordered some ice cream and karak chai. Will blog about the other restaurants later on.
Al Seef Neighborhood
The Al Seef Heritage Hotel was set up for guests to go out and explore its neighborhood. Browse through the shops, dine in the restaurants, or just watch the beauty of the Creek and embrace the silence of its unique surroundings.
One of the attractions we visited in Al Seef Dubai is the Museum of Illusions. Check out my blogpost about it here – Our Visit to the Museum of Illusions Dubai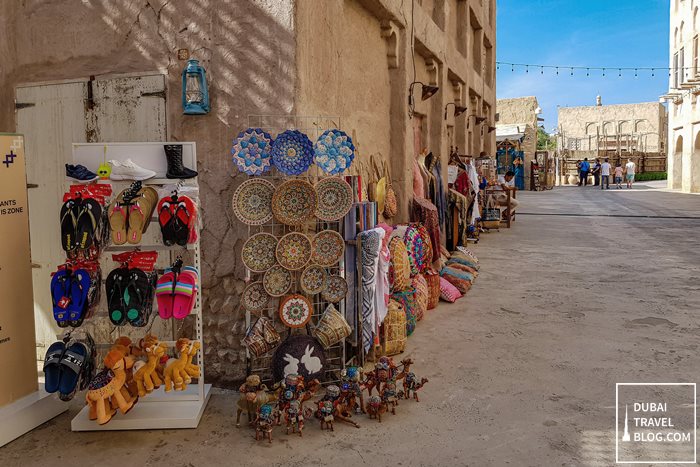 shops outside the hotel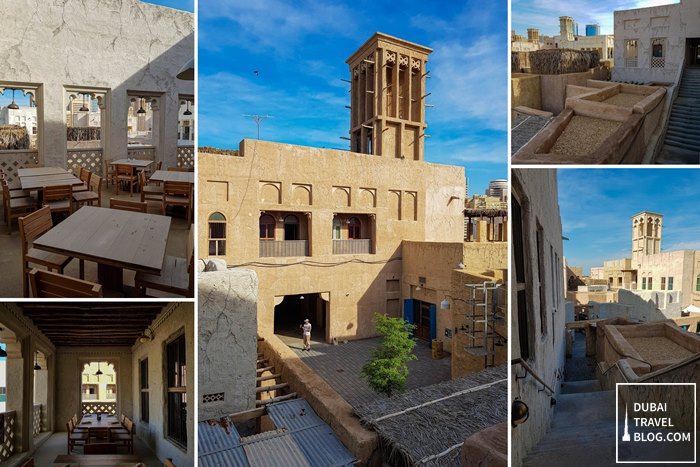 dining at the terrace of Saba'a
Al Seef Dubai at Night
It's even more beautiful evening time when the lights illuminate the area. Even more so when it's late at night. During our staycation, I tend to stare outside our room window and see that there's no one around. It feels as if you're transported back in time, and isolated from the usually busy city of Dubai.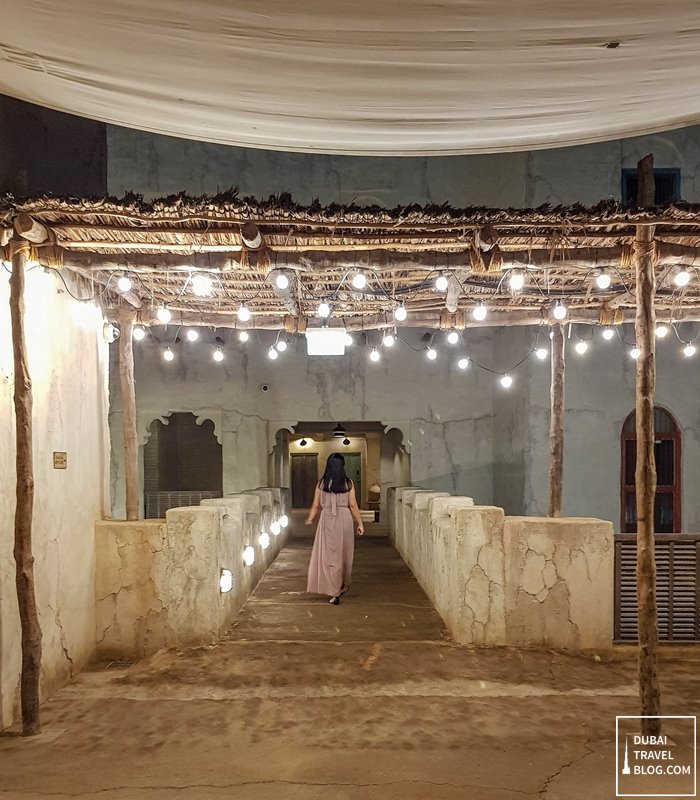 we adored these lights on the wooden shed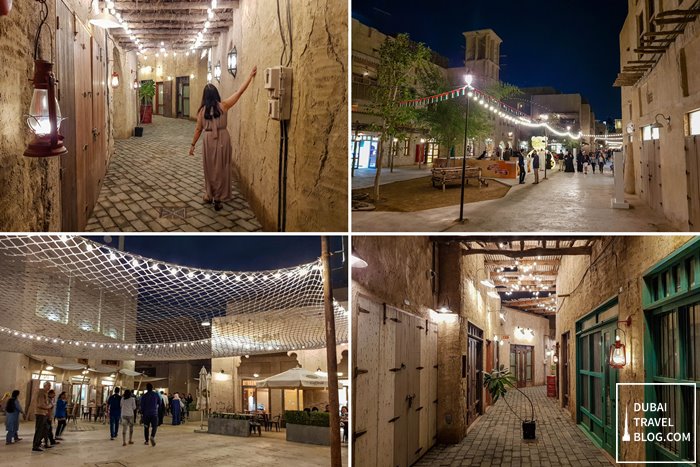 strolling in the evening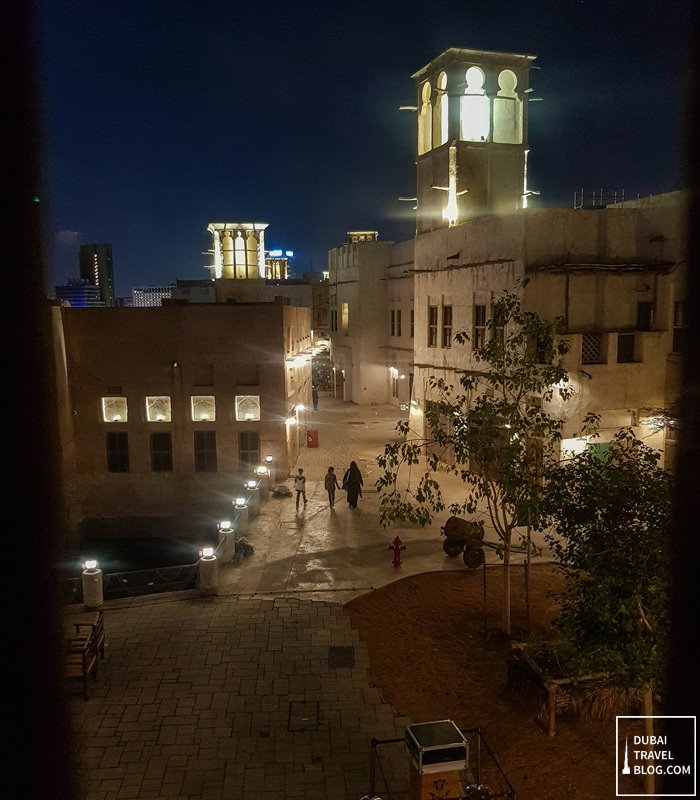 Al Seef Dubai at night
Swimming Pool
For those who want to take a dip in a pool, checked-in guests have access to an infinity pool from its sister hotel, Canopy by Hilton Dubai Al Seef. You can arrange a buggy to pick you up from your bayt and take you to the pool. The pool is located in the 7th floor (rooftop) and you can enjoy drinks from SOL bar.
The rooftop pool lets your lounge while having a nice view of the Dubai Skyline from one side, and the Dubai Creek on the other. We spent a few hours here enjoying the sun and the views.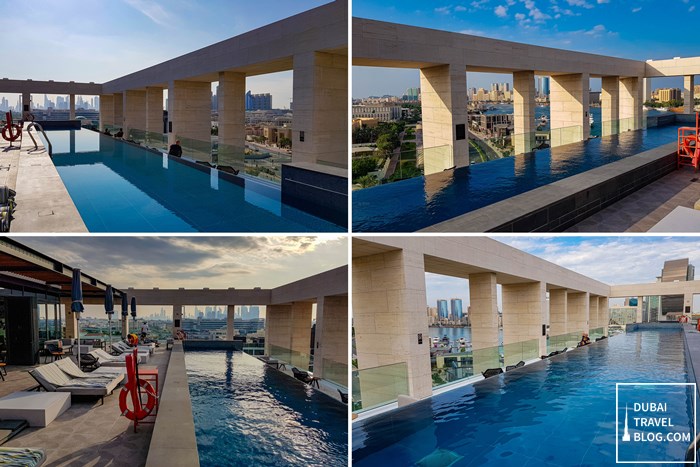 7th floor pool and bar at Canopy by Hilton in Al Seef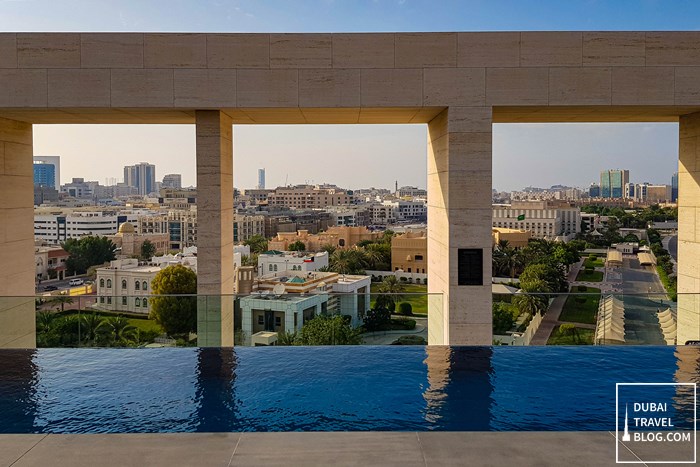 rooftop pool area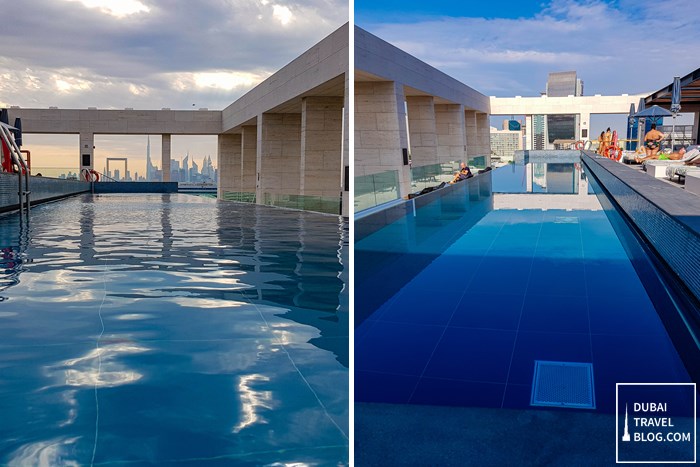 left side you can see New Dubai, right side you will see Old Dubai
Gym & Fitness Centre
For fitness enthusiasts or those who would like to work up a sweat, the gym is located at the 4th level of the same hotel (Canopy by Hilton Dubai Al Seef). Cardio machines are facing directly at the Dubai Creek.
The male and female lockers each have a sauna and steam facility. They also have a spa for those who like to book a massage therapy session.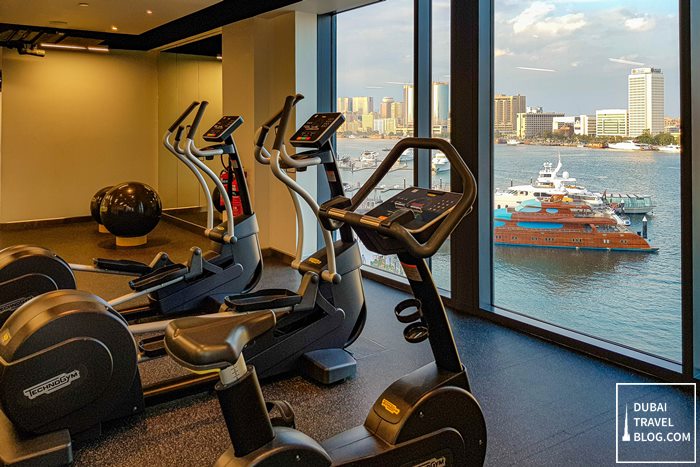 cardio with a view of the Dubai Creek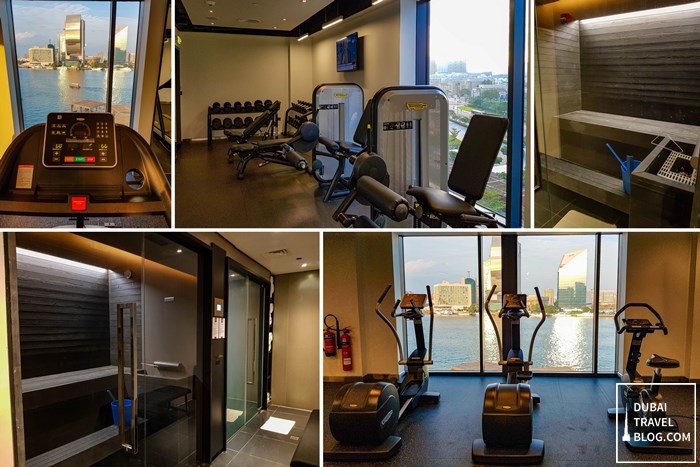 fitness center, steam and sauna in Canopy by Hilton Dubai Al Seef
Video: Staycation at Al Seef Heritage Hotel, Curio Collection by Hilton
Check out this quick video of our experience staying at Al Seef Heritage Hotel:
Summary
This staycation was probably one of the few instances where we felt like we were "travelling". We utilized our free time by exploring Al Seef Dubai. We walked around and get lost in the alleys, go to a nearby mall (Burjuman Centre), eat in many good restaurants, and just let the beautiful heritage sink in.
We felt like we've been transported to a different location. I think this is what makes the stay in Al Seef Heritage Hotel quite remarkable. One more thing, rates are very reasonable and affordable for an overnight here.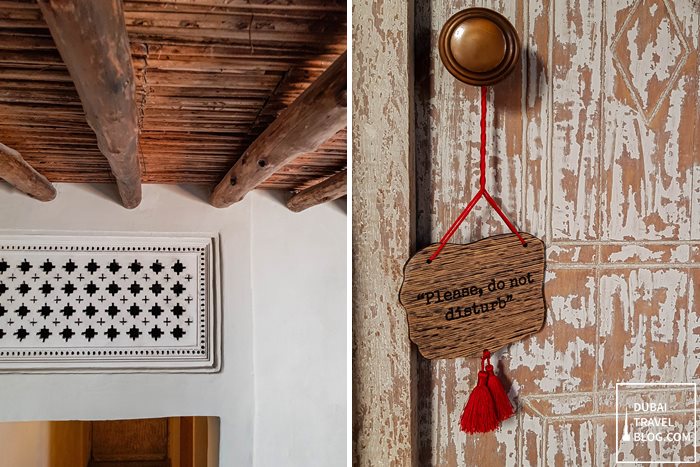 Do Not Disturb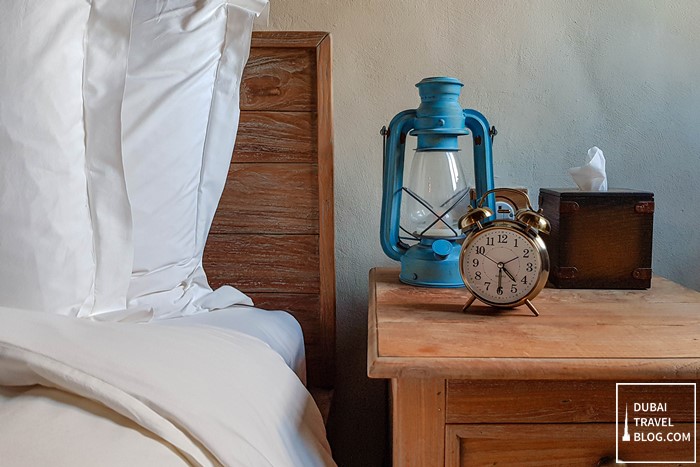 bedside table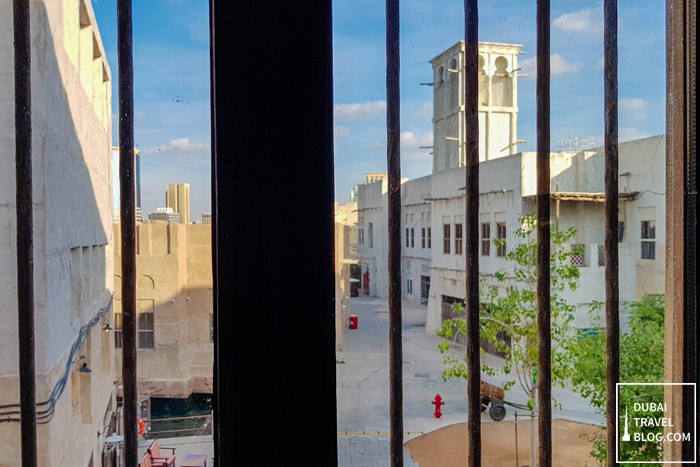 view from the our window
Take a step back in time, enjoy the silence and scenery. Walk around and explore. Al Seef Heritage Hotel Dubai is a welcome break to the usual hotels in the country where most of them try to compete on becoming the shiniest and most luxurious. While I do enjoy the glossy hotels, its old-style charm left us with wonderful memories to cherish.
Note: Our stay was courtesy of Curio Collection by Hilton.
Contact Information
Al Seef Heritage Hotel, Curio Collection by Hilton Honors
Address: Al Seef Street, Umm Hurair 1 P.O. Box 35449, Dubai, UAE
Telephone Number: +971 4 707 7077
Website: https://curiocollection3.hilton.com/en/hotels/uae/al-seef-heritage-hotel-dubai-curio-collection-by-hilton-DXBASQQ/index.html
Google Map Location
Below is a map guide to the location of Al Seef Hotel, Curio Collection by Hilton. You can find parking right at the Al Seef parking area. This is a self-parking service.