A new Pan Asian and all vegetarian restaurant has just opened in Oud Metha area called Tum Tum Asia. We were able to dine for dinner and sample a variety of dishes on a Sunday evening.
Tum Tum Asia is a pure vegetarian restaurant which offers Pan-Asian cuisine and specializing in street food of China, Thailand, Vietnam, Singapore, India, Japan, and Myanmar. This restaurant concept is the brainchild of Chef Akshay Nayyar, one of India's most renowned celebrity chefs, and his travels across Asia.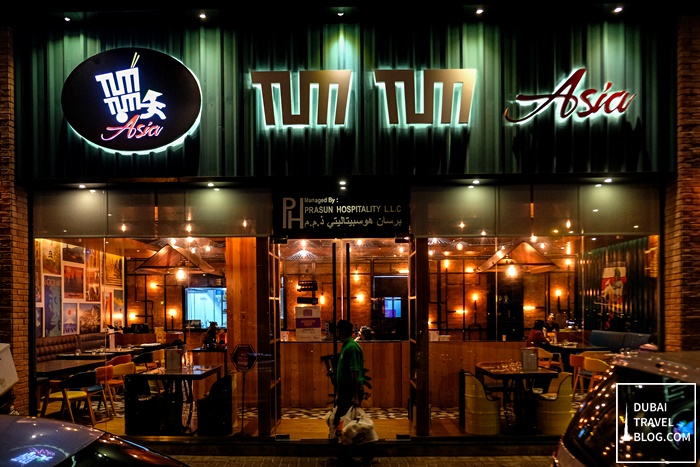 Tum Tum Asia, the first Pan Asian vegetarian restaurant in Dubai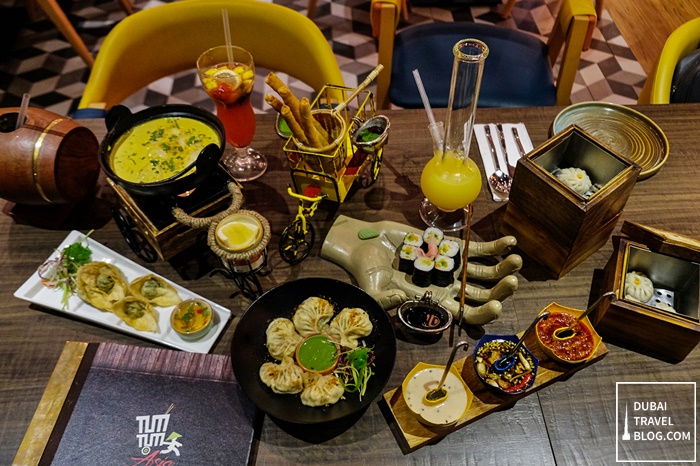 all vegetable food! 🙂
Tum Tum Asia Dubai: Pure Vegetarian Restaurant in Dubai
Arriving at the restaurant, we immediately noticed the colorful interior design of tables and chairs, wall art and other decorations. The idea was to invoke a sense of street food Asia and the lively atmosphere really made it an interesting place to dine.
The restaurant just opened 3 months ago and we noticed the careful preparation and thought in creating each and every dish on the menu. Even the description on each food on the menu has been written with effort. We were really in for a treat as every dish has its unique plate and presentation. Some were placed in mini-bikes, in rotating plates, even a hand-shaped plate.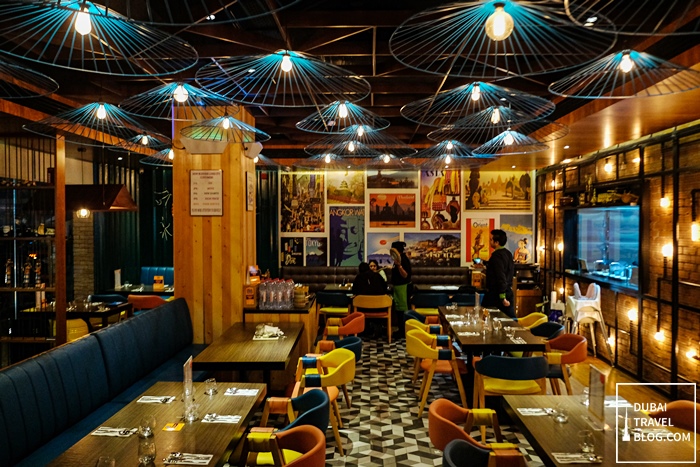 inside the restaurant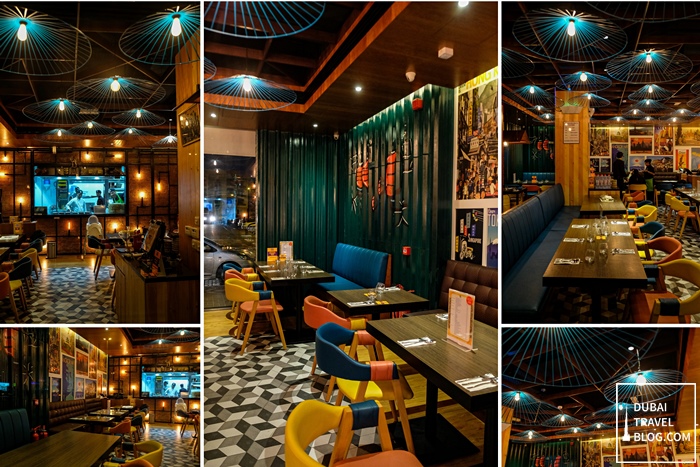 interiors – colorful streetfood design
We started going over the menu which was quite overwhelming because there were so many options to choose from. From sushi to bao, from dimsum to soups and other finger bites, and rice and noodles. There were really plenty of choices and to think that all of these are vegetables!
Kuldeep, the supervisor, offered to share his recommendations and he was very patient in explaining every dish on the menu. This was something we really appreciated given that this is actually our first time to have an all-veg meal in a restaurant in Dubai.
Appetizers / Starters
For appetizers, we ordered quite a number of items. You can check the starters below. The ones that really stood out were the Singapore Laksa soup (so creamy), momo chutney, blushy crystal, wow wonton and maki sushi.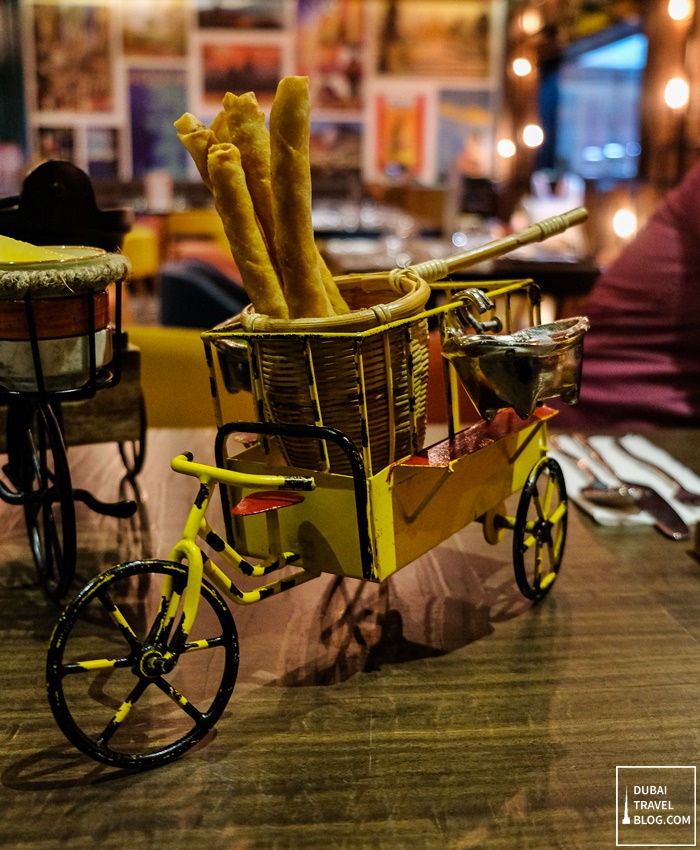 Chow Chow Cigars – 32 AED
Winter rolld of noodles and vegetables cirspy fried and tossed with kikkoman soy, onions and Schezwan pepper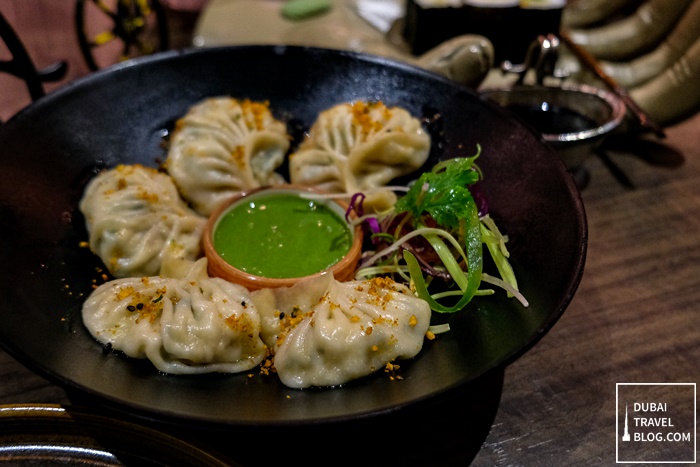 Momo Chutney
My only food when I go for a trek to Dharamshala in India which is the creator of these sinful cottage cheese & sour cream momos served with a spicy chutney.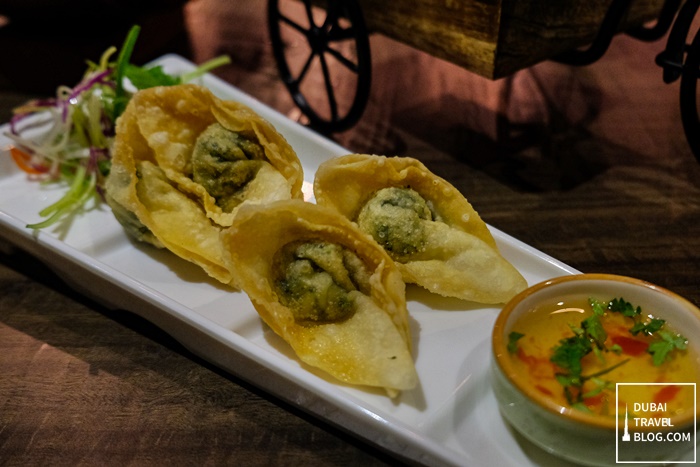 Wow Wonton
Yummy steamed wontons have been delicately stuffed with broccoli and bok choy which tastes diving swimming in warm ponzu dressing (steamed or fried)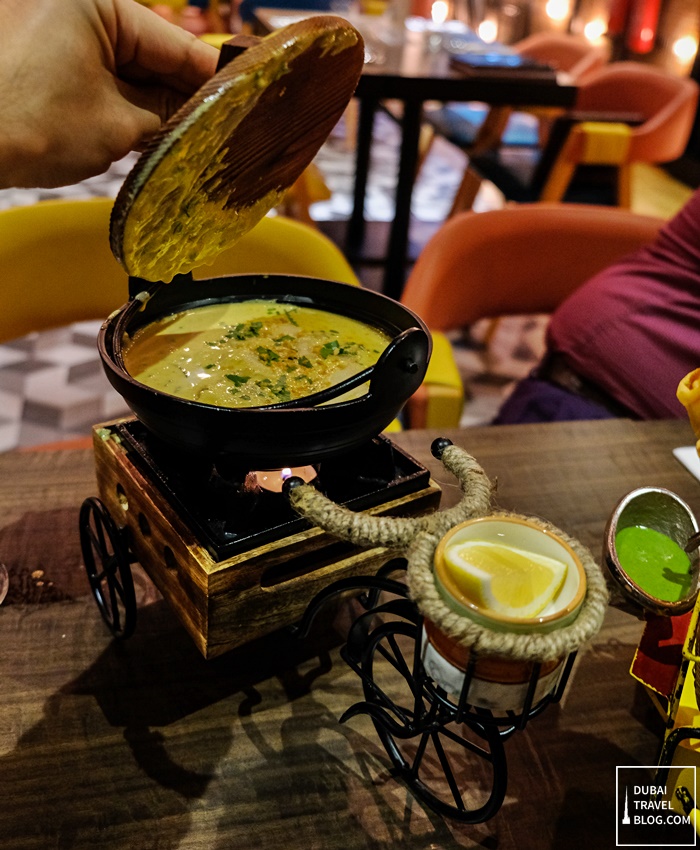 Singaporean Laksa – 33 AED
Jump into the happiness of curred coconut soup with crispy tofu, bean sprouts, rice sticks, all the way from Singapore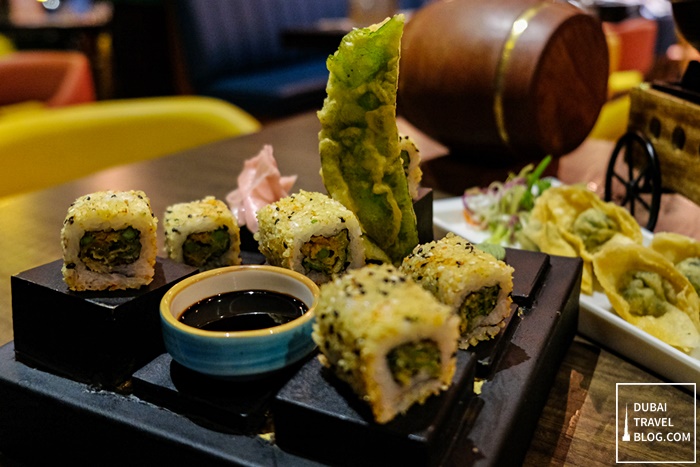 Dynamite sushi – 31 AED
This definitely has to make some noise with spicy sushi rolled around crispy asparagus tempura and spinach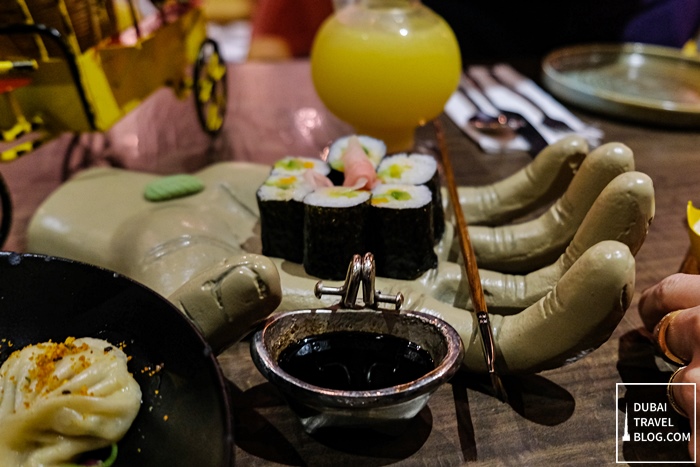 Maki – 31 AED
Sushi rolled with avocado, cucumber, shredded carrot and pickled daikon in the centre
100 Karat Gold Tempura – 34 AED
Sooper-dooper crispy vegetables sprinked with our signature gold spice mix is a luxury for your belly
Blushy Crystal
Resembling a football these dumplings are crafted with a filling of beans, water chestnut, zucchini and carrot
Kapi Cho Potato – 29 AED
Chef's secret creation of potato finger chips in basil soy sauce, it's different!
Main Course
Because we ordered so many appetizers, we only ordered one item for the main course and we shared it with each other. We ordered the Asian Trilogy which is composed of rice as the base, noodles in the centre, and dumpling at the top. This was another great food highlight.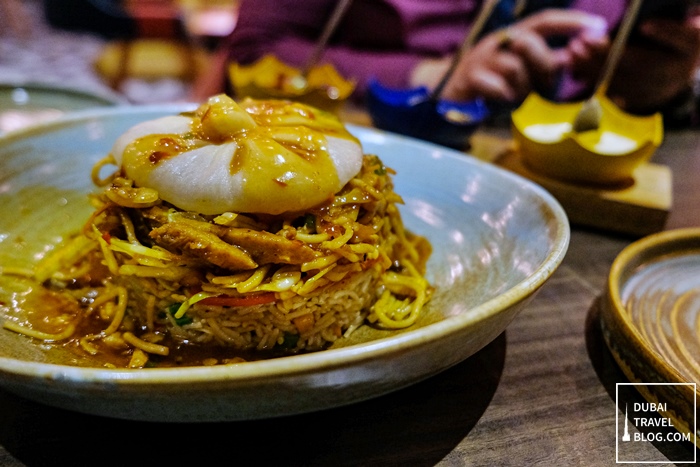 An Asian Trilogy – 43 AED
Mix this sinful delicacy with an awesome combination of short grain rice, wok tossed veggie noodles and a soupy dumpling.
Dessert
Lastly for dessert, Kuldeep recommended the Chocolate Burger. We actually just had a burger feast the night before, so we were trying to refrain from eating burgers or any reference to it for the time-being. But of course, this was basically a dessert and we surely enjoyed how it was presented as well as the taste which was quite light on the stomach.
A chocolate burger – 35 AED
Tum Tum Asia Layers of chocolate cookie bread, chocolate slice, brownie shaving, marshmallows and hot chocolate lava
Video of Chocolate Burger Dessert presentation

The food were not only the ones served in different plates as the drinks also were placed in unique vessels. My drink was placed in a barrel, while my wife's drink was placed in what seems like a pipe glass. Some drinks we saw from other customers were served in a cellophane and even a mini LPG tank.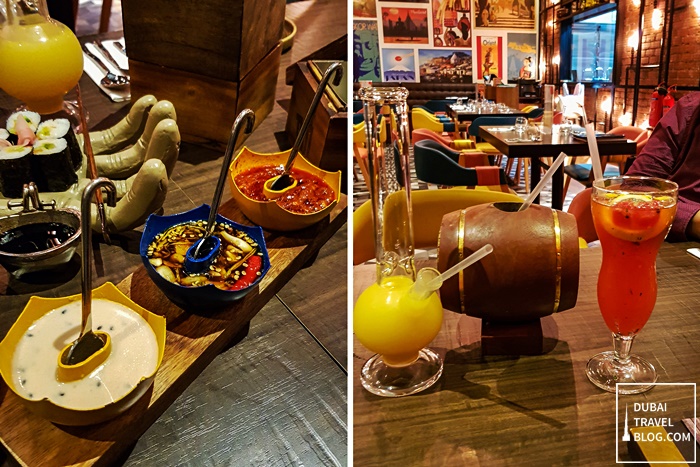 Mango Cream Collins – 29 AED
Mango and cream blended with mango granita, finished with some more mangoes on top
Barrel Blast – 29 AED
Sip into a smokey passion fruit chilli cooler with a dash of tamarind to excited your senses
Watermelon on the Rocks – 27 AED
Virgin watermelon mojito sprinkled with cumin dust and rock salt over ice
Video of Watermelon on the Rocks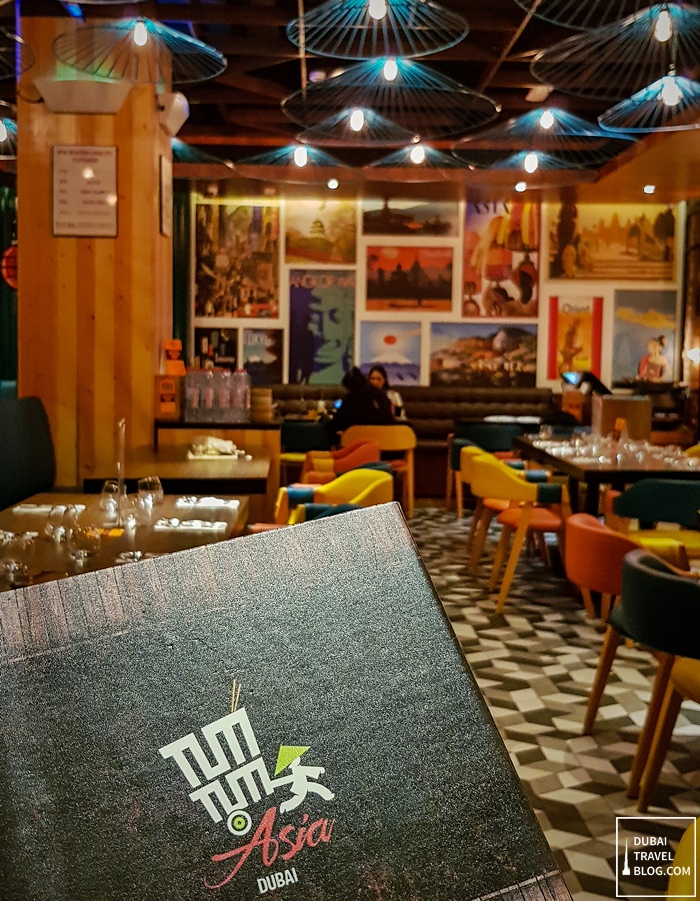 Tum Tum Asia Dubai
Dining in Tum Tum Asia is a good way to appreciate vegetarian dishes because they are cooked the way how normal meat in Asia are cooked. They have been regarded as one of Dubai's 'hidden gem' and one can attest that they deserve the said title because of their uniqueness and how it's tucked in a shop in Old Dubai.
The prices are reasonable enough given how they give so much thought into the food presentation. We would surely recommend people to dine in this restaurant. Most especially those who would like to explore a vegetarian diet.
Here's a video of our experience during that night

Contact Info: Tum Tum Asia Dubai
Address: 13th Street Shaikha Building Unit No.4 – Dubai
Phone: 04 4535496
Facebook: https://www.facebook.com/TumTumAsiaDubai/
Instagram: https://www.instagram.com/tumtumasiadubai/
Opening Hours: 11:30AM – 3:30PM and 6:30PM – 11:30PM
Google Map Location:
Below is a Google map location to guide in getting to Tum Tum Asia. The nearest metro station is Oud Metha station (Green Line).