Friday Brunches are a staple part of the week to many expats, but have you heard about a Dubai restaurant offering Wednesday Brunch? We have recently been to one at NARA Pan Asian restaurant and lounge located in Jumeirah Lakes Towers.
NARA Pan Asian has launched a HUMP DAY Brunch every Wednesday which features an unlimited serving of appetizers and drinks. Quite an interesting deal especially for those who want to take a breather during a workweek.
Alcohol: YES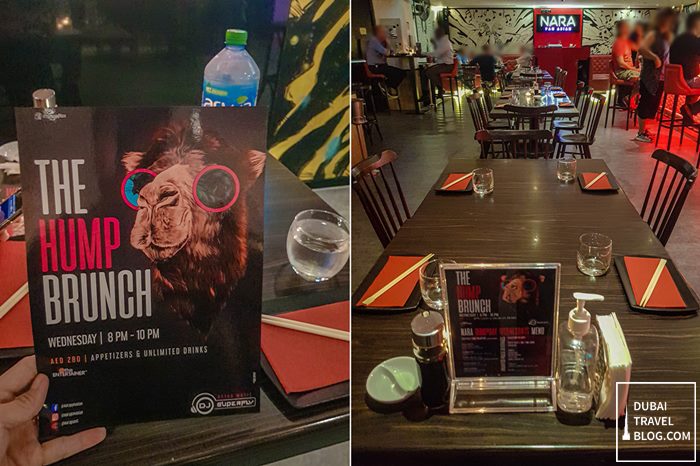 The HUMP Brunch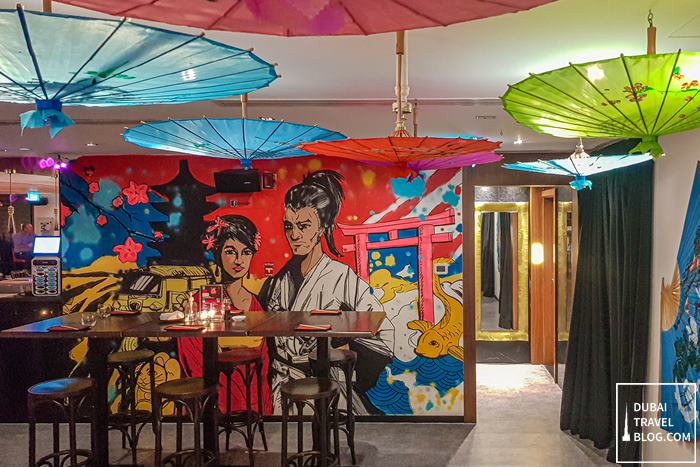 NARA Pan Asian
NARA Pan Asian Brunch in Jumeirah Lakes Towers
Brunch in Dubai has always been a celebrated event. Various hotels and establishments come up with different offers for their food and drinks to entice guests to spend this exciting day in their place. While we have been to a number of brunches in Dubai, it's always nice when a new brunch features something different.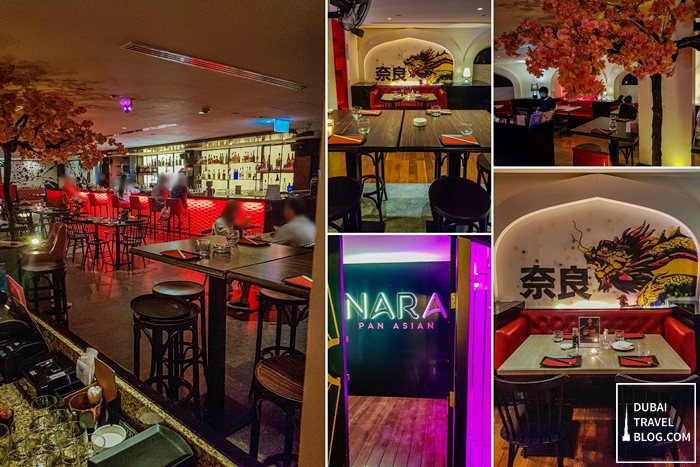 night at NARA Pan Asian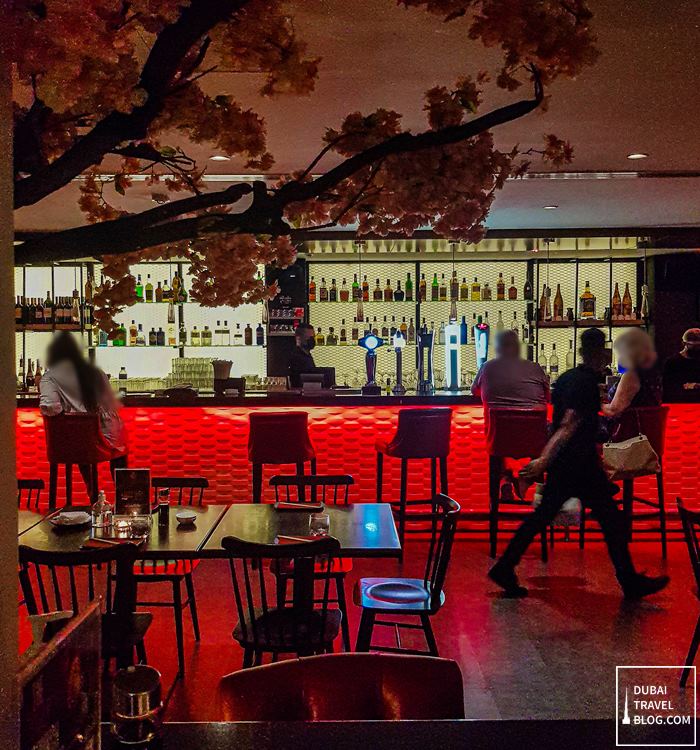 HUMP Brunch Menu
NARA Pan Asian's HUMP BRUNCH takes place every Wednesday from 8pm to 10pm. Here are the items included in the menu:
Sharing Platter
Vegas Sushi – Avocado, Asparagus, Cucumber, Peppers, Sesame Seeds, Mango Salsa
California Roll – Crab Stick, Avocado, Cucumber, Mayo, Rolled in Tobiko
Dynamite Broccoli – Crispy Fried Tempura Broccoli Florets Tossed in Spicy Mayo
Dynamite Prawns – Tempura Prawns Tossed in Spicy Mayo
Chicken Empanada – Chicken, Edamame, Red & Green Peppers in Homemade Empanadas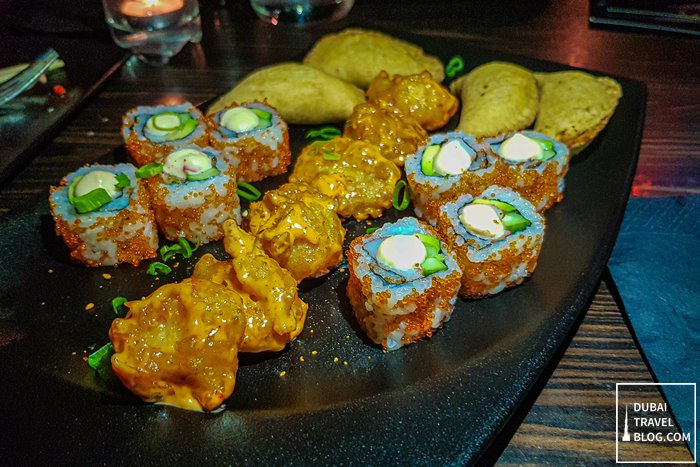 appetizer Sharing Platter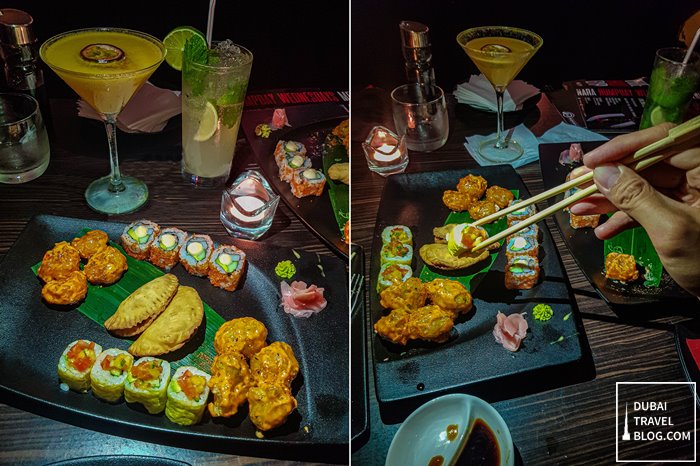 unlimited starters and appetizers
Unlimited House Beverages
House Bottled Beer
House White / Red Rose Wine / Sparkling
Spirits
Absolut Blue
Bacardi Superior
JW Red Label
Bombay Sapphire Gin
Cocktails
Japanese P@rnstar – Vodka, Passionfruit, Vanilla
Mojito – Rum, Soda, Lime, Mint
unlimited drinks
It's endless servings for two hours. The food and drinks were on point. We especially loved the California Maki rolls, Dynamite Prawns, and Chicken Empanada. For the drinks, we kept ordering their cocktails.
Oh, I almost forgot to mention, this Brunch offer is on The Entertainer App! You can enjoy Buy 1 Get 1 offer for AED 280 with the Entertainer App. So it makes it even a sweeter deal to have this HUMP BRUNCH.
NARA Pan Asian's HUMP BRUNCH is like a sampler for what's to come during their weekend Thursday Night, Friday Afternoon, and Friday Night brunches. So if you're looking for something to do on a Wednesday evening, you can get some tasty appetizers and spot-on drinks at this restaurant and lounge.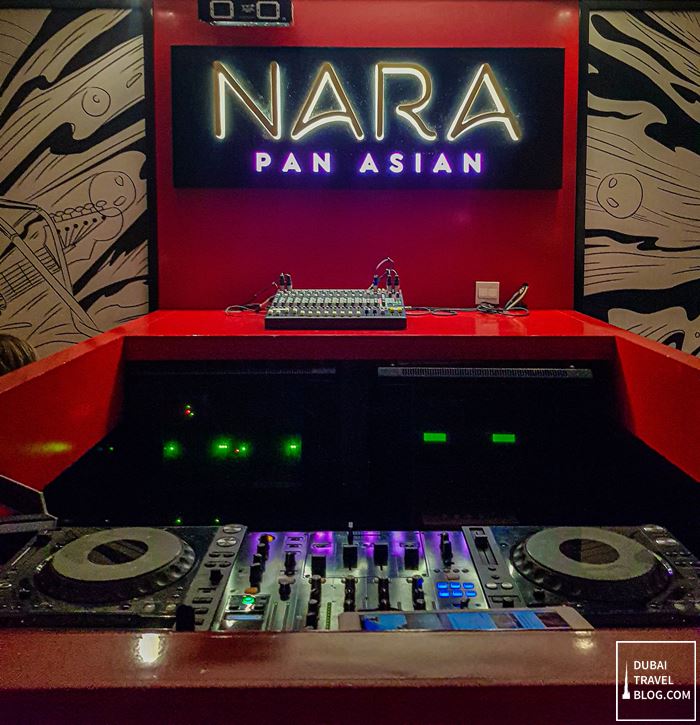 music at NARA Dubai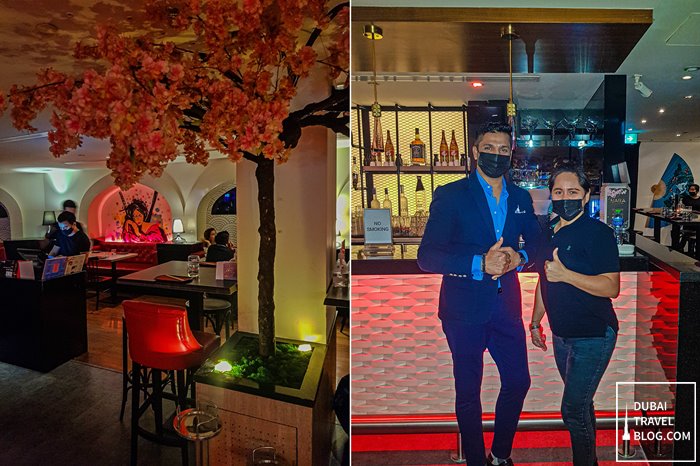 enjoying the experience at NARA Pan Asian
Video: NARA Pan Asian Brunch Experience
Check out this quick video clip to get a preview of what you can expect from the Wednesday Brunch experience in NARA:
19 Photos of NARA Pan Asian Brunch in Dubai
Here is a photo album showing pictures of the brunch experience based on our visit at NARA Pan Asian brunch on a Wednesday:
NARA Dubai Brunch Offers
Aside from the Wednesday HUMP BRUNCH, NARA Pan Asian also has its full-on brunches every Thursday evening and Friday afternoon and evening. Here's the full list of brunches available:
Wednesday Hump Brunch from 8pm to 10pm – AED 280
Thursday Night Brunch from 8pm to 11pm – AED 449
Friday Afternoon Brunch from 1pm to 4pm – AED 449
Friday Night brunch from 7pm to 10pm – AED 449
Unlimited Food & Drinks and you can use your 2 for 1 offers via Entertainer App!
Contact Information
NARA Pan Asian
Address: JLT Cluster A, Next to Movenpick Hotel JLT – Cluster A – Dubai
Telephone Number: +971 4 421 1356
Email: reservations@naradxb.com
Instagram: @NARAPanAsian
Facebook: @NARAPanAsian
Google Map Location
Here is a map guide to the location of NARA Pan Asian restaurant. You can have your car stamped at the restaurant as free valet parking is available. You will need to stop at Movenpick Hotel JLT for the valet and then go down a flight of stairs outside the hotel to get to NARA.