Qasr Al Sarab Desert Resort has been one of the luxury resorts in UAE I've been eyeing on especially upon seeing a beautiful photo online shared by some Dubai bloggers online.
My wife and I have stayed in a desert resort before in Bab Al Shams and while we enjoyed our stay there, I would like to take my wife to this beautiful place where you can witness an all-sand desert dunes as a view. I am sure this Qasr Al Sarab desert resort will not disappoint.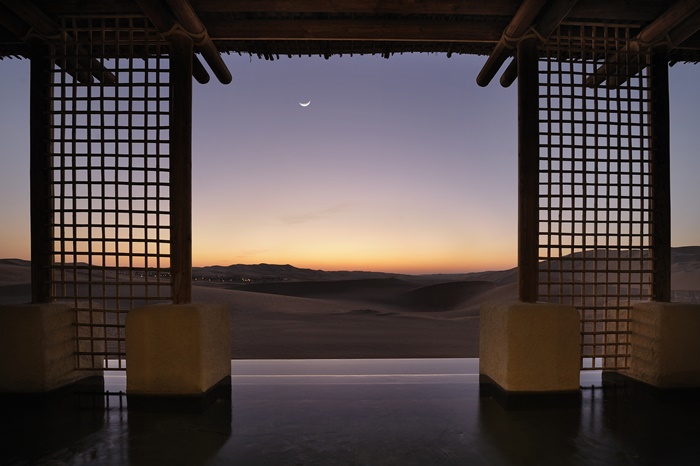 Unforgettable Journeys at Qasr Al Sarab Desert Resort by Anantara
January and February 2018
Abu Dhabi, January 2018 – Experience unparalleled luxury and unforgettable journeys amid the mystic desert charm of Abu Dhabi's Empty Quarter this season. Ride on a camel over sun soaked dunes as this foreboding landscape unwinds eternally in front of you. Soak in the freeform swimming pool while desert wildlife grazes in the shade below. Be inspired by glorious Arabian décor that channels one of the world's most ancient and revered cultures at Qasr Al Sarab Desert Resort by Anantara.
A Musical Desert Journey
Be amongst a privileged few to experience a world-class classical concert on 8 February 2018, in the heart of the Liwa Desert, the perfect Valentine's Day experience for you're and your loved one.
Listen to an incredible performance by solo pianist Seong-Jin Cho – a rising star from South Korea who is considered one of the most distinctive artists of his generation in partnership with Abu Dhabi Classics. Cherish the moving sounds of Chopin, Claude Debussy and Beethoven in an iconic setting of endless dunes. Relax in Qasr Al Sarab's palatial luxury, with a 20% saving on spa and dining journeys enriching your musical desert stay. Starting from AED 1,500 per room per night.
The Royal Desert Hideaway
A romantic seclusion at your Royal Pavilion awaits this February, embraced by the world's largest desert. Head out for an exhilarating day of exploration of the Liwa desert after a morning plunge in your private pool. Return for a delightful afternoon tea and sundowners and nibbles as sunset emblazons the sands from the Pavilion Terrace. Choose where to savour the finest flavours at a special 10% saving on your dining experience.  Throughout your stay your Villa Host tends to every need and whim. Your last day is one to treasure with an afternoon check-out at 2.00 pm. Starting from AED 4,000 per villa per night.
The Arabian Ritual Spa Journey
This Valentine's Day, indulge in 120-minutes of togetherness. Indulge your senses and recharge your body with the Arabian Ritual Package and receive a spa gift on the house. Begin with a floral foot ritual followed by an indigenous Arabian Dates and Coffee Scrub to moisturise, polish and soften the skin. The unique local ritual continues with an Arabian Massage and a soothing head and scalp massage.
Spa journey is priced at AED 2500* per couple and valid from 1 January to 28 February 2018. *Price is inclusive of 10% service charge and 5% VAT and 6% tourism fee and 4% municipality fee. Promotion can't be combined with any other offers.