Merletto restaurant located in Marriott Al Jaddaf is offering its patrons new theme nights to taste the Italian flavor prepared by Chef Massimiliano. You will be able to sample various authentic Italian dishes daily as they provide a different food feature every night.
We were able to sample the Happyritivo night which happens every Thursday and Friday. On top of these theme nights, guests will still be able to order items from their regular menu.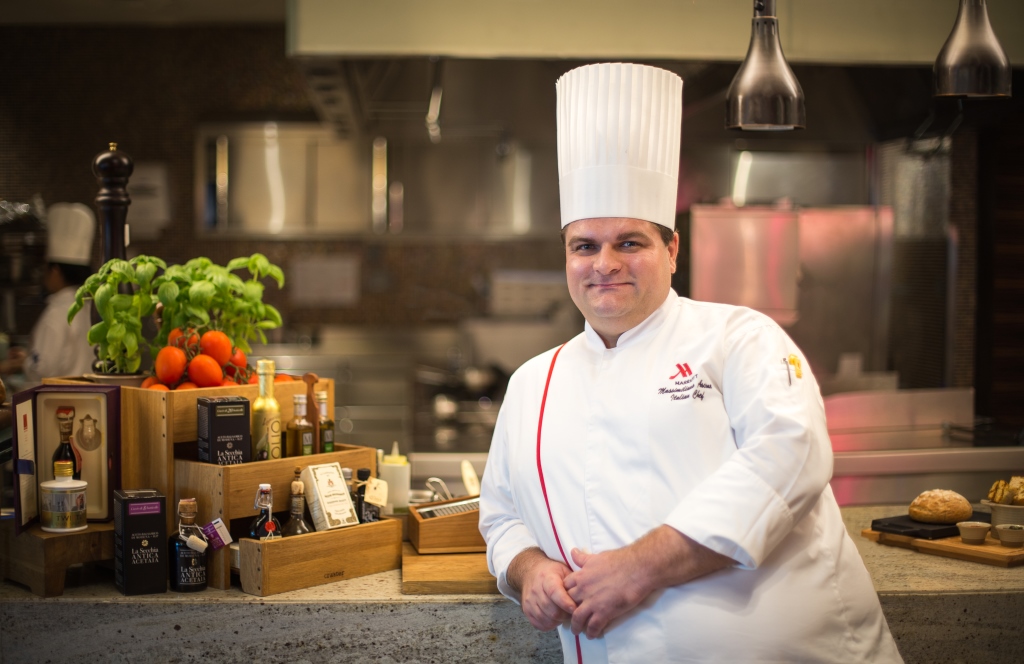 Taste the Italian 'Sapore' with Chef Massimiliano's New Theme Nights at Merletto
Wednesday Festa | Thursday & Friday Happyritivo | Daily Fish Nights
February 2017: Simple, authentic Italian is what Merletto's food philosophy has been and one that its Italian Chef – Massimiliano Ascione has pioneered. Chef Massi, as he is lovingly referred to by guests, now introduces three new theme nights at Merletto – 'Wednesday Festa', 'Thursday and Friday Happyritivo' and 'Daily Fish Nights'. Contemporary in service and presentation, yet fresh and flavorful trattoria style Italian dishes are at the heart of these theme nights. The menus will give guests the opportunity to experience the love for eating – at the center of every Italian home.
Hailing from a small hilltop town Vasto overlooking the Adriatic Sea at the tip of the idyllic Italian region of Abruzzo, Chef Massi found his love in front of his nonna's stove at a very tender age. His family owned trattoria, 'La Pergola' in Vasto became his second home, buttressing his passion for Italian cooking. From his medieval 15th century hometown Vasto, to the magical Swiss Alps, to China's bustling streets, to now being part of Dubai's famed culinary-scape; Chef Massi's journey as a chef has come a long way! Now, he simmers all his experience into the new theme nights at Merletto.

WEDNESDAY FESTA
At AED 140 per person, journey through different courses of your evening meal as the Italians do. Begin with assorted Focaccia, progress on to Hot & Cold Shareable Antipasti Selections featuring seafood, carpaccio, marinated olives and caprese, among others; savor some Pizza & Pasta Pass-Arounds, sip on the Chef special Minestra of the week, indulge in a la carte Main Course dishes and end with Dolci like Sicilian Cannoli, Gelatos, Lemon Tarts, among others.
At an additional AED 50 per person, lovers of grape can opt to enjoy 2 glasses of grape with an assorted 'Tagliere Formaggi' (cheese platter) featuring Parmesan, Taleggio, Gorgonzola, Homemade Ricotta, Brie and Emmental will be served with condiments.  
THURSDAY & FRIDAY HAPPYRITIVO
Set an Italian tone to your weekend with our Happyritivo Thursdays and Fridays at Merletto. Guests can enjoy specialty canapés with free flowing house grape @ AED 150 per person. From Arancini (saffron risotto dumplings) and Frittata Di Verdure (egg frittata with sautéed vegetables) to Cozze Alla Mediterranea (baked mussels with Mediterranean sauce) and Pizelle Fritte (deep-fried pizza balls with sundried tomatoes), this Happyritivo canapé menu gives you the chance to sample Italy's classic bites.

DAILY FISH NIGHTS
Fish has always had a distinctive place in Italian cuisine. Chef Massi pays homage to this traditional ingredient by creating an all-cod menu in February and salmon-only menu in March and April. Try Italian home-style preparations of cod such as Cod Fish Ravioli with Truffle Creamy Sauce, Pan-Seared Cod Fillet an Italian Beans and Spinach Brodetto and Gremolada, and Deep Dried Cod Fish Fillets with Sweet and Sour Cipollotti on Chickpeas Mash, to name a few.
For Reservations:
Phone: +971 4 3177777
Email:  mhrs.dxbmh.ays@marriotthotels.com
Address: Marriott Hotel Al Jaddaf Dubai, Oud Metha Road, Al Jaddaf Area, PO Box 122273, Dubai, United Arab Emirates.
Visit www.marriottdiningaljaddaf.com for more details and online reservations.